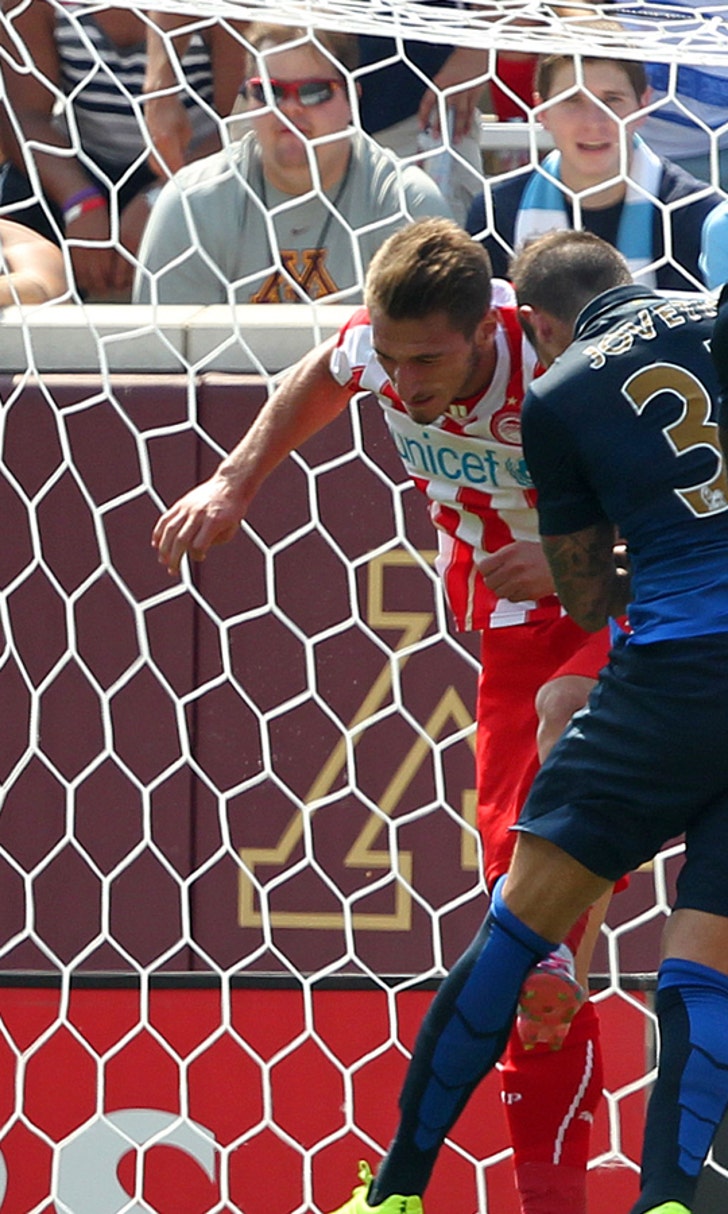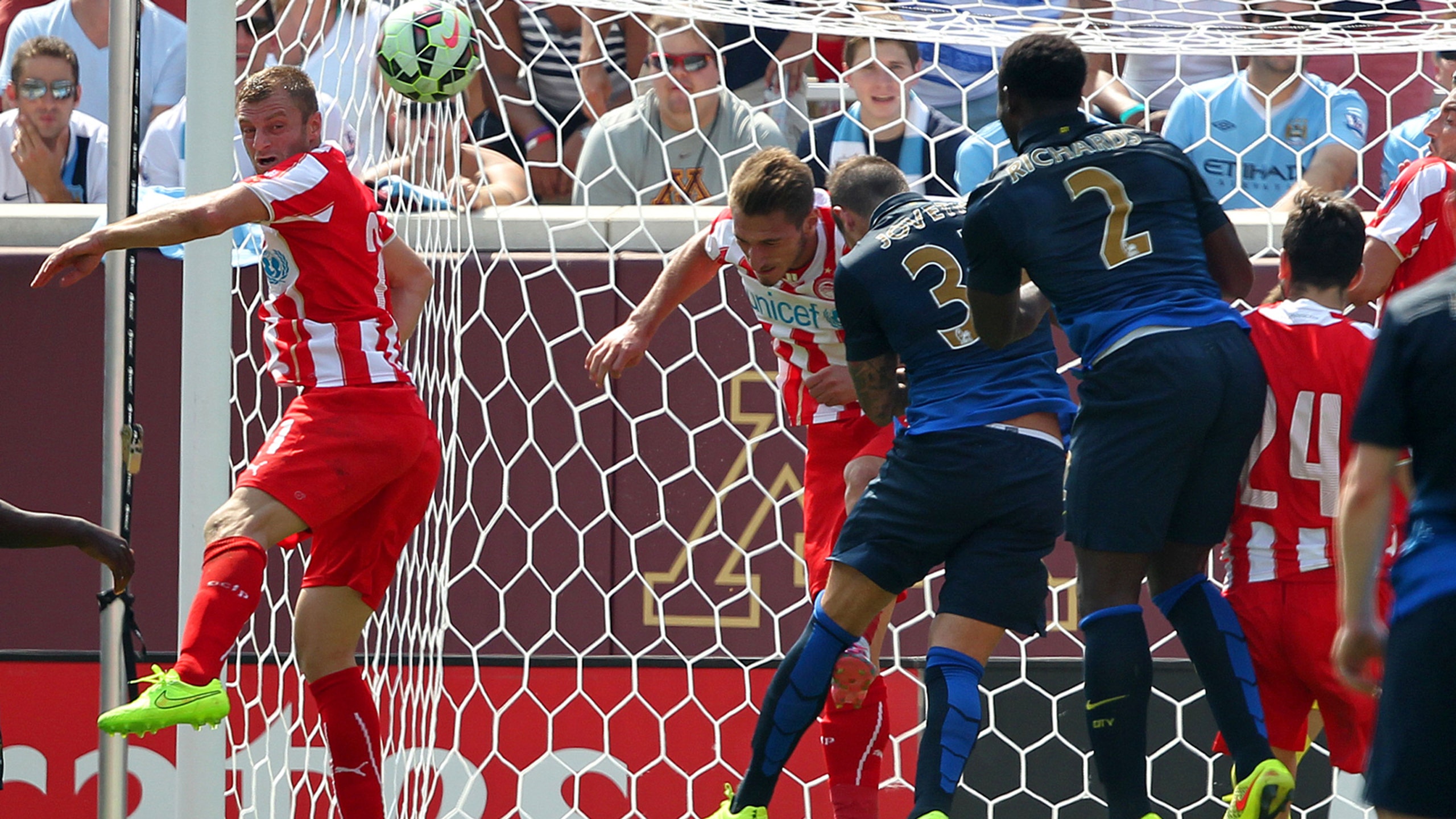 Olympiacos beats Manchester City as Minnesota hopes for global soccer relevance
BY foxsports • August 2, 2014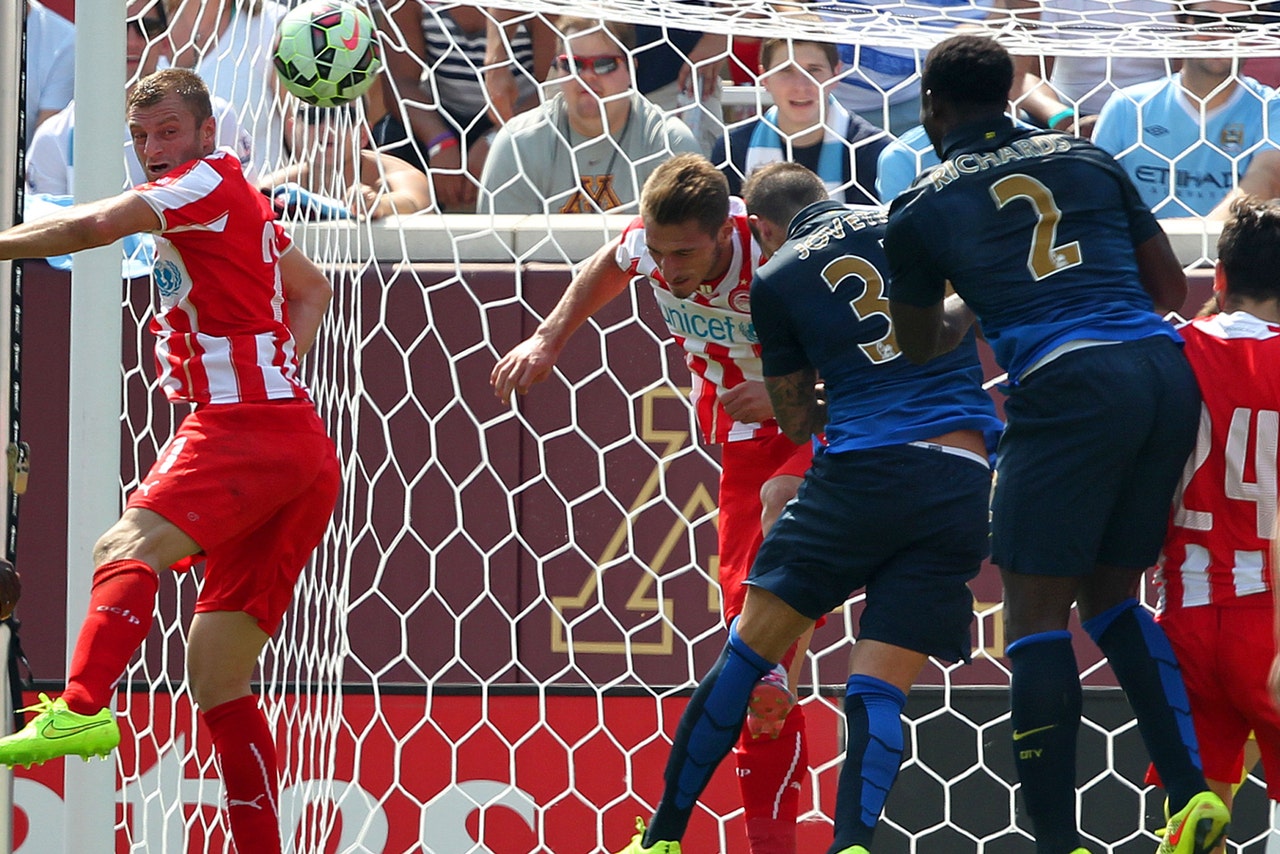 MINNEAPOLIS -- The majority of Saturdays at TCF Bank Stadium, the world seems small.
The University of Minnesota's red-bricked football monolith sits dormant most of the year. When it's not, folks gather from all corners of the state -- and that's mostly it -- to take in a sport with popularity largely limited to a few demographics in one quadrant of the globe.
The pageantry of college football and the spectacle of the NFL, which will roll through TCF's county-christened gates at least 16 times the next two autumns, are irreplaceable.
But Saturday, in the same venue save for its patchwork temporary, natural-grass surface, the world felt bigger.
Brits. Greeks. North Americans. South Americans. One attendee, Manchester City mascot "Moonchester," looked like he came in from another planet.
Together, they marveled as Greek superpower Olympiacos bested Premier League staple City in a 2-2 draw decided in a penalty-kick shootout. They "ooh"-ed as Manchester midfielder Stevan Jovetic burned one red-clad defender and split two others with a rocket into the upper portion of the net. They "ah"-ed when Olympiacos striker Dimitrios Diamantakos potted a pair of goals to earn Man of the Match accolades -- soccerese for an MVP.
And they gave those wondering about the future of big-time soccer in the Twin Cities some serious fish-and-chips and falafel for thought.
An announced attendance of 34,047 watched Saturday afternoon's Guinness International Champions Cup -- a preseason tune-up tour through the United States for some of Europe's top clubs -- Pool B round-robin finale. The actual stadium population may have been lower than that, but the lower bowl was full enough for Vikings and Minnesota United FC officials to take note as both organizations jockey for a potential Major League Soccer expansion franchise.
"It was a great trial run for us," said Vikings vice president Lester Bagley, whose team co-sponsored the event and hopes to establish an MLS side at its new stadium set for 2016 completion. Until then, they'll call TCF home, starting with a preseason opener Friday. "We got our feet wet. We'll kind of try to take advantage of this success and try to keep it rolling for our long-term situation."
Said United manager and St. Paul native Manny Lagos, who's at the forefront of a club whose No. 1 mission is to remain the market's top soccer offering, no matter what league it's a part of: "I'm not a big fan of (saying) 'this is it' or something like that. I just think it's another example of the uniqueness and special market we have and the potential of, certainly all our pro sports, but now soccer because it's becoming more relevant, in particular because we're becoming more relevant -- not only nationally, but globally."
That's the side that has soccer apologists hopeful the MLS will award its 24th franchise to the Twin Cities, as interested parties battle for good standing with league commissioner Don Garber and a burgeoning but largely untapped fan base.
But this wasn't all peachy, as they'd say in Manchester.
While the attendance wasn't a dud, it was far from a packed house, feeling more like the crowd at a Gophers nonconference game than a raucous 18,000 crammed into Kansas City's Sporting Park. It fell below the International Champions Cup's previous average through Friday by about 11,000 and looks paltry compared to the U.S.-record 109,318 that packed Michigan Stadium on Saturday to watch Manchester United and Real Madrid square off.
That's partially because Manchester City and Olympiacos, despite their successes -- City won the English Premier League in 2012 and 2014, and Olympiacos has won 40 Greek League titles and 26 Greek Cups -- aren't the biggest draw. Six of City's 11 2014 FIFA World Cup participants haven't rejoined the squad yet, and Real Madrid has a guy named Cristiano Ronaldo who was with the team but didn't play Saturday.
But this did smack of fan interest viable enough to keep the wheels humming. If the official attendance count is anywhere near accurate, it's about double what a normal MLS match drew last year.
"That's a nice crowd," Bagley said. "We jumped in about six weeks ago at 17,000, 18,000. It just shows there's a strong base in the market and we've begun to work with the grassroots soccer community in Minnesota."
But it was about as far from perfect as Minneapolis is far from Piraeus, Greece, Olympiacos' hometown.
A hastily assembled sod field had both sides furious and Olympiacos threatening to pull out of the match Friday night. As it was, the team practiced at the Gophers women's team's training facility in St. Paul and roughed its way through a pitch with grooves between sod panels and green spray paint in spots to make it look greener.
Tournament organizer Relevent Sports hired an outside firm to lay the turf down. Crew members and university groundskeepers were out past 3 a.m. Saturday morning attempting to water and prepare it for play.
It didn't do much, members of both teams said.
"It was very serious, because obviously the pitch wasn't very great," Olympiacos midfielder Pajtim Kasami said. "Obviously, it's too big a risk of injuries for guys. The season starts in two, three weeks. You could even see from the stands how the ball went. Everyone was slipping around, and it was very, very warm because of the (synthetic turf underneath the field)."
Said City manager Manuel Pellegrini: "I said it yesterday: it was high-risk to play on this pitch. I know that they've been working hard to improve it a little bit more. . . .Unfortunately, nothing happened. Nothing about that was better."
There were ticket issues, too. According to a tweet from United's official account, fans with United-branded tickets had to have them re-printed at the TCF box office before they could enter. Bagley noted complaints about pricing, too; face-value tickets for a lower-bowl seat near midfield cost about $130 apiece.
But those who provided the afternoon's centerpiece were much more complimentary of the atmosphere.
"We are really happy to take part in this game," Olympiacos head man Michel said via a translator. "Even though the conditions of the field were bad, we like the environment today. We like the fact that we had the chance to play against Manchester City. We saw all the fans who were here, and we had fun with them also."
"I thought it was amazing," said United striker Christian Ramirez, who scored both goals, including a penalty-kick game-winner in the 60th minute, in a 2-1 victory over fellow National American Soccer League member Ottawa Fury FC in Game 2 of Saturday's doubleheader.
After signing a few autographs and boarding their respective team buses, City and Olympiacos players, coaches and staff from each side hopped on international flights. City opens its Premier League slate Aug. 17, and Olympiacos begins Greek League play a week later.
Most of the fans, save for United's Dark Clouds supporters group and a handful of interested observers, filed out by the time the Loons and Ottawa kicked off. A steady rain fell during the game's final fourth, in some ways a cooling relief after a hot summer day in Minnesota.
But evidence of the sport's expanding presence in America and the Twin Cities has been presented. So, too, has the need for a better setup if it's to truly flourish here.
Follow Phil Ervin on Twitter
---