Oldroyd's late kick edges BYU past Wildcats
BY foxsports • September 4, 2016
GLENDALE, Ariz. -- Kalani Sitake faced a difficult decision in his debut as BYU's coach. He could send out Rhett Almond to attempt a game-winning kick despite the sophomore missing a field and an extra point earlier in the game or turn to freshman Jake Oldroyd.
Sitake went with the freshman, with an assist to special teams coach Ed Lamb, and it worked out perfectly for the Cougars.
Oldroyd kicked a 33-yard field goal with 4 seconds left and Jamaal Williams ran for 162 yards, helping BYU rally to beat Arizona 18-16 on Saturday night.
"After the field goal and PAT we had earlier; I wouldn't say it was a good time to do it, but I felt comfortable with Jake being in that position," Sitake said.
BYU sputtered at times, but pulled out a victory to start a brutal opening stretch of the season.
Williams looked like he never left after sitting out last season due to personal reasons, carrying 29 times to spark BYU's offense.
Taysom Hill was sharp after missing most of last season with a foot injury, hitting 21 of 29 passes for 202 yards and a touchdown.
It still was tight.
Arizona's Nick Wilson scored on a 49-yard run with 1:26 left and the Wildcats failed on the 2-point conversion, giving the Cougars a final chance at University of Phoenix Stadium.
BYU started its final drive on its own 31 and quickly moved down the field to set up Oldroyd's kick. The freshman split the uprights, raised his arms and rain toward BYU's sideline after hitting a winning kick in his first career game .
"We were calm the whole time," Hill said of the final drive. "We knew we had a great opportunity."
Arizona went through a difficult fall camp, trying to focus on football after offensive lineman Zach Hemmila was found dead in his apartment on Aug. 8. Arizona coach Rich Rodriguez joined Hemmila's family with athletic director Greg Byrne and offensive line coach Jim Michalczik for a pre-game ceremony that include a highlight video.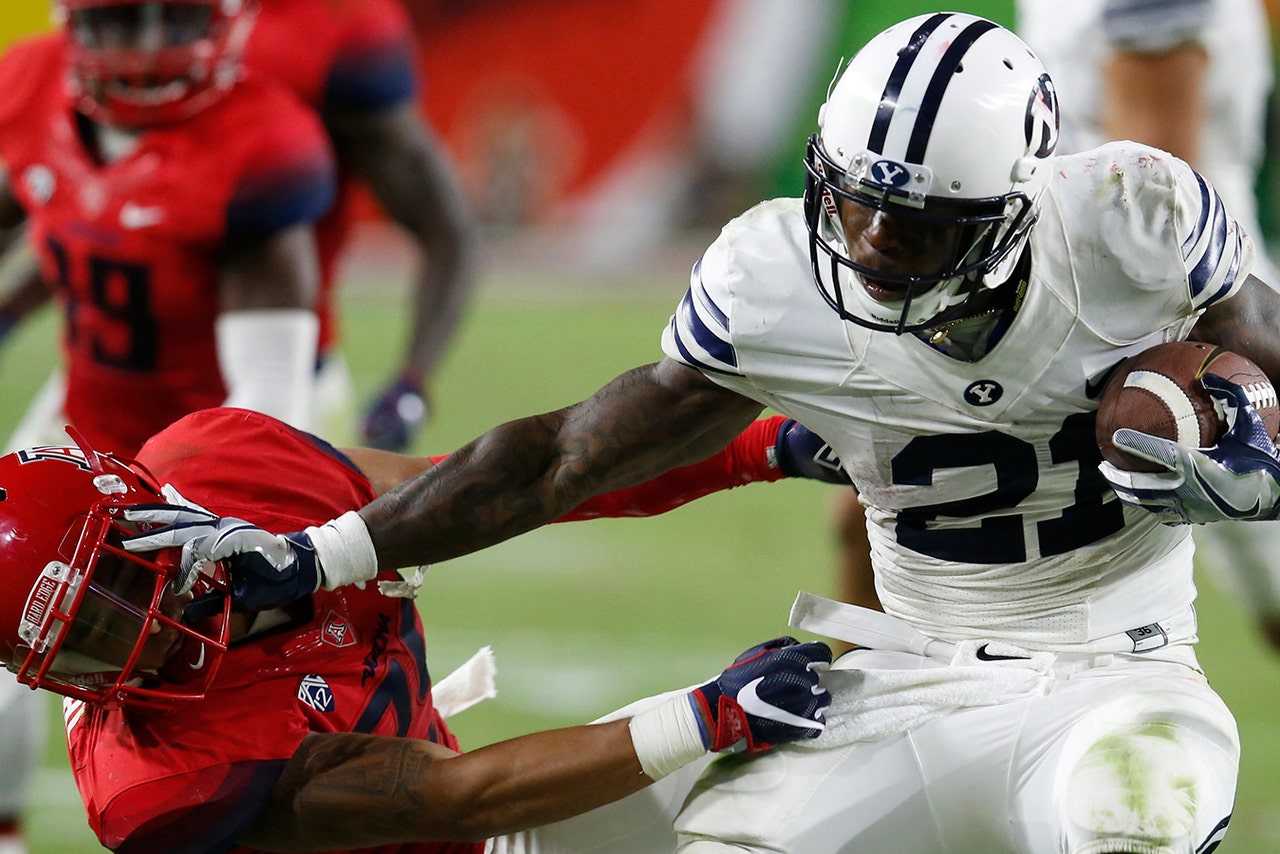 BYU running back Jamaal Williams (21) stiff arms Arizona safety Anthony Mariscal during the second half Saturday in Glendale. BYU defeated Arizona 18-16.
The Wildcats had plenty of questions heading into the season, the big one being who will start at quarterback.
Anu Solomon got the start after a tight battle with sophomore Brandon Dawkins that started in spring, but struggled against BYU's defensive pressure up front for most of the game.
"This one is on me," said Solomon, who threw for 213 yards on 20-of-30 passing. "I have to play better."
He wasn't alone.
Wilson also scored on a 15-yard run in the fourth quarter and finished with 138 yards rushing, one of the few bright spots on Arizona's offense. The Wildcats finished with 328 total yards, 190 of that coming in the fourth quarter.
"You ask the same question four or five times, it eventually becomes like a lawyer," Arizona coach Rich Rodriguez said. "Ask the same question four times, you're going to get the same I answer, I think. Maybe not."
BYU: Williams was explosive at times and Hill was efficient in his return, coming through when the Cougars needed him to. Despite some breakdowns in the fourth quarter, BYU's defense was solid, holding Arizona's quick-hitting offense in check most of the night.
Arizona: The offensive line, one of the team's most experienced groups, could not solve BYU's pressure until late. The defense, solid for most of the night, allowed the Cougars to quick-hit their way down the field to set up the winning kick. Arizona entered the season with plenty of questions and didn't get many answers.
Arizona suffered a big blow in the second quarter when spur linebacker Tellas Jones went down with an injury and did not return.
The sophomore was one of the few known entities on Arizona's defense and was arguably its best player in the first half, ranging all over the field.
"We still had 11 guys out there," Rodriguez said. "Tellas is a good player, but we still had 11 guys out there."
"I was joking around afterward (Oldroyd's kick) that there was so much conversation about my age and I'm 26, I told the team I'm too old for this, I'm stressed," said Hill, who was granted a fifth year of eligibility after his injury last season.
BYU: The Cougars continue a brutal start to the season at Utah next Saturday, followed by games against UCLA and West Virginia.
Arizona: The Wildcats play their home opener against Grambling State next Saturday.
---
---