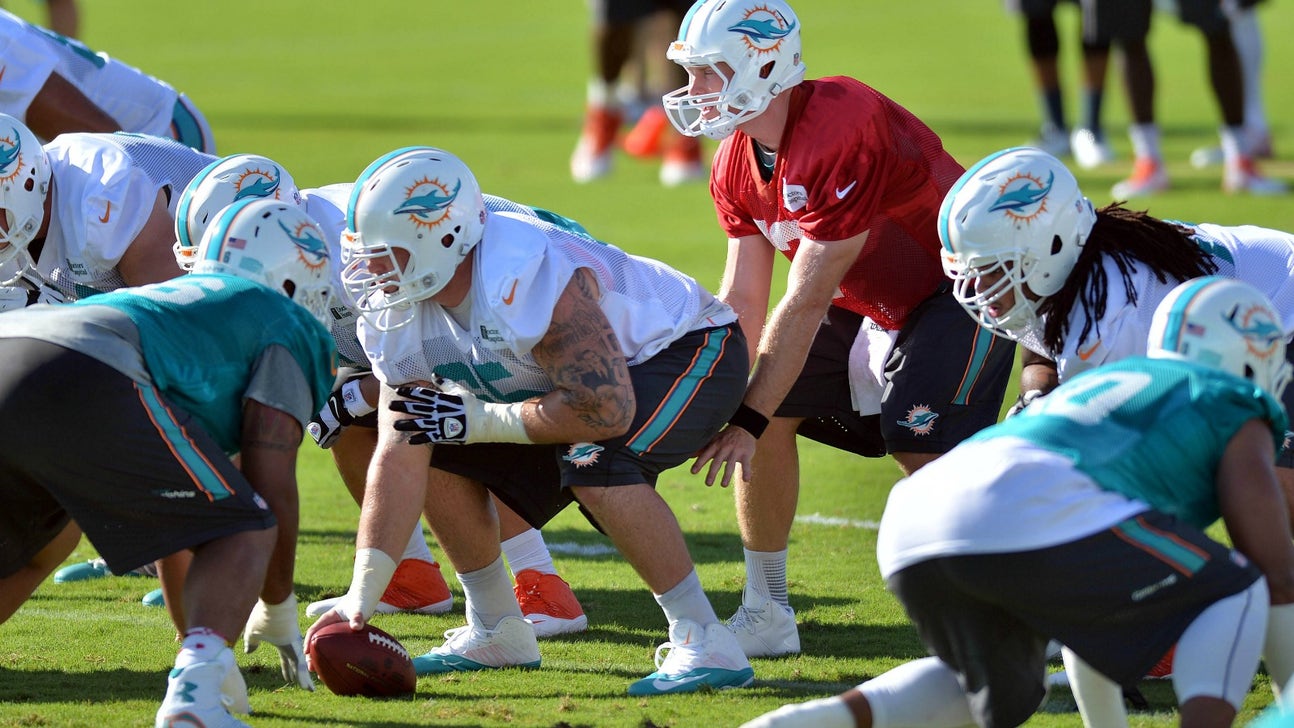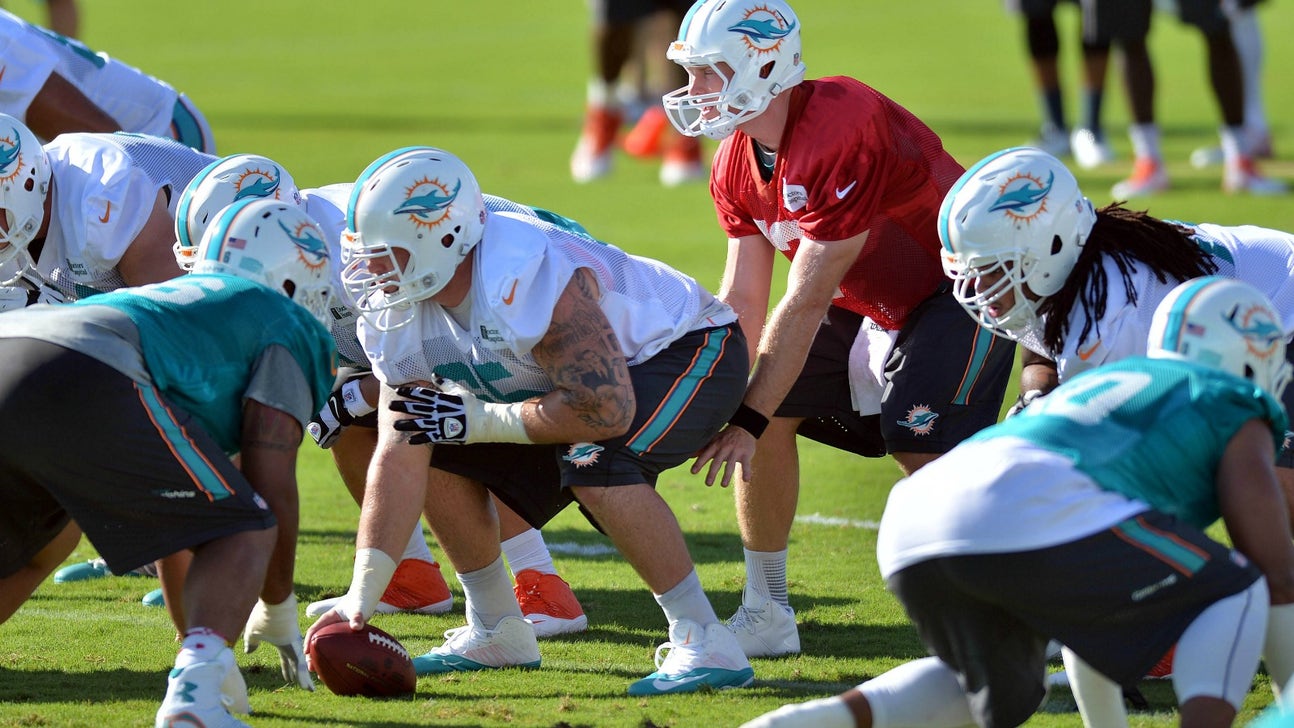 Offensive line makes strides in Dolphins scrimmage
Published
Aug. 2, 2014 3:05 p.m. ET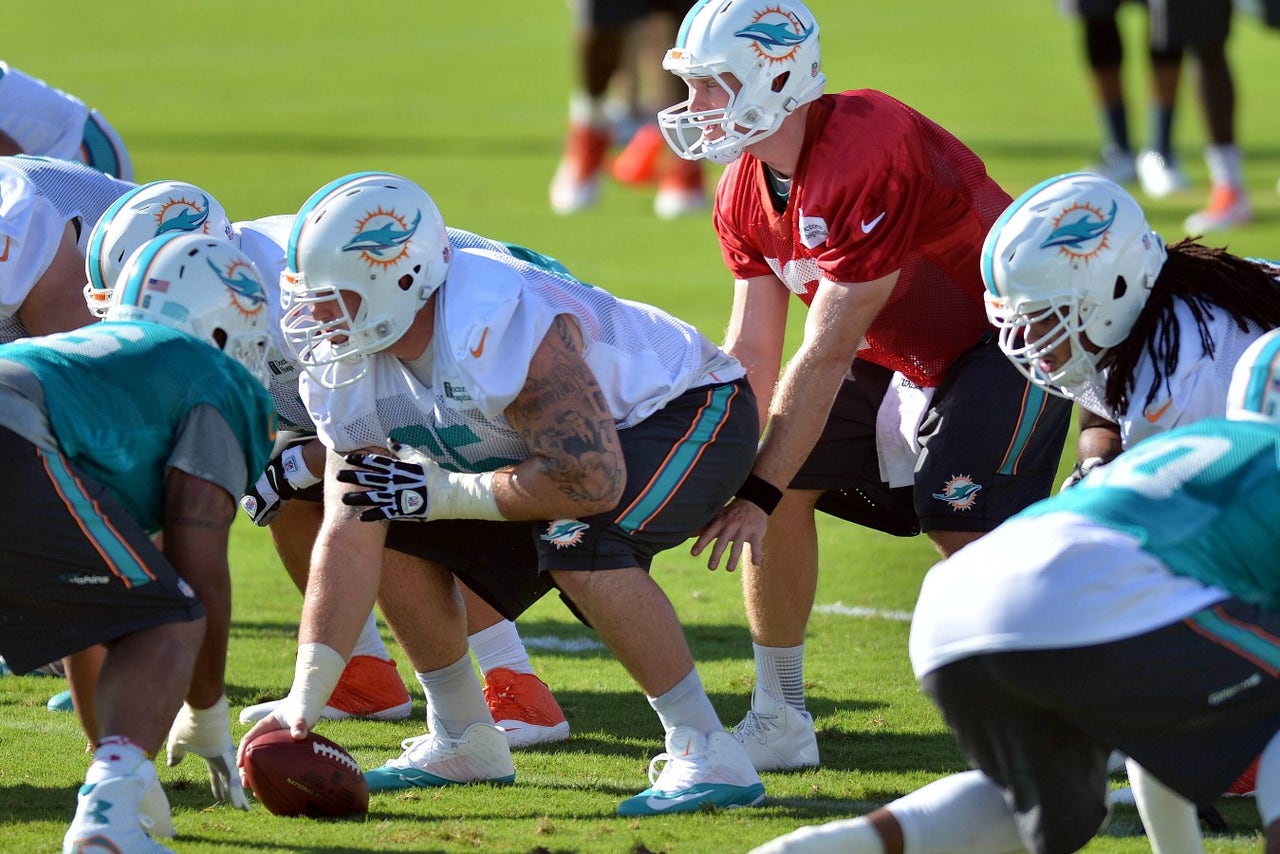 MIAMI GARDENS, Fla. -- The Miami Dolphins ramped up their preseason preparations with their first full team scrimmage of 2014 in front of an announced crowd of 10,000 fans at Sun Life Stadium on Saturday morning.
After the first 30 minutes featured light warm-ups and drills for both the offense and defense, it was time to give the fans what they wanted.
Starting quarterback Ryan Tannehill led the first team offense against the second team defense and the results were inspiring at the start. Running back Lamar Miller (finishing with six carries for 36 yards) impressed early with quickness down the middle to pick up several yards.
Tannehill linked up with wide receiver Rishard Matthews (three catches, 30 yards) for two solid plays early, one of which was a 13-yard gain on their best play of their first drive down the field.
The Dolphins steadily made their way down the field on a combination of short gains with their running backs Miller and Daniel Thomas (five carries, 15 yards), complimented by a smart, steady passing game. Miller eventually got to the end zone off a short 9-yard pass with a 2-point conversion to follow courtesy of tight end Dion Sims.
Though Tannehill played sparingly, with backups Pat Devlin and Seth Lobato leading the second and third team offense respectively, he finished the scrimmage completing 15 of 27 passes for 139 yards, to go with two touchdowns.
"It's good to be in our stadium, it's good to be in front of our fans," Tannehill remarked on the field while fans lined up trying to get autographs despite the rain. "Myself and the rest of the team, we're growing day by day. We're getting better day by day and I feel myself getting more in tune with the plays coming in, just having an idea exactly what to do with the ball every play and that's exciting for me."
Perhaps more tellingly, the third-year quarterback had no interceptions and avoided getting sacked.
"We don't want to be back there holding the ball," Tannehill explained about the new-look offense. "We're going to push the ball down the field but its still timing.  That's a big emphasis. We can't be back there holding the ball for three, four seconds and expect to not give up a lot of sacks.
"I think that's one of the keys to our offense. We're not going to focus in on one or two guys. The ball is going to be spread around to all of our players. We want multiple formations and have different personnel groups. We want to be able to spread the field, we want to be able to attack the field with a running game and a passing game. So far we've had some success doing that today."
The first team defense surprisingly had their hands full at times against the second team offense featuring a shaky Devlin (7-14, 71 yards, one touchdown, two interceptions), whose accuracy was off on several throws, but still managed to get his team down the field consistently later on after punting quickly on their first drive of the scrimmage.
After a short water break, the first team offense finally measured themselves against the first team defense for several plays with mixed results. Tannehill soon afterwards took a break and wide receiver Jarvis Landry scored a touchdown off a botched snap 15 yards away from the end zone, with Devlin recovering the ball for the shovel pass.
Shortly afterward, running back Damien Williams fumbled the ball and rookie linebacker Jordan Tripp returned it for a 73-yard touchdown to the delight of the defense. Just minutes later, Sims scored a nice touchdown off Tannehill's pass from the 7-yard line to wrap up the scoring.
With a marked improvement of the offensive line across the board today, even if it was mostly against the reserves, it gave coach Joe Philbin an opportunity to better evaluate his talent with the season rapidly approaching.
"Ideally, today it was about getting them all ready to play and really giving them 25-35 reps as game-like as we could make the conditions so we can get an honest evaluation," he said. "That was really the goal today. Ideally as we move next week and especially the week after, we'd like to kind of slim it down a little bit and focus on seven or eight guys."
Offensive tackle Branden Albert was also pleased with today's scrimmage.
"It was a good feeling," he said. "I think everybody did a good job. I think we worked hard today and that was the most important thing. I think we got better today."
The Dolphins' first preseason game against the Atlanta Falcons will give the team their first true taste of adversary, but the scrimmage obviously wasn't just all fun and games to entertain their fans.
"It's good, not just for myself but for the entire offense, in a game-like situation and see what our offense can do," Tannehill said. "We ran the ball well and spread the field. To come out and see some of our backs work, break tackles, make guys miss ... it was fun to watch."
Unofficial stats courtesy of The Finsiders.
You can follow Surya Fernandez on Twitter @SuryaHeatNBA or email him at SuryaFoxSports@gmail.com.
---