NZ coach handshake snub ignites furor, but was he right?
BY foxsports • June 16, 2015
It quickly became the handshake snub heard 'round the world.
Moments after China drew with New Zealand 2-2 on Monday at Winnipeg in the final Group A match before the knockout stage, Ferns coach Tony Readings could be seen refusing to shake hands with Chinese coach Hao Wei on the sideline, instead waving the coach away. In response, Hao simply patted Readings on the shoulder.
It should be noted that, with the draw, China advanced to the knockout stage with New Zealand being eliminated.
Immediately, and expectedly, social media torched Readings for the move.
Has the English #NZL boss Tony Readings explained why he snubbed the #CHN coach's handshake yet? #FIFAWWC

— Jacqui Oatley (@JacquiOatley) June 16, 2015
#NZL Coach Tony Readings just showed how low class he is! You always shake hands no matter what! #PoorEtiquette

— Shayla van der Ent (@shaylavdent) June 16, 2015
@NZ_Football --Tony Readings should be fired. Poor Sportsmanship at its finest. Shakings hands with opposing coach is a must! #NZL watch

— Michael Emmett (@MemmettEmmett) June 16, 2015
Tony Readings can't even shake the Chinese coach's hand? Pity, the women played their hearts out and the boy can't even man up? #nzl #Wcup

— Mark Barker (@hathamark) June 16, 2015
But, if you watch the video above, you will see why Readings reacted the way he did, and perhaps be a little more understanding.
The first thing that got under Readings' skin was likely the penalty kick awarded to China in the 40th minute after Betsy Hassett was called for a handball in the penalty area. Replays showed the ball hit Hassett in the chest and not the hands or arms, but Wang Lisi took the penalty anyway, and converted for a 1-1 tie.
From there, the coaches were visibly annoyed with one another, with the theatrics reaching its apparent tipping point in the 91st minute when Hao made contact with the ball and then New Zealand's Ria Percival before a throw-in.
Hao was sent off for the episode, and Reading's response afterward, he claimed, was a reflection of his thoughts of Hao's behavior.
"It's just something I don't agree with," Readings told the media after the match of Hao's actions, according to New Zealand news website Stuff.
"In a do-or-die game teams are going to push the boundaries that added to the drama today," said Readings, according to The Citizen. "I have always got on very well with the Chinese coach, very well. He's a very good coach. … It's not a big deal for us. It's all part of the gamesmanship, teams hungry and desperate to win, but it's not something I would do."
According to The Citizen, here was the response by Chinese assistant coach Chang Wei-wei, who attended the post-match news conference in place of Hao.
"Today's match was spectacular, it was a hard fought battle, both teams wanted so hard to win. Our coach Hao Wei was just doing his job, maybe he overdid it. We will pay more attention to it in the future. New Zealand's head coach did not shake hands with us. As coaches we have a strong desire to win the game, we have no problem at all. I'm not concerned about this. Our players showed their passion and enthusiasm. We only needed a draw to progress to the next stage but we always play to win."
As for the rest of the world's reaction?
Fair play to Tony Readings for refusing to shake hands with China's coach. Unbelievable gamesmanship. #FIFAWWC #NZL

— Martin Evans (@MartEvans) June 16, 2015
---
---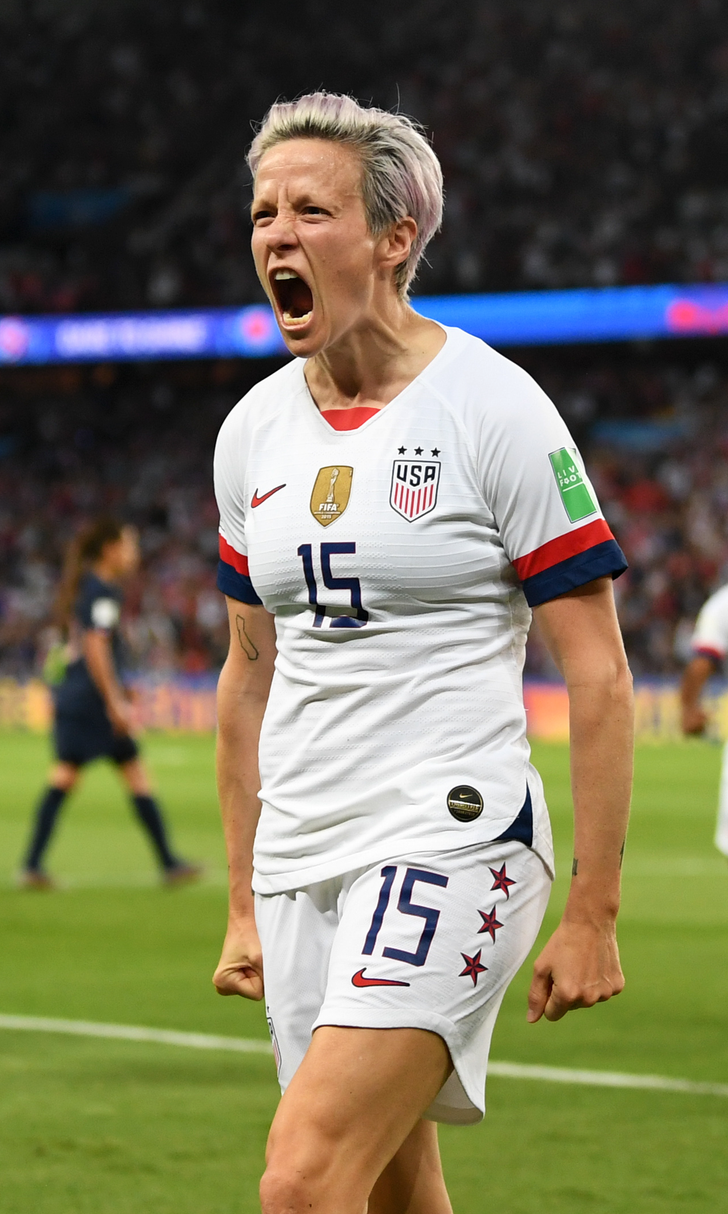 French Fracas
French Fracas
Behind two goals from Megan Rapinoe, the USA defeated host France in the quarterfinals of the 2019 Women's World Cup.