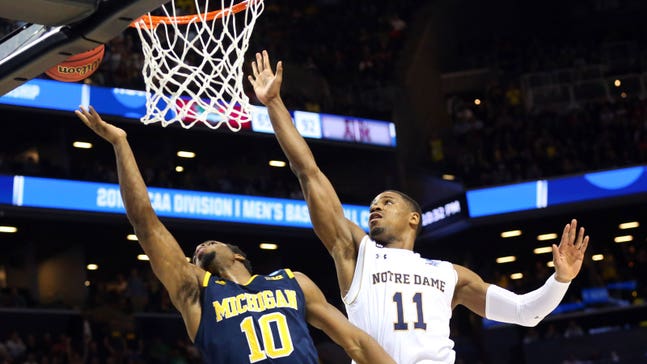 Notre Dame ousts Michigan with second-half surge
Updated
Mar. 5, 2020 1:58 a.m. ET

NEW YORK (AP) -- Notre Dame had a terrible first half and the Fighting Irish were uncharacteristically careless with the ball all game.
Still, sixth-seeded Notre Dame managed to move on in the NCAA Tournament with a 70-63 victory over 11th-seeded Michigan on Friday night in the first round of the East Regional at Barclays Center.
This run might not be as successful as the one last season. when the Irish lost a heartbreaker to then-undefeated Kentucky in the regional final -- but it started with an unlikely victory.
Notre Dame, which led the nation in turnovers for a while this season, finished with 16 turnovers, almost double their regular season average of 9.7, and the Wolverines turned them into 19 points. This was the fourth straight game the Irish had double figures in turnovers.
"This is two out of three games where we've had 15, 16, 17 turnovers," Notre Dame coach Mike Brey said. "I asked them, can we shave it down to maybe 10 on Sunday and not throw it all over the place?"
Notre Dame will face 14th-seeded Stephen F. Austin in the second round on Sunday. The Lumberjacks upset third-seeded West Virginia 70-56.
V.J. Beacham scored 18 points, including the 3-pointer that gave Notre Dame the lead for good as the Fighting Irish rallied to win. Notre Dame (22-11) didn't take a lead in the game until Beacham's 3 as the shot clock ran out with 9:26 left to make it 51-48. There were five more lead changes and three ties to come.
"It's just a good feeling," Beacham said. "Demetrius (Jackson) found me and I had my feet set. I was just able to knock it down. It was really our movement. We got the ball screen. We were moving so hard that my man had to help and Demetrius found me and I was just able to knock it down."
"Beacham's shot at the end (of the shot clock), we played 29 seconds of good defense on that play," Michigan coach John Beilein said.
Beacham finished 7 for 7 from the field, including hitting all four of his 3-point attempts.
"I just tried to step up and knock down the shots. My teammates were really finding me," Beacham said. "So I was just stepping up trying to knock down the shots and I was fortunate that all of them dropped tonight."
Michigan (23-13) controlled the first half, taking a 41-29 lead. Notre Dame scored the first eight points of the second half to get within 41-37.
"Notre Dame's strategy of coming out in the second half and being much more aggressive with their man-to-man defense was the key," Beilein said. "I did not like the way we reacted to it, and we'll just have to get better at that. They came out and denied some passes and put us back on our heels for a few minutes, and that was not a good thing. So it got them right back in the game, and then it was a dogfight who was going to make the last couple of shots was going to win the game."
Beacham's 3 with 4:24 left gave Notre Dame a 62-59 lead, one they never gave up.
Bonzie Colson had 12 points for Notre Dame but the final minutes were where he shined. He had a big blocked shot with just under 2 minutes to play and he converted a rebound for a 66-61 lead with 1:35 to go. He then iced the game with two free throws that made it 68-63 with 11 seconds left.
Zach Auguste had 10 points and 12 rebounds for the Irish, who finished with a 33-25 advantage on the boards.
Muhammad-Ali Abdur-Rahkam had 15 points for Michigan and Derrick Walton Jr. had 10 points and eight assists.
"Down the stretch we didn't collectively get enough stops in a row. And that was all the difference in the game basically," Walton said. "They were getting stops, and we weren't. They were making shots, and we weren't. That's pretty much what it boiled down to."
TIP-INS
Michigan: The Wolverines won the previous two NCAA Tournament meetings with Notre Dame in 1974 and 1976. ... Michigan entered the game having won eight of its last 10 NCAA Tournament games. ... Michigan beat Tulsa 67-62 on Wednesday in the First Four. Wichita State, the other 11th seed to win a First Four game, advanced to the second round with a victory over Arizona.
Notre Dame: Auguste averaged 15.7 points and 11.9 rebounds over the last 12 games. ... Notre Dame had eight blocked shots.
UP NEXT
Notre Dame: Stephen F. Austin on Sunday in the second round.
---
---