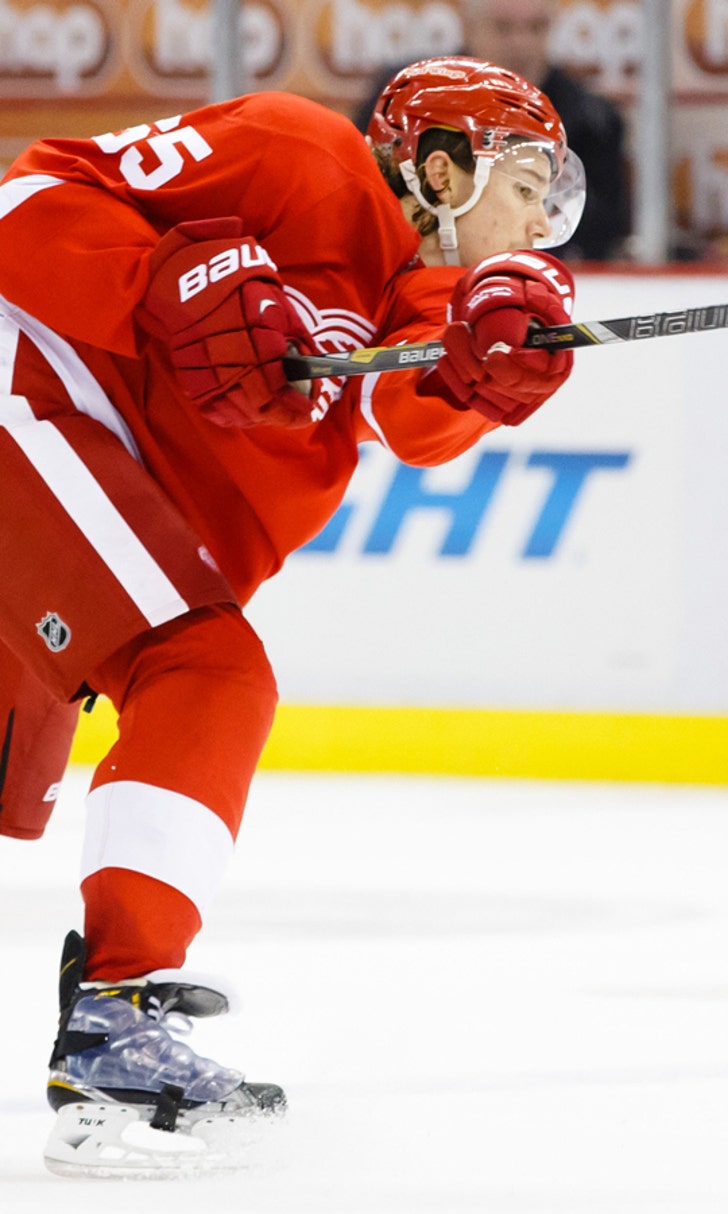 Notes: DeKeyser out with upper-body injury, Wings recall Ouellet
BY foxsports • December 11, 2014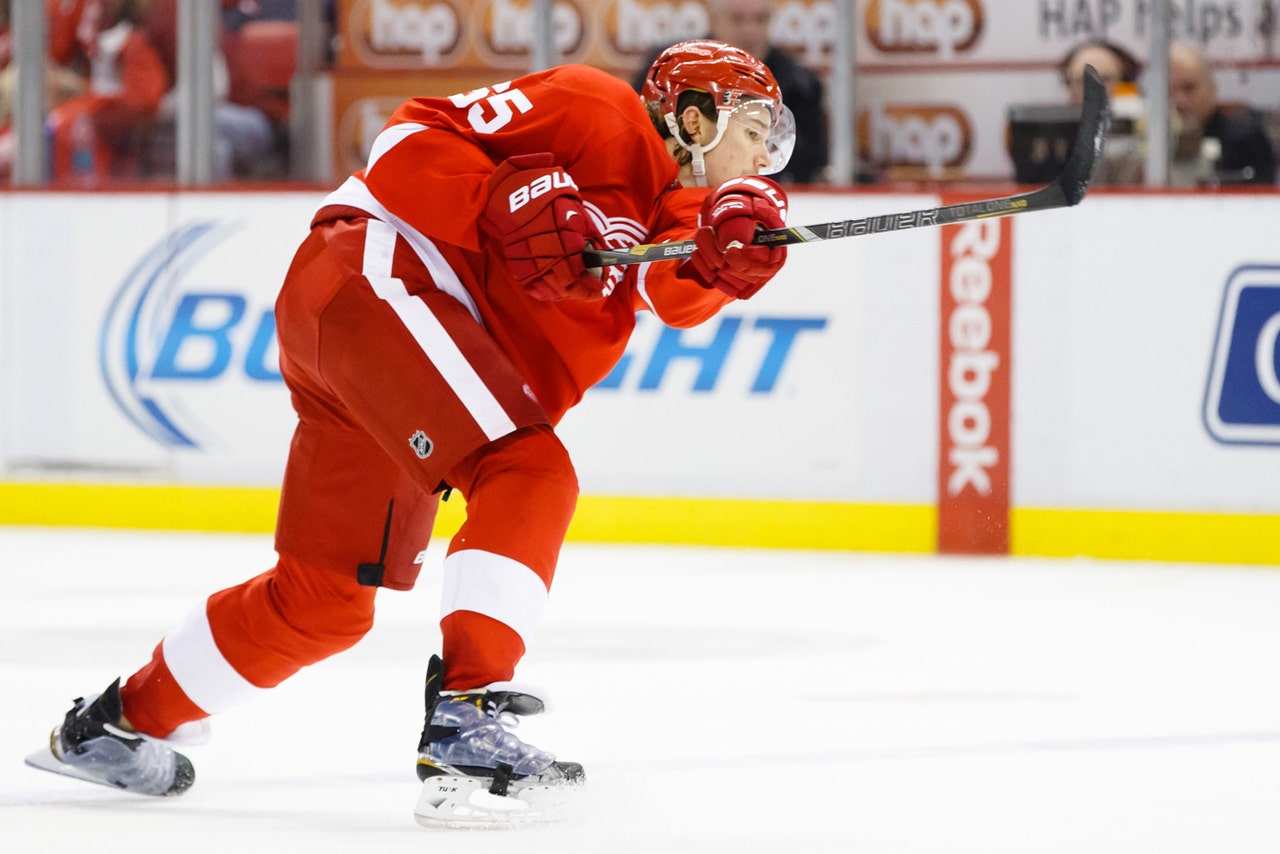 DETROIT -- The Toronto Maple Leafs got 30 hits in on the Red Wings Wednesday night and the Wings didn't escape unscathed.
General manager Ken Holland said defenseman Danny DeKeyser suffered an upper-body injury in the game and will miss at least the two weekend games against Florida and at Toronto.
"That's obviously a tough break for us," Gustav Nyquist said. "He's been real good for us. I love the way he plays. He can really skate, he's got real good speed and good heads-up play and knows when to make a play and when to play safe back there. I think for his age, he plays a real mature game and we'll miss him, for sure."
DeKeyser, 24, has one goal and 10 assists and is plus-5 in 29 games this season.
The Wings recalled Xavier Ouellet from the Grand Rapids (AHL) Griffins and placed Justin Abdelkader (shoulder) on 7-day injured reserve, retroactive to Nov. 30.
Ouellet, 21, played in five games from Nov. 20-28 when Brendan Smith missed time due to a hand infection. 
Ouellet had a goal and an assist and was plus-3 in those games.
"He's been great every time he's come up," Nyquist said. "He's shown that he can play here, for sure. I think Lash (Brian Lashoff) as well, whenever he gets a chance to get in, he's rock solid. He's big on our PK and blocked shots and is a real solid D-man. Any of those guys that can come in, they're gonna be right there and help right away."
Lashoff has played in nine games this season. He has two assists and is plus-5.
ABDELKADER BETTER
Abdelkader was able to practice without the gray, non-contact jersey Thursday.
"Abby, I think is pretty close," Wings coach Mike Babcock said.
When asked if Abdelkader could return this weekend, Babcock said next week was more likely. 
After Saturday's game in Toronto, the Wings return home to face the Columbus Blue Jackets Tuesday.
PANTHERS AGAIN
It's probably a good thing that the Wings face the Florida Panthers again so soon.
Last week, the Panthers were playing the Wings in the second of back-to-back games, yet looked like the fresher team in the 4-3 win.
"They're a good team," Nyquist said. "I think they're an underrated team. I think they're a team that works real hard and sticks to their system and plays hard for each other and works hard every night. You know they're going to come in here and skate a lot. They're not going to give you anything for free or anything like that. They got a real good goaltender in (Roberto) Luongo as well. They're a tough team to play. 
"Obviously they came in here and beat us last time. We didn't start nearly good enough as we wanted to. I think we had a good third there and almost made a comeback to tie it up late. Gotta make sure we start on time (Friday) and go from there."
SHOOTOUTS NOT WINGS' FRIEND
The Wings may have improved their power play but shootouts continue to be an Achilles heel.
On Wednesday night, the Wings fell to 1-4 when the Maple Leafs scored twice (Tyler Bozak, Mike Santorelli) and the Wings scored just once (Pavel Datsyuk).
"We obviously haven't been good enough," Nyquist said. "The shooters haven't been good enough. We're not scoring enough goals to win shootouts. I don't know how many goals we have in shootouts this year but it's not good enough to win a lot of them.
"It's not like we're not going in trying to score. Obviously we're trying to score when we go in there but it hasn't been going in and something that the guys that are shooting, that get the opportunity, those are the guys that have to figure it out and get this thing turned around."
Nyquist failed to score in his attempt Wednesday but does have two shootout goals.
Tomas Tatar, who has three career shootout goals, also failed to score Wednesday.
"With the skill we have in the locker room I would say we can be one of the best teams in the shootout but it's opposite," Tatar said. "I just try to go down and do the most simple thing to score. But I don't think it should be like that, you should be confident. Maybe if you're on a roll you would try more crazier things and the goalie wouldn't expect it. But right now everybody is trying to keep it a little more simple. You can't think about it too much, just go and do your thing and score a goal."
Babcock said the skill level is certainly not the issue.
"I think it's totally mental, like 100 percent," Babcock said. "We're just going to continue to work on it like we always do and try to be solution-based and come up with different ways of solving the problem and eventually we'll solve the problem. But we're not going to let it get in the way of how we feel about our team or the direction that we're going, because in the end they still don't have the shootout in the playoffs."
POWER PLAY POWERED DOWN
The Wings' power play was on fire for a while but has since cooled off.
The Wings are 0-for-12 with the man advantage lately. Their last power-play goal came in the first period against the Dallas Stars last Thursday.
"It was clicking really good there for a while. I think we're still creating some chances. We switched it up a little bit. The biggest thing we gotta get back to retrieving pucks and getting guys in front of shots but sometimes it's going in, sometimes it's not gonna go in. It's not always going to be clicking. We just gotta work hard, I think, and hopefully get the thing turned around soon."
The Wings are currently 10th in the league, hitting on 21 percent of their power-play chances.
Nyquist is second in the league with seven power-play goals. 
The New York Islanders' Brock Nelson, San Jose Sharks' Joe Pavelski and Pittsburgh Penguins' Evgeni Malkin each have eight.
---