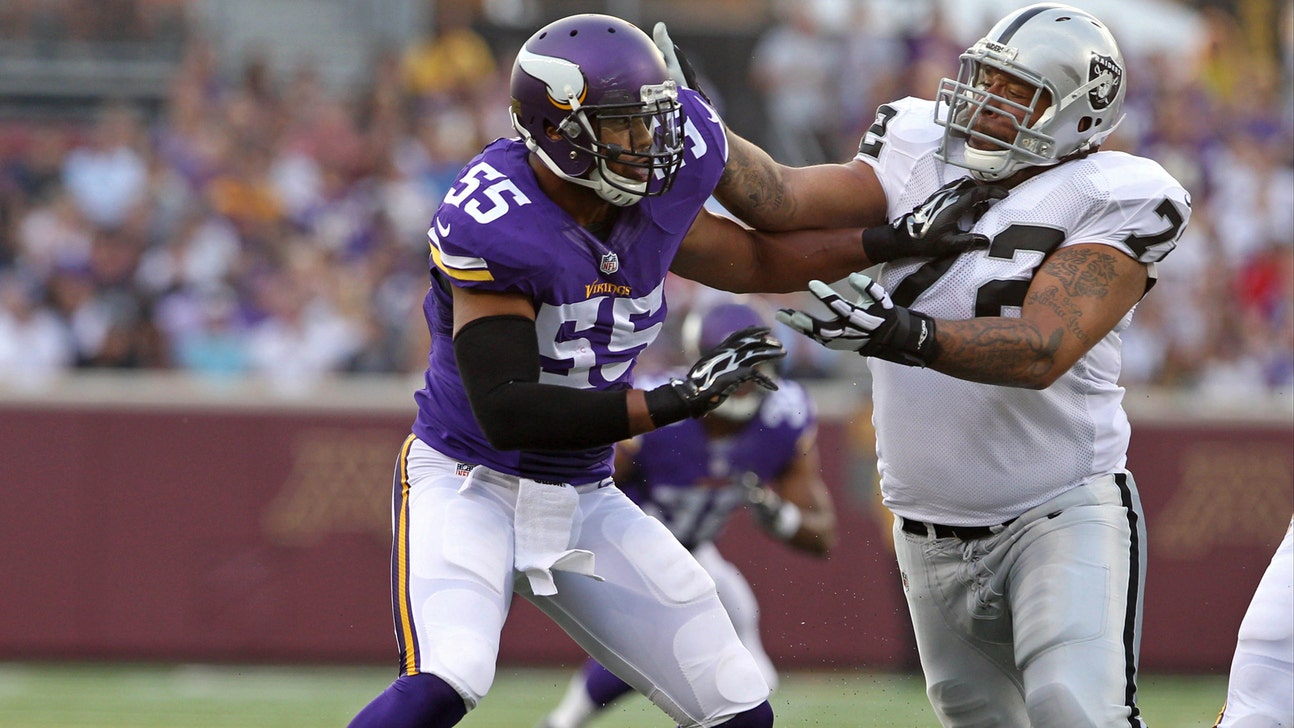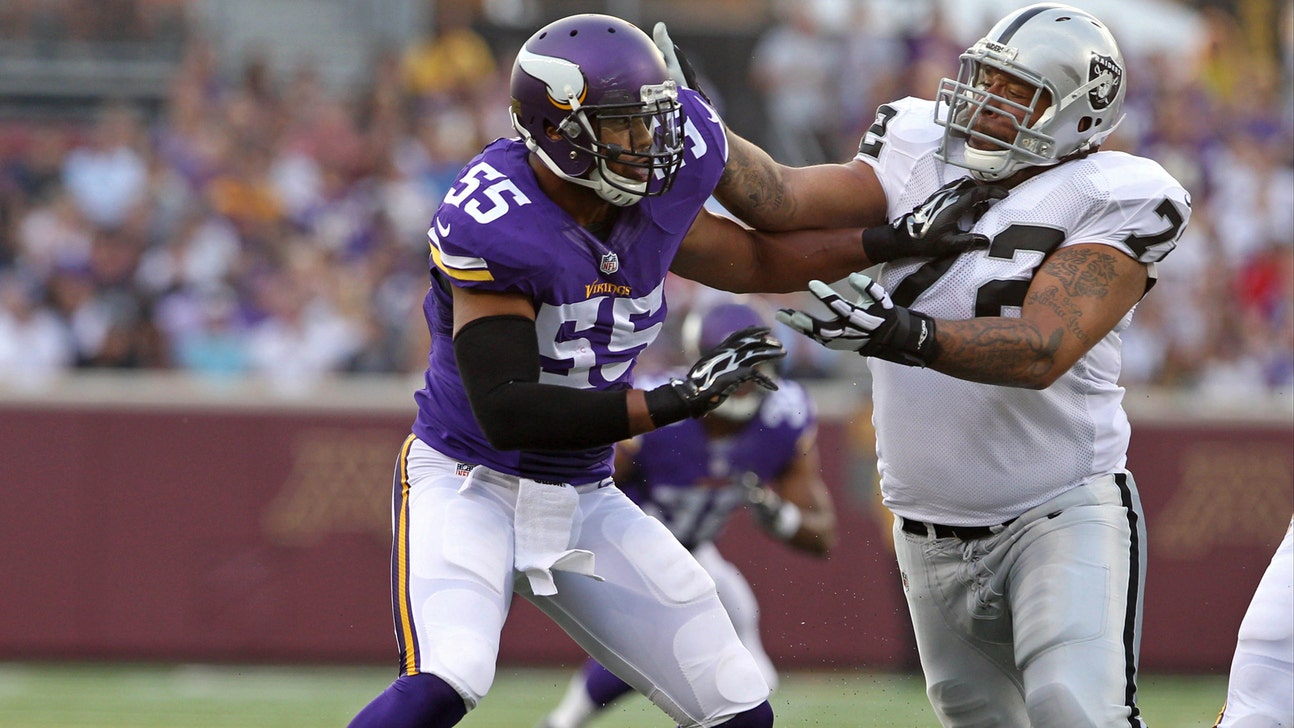 Notebook: Top pick Barr among several rookies to have good debut
Published
Aug. 9, 2014 1:32 a.m. ET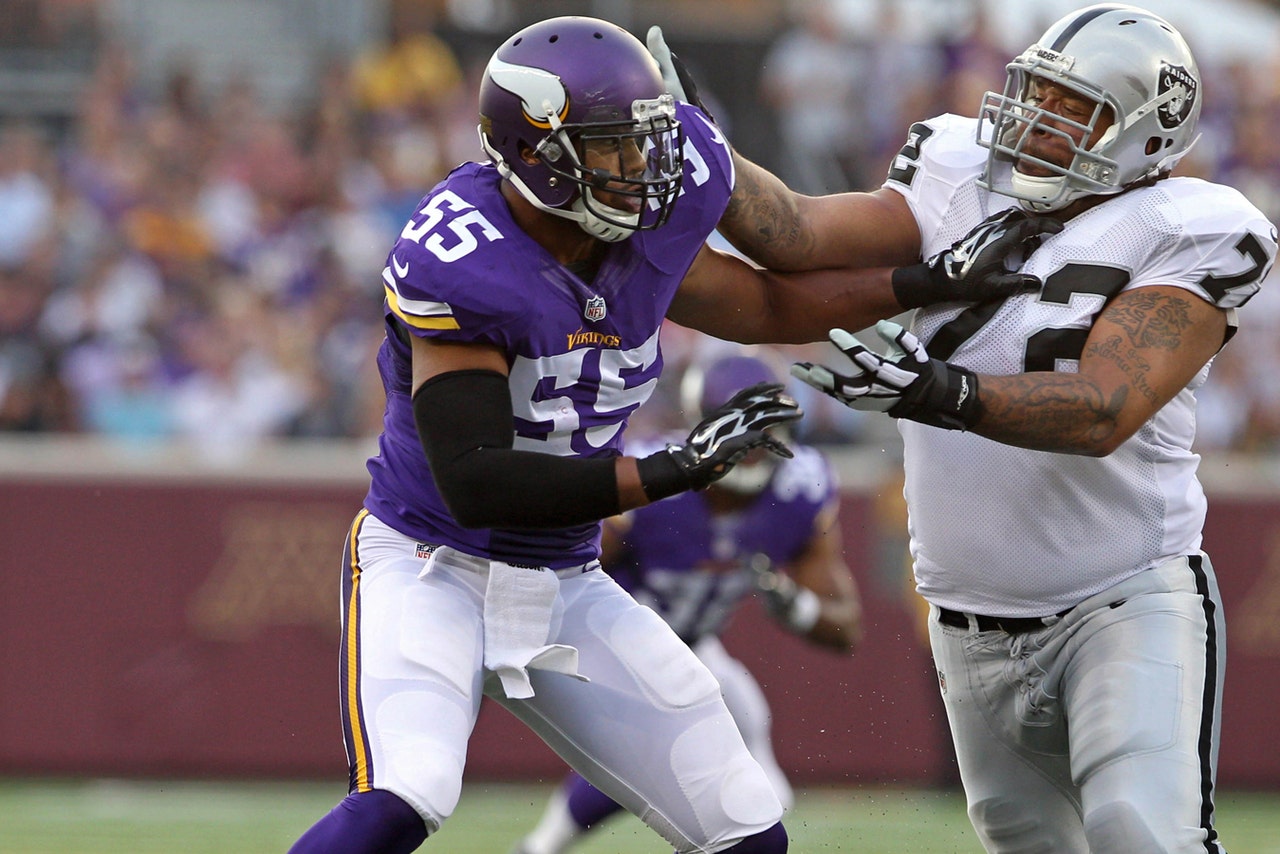 MINNEAPOLIS -- The spotlight was on Teddy Bridgewater, but he wasn't the only rookie making his preseason debut Friday night.
Bridgewater wasn't even the highest Minnesota Vikings draft pick playing Friday. That distinction belonged to linebacker Anthony Barr, who was the only rookie starting as Minnesota beat the Oakland Raiders 10-6.
Barr was one of a few Vikings rookies who had strong debuts. The linebacker from UCLA finished with a half-sack and had one quarterback hurry. Third-round draft pick Jerick McKinnon had 12 carries for 45 yards, and seventh-round pick Shamar Stephen led the team with five tackles.
Barr's sack of Oakland quarterback Matt Schaub came at the end of the first quarter. Veteran defensive tackle Tom Johnson forced Schaub up in the pocket where Barr finished his off for a three-yard loss.
"Whatever I'm asked to do, I'll do," Barr said of his variety in the defense. "That was the type of play where I had to come off the edge. There were a couple plays like that. When I do that, I'm going to be effective."
Zimmer wished he had used Barr in more pass-rushing situations.
"I didn't give him enough chances probably to blitz," Zimmer said. "I said after the third or fourth series, I said I've got to get him going a little bit more. But for the most part, I thought (all of the rookies) did what we expect.
McKinnon stood out for Zimmer by virtue of his expansive usage Friday. But he also failed to catch a punt when he was back as a returner.
"He probably won't catch punts next week," Zimmer said. "Other than that, Jerick has got great acceleration. He's got great hands. He's tough, he's thick, he's powerful and it showed."
The other quarterbacks: Bridgewater played from the second series into the second half, but Matt Cassel started the game and Christian Ponder finished.
Cassel led a crisp touchdown drive and likely showed enough for the coaches to make a quick move to Bridgewater. Cassel was 5 of 6 passing for 62 yards in the game. He nearly had a touchdown to tight end Kyle Rudolph, but Rudolph was pushed out of bounds at the 1-yard line. Running back Matt Asiata finished the drive with a touchdown.
"I thought he did a great job," Zimmer said. "He hit the 7-route. He made a couple big throws on third down. He played like a veteran. He had control in the huddle. The communication between (offensive coordinator Norv Turner, quarterbacks coach Scott Turner) and him was very good. We'll get (running back Adrian Peterson) back in there and it will help some."
Peterson was the only healthy starter held out of the game.
Ponder was 3 of 7 for 39 yards and was sacked three times.
Coleman makes a push while others sit: Veteran safety Kurt Coleman started alongside Harrison Smith and played much of the game with several members of the secondary banged up. Coleman made the most of his two tackles and an interception.
"Kurt has done a good job," Zimmer said. "He's a veteran guy. He's been a good special teams player in the league. He doesn't make the same mistake twice. He works real hard, studies real hard, asks good questions. So, he's done a very nice job."
Coleman is in the mix to start at safety, along with Robert Blanton, Jamarca Sanford, Andrew Sendejo, Mistral Raymond, Antone Exum and newly signed Chris Crocker.
"Honestly, I just control what I'm able to do each and every day," Coleman said after the game. "It's the coach's decision, whenever that happens. I'm just trying to get better every day, help this team out. I want to see us win, and I think we have something special going here."
Blanton, Sanford, Sendejo and Crocker were all held out of Friday's game. Blanton is still sidelined with a hamstring injury. Sanford is dealing with a tight back, and Sendejo is still making his way back from ankle and back injuries. Crocker didn't play after being signed this week.
Safety Mistral Raymond played, but left early with a concussion.
"I think those guys will be getting back fairly soon," Zimmer said of his injured players in the secondary.
Cornerbacks Josh Robinson and Marcus Sherels, who are both dealing with hamstring injuries, were also held out.
Blocked kick: Linebacker Gerald Hodges tied for second on the team with four tackles, but made his presence felt with a blocked field-goal attempt.
Hodges said it was the first kick he's blocked in his entire football career. Hodges is also competing for one of the backup linebacker spots behind Barr and veteran Chad Greenway.
"I never thought I'd do that," Hodges said.
Follow Brian Hall on Twitter
---