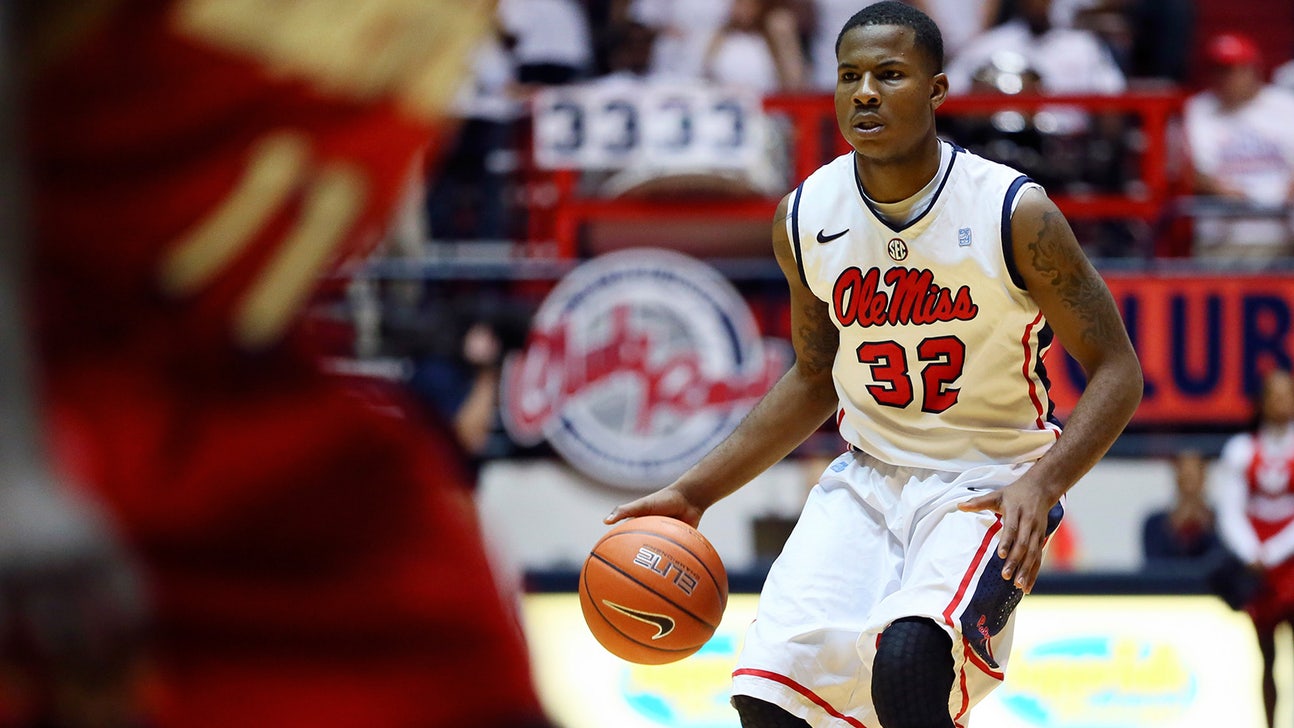 Notebook: Ole Miss returns top player, Texas A&M hoops turning heads
Published
Oct. 24, 2014 8:57 a.m. ET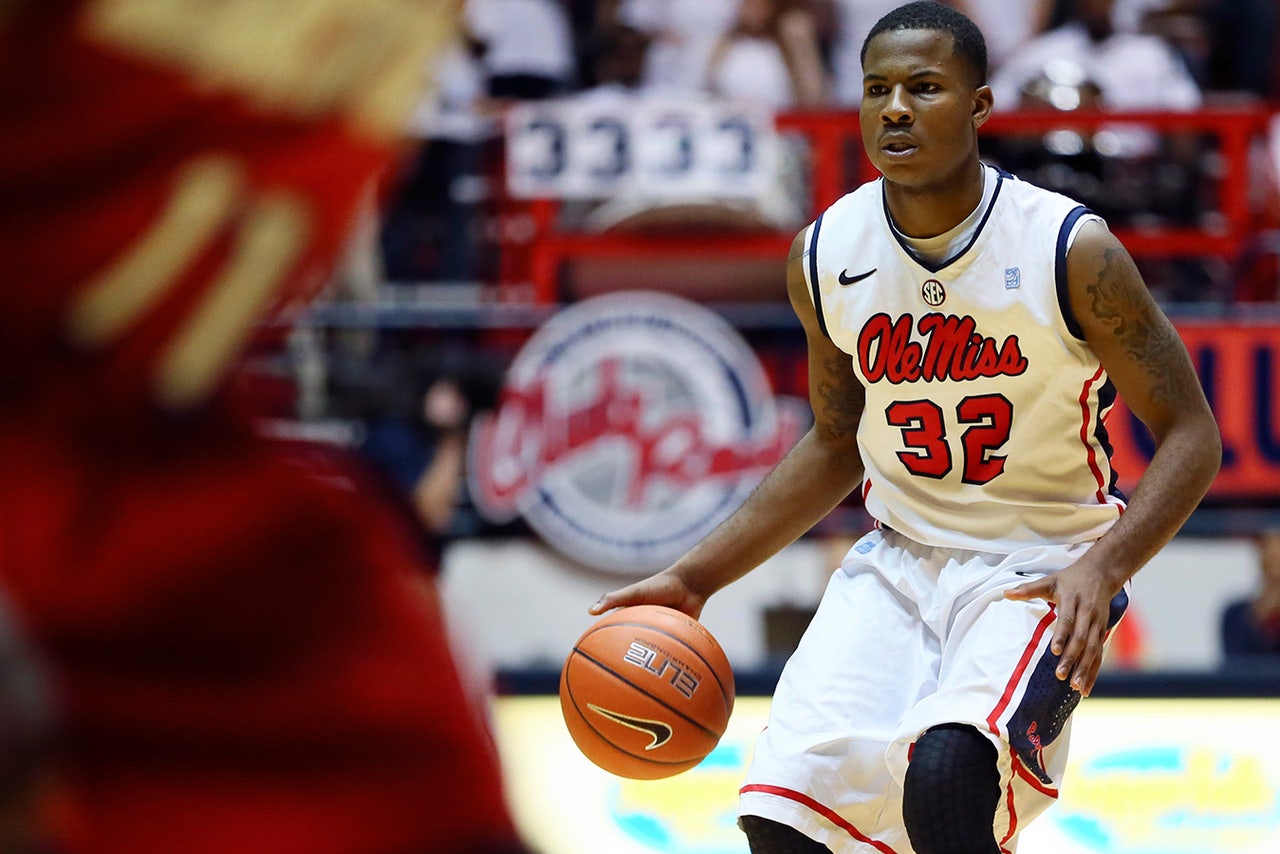 CHARLOTTE, N.C. -- The prevalent nature of the Marshall Henderson Era in Oxford was never lost on Ole Miss coach Andy Kennedy. A high-volume, low-efficiency scoring guard with on-court enthusiasm to spare, the chronicles of No. 22 brought national exposure to Kennedy's program, for better or for worse.
There were 3-point barrages, broken records, NCAA Tournament wins, landshark hand motions, a three-game suspension, a variety of forced shots that missed their mark, 14 25-point outbursts and one captivating run to the 2013 SEC Tournament title.
Henderson stole the headlines. Kennedy managed Marshall Mania.
It's a new day in Oxford. Henderson is now playing professionally in Qatar. His former coach seems to like his future chances, calling the Rebels the "deepest group" he's coached. The loss of a player averaging 19 points per game isn't going to hit Kennedy's program too hard: Ole Miss didn't even lose its top player.
"Last year, even though Marshall got a lot of the hype and justifiably so for a number of reasons, our best player was Jarvis Summers. And Jarvis is still on board," Kennedy said at the SEC Tipoff in Charlotte. "He's the most experienced and most productive player returning to the entire league. He's scored more points and had more assists and played more minutes than anybody in SEC basketball, and he's helped us win a number of games."
Summers did indeed develop into the Rebels' best player and one of the most consistent backcourt presences in college basketball last season, certainly one of the best in a conference where he was just voted preseason All-SEC entering his senior season.
While Henderson never truly caught fire offensively like he did while sparking the team's '13 postseason run -- the 6-foot-2 gunner saw his offensive rating drop significantly (113.5 to 108) despite taking up an even greater percentage of the team's available possessions last season -- Summers didn't exactly deal in outliers. His coach described him as steady and consistent, and that's the player he remained throughout the campaign. In 25 of his 33 games played, his single-game offensive rating was above 100 as he averaged career-highs with 17.3 points and 3.8 assists.
"Really the biggest difference from his sophomore year to his junior year was his ability to make shots. He got open shots with Marshall based on floor spacing and he shot the ball so much better his junior year," Kennedy said. "Early in the season, you know Marshall started last season with a couple games suspension, so it forced Jarvis to be more assertive. He scored his career high in our season opener against Troy with 28 points, and from that point on really played with such a confidence throughout the year."
And while Kentucky's Aaron Harrison took preseason SEC Player of the Year honors, perhaps only Bobby Portis of Arkansas projects to play a more significant role in his team's success than Summers this season. As the 6-foot-3 point guard goes, so go the Rebels.
Ole Miss will feature some size and experience, but it will be a matter of how it all blends. Kennedy pieced together a veteran-laden group with two JUCO transfers (Stefan Moody, Roderick Lawrence) and two post-grad additions (UT-Martin's Terence Smith, Tennessee State's M.J. Rhett). Moody is the former Sun Belt Freshman of the Year at Florida Atlantic while Smith and Rhett were productive players on bad teams in the Ohio Valley Conference. How it all fits together offers a new point of interest for the program.
Through it all, the coach is just hoping his point guard can replicate his junior year successes.
"I need him, from a production standpoint, if he can produce to the same level, he's a 17-plus (points) per game guy. He shot the ball with the percentage (you want). He's always been good with his assist-to-turnover ratio," Kennedy said. "I just need him to be steady and guide us."
BUY FUTURES IN COLLEGE STATION
Kentucky is the preeminent recruiting steamroller annually. Florida, under Billy Donovan, gets more than its fair share of top recruits. Missouri, LSU, Arkansas, Tennessee and even South Carolina have gotten into the mix for top players in recent years. However, there's an unexpected school planted at the No. 2 spot nationally in Scout's recruiting rankings, and the state of Texas is to blame.
Coach Billy Kennedy's Texas A&M program boasts one of the most impressive 2015 classes at the moment: three of the top 32 prospects in the country plus another four-star guard committed. It's widely considered the top class in school history. It's the culmination of three years worth of recruiting with a focus on some of the top prospects in the Lonestar State -- a process that basically started when Kennedy & Co. arrived on campus -- and things suddenly look like they are coming together for the Aggies.
"We're on the cusp of something special," said Kennedy, the fourth-year head coach who was hired from Murray State in 2011.
With Tuesday's verbal commitment of Elijah Thomas, the No. 8-ranked center out of Lancaster, Texas, fortunes are shifting in College Station. For a program that hasn't won an NCAA Tournament game since 2010, and one that hasn't gotten to the Sweet 16 since Acie Law was in uniform, securing this group could be a turning point in Kennedy's tenure. The former Texas A&M assistant was already recognized for his strong recruiting ties in the Texas area before taking the Aggies head job, but this cements that reputation.
For his part, Kennedy credits some of the players already in uniform for re-writing the book on Texas A&M basketball.
"Our players have done a tremendous job of recruiting these kids. All of them are from the Texas area," said Kennedy, who just recently signed a two-year contract extension. "(Four-star 2014 signee) Alex Robinson gave us an identity in Dallas that we've lacked since I've been here and maybe right before I got here. So they're seeing some of the better players coming to Texas A&M. (Four star 2012 signee Alex) Caruso was one of the top players and he's had success now in the SEC. People know we're in the SEC, the transition is (complete). Football success. There's a lot of things that have gone positive for us."
If Kennedy's staff can make it work, the combination of Thomas and five-star center Tyler Davis (Plano, Texas) could give Texas A&M one of the most talented frontcourts in the country starting next year. Both big men are most comfortable around the rim at this point in their development, according to scouting reports, but that's 520 pounds and nine stars-worth of talent Kennedy is adding on the interior. Sharpshooter D.J. Hogg (Plano, Texas), a 6-foot-7 forward that drew interest from many of the nation's top programs, should give an Aggies offense that's been rather terrible since the departure of coach Mark Turgeon some more firepower. Four-star guard Admon Gilder out of Dallas rounds out the class.
Only Arizona is sitting prettier in terms of future incoming talent right now.
Myriad factors have helped along the way, not the least of which is the addition of former Mississippi State head coach Rick Stansbury to the coaching staff, and it's come at a pivotal time for an Aggies program that has lost some key players of late.
Donovan's relationship with Kennedy goes back to the former's days as a Kentucky assistant under Rick Pitino, and when asked about Texas A&M's impressive haul he likened it to the early days of his Florida turnaround.
"I inherited a struggling program, you know? And we had some guys in our area, so to speak, in our state -- Udonis Haslem, Teddy Dupay, Brent Wright, Justin Hamilton -- that really changed the complexion of our program. And obviously the big guy that had a lot to do with that was Mike Miller, who was out of state. But I think Billy has always done a great job recruiting. He's worked very, very hard at it. And with the guys they're getting in the state of Texas it doesn't surprise me.
"I think Billy -- there's certain years where you know as a coach there's some guys close by geographically that can really help our program. And I think Billy has some of those kinds of guys around his program right now."
LINE CHANGE
Speaking of Mike Miller and Donovan's early teams, the concept of lineup platoons -- or wholesale in-game line changes -- is back in circulation thanks to the ridiculous amount of talent John Calipari has gathered in Lexington. The Wildcats coach, with what looks to be one of his most experienced and talented teams, featuring nine McDonald's All-Americans, has floated the prospect of going 10 or 12 deep into the roster, essentially playing two different lineups and keeping everything fresh ... and terrifying.
"The best teams that I've coached, I've coached six guys," Calipari said. "That being said, I'm doing it twice now."
Returning 6-foot-6 guards Andrew and Aaron Harrison and big men Willie Cauley-Stein, Dakari Johnson, Marcus Lee and Alex Poythress, each big-time recruits in his own right, should help. Infusing the second-ranked recruiting class, featuring five-star prospects Karl Anthony-Towns, Trey Lyles and Tyler Ulis, only adds more options. The names keep coming. Even after losing two first-round NBA draft picks (Julius Randle, James Young) and reaching the national title game, the nation's preseason No. 1 team looks even better on paper.
Donovan reached deep into the bench with his 1999-2000 team, a roster stocked with future pros. With Miller, Haslem, Donnell Harvey and Matt Bonner along with some other quality college standouts, Florida had 10 players average 13 minutes or more during its Final Four run. Calipari would like to see similar March results. But Donovan warned about the obstacles.
"At times for us it was a real challenge," Donovan said. "That one year in 2000, we kinda had 10 guys we were playing and we had to go through some ups and downs and some bumps in the road there just because different players wanted to be out there more. That's what you want from any player. You don't want someone that's content sitting on the bench. If you're a competitor, you want to be out there. But there's things that you have to work through."
Donovan offered another piece of sage advice, and perhaps some optimism for the rest of the league: "(Calipari) can't play 10 at a time."
As it stands, Kentucky is the consensus choice to win the league title and challenge for one of the final spots in Lucas Oil Stadium in Indianapolis. It placed five players on the conference's two preseason All-SEC teams. And that's without half the roster playing a single college game.
When asked if Kentucky is essentially running out two separate NCAA Tournament-caliber teams this season, Andy Kennedy took it one step further.
"I would suppose that with the quality of talent, hell, you may could make up three," the Ole Miss coach said. "They are certainly an extreme example of college basketball, and I mean that in a positive way. Tremendously talented team. And unlike a lot of teams in Cal's past with this Kentucky group, they've got some upperclassmen. They've got a number of juniors, a number of guys returning off a terrific run through March and I'm sure they'll all be wiser for the experience."
---