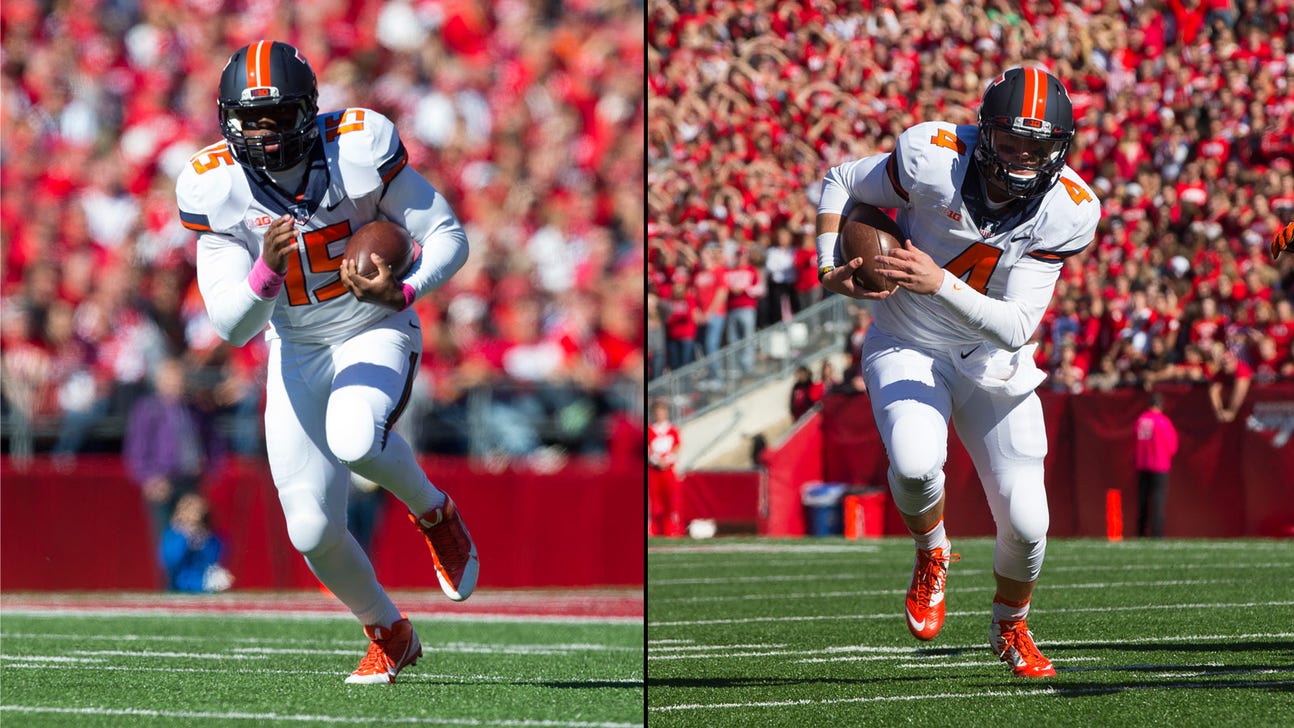 Notebook: Gophers defense has to prepare for two Illinois QBs
Published
Oct. 21, 2014 3:45 p.m. ET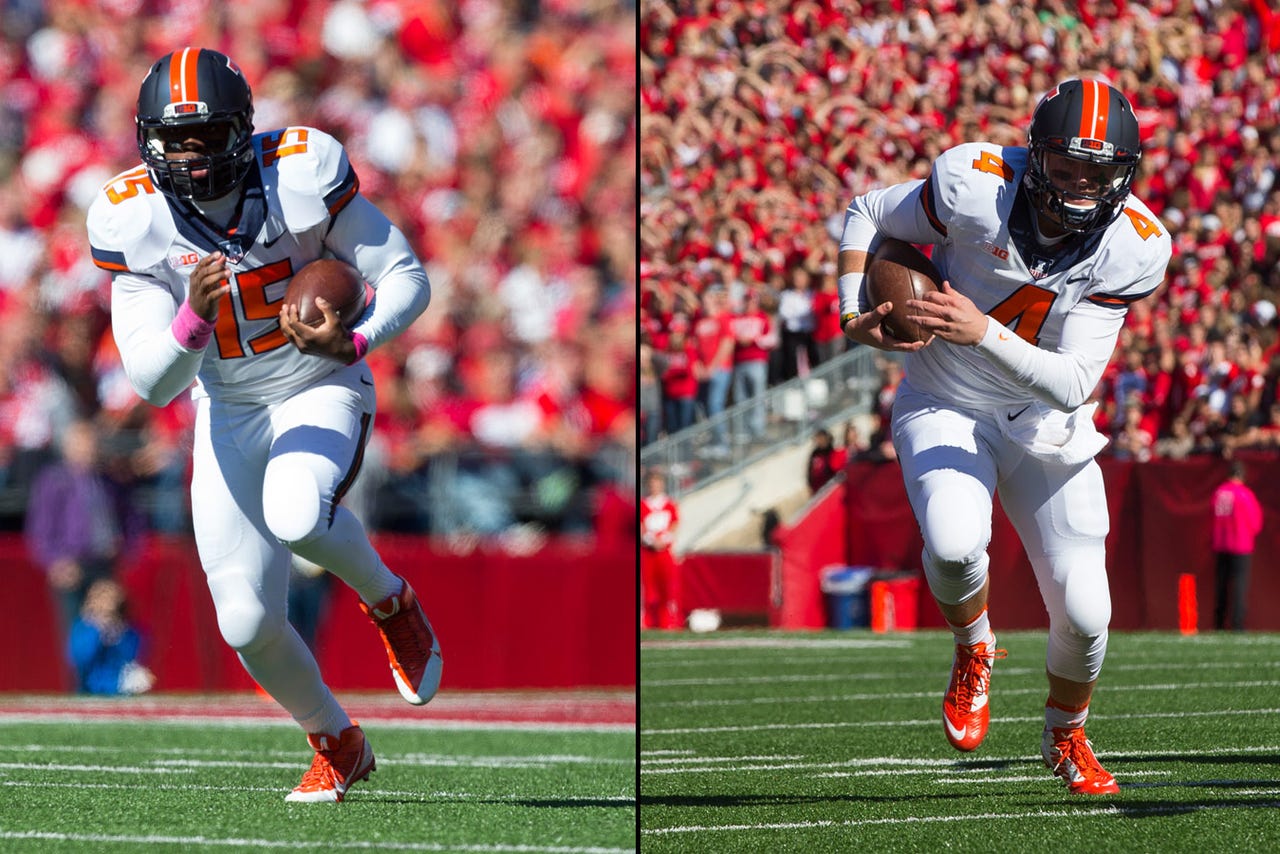 MINNEAPOLIS -- In Saturday's 39-38 win against Purdue, the Gophers struggled at times on defense. Minnesota made some adjustments at halftime and eventually made some big defensive plays when it needed to in order to escape with the win.
Now the Gophers are preparing to face an Illinois team that ranks in the middle of the pack in the Big Ten in terms of total offense, but is at the top of the list when it comes to passing.
The Illini are averaging 304.6 passing yards per game this season, easily the most in the Big Ten and 20th among Division I teams. Adding to the challenge of facing that passing offense is the fact that Illinois uses a two-quarterback system, with Reilly O'Toole as the passing threat and Aaron Bailey in running situations.
"You don't know who's going to play. That's probably the hardest thing," said Gophers cornerback Briean Boddy-Calhoun. "You kind of are in the film room double the time because if he plays, then you've got to know what he does very well, and if the other one plays, you've got to know what they do very well. So I would say the toughest thing is not knowing who's going to play."
Illinois had this past weekend off. In the Illini's most recent game, though, O'Toole was 12 of 19 for 96 yards and two touchdowns against Wisconsin, while Bailey attempted just five passes but ran 12 times for a team-high 75 yards after replacing O'Toole in the fourth quarter.
Illini head coach Tim Beckman has said that both O'Toole and Bailey will see snaps Saturday when Illinois hosts Minnesota. That means the Gophers have to be prepare to stop not one but two quarterbacks of differing styles.
"It takes a little bit of an adjustment at the beginning of the game," said Gophers defensive coordinator Tracy Claeys. "I tell the kids all the time, the first two or three series are hell. You've got to survive them and see what they're going to do. You get lined up from there."
Offense hasn't been the problem this year for the 3-4 Illini, who are averaging 28.6 points per game. The weak spot has been the defense, which has surrendered 35.9 points a game.
"They're always scoring points offensively," Minnesota head coach Jerry Kill said of Illinois. "That's what (offensive coordinator Bill Cubit) likes to do.  However, he's a great person adjusting to the personnel that he has.  So with the quarterback situation, he has a running quarterback, he's great at being able to fit packages with those quarterbacks, but he'd like to throw it."
Gophers crack Top 25: Saturday's win over Purdue propelled Minnesota into the top-25 rankings in college football -- at least in one poll.
The coaches poll has the Gophers at No. 24, while Minnesota is a few spots outside of the Associated Press top 25. A week ago, Boddy-Calhoun said he didn't want to be ranked, noting that Minnesota has thrived in the role of underdog.
Now that the Gophers have a number in front of their name, though, Boddy-Calhoun and his teammates can appreciate the outside acknowledgement.
"It feels good, I guess. I just found out not too long ago," Boddy-Calhoun said Tuesday. "It's great for the program. It's great for the community. But that's not our goal to be ranked."
Minnesota has said all season that it hopes to win the Big Ten, and at 6-1 overall and 3-0 in the conference, the Gophers are on track to do just that. At least the coaches have taken notice, as they did last year when Minnesota was in the top 25 in the coaches poll.
The Gophers still haven't been ranked in the AP poll since 2008, but this year's squad doesn't seem to care whether or not it's ranked.
"I think you'd be lying if you said that you didn't appreciate when someone notices your hard work," said Gophers defensive tackle Cameron Botticelli. "But that being said, this football program and our team, we don't need outside recognition to direct us. We know where we're going. At this point in the season, we're in charge of our own fate. It feels good. But we don't need that validation from an outside source."
Cobb's productivity tough on other RBs: Minnesota has had a hard time taking senior running back David Cobb out of games this year, a big reason why he leads the nation with 189 carries. Because of his workmanlike season, Cobb's backups have been used only sparingly through seven games.
Fellow senior Donnell Kirkwood got into the action a bit Saturday against Purdue and found the end zone on a short run, but backup Rodrick Williams didn't have a carry in each of the Gophers' last two games. Offensive coordinator Matt Limegrover said that's nothing to do with Kirkwood and Williams, but speaks more for what Cobb has been able to do as the No. 1 back.
Both Williams and Kirkwood have just 14 carries each this season after rushing 60 and 52 times, respectively, last year. Two seasons ago, Kirkwood led Minnesota with 218 carries for 926 yards but has now seen those carries dwindle as a result of Cobb's effectiveness.
"He never looks exhausted," Limegrover said of Cobb. "It's hard when you've got a kid that's rolling the way he's going to say, 'Hey, we're going to take you out and go a different direction.' That's hard right now."
Follow Tyler Mason on Twitter
---