No word yet on further discipline for Ventura, Herrera
April 20, 2015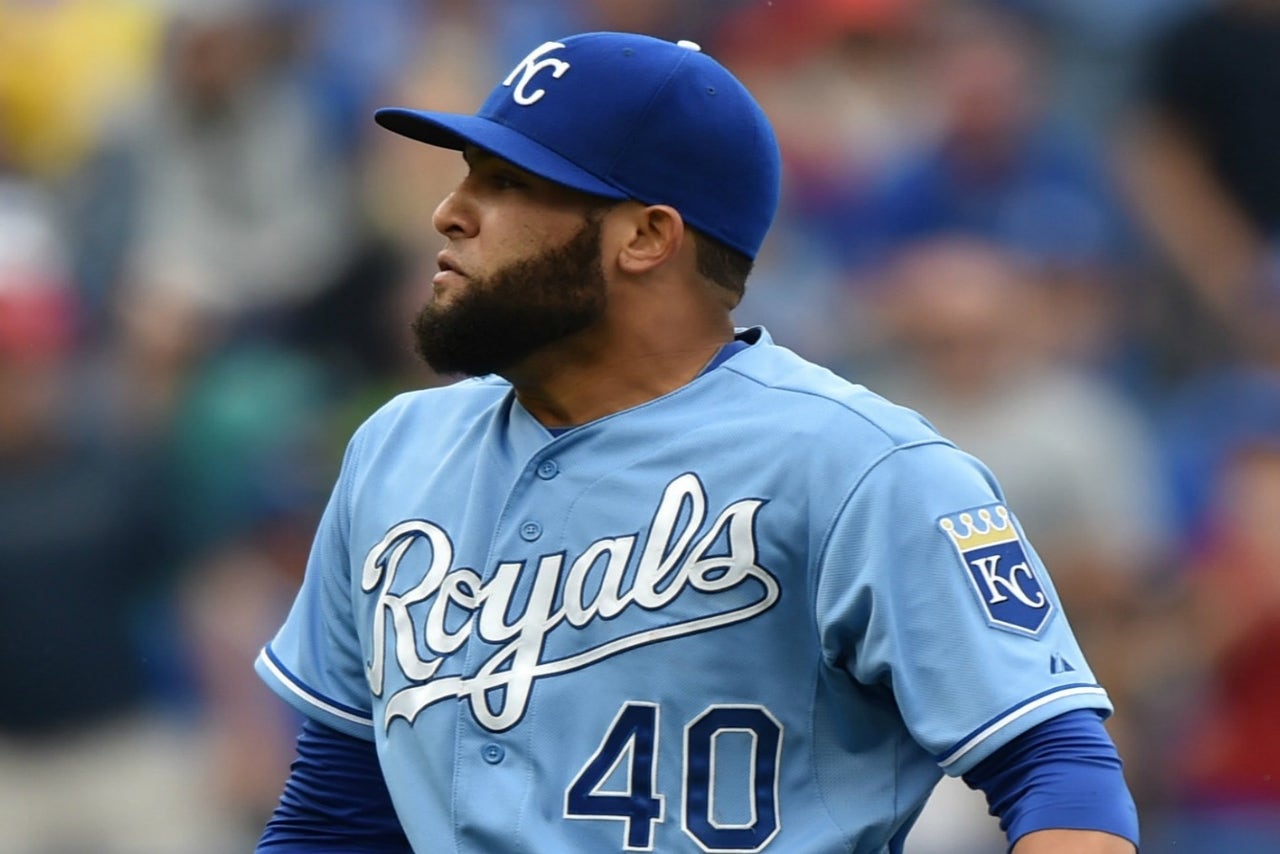 KANSAS CITY, Mo. -- The Royals have not heard from Major League Baseball about possible further discipline for pitchers Yordano Ventura and Kelvin Herrera, manager Ned Yost said.
Both Ventura and Herrera were ejected during this weekend's series against Oakland after at-bats with Athletics third baseman Brett Lawrie. Ventura hit Lawrie on the elbow with a 99-mph fastball Saturday, while Herrera threw a 100-mph fastball behind Lawrie on Sunday.
The pitches could have been retaliation for Lawrie's hard slide into second Friday night, which injured shortstop Alcides Escobar. Escobar missed games Saturday and Sunday but returned to the lineup Monday.
"Nobody likes going through what we went through this weekend," Yost said. "Nobody likes that. But things happen."
According to spotrac.com, no pitcher has been suspended for throwing at someone since August 2013, when Ryan Dempster was banned five games for throwing at the Yankees' Alex Rodriguez.
Rick Porcello earned a six-game suspension in July 2013, and Ian Kennedy was tossed for 10 games after his hitting of Yasiel Puig started a brawl in June 2013. The last reliever to be suspended for throwing at someone was George Kontos in June 2013. He was slapped with a three-game ban for throwing at Andrew McCutchen.
On Sunday, Yost said Ventura's actions could be a teaching moment. He said the same thing about Herrera, who pointed to his head as he exited the field. Herrera later said that the gesture meant "think about it."
Yost declined, though, to go into specifics about what he told Herrera.
"There are areas that we can do better in," Yost said. "We sit down and we talk about those things as a group. These guys are very close to Dave Eiland and they listen to what Dave says. And when these things happen, we'll sit down and we'll talk them. 'OK, this is what we could have done better.' These are all things that happen and that's how they learn."
The Royals and Athletics emptied their benches in each of the three games this weekend. In three of the four series this season, Kansas City has had a confrontation. Through the season's first 12 games, the Royals have gained a perception nationally as a chippy team.
First baseman Eric Hosmer said the team just cared about what happens in its own clubhouse.
"Obviously, there is going to be a perspective from the outside point of view and what people turn the TV on and what they see," Hosmer said. "We stick together as a team and we realized that if we have everyone on the same page and everyone is built toward the same goal, we're all in it together, we're a tough team to beat. That's the approach we like to take."
You can follow Matthew DeFranks on Twitter at @MDeFranks or email him at matthew.defranks@gmail.com.
---