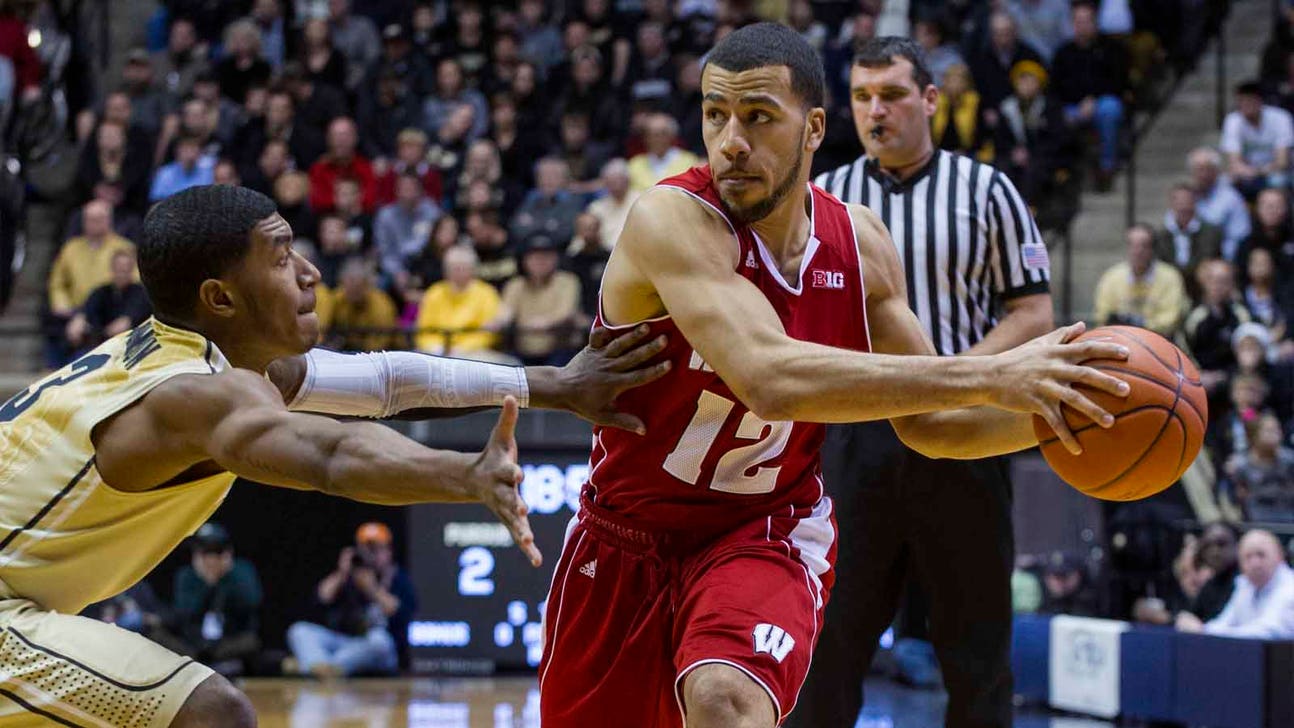 No. 9 Wisconsin ends skid with win at Purdue
Published
Jan. 25, 2014 7:30 p.m. ET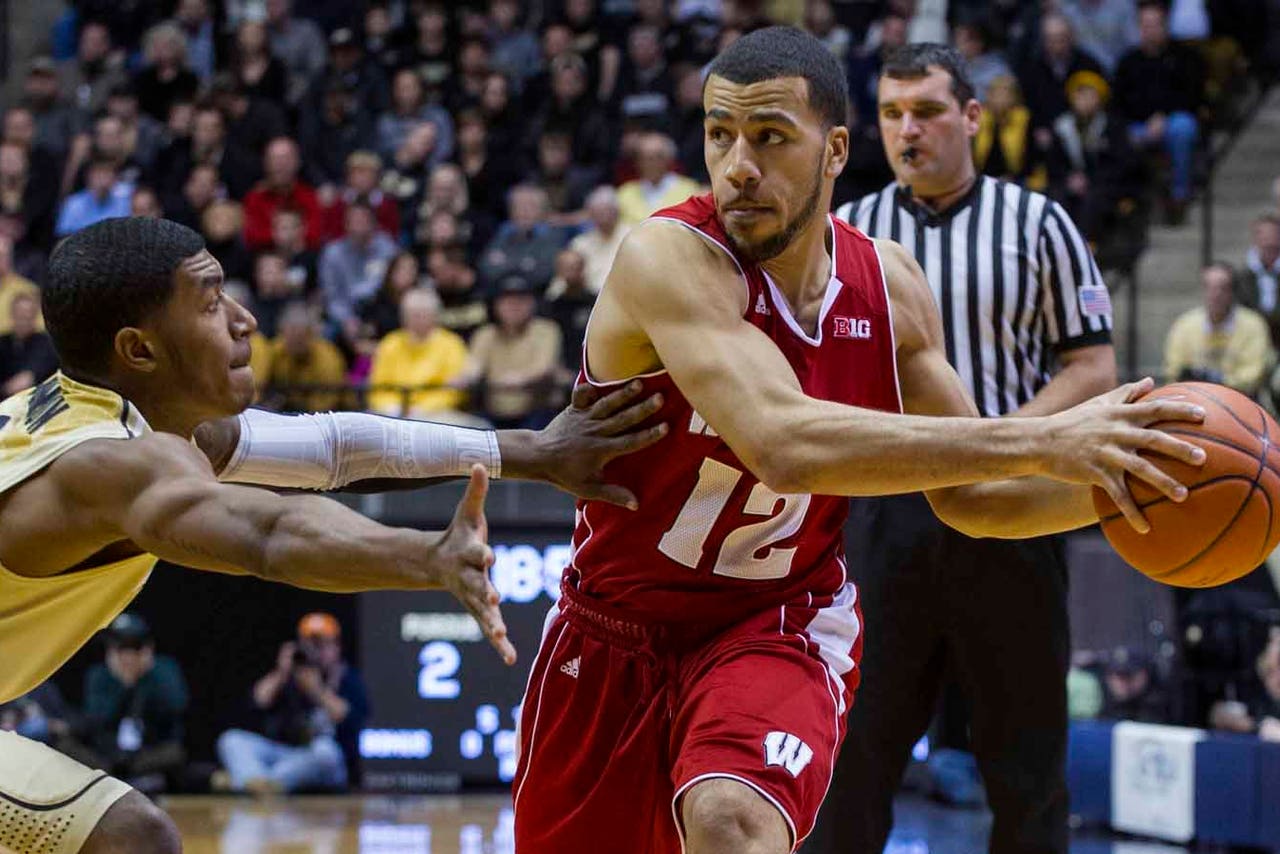 WEST LAFAYETTE, Ind. (AP) -- Wisconsin finally found a way to win again -- get back to basics.
Frank Kaminsky scored 16 points and Sam Dekker and Traevon Jackson each had 15 as No. 9 Wisconsin ended a three-game losing streak with a 72-58 victory at Purdue -- a win that should make ailing coach Bo Ryan feel somewhat better.
"We knew what we had to do," Dekker said. "We took it into the paint more, shot more free throws. In some of those past games, I don't think we were being aggressive enough going to the rim. And when you shoot 33 free throws, you know you're doing something right."
But they almost had to win this one without their coach.
Just hours before the game, Ryan was feeling so sick he warned associate head coach Greg Gard that he may have to take the reins.
Wisconsin's players said they didn't find out until Ryan asked someone to bring him a trash can during one of the timeouts. Fortunately, it wasn't needed.
Ryan didn't take questions afterward as he tried to recover in the locker room before heading home to Madison. But Gard made it clear that Wisconsin needed to revert to its old-school formula to pull off its first win in 17 days.
"The fashion in which we lost those games is not characteristic to what this program is about," Gard said. "We had to get back to some things defensively and part of that was being more efficient offensively."
It's only the fourth time the school has ever won at Mackey Arena, and it marks the first time the Badgers (17-3, 4-3 Big Ten) have ever strung together two in a row here. They also won at Mackey in 2012.
For the Boilermakers (13-7, 3-4), it was a bruising result on an emotional day that started with a somber tone.
School officials called for a moment of silence to honor Andrew Boldt, the Purdue student who was killed Tuesday in a campus shooting, and longtime athletic department official and former assistant basketball coach Tom Reiter, who died Friday night after battling cancer. Both were Wisconsin natives.
Purdue also was attempting to add a statement win to its postseason resume.
Instead, A.J. Hammons picked up two fouls in the first 95 seconds and added a third midway through the first half, just 28 seconds after re-entering the game. The 7-foot center wound up with just two points and two rebounds.
Only two players -- Terone Johnson and Bryson Scott -- reached double figures. Each scored 10 points.
That forced coach Matt Painter to mix and match his lineups, trying to find a combination to put Wisconsin on its heels.
"It really threw things off for us," Johnson said when asked about Hammons' foul trouble. "Lately, we've been having success at getting the ball inside to him and then playing from the inside out. We weren't able to do that because he got those fouls really early. When he came back in the second half, it didn't really seem like his head was in the game."
The Badgers had their own problems.
Kaminsky picked up two fouls in the first six minutes and spent the rest of the half shuttling back and forth from the bench to the scorer's table. After opening the game 6 of 11 from the field, the Badgers managed only 13 baskets over the final 34 minutes.
But the Badgers committed just nine turnovers, matched Purdue rebound for rebound and limited the Boilermakers to 35.4 percent shooting from the field, eventually figuring out how to pull away late.
"We didn't shoot the ball well like we usually do, but we did the other things well," Jackson said. "We squeezed on defense, we communicated, got rebounds, and those are the things that define champions and how you want to be every possession."
Wisconsin jumped to a 17-6 lead, still led 32-29 at halftime and appeared to take control by jumping to a 41-31 lead early in the second half.
Purdue answered with an 8-1 flurry to close to 42-39.
Wisconsin then went on a 9-2 run to take a 51-41 lead and closed it out with a late 11-4 spurt.
"That's what we're supposed to do," Jackson said. "The biggest thing I think we learned (from the losses) is that you have to keep playing every play no matter how bad you shoot, no matter what the circumstances look like."
---