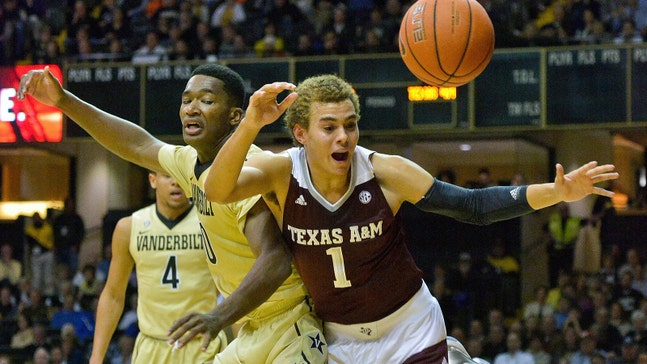 No. 8 Texas A&M upset on the road by Vanderbilt
Updated
Mar. 4, 2020 6:39 p.m. ET

NASHVILLE, Tenn. (AP) -- Vanderbilt was tired of the constant criticism.
So the Commodores took it out on No. 8 Texas A&M as Jeff Roberson scored a career-high 20 points, leading Vanderbilt to a 77-60 upset of the Aggies for its first win over a ranked team in four years on Thursday night.
"I'm very disappointed that (my players) have had to listen to and hear and probably unnecessarily read a lot of the negativity that's been said about us and I'm happy they had a night like tonight," Commodores coach Kevin Stallings said. "Maybe there were some clearing of minds and clearing of hearts this week. We played like a basketball team that was hungry, we played like a basketball team that was together."
The Commodores created high expectations after starting the season ranked 18th, but they dropped out of the top 25 and lost five of their previous nine games.
Vanderbilt (13-9, 5-4 SEC) had lost its previous 13 games against ranked opponents, including a six this season.
Vanderbilt's last win over a ranked opponent was in 2012 when it upset No. 1 Kentucky in the Southeastern Conference tournament final.
"Just trying to stay engaged," said Roberson, who hit 8 of 10 from the floor before fouling out with 1:05 left. "I knew if I kept playing hard Wade (Baldwin IV) would find me and things like that."
Texas A&M (18-4, 7-2) lost for the second time in three games, including a 74-71 defeat at Arkansas on Jan. 27.
Vanderbilt tied a season high with 13 baskets from 3-point range.
Four Commodores broke into double figures, including Baldwin with 17 points, Luke Kornet with 14 points, Damian Jones with 13.
Jones posted a double-double with 10 rebounds and blocked five shots. Baldwin dished out eight assists. Kornet grabbed nine rebounds and made four 3-pointers.
"We met as a group and kind of regrouped as a team and got some things off our chest that we needed to say and sorted out our problems as a team in a group meeting," Baldwin said. "That was a great three days of preparation we had in practice and with that meeting, and it showed up in today's game."
Texas A&M's Jalen Jones, one of the nation's top players, was held to four points as he hit only 1 of 13 from the floor.
"We ran into a very hungry, aggressive Vanderbilt team," Aggies coach Billy Kennedy said. "I thought the Baldwin kid was really good at the point guard. He dictated the game on both ends of the floor."
Tonny Trocha-Morelos led the Aggies with 13 points. Alex Caruso added 11 points. Danuel House scored 10.
Texas A&M shot just 37 percent from the field.
Vanderbilt got off to a great start by taking a 14-1 lead as the Commodores hit six of their first seven shots from the floor.
Jones and Kornet scored 16 of Vanderbilt's first 18 points.
Texas A&M responded with a 25-9 run that gave the Aggies as 26-23 lead on Admon Gilder's 3-pointer with 9:17 left.
Vanderbilt finished the first half with a strong push taking a 40-33 lead on a 3-pointer by Baldwin with three seconds left in the half.
Texas A&M's Jalen Jones missed eight of his first nine shots from the floor in the first 20 minutes.
The Commodores remained hot opening the second half with a 7-0 spurt that caused Kennedy to call a timeout after Kornet's 3-pointer from the top of the key stretched Vanderbilt's lead to 47-33 with 18:05 left.
Roberson's layup capped a 17-1 run, giving Vanderbilt a 49-33 lead with 17:15 left.
TIP-INS
Texas A&M: The Aggies are two wins from their ninth 20-win season in 12 years. Texas A&M began the season ranked third.
Vanderbilt: Five Commodores are from Texas: Luke Kornet, Jeff Roberson, Djery Baptiste, Carter Josephs, Semir Sehic.
BATTLING ADVERSITY
Texas A&M may have caught Vanderbilt at the wrong time. "I've known Kevin a long time and I've got a good friend who said, `When Kevin Stallings' back is against the wall that's not a good time to come and play him.' You've got to give them credit," Aggies coach Billy Kennedy said.
JONES STRUGGLES
Damian Jones (7-foot) and Luke Kornet (7-1) double-teamed Jalen Jones (6-7). "We had a hard time finishing around the basket because of their length," Kennedy said. "(Damian Jones and Kornet) scoring really fueled their defense and they really did a good job defending the basket. (Jalen) rushed and he put some pressure on himself. You've got to give them credit for speeding him up and getting him out of rhythm."
UP NEXT
Texas A&M will host No. 25 South Carolina on Saturday.
Vanderbilt visits Mississippi on Saturday.
---