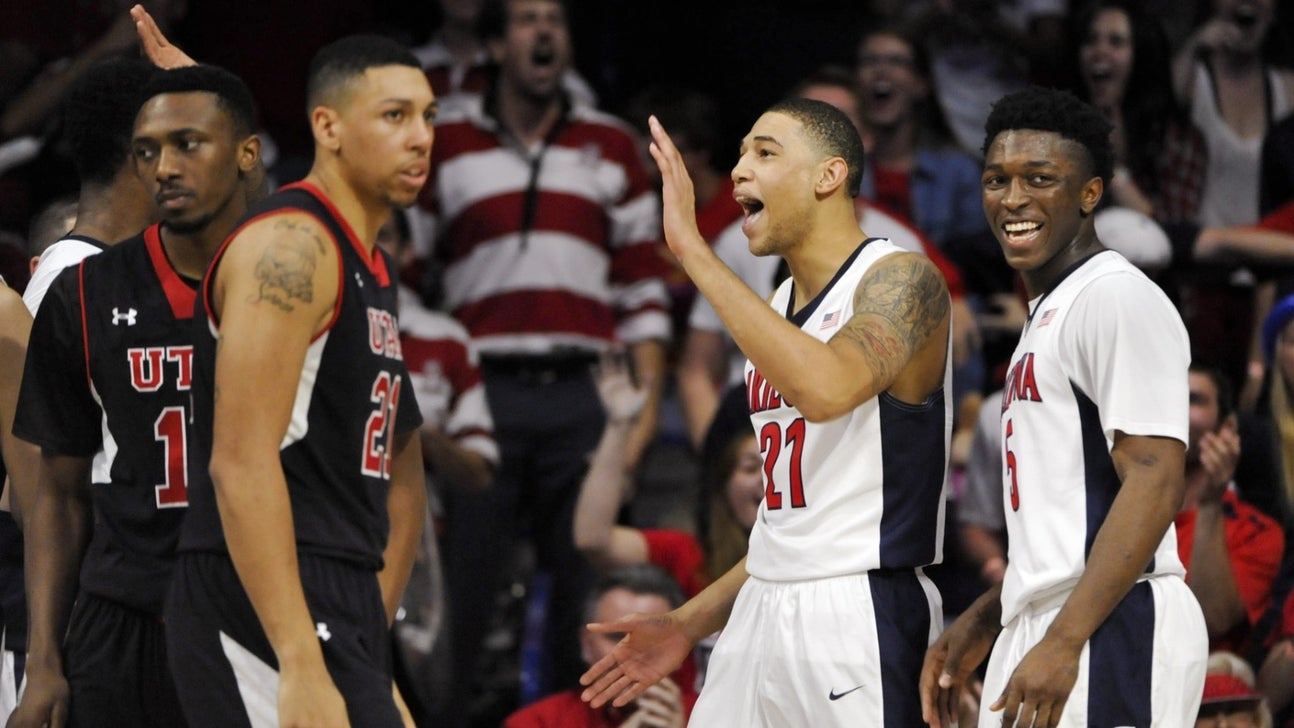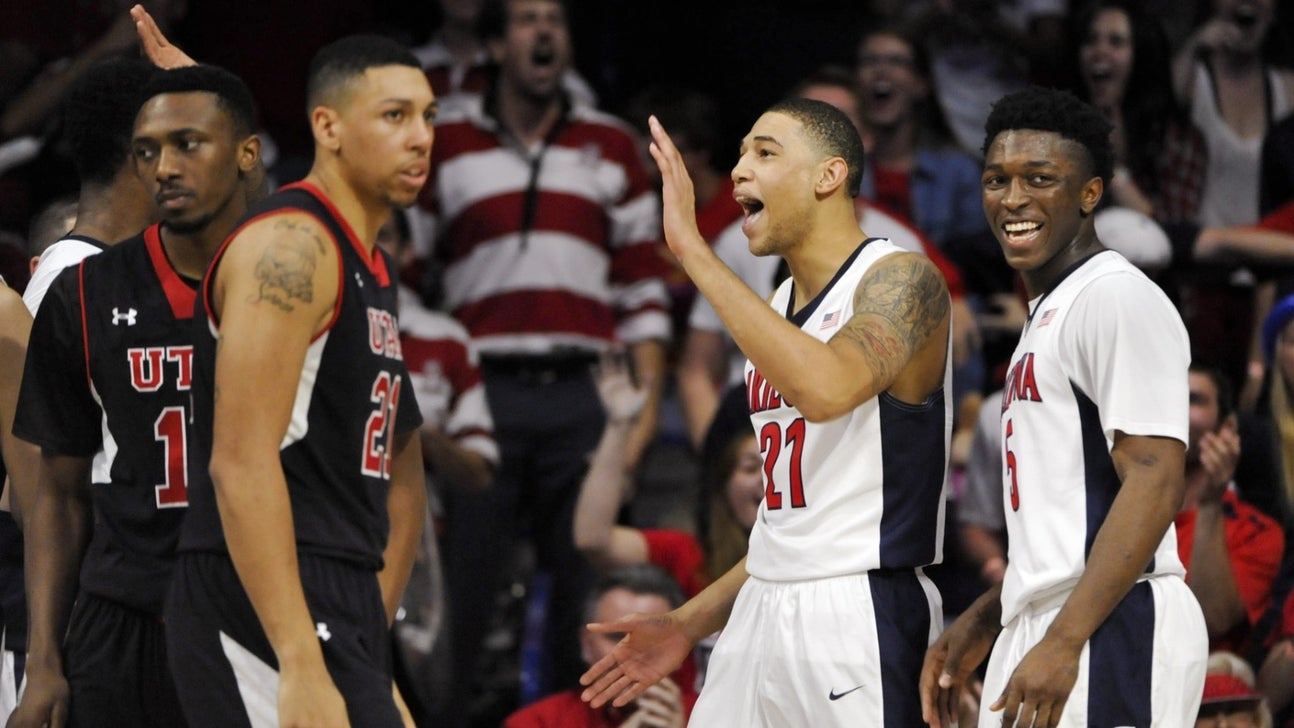 No. 7 Arizona looks to wrap up Pac-12 title at No. 13 Utah
Published
Feb. 27, 2015 3:08 p.m. ET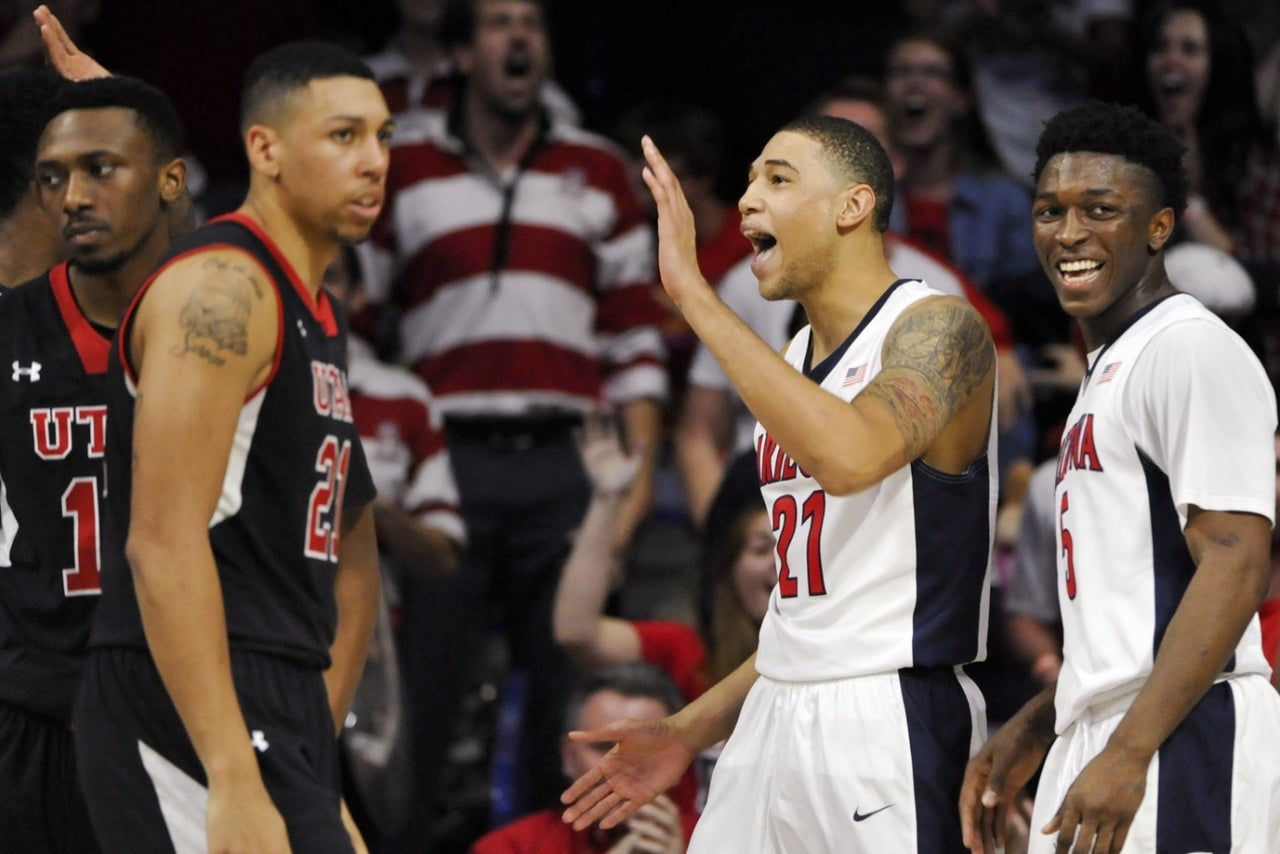 TUCSON, Ariz. -- And now the main event: No. 7 Arizona vs. No. 13 Utah that likely determines the winner of the Pac-12 Conference regular-season and plays into NCAA tournament seeding.
The ramifications are plenty on Saturday night at the Huntsman Center in Salt Lake City, where Utah students started to camp out for a good seat soon after the Utes easily defeated Arizona State on Thursday night.
It's been the most anticipated game in Salt Lake City since Arizona defeated the Utes 69-51 in mid-January at McKale Center.
"It's going to be a heck of an environment," Utah coach Larry Krystkowiak said in his postgame remarks on Thursday. "I came back (to Salt Lake City) after we got our butts kicked last time and ran into random people at the airport, car wash, gas station and all those people had it circled on the calendar: 'I can't wait to get them back here.' I'm saying, 'That's months from now. Better be careful what you wish for.' But it is something a lot of people have been talking about. Hopefully our guys will be ready to perform."
Thursday was a spectacular tune-up for each. Utah (22-5, 12-3) never gave ASU a chance in winning 83-41; Arizona (25-3, 13-2) got out early against Colorado and never eased up, winning 82-54.
On Saturday night, something has got to give in the battle of the Pac-12's top two teams. Arizona is 9-1 since it last defeated the Utes and Utah is 8-2, last week slipping up against Oregon. Had that not happened Saturday's game would be of even bigger magnitude.
Still, if Arizona wins it clinches its third regular-season title under coach Sean Miller, now in his sixth season at Arizona. If Utah wins, it inches closer to the top (although Arizona holds the tiebreaker for the title). Of course, the two are playing for high seeds in next month's NCAA tournament as well, with Arizona possibly still in the hunt for a No. 1 seed.
"We have to be ready to play," Miller said on his postgame radio show on Thursday. "We're playing an elite opponent, an opponent that has not lost a home game. They have an electric atmosphere. We know everything about Utah; they have great talent and depth and an excellent coach. He's done a marvelous job."
Krystkowiak feels the same about Miller and more so after Utah suffered its worst loss of the season in Tucson. Three Arizona players scored in double figures and the Wildcats outrebounded the Utes 40-19.
"That's a huge differential and that was a huge key to the game," Krystkowiak said of the rebounds. "That's the one game this year where we got thumped. ... It's the one game this season where we felt we had it handed to us. It's (about) rebounding and guarding some elite-type players. It's a high-powered machine that's clicking."
Through the years, Arizona must have felt that way to Utah. Since beating Arizona in the 1998 Elite game in Anaheim, Calif., Utah has lost 11 consecutive games to Arizona, including a 32-point loss in the Pac-12 tournament last year and this season's 18-point rout.
Still, earlier this season Miller played psychologist to motivate his team, saying Utah was the better team and that the Utes were the favorite going in. What motivation Miller will use in the next 24 hours is anyone's guess.
"It's a great challenge," Miller said. "We want to be a team that's in a (big) game like that, and we will see what we do."
Follow Steve Rivera on Twitter
---