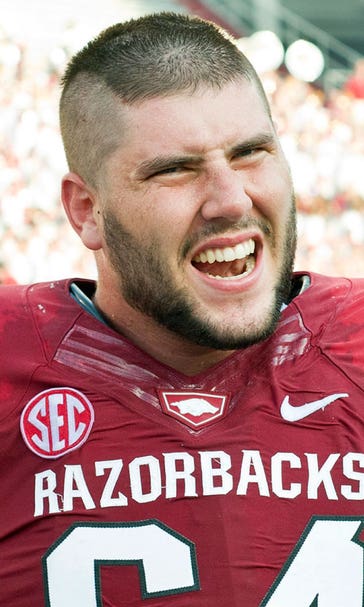 NFL Draft notes: Lions take Arkansas center Travis Swanson in third round
BY foxsports • May 9, 2014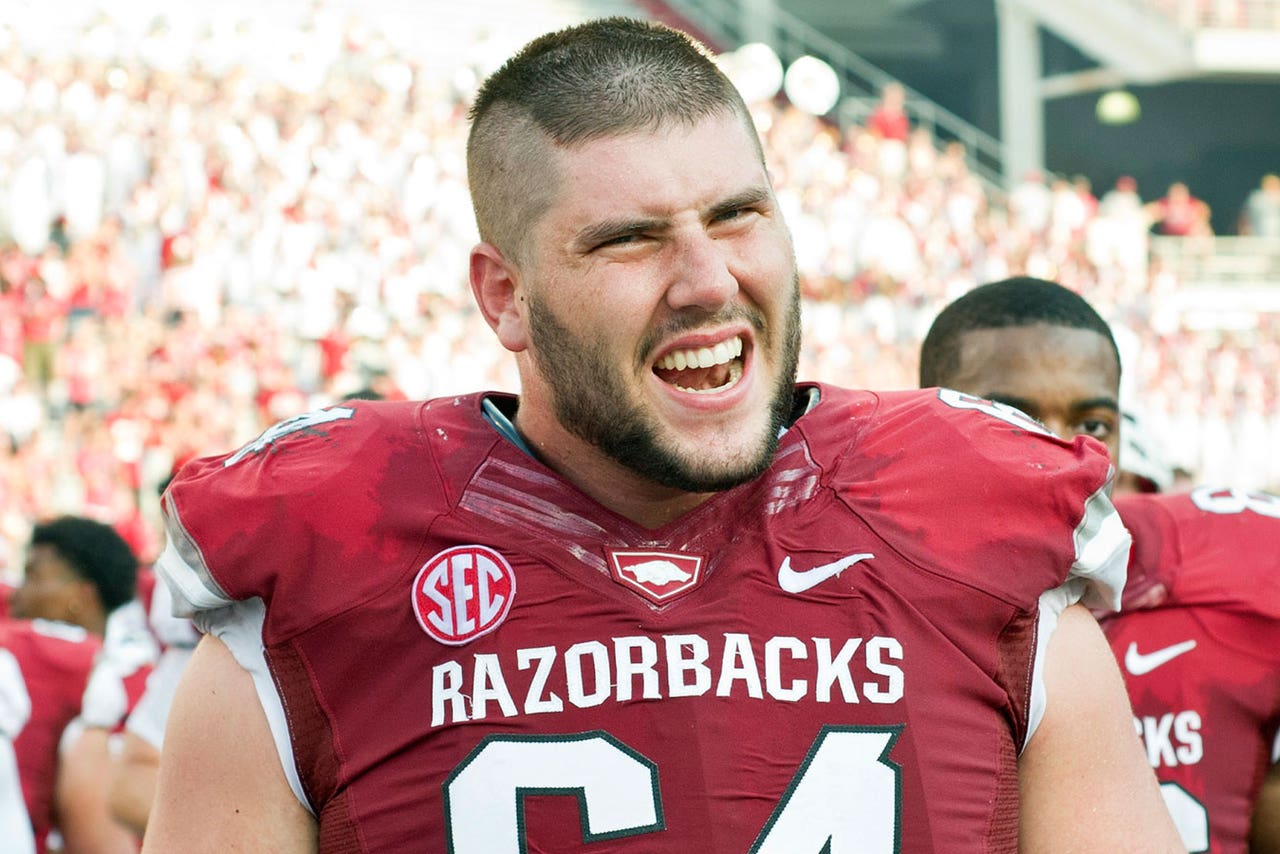 ALLEN PARK, MICH. -- It probably won't happen this season, but the Detroit Lions might have their future center in the fold.
With their third-round pick, 76th overall, the Lions took Arkansas center Travis Swanson.
Dominic Raiola, 35, has been the Lions center since 2001 and is playing on a one-year contract, so the Lions will soon need his replacement.
"He's big enough to play guard and he can play center as well, so that really helps us out," Lions general manager Martin Mayhew said of Swanson. "We really like this guy.
"Very, very, very smart kid. He's 6-5, 312. He's got 50 straight starts in his career, so he's durable. I think he's gonna be a great fit for us, probably play some guard for us in the preseason. Wash will work with him on that some."
Wash is Lions offensive line coach Jeremiah Washburn, who also played center and guard for Arkansas.
"I am excited to get an Arkansas guy in here," Washburn said. "For us, he fits the profile of the guys we want in our room -- experienced, tough, smart, versatile."
For his part, Swanson is excited to learn from Raiola.
"I do know Dominic, who's been in the NFL for years, years upon years," Swanson said. "I just can't wait to meet him and just pick his brain about the things that he knows."
The Lions are hoping for the same kind of success they had with another SEC offensive lineman they selected in the third round, Kentucky's Larry Warford, who started 16 games as a rookie.
"Obviously, he was a household name in the SEC years ago, so I do know of him," Swanson said. "I know he came in this last year and did a great job."
Because the SEC is considered the top conference in college football, Swanson has faced a high level of competition.
"I'm an SEC guy," Washburn said. "I make no apologies about it. It is a litmus test for offensive linemen. Larry played against the best, Travis played against the best. I would expect them to be a little more NFL-ready."
The Lions are also excited about the fact that Swanson started 50 straight games at Arkansas.
"Anybody that obviously plays consecutive games like that, it's not because of the fact that he didn't suffer injuries," Lions coach Jim Caldwell said. "Typically, what that tells you is he played through them."
SPOKEN FOR
All three of the Lions' draft picks so far are either engaged or already married.
First-round pick Eric Ebron got engaged the first day of the draft, and second-round pick Kyle Van Noy is engaged to Miss Utah, Marissa Powell.
Their third-round pick, Swanson, got married to his wife, Emily, on March 22.
ROBINSON TO JAGUARS
It took until almost the end of the second round, but the state of Michigan was represented with the 61st pick.
The Jacksonville Jaguars selected Penn State receiver Allen Robinson of Southfield, Mich., with the pick, which they acquired from the San Francisco 49ers in exchange for the 70th and 150th picks.
The 150th pick was acquired from the Detroit Lions for wide receiver Mike Thomas.
Robinson went to Orchard Lake St. Mary's. He'll join Central Florida quarterback Blake Bortles, drafted third overall, and fellow receiver Marqise Lee out of Southern California, chosen 39th.
Robinson was the first receiver to lead the Big Ten in receptions and yards in back-to back years since 1985.
At Penn State, Robinson had 177 receptions for 2,474 yards and 17 touchdowns.
Jaguars Dave Caldwell said told reporters in Jacksonville he never imagined selecting receivers in back-to-back picks.
SCHOFIELD TO BRONCOS
Michigan offensive lineman Michael Schofield is heading to Denver after the Broncos took him in the third round with the 95th pick.
Broncos general manager John Elway had positive things to say about Schofield to reporters in Denver.
"Very versatile, big guy that has a lot of upside," Elway said. "We believe he can get bigger and stronger."
Schofield is already 6-foot-7, 301 pounds. He started 26 games at right tackle and 10 at left guard at Michigan.
---