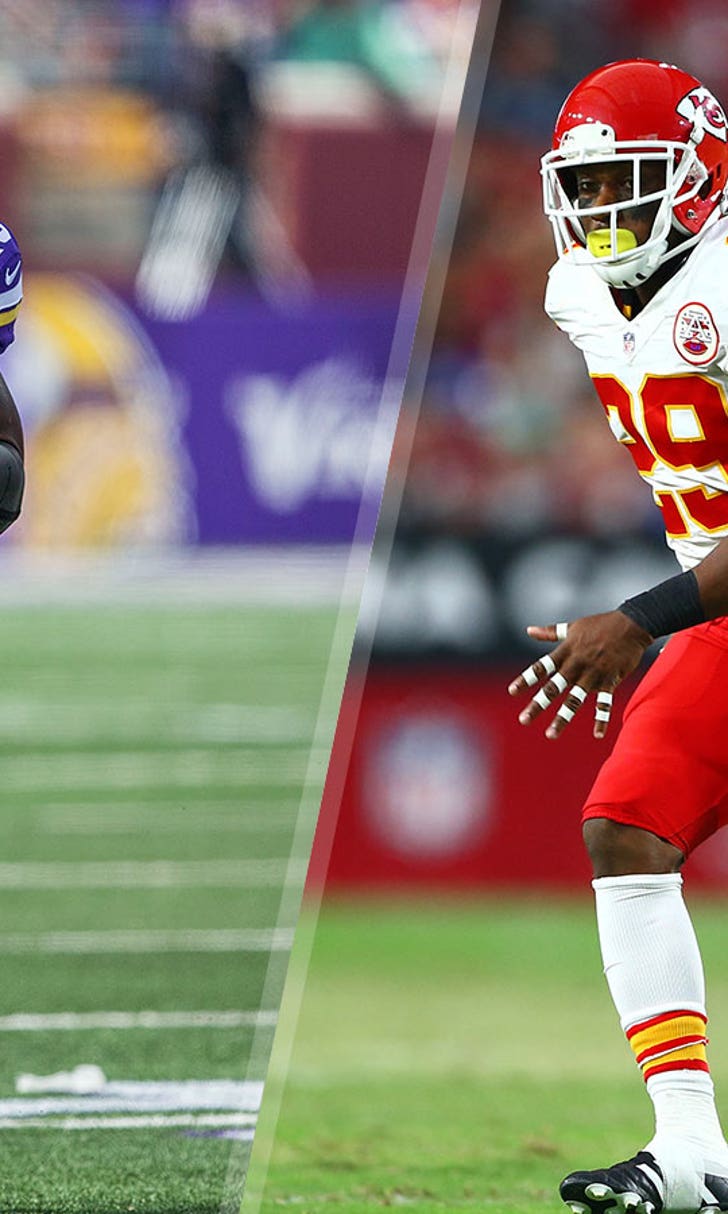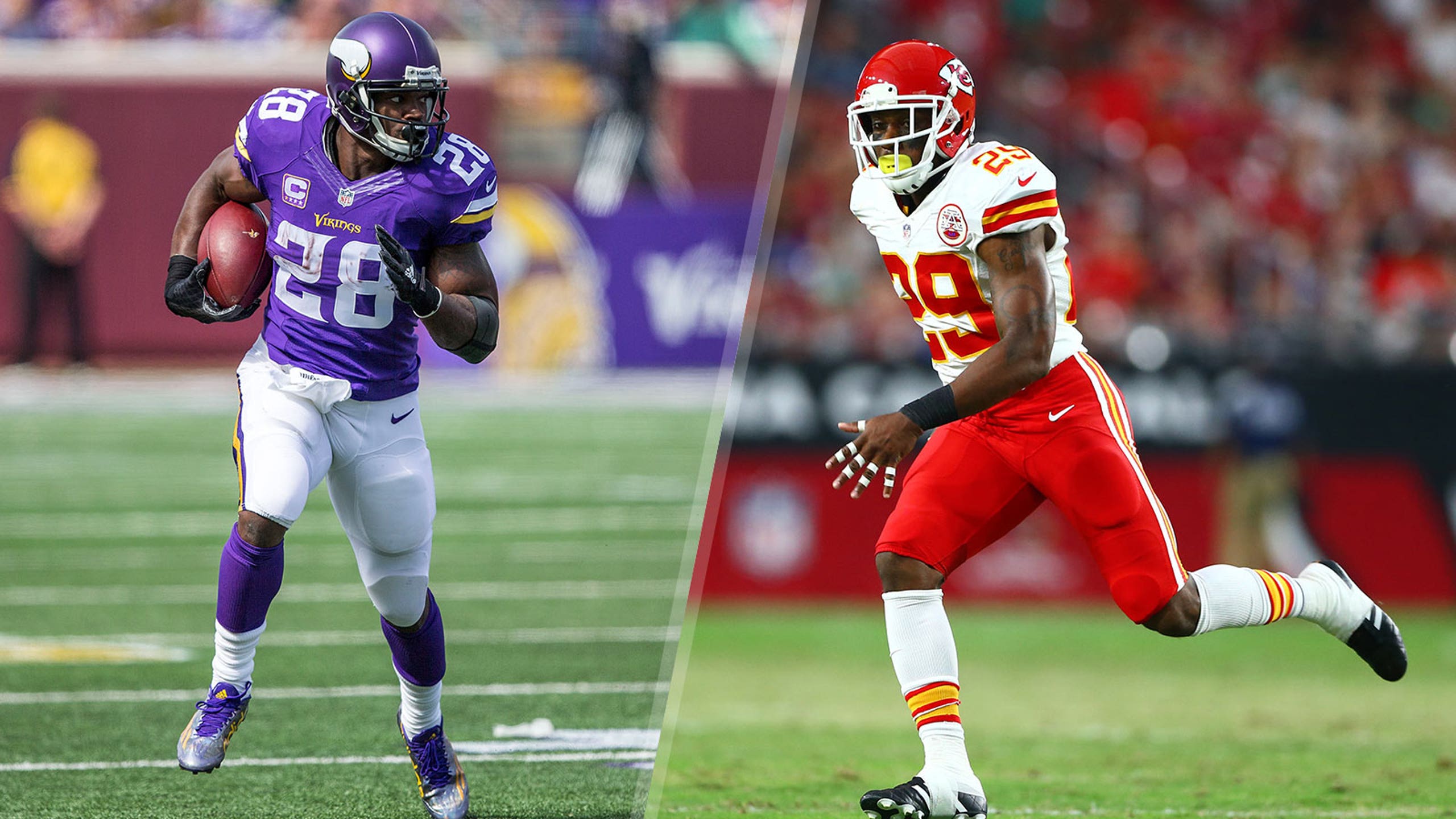 NFL countdown: Vikings vs. Chiefs
BY foxsports • October 16, 2015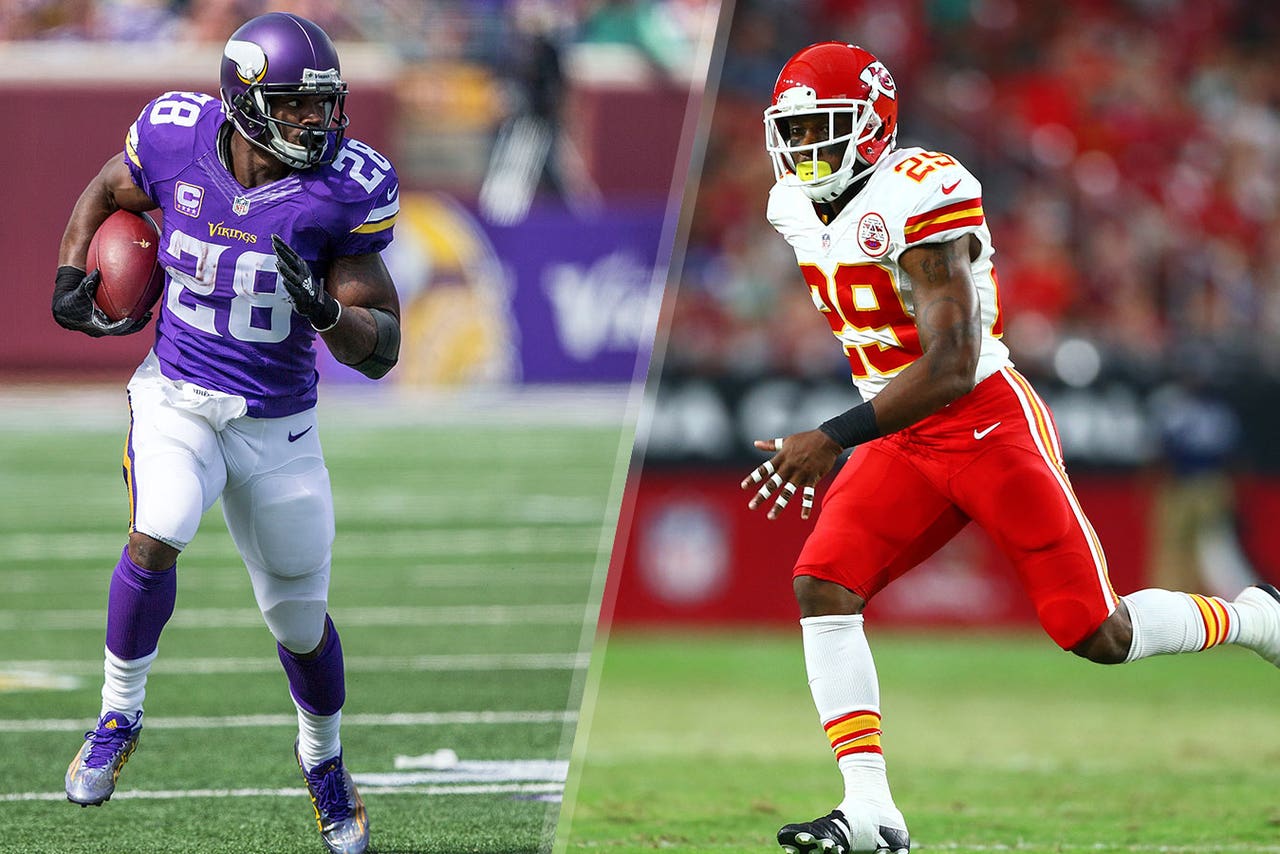 At first glance, this looks like an opportunity for the Vikings to pounce on a wounded, vulnerable foe.
Of course, things rarely come easy in the NFL -- where just about any team can walk away victorious in any given week.
Yes, the Vikings will be returning to their home turf at TCF Bank Stadium this Sunday (where they're 7-3 the last two seasons) seemingly rejuvenated from a bye week. And, yes, the visiting Kansas City Chiefs were dealt a serious blow this week, when it was revealed that star running back Jamaal Charles had torn his right ACL, sidelining him for the rest of the season.
Still . . . the 1-4 Chiefs will be desperate for a victory in Sunday's showdown at high noon, and won't simply roll over. Plus, the Vikings have lost five straight following bye weeks.
Let's take a closer look at this Sunday's duel, in which the 2-2 Vikings are favored by 4 points.
3 THINGS TO WATCH
-- Who will win the battle of steady, yet largely unheralded quarterbacks? Teddy Bridgewater is averaging a rather pedestrian 193.5 passing yards per game this season, but he's also coming off his finest performance of the season, when he rang up 325 total yards in a narrow loss at Denver. His counterpart this Sunday, former No. 1 overall pick Alex Smith, has 1,291 passing yards this season, ranking fifth in the AFC. Bridgewater has been compared to Smith recently, given the pair's penchant for utilizing short, safe passes. Bridgewater should probably have loftier goals, however, considering Smith possesses a nothing-special career passer rating of 83.1. Perhaps the Vikings' second-year signal-caller can separate himself with a noteworthy showing this Sunday.
-- Who, if anyone, will step to the forefront among Minnesota's receivers? The Vikings' leading receiver, Mike Wallace (20 catches, 233 yards) did not practice at midweek, due to an ailing knee; He hopes to play Sunday. Charles Johnson, 2014's late-season revelation, is expected back from injury. If that duo is limited, though, the Vikings may need another impressive performance from the likes of youngsters such as Stefon Diggs and Adam Thielen, who combined for 12 receptions and 157 yards at Denver. The Vikings could use a respectable downfield passing threat, to keep opposing defenses from loading the box in an effort to slow running back Adrian Peterson.
-- Can Blair Walsh steer out of his kicking skid? Weather shouldn't be a major factor Sunday, with a forecast calling for sunny skies and a high of 59 degrees, but winds of around 13 mph could add a bit of intrigue to the kicking game. Walsh, has seen his overall stats slightly improve in recent weeks (he's now 6 of 8 on field-goal attempts in 2015, and 8 for 9 on PATs) but could use another solid performance to quiet critics who still remember his shaky start to the season.
2 THINGS TO REMEMBER
-- If the Vikings are going to horde wins for playoff qualification, now's the time. There's a chance Minnesota could be favored in each of its next five games: versus Kansas City this week, at Detroit on Oct. 25, at Chicago on Nov. 1, versus St. Louis on Nov. 8 and at Oakland on Nov. 15. After that? A brutally tough four-game run versus Green Bay, at Atlanta, versus Seattle and at Arizona. Thus, Mike Zimmer's squad had better be level-headed for the next month-plus. The Vikings have the fewest offensive penalties (seven) in the NFL this season and have just 27 total penalties as a team; if they can keep playing disciplined ball against the Chiefs, Sunday could be an enjoyable afternoon.
-- The Vikings have an ascending, and fairly opportunistic, defense. Minnesota's improving defense would appear poised to strike in this matchup. Minnesota has a plus-4 turnover ratio, and the Vikings' defense has allowed just 11 plays of 20-plus yards this year, which ranks No. 1 in the NFL. More importantly, the purple are yielding just 18.3 points per game this season. Defenders like safety Harrison Smith (who boasts a team-high 26 tackles) should be licking their chops against a Kansas City offense that has a couple solid pass-catchers in Jeremy Maclin (36 catches) and Travis Kelce (24 catches) but not much else right now.
1 KEY MATCHUP
Adrian Peterson vs. Kansas City's shaky defense
Sunday's game will likely come down to the Vikings' second-ranked rushing attack (136.2 yards per contest) vying against a leaky Chiefs defense that allows 28.6 points per outing (T29th in the NFL). Peterson leads the NFL with 93.0 rushing yards per game and could feast against a Kansas City defense that has holes. Chiefs foes have recorded 17 drives ending in touchdowns this season, which is tied for the most in the entire league. If you're Adrian Peterson and you hear stats like that, you're getting ready to get in a sprinter's stance, just waiting for the chance to be off to the races.
Follow Kelly Beaton on Twitter
---
---