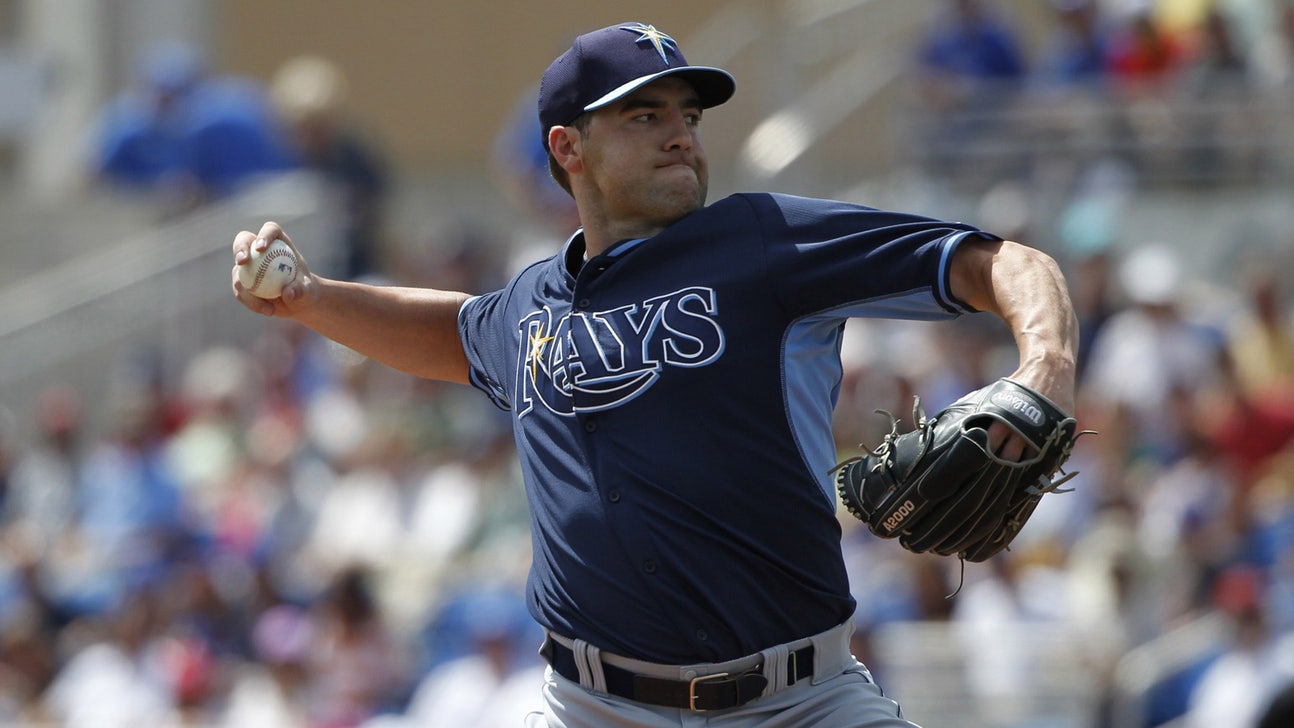 Newcomer spotlight: Nathan Karns finds comfort, home with Rays
Published
Mar. 14, 2014 12:53 p.m. ET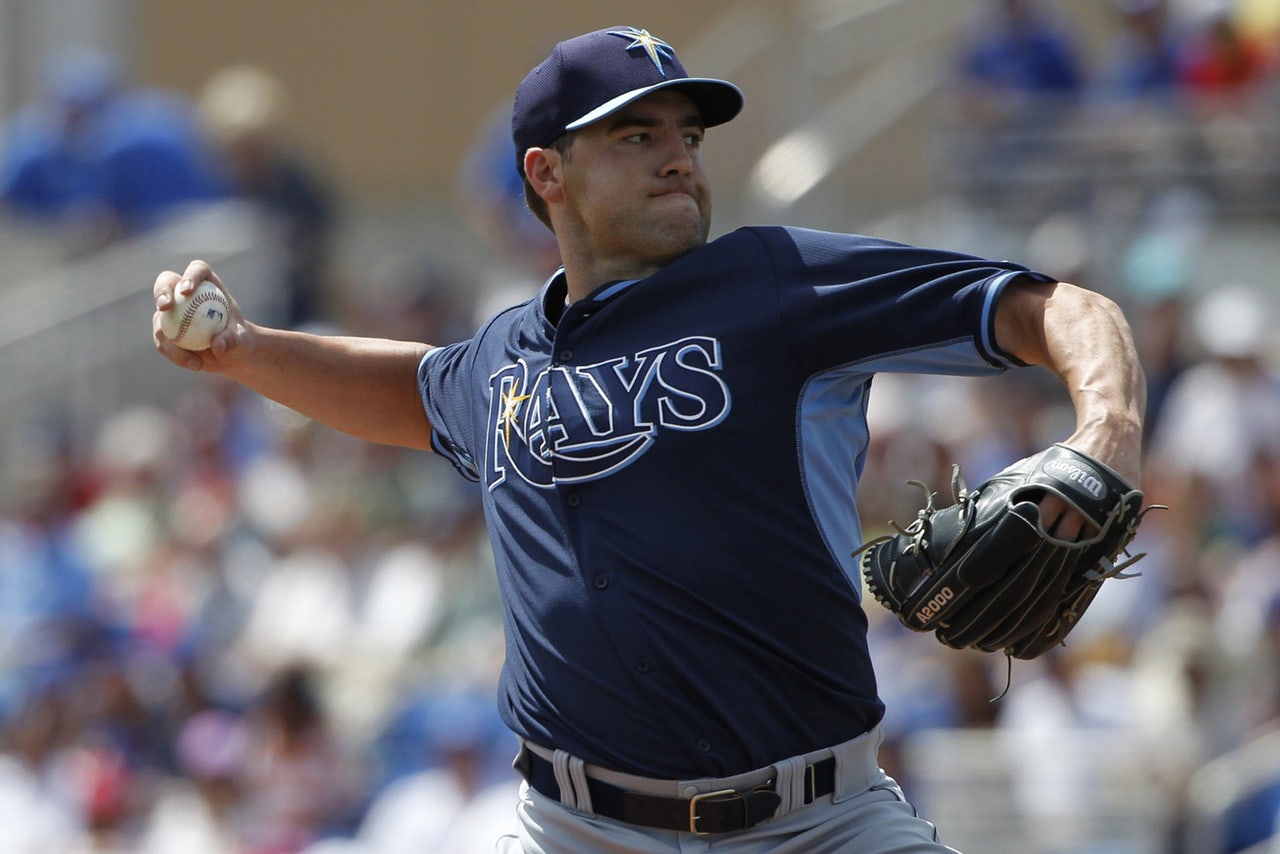 PORT CHARLOTTE, Fla. -- From a quick transition to comfort, Nathan Karns found a new home.
On Feb. 13, the right-hander was part of a four-player trade that sent three former members of the Tampa Bay Rays to the Washington Nationals: catcher Jose Lobaton, outfielder Drew Vettleson and left-hander Felipe Rivero. The deal happened one day before Rays pitchers and catchers reported to Charlotte Sports Park, meaning Karns received a drive-by tour of central Florida in his move from Viera, the site of Nats camp, to the state's southwest side.
Karns, 26, spent most of last season with Double-A Harrisburg, earning a 10-6 record with a 3.26 ERA and 155 strikeouts in 23 starts. In three minor league seasons, he's 24-12 with a 2.66 ERA in 60 games (54 starts).
His only three major-league starts occurred last year, when he went 0-1 with a 7.50 ERA and 11 strikeouts over 12 innings. On Thursday, he was re-assigned to Triple-A Durham after striking out three batters and allowing no runs, four hits and two walks in 6 1/3 innings this spring.
Occasionally, FOX Sports Florida will catch up with new faces in the Rays clubhouse during spring training. Here's a closer look at Karns:
FOX SPORTS FLORIDA: How has the transition gone for you?
KARNS: Good, good. I feel like I've been here for a while now, so I'm in stride now, I guess you could say.
FSF: What was the one moment when you felt you were comfortable here?
KARNS: I think it was when we started throwing to hitters. I had been (throwing) a couple times, threw a couple bullpens. It's just a matter of time. ... The new surroundings just kind of fade (away), and then you become accustomed to everything. That's just where I'm at right now. It's kind of good to know a majority of the names.
FSF: What initial impressions did you have of the Rays immediately after you were traded?
KARNS: You hear, but when you're in another organization, you don't get too in-depth with everything. You know about how relaxed everything is and how they go about their stuff. I've heard about it. But until you see it first-hand, you really don't know what set of expectations there are. With that said, now being here and seeing everything, it's awesome. It's like, ''Why do you want to leave here?''
FSF: How does this experience compare to your time in Washington?
KARNS: The time with Washington, I only had spring training and a few weeks I was up there. It's the same everywhere. You see guys who want to compete. Everybody wants to win. And this doesn't last forever, so you can see everyone has a purpose. They want to do their best. They want to stay around the longest. It's a different scene but the same attitude, I would say.
FSF: At this point in spring, are there specific things you try to concentrate on as you move forward?
KARNS: No. Everyone has their own schedule, things they want to achieve. For me, it's just every day I want to improve. I figure if you're improving every day, no matter what your goals are, you'll achieve them eventually. I don't like to put a big rush on things in spring training. ... That's just kind of how I look at it. I want to get my body ready. Everything else is repetition and sharpening your skills. That comes with time, so I can't rush time. You can waste it, but you can't rush it.
FSF: There are many top-level pitchers on this staff -- David Price, Alex Cobb, Matt Moore, etc. Have you picked up any pointers so far?
KARNS: Basic knowledge. A lot of guys have faced these hitters, so that has been helpful in what to look for. Going from the NL East to the AL East is new personnel -- you're just getting accustomed to who you're going to face a majority of the time. I got lucky. I got to face Baltimore right out of the gate. I'm not too familiar, but I kind of have an idea. That's the things I want to pick up on -- learning the new competition, the new players, just kind of pick their brains about what to expect and what to look for and how to face these guys. Just keep it simple. The only time you can learn is through personal experience. That's what I believe.
FSF: In what ways are you still learning about that jump between the minor leagues and major leagues?
KARNS: That lesson was beat into me pretty hard last year. You've got to keep the ball down. The (biggest) thing between the minors and the majors, I would say -- if you make a mistake in the minors, the odds of a hitter capitalizing on your mistakes are less than they are in the bigs. So it's just learning that if you pitch the way you're supposed to -- I'm not saying it's going to work out every time -- but you have a better chances of being successful than to make mistakes up and over the plate consistently. That's just the thing I am working on, keeping the ball down and staying out of those long, damaging innings. Continue to try to damage control if you have a bad inning. It's just little things about how to stay calm and focused on the task at hand.
FSF: What is the most formative moment in your career?
KARNS: It had to be my debut so far (May 28, 2013 against the Baltimore Orioles). It has to be my debut. That's the biggest thing so far. I'm only three starts in, so (pick) one out of three. There's not much to choose from.
FSF: What was the feeling that morning as you prepared for your first start?
KARNS: Oh, man, the day before when I found out I was starting, I was like, ''Oh, I'm getting the call-up. Oh, I'm getting the call-up.'' You have that whole thing where it's kind of like everything you have dreamed about is a reality. And you're like, ''Oh, how is this supposed to go again?'' It was cool. My first day, I got up early. I was in D.C. in a hotel, ordered room service. I just wanted to stay in the room and eat and kill time until it was my time to go to the field. And then when I got there, it was like, ''Wow, big difference from a minor-league locker room.'' It was cool. Coming in, it was just awesome. You can't explain it.
FSF: Who was the first batter you faced?
KARNS: Nate McLouth. He's with the Nats now. I was going to try to get him to sign a ball since he was the first batter I faced, but I'll try to get that later on in my career. It was cool to see the first hitter. I remember warm-ups. I think the first throw I was like, ''Don't throw this in the backstop.'' I enjoyed it. It's one of those times I can honestly say I was probably the most nervous I've ever been in my life. You wake up, and you're on the mound, and you're saying, ''Whoa, what the heck is going on?''
FSF: How good do you think this team and pitching staff can be?
KARNS: Man, the front office does a great job of putting this team together. They found out and got what they needed, and it shows their belief in us. They let us do our jobs and do what they want of the players that they have here now. It's just awesome. From what I've seen, defense and pitching is really strong. Offense -- I don't know what people are talking about. I look at everyone like, ''Wow, we're doing great.'' I look at our spring training record. If everything looks as it is, I think this team is going to be really strong, as they always have been. So I don't see anything really changing. I'm just hoping for the best.
You can follow Andrew Astleford on Twitter @aastleford or email him at aastleford@gmail.com.
---