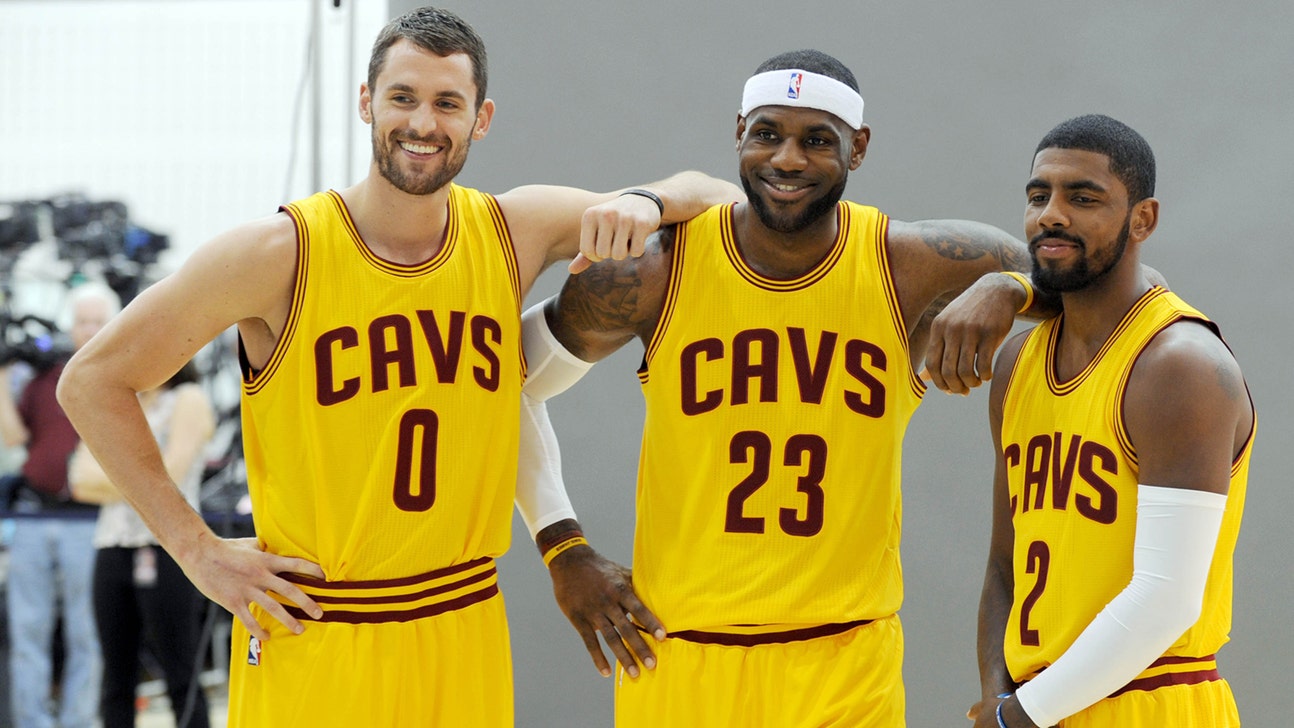 NBA season preview: In the end, can LeBron and Cavs be kings?
Published
Oct. 28, 2014 9:45 a.m. ET

Well, the NBA offseason is coming to a close with little buzz entering 2014-15. What? It's not like the best player in the game changed teams.
Oh, wait. LeBron James really is playing for the Cleveland Cavaliers again? That wasn't a dream? OK, then. Maybe there is something worth watching this season. Or actually, a whole lot when you think about it. Consider:
-- Kevin Love is joining James (and Kyrie Irving) in Cleveland. Shawn Marion, Mike Miller and others are there, too.
-- Oft-injured Derrick Rose has returned to the Chicago Bulls. Pau Gasol has joined him, and Joakim Noah is still around.
-- Reigning league MVP Kevin Durant will miss the first month or so of the season with a broken bone in his foot. It will be up to point guard Russell Westbrook to spread the wealth and keep the Oklahoma City Thunder afloat until Durant gets back.
-- Yes, Kobe Bryant is returning for another run with the Los Angeles Lakers. He's older, wiser and unfortunately, more prone to injury. Byron Scott is the coach, and Steve Nash is no longer the point guard. The Lakers are still a story in LA but not likely one with a happy ending.
-- As for the defending-champion Spurs, well, they made all of one roster move this offseason. They dumped Damion James, who never played, and signed second-round pick Kyle Anderson, who may not play very much himself. That, kids, is called stability.
But overall, this upcoming NBA season, which tips off with four games Tuesday, offers plenty of intrigue. And it's not just because of James and his return home.
THREE OFFSEASON FACELIFTS
1. Kyrie Irving: Only five Cavs return from last season's team, which fell short of the playoffs under grind-it-out former coach Mike Brown. Irving was miserable playing for Brown, and likely would not have signed a contract extension had Brown remained coach. But Brown was booted, Irving signed a max deal (which kicks in next season) and David Blatt was hired -- and perhaps no one in the NBA will benefit from a new coach, and star teammates, as much as Kyrie. After all, using last year's All-Star Game and the summer FIBA World Cup as shining examples, it's safe to say Irving plays his best when he's surrounded by loads of talent. In Cleveland, he now is.
2. Indiana Pacers: By now, you know the tragic tale involving Pacers star Paul George. If you're lucky, you haven't seen the video of his gruesome leg injury -- an injury that is likely to keep him out the entire season. George injured the leg in a Team USA scrimmage, and that was bad. But the Pacers also lost starting shooting guard Lance Stephenson (who can sometimes irritate LeBron) to the Charlotte Hornets in free agency. Last year at this time, the Pacers were considered a top two or three team. Now? They'll be lucky to make the playoffs.
3. Dirk Nowitzki: The Dallas Mavericks star got a hefty new contract and some serious help. No, additions such as Tyson Chandler, Jameer Nelson and Chandler Parsons (and Raymond Felton and Al-Farouq Aminu) may not sound like much. But add those pieces to Nowitzki, Monta Ellis and coach Rick Carlisle, and Dirk's club may have received the most underrated facelift of the summer. And it's a facelift that could result in a permanent smile for the Mavs' longest-burning star.
TEAM ON THE RISE
East -- Cleveland Cavaliers: C'mon. Goes without saying.
West -- Portland Trail Blazers: Everyone wants to focus on the Splash Bros. of Steph Curry and Klay Thompson and Golden State. And the Warriors will indeed be fun. But the Blazers have some good ones of their own in Damian Lillard and LaMarcus Aldridge. And these Blazers, and their best players, may be tougher than other so-called up-and-comers.
TEAM ON THE DECLINE
East -- Miami Heat: Lost LeBron. Picked up a fading Luol Deng and an even more fading (or totally faded) Danny Granger. Don't really have a true point guard, unless you count rookie Shabazz Napier, and he's too young. Dwyane Wade is breaking down. Chris Bosh has become the top option. Yeah, this is probably going nowhere.
West -- Houston Rockets: What do Dwight Howard and James Harden really do in terms of wins and losses? They're both outstanding individuals, and quite frankly, unquestionably the best players in the league at their respective positions. But both like to blame everyone else for their team's shortcomings, as opposed to shouldering the load and placing everything on their backs. That will get them nowhere once again. And this could even be the year this band of Rockets falls apart.
TEAM THAT'S HARD TO PREDICT
East -- Toronto Raptors: You think you know them after they reached the playoffs. But weren't they supposed to be headed for the lottery instead? Which team is for real?
West -- Denver Nuggets. Is there a more middle-of-the-road outfit in professional sports? The Nuggets aren't reaching The Finals, but where will they finish in the West? And how big of a threat are they if it all comes together?
THREE MORE STORYLINES WORTH WATCHING
1. Paul Pierce in Washington: Interesting that he left Kevin Garnett's side (in Brooklyn) and branched out on his own. Pierce is clearly past his prime. But he owns big-game experience. He could really help a Wizards team that was screaming for a small forward and locker-room leader.
2. The Minnesota Timberwolves: Interestingly, Kevin Love is gone and the Timberwolves are highly likely to keep their shameful playoff drought alive. But does anyone remember that the previous two No. 1 overall draft picks are now here? And Andrew Wiggins (2014) and Anthony Bennett (2013), paired with Thaddeus Young and holdover Ricky Rubio, could make for some intriguing (and highlight-reel-worthy) evenings.
3. Steve Kerr with the Warriors: Everyone seemed to like Mark Jackson just fine -- the players, the fans, the media. But this is America. The only thing that really matters is that you get along well with management. Jackson failed and Kerr, like his predecessor, is trying this coaching thing for the first time. It's all rainbows and unicorns now, but high expectations surround the Warriors. If Kerr doesn't deliver quickly ... well, you know the drill.
THREE MORE PLAYERS WORTH WATCHING
1. Reggie Jackson, Oklahoma City Thunder: Someone has to pick up the scoring slack for the injured Durant early. Can this version of Jackson also become Mr. October (and better yet, Mr. November and December)?
2. Al Horford, Atlanta Hawks: Behind the likes of Paul Millsap, Jeff Teague, Kyle Korver and DeMarre Carroll, the Hawks managed to give an impressive showing in the playoffs. If Horford can return from injury, and be anything close to his old self, this could be a sleeper team.
3. DeMarcus Cousins, Sacramento Kings: Every year, we wait for this guy to take over. And he does -- but we mean REALLY take over. Offensively, he is the league's most gifted center. But the winning edge still isn't there. This needs to be the season it happens.
BOLD PREDICTION
The New Orleans Pelicans will make the playoffs:. This likely means that the likes of Phoenix, Denver and even Memphis would have to miss. But Anthony Davis is ready for a breakout year. Yes, even a bigger breakout than he's had. So the Pelicans will save coach Monty Williams' job and soar into the postseason.
NOT-SO-BOLD PREDICTION
Chris Paul, Blake Griffin and the Los Angeles Clippers will reach The Finals. With Doc Rivers as coach and the Donald Sterling distraction behind them (as well as some nice new additions), this is the year that other LA team begins its run of power. In four years, the Lakers will be forgotten. The Clippers are the new cool thing.
MORE PRESEASON PREDICTIONS
NBA MVP: LeBron James, Cleveland.
Rookie of the Year: Jabari Parker, Milwaukee.
Defensive Player of the Year: Serge Ibaka, Oklahoma City.
Sixth Man of Year: Taj Gibson, Chicago.
Most Improved Player: Michael Kidd-Gilchrist, Charlotte.
Coach of the Year: Lionel Hollins, Brooklyn.
Executive of the Year: David Griffin, Cleveland.
NBA FINALS PREDICTION
Cavaliers vs. Clippers: In what will be an epic matchup of two once-downtrodden franchises, LeBron James will do more than just return home. He'll deliver Cleveland its first championship in 50 years. In Game 7. On the road. But it will happen. The Cavs, finally, will be champs.
---