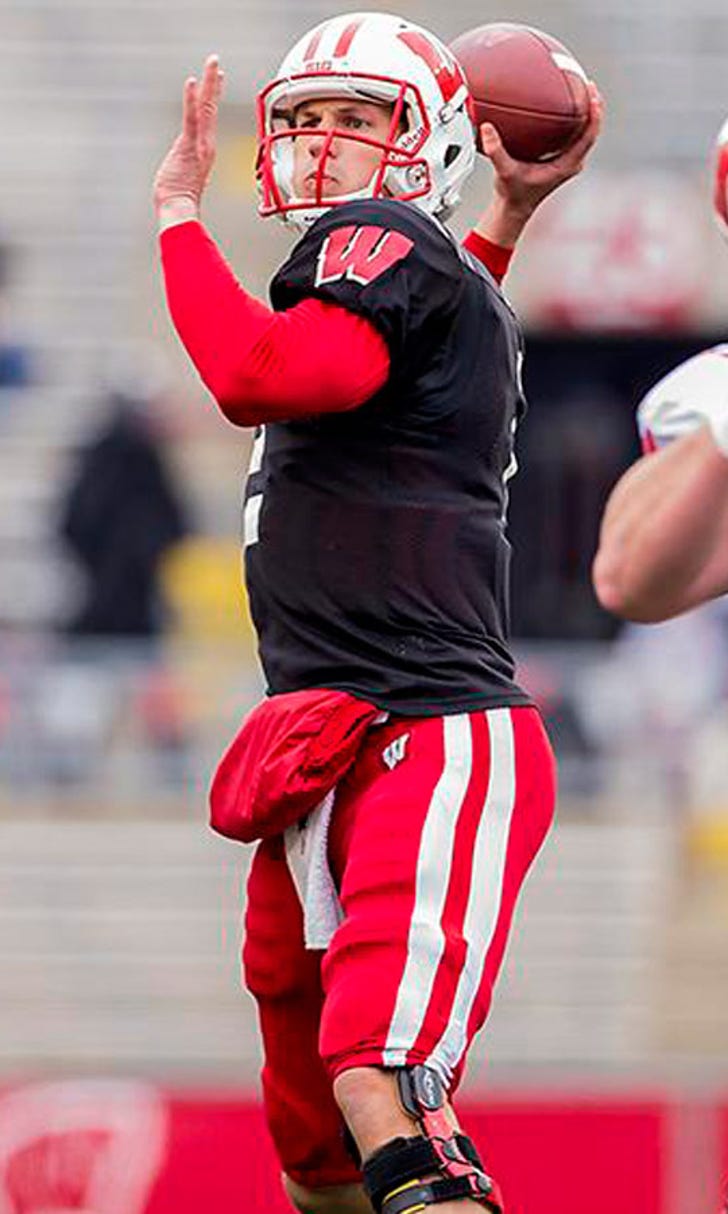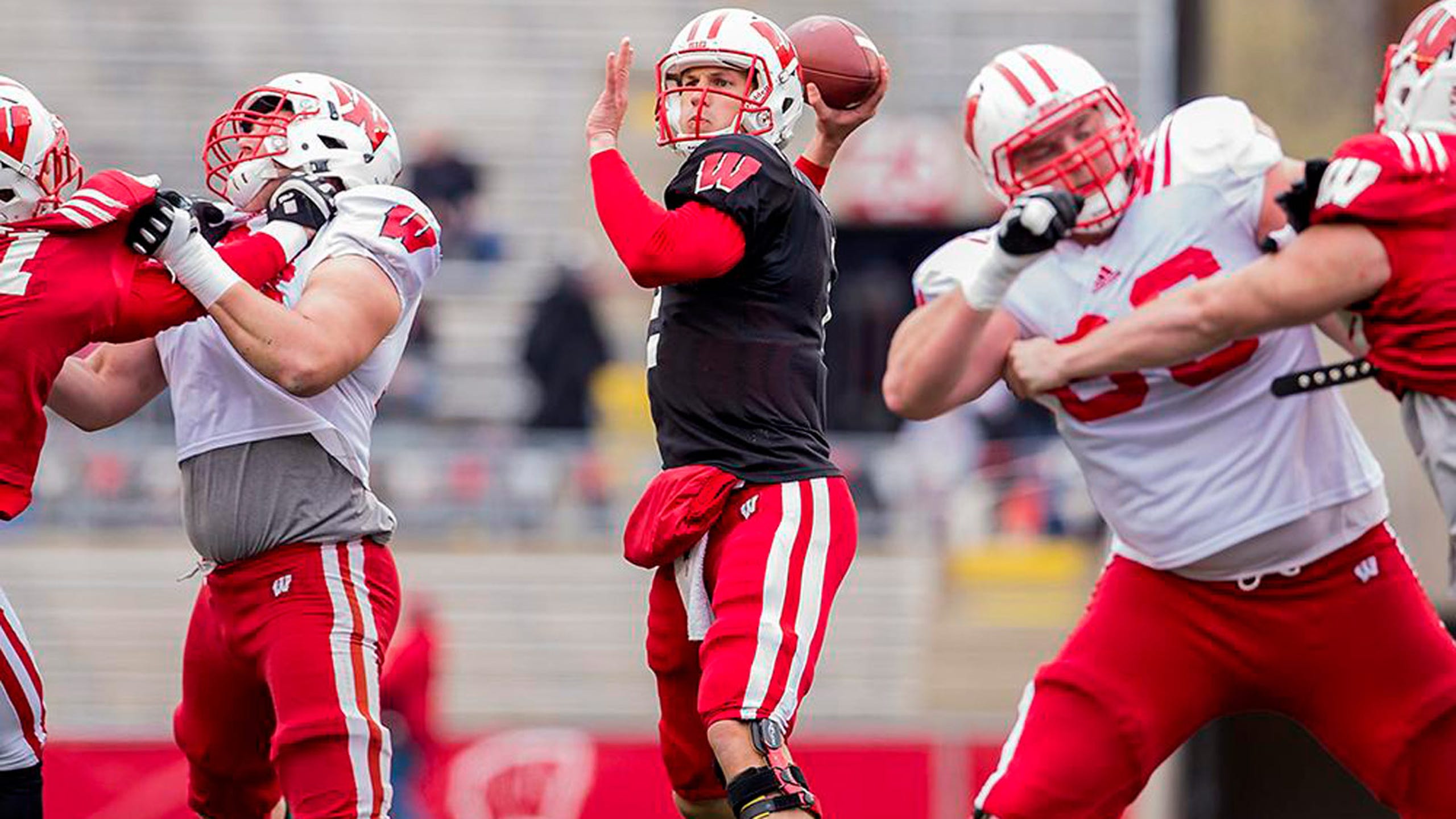 Most Important Badgers No. 2: Joel Stave
BY foxsports • June 18, 2015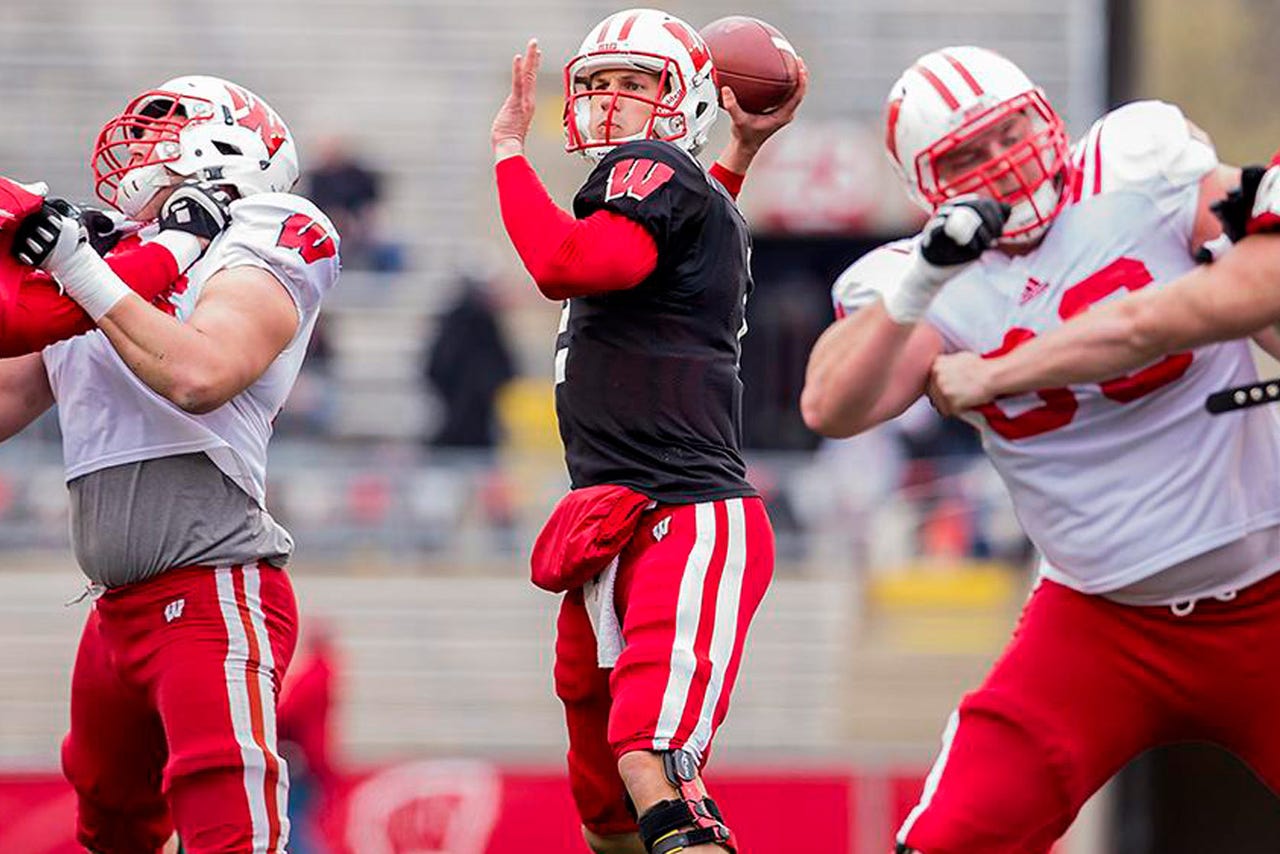 Wisconsin Badgers beat writer Jesse Temple will be analyzing the 30 most important players to the Badgers' success in the 2015 season. Check back each weekday to see the latest player on the list.
Note: This is not a list of the team's 30 best players or a series about past success, but rather which of them means the most to how Wisconsin will fare this year. Criteria such as depth at that player's position, general expectations and overall importance of that player having a good season are all highly considered. The list does not include incoming freshmen because their potential impact is unknown at this time.
No. 2 -- Joel Stave, quarterback
Why he's No. 2
Stave may not be the second-best player on the team, but that isn't the point of this list. His value, particularly considering no other quarterback on the roster is proven or ready to step into a starting role, is incredibly high.
Stave's play during his career has stirred more debate than any player over the past three seasons. His sophomore season created great promise when he threw for 22 touchdowns -- the second-most in UW history behind some guy named Russell Wilson. His junior year, on the other hand, was a well-documented rollercoaster ride.
First, Stave's throwing arm was supposedly injured. Then, everyone found out it wasn't. Then, he missed a month because of a mental bout with his throwing mechanics. By the time he came back against Northwestern in the fifth game of the season, he wasn't quite the same player and threw three interceptions. For the season, he completed only 53.4 percent of his passes and averaged 135.0 yards per game. He threw nine touchdown passes and 10 interceptions. But Stave also helped guide Wisconsin to seven consecutive victories and a Big Ten West division championship.
Stave is 21-7 as a starter at Wisconsin, and his .750 winning percentage ranks third all-time for a quarterback in program history. Backup Bart Houston, meanwhile, has thrown a total of four passes in his college career. No other quarterback outside of Tanner McEvoy (who will play safety and receiver this season) has thrown a pass for Wisconsin.
Expectations for 2015
Given that Stave will have an entire spring, offseason and fall camp to know he's the unquestioned starter for the first time in his career, it's reasonable to expect him to have his best season at Wisconsin. What, exactly, does that mean? That remains to be seen.
Individually, 2013 was Stave's best season. He threw for a UW sophomore record 2,494 yards, a school-record 336 pass attempts and became just the third quarterback in school history to complete 200 passes in a season. His .619 completion rate was also the best mark of his career. With new head coach Paul Chryst, who is considered a quarterback guru, there's no excuse for Stave not to perform well.
Stave, for his part, believes he's in line for a big turnaround from his junior campaign because he'll enter the season atop the quarterback depth chart.
"It's nice," Stave said during spring practice. "It's a little relaxing, reassuring I guess. It gives me an opportunity to really pick out things and work on things instead of doing whatever I can to be perfect everyday. Because it's practice, you don't need to be. It gives me an opportunity to work on things, work on timing, maybe throw it earlier than I'm used to, maybe throw it earlier than I'm comfortable with, just to build that kind of chemistry. I think that's one thing that's really positive from it."
Stave is the type of quarterback who has been labeled as a so-called "game manager." That is, someone who doesn't need to single-handedly win games and can rely on the running game and defense. But that also is not necessarily an accurate portrayal of his talent. Consider his numbers during Wisconsin's seven-game winning streak that clinched the Big Ten West last season.
During that stretch, Stave completed 60.7 percent of his passes for 928 yards with seven touchdowns, one interception and a 145.3 passer rating. And over his final four regular-season games, when Wisconsin was in the thick of the Big Ten West race, he completed 48 of 72 passes (66.7 percent) and topped 200 yards passing twice. His game-clinching first-down run against Iowa in the waning minutes of a two-point victory was perhaps the most significant play of the season.
"I think there were a lot of positives that came out of last year," Stave said. "I thought I played some of my best football down the stretch . . .
"For us to come back and win a game being down 17-3 (against Nebraska), win a really close one against Iowa at Iowa, win a really close one against Minnesota, win a really close one against Auburn, I think just winning those close games is something that we can really build on. For me personally, I think we did a lot of good things down the stretch in those games as an offense and as a pass game to really help us build our confidence."
Stave's experience was enough for Chryst to declare him the starter after the team's first spring practice in March. Chryst and Stave have a strong relationship formed years ago when Chryst was the team's offensive coordinator and Stave was a freshman in 2011. But Chryst believed this spring Stave provided the team with the best chance to win, as did the rest of the coaching staff.
"It was just obvious that this group believed in him a ton," Wisconsin offensive coordinator Joe Rudolph said. "They believed in his leadership. So I think kind of bringing that support behind him, knowing, 'OK it's on, let's go,' is good. I think that's something he'd put on himself anyway."
Stave still has much to prove in his final season of college football. Despite his 21-7 record as a starter, fans generally pick apart his flaws and note the team's strong running game during that span as the primary reason for the team's success. Now, he has one more season to leave his mark.
"There's not a ton of guys who stick around in college for as long as I have," Stave said. "I'm kind of I guess a unique situation. I've just really enjoyed my time here, really enjoyed the opportunity to play so much and you learn a lot with every start, with every game. You learn a lot about yourself as a player, about the game itself. And I think those 28 starts have really been valuable for me, and I think it'll really help me moving forward."
What would they do without him?
Wisconsin's quarterback roster would be thinned to Bart Houston, D.J. Gillins and Alex Hornibrook, and Houston would be the presumed replacement for Stave. Houston has completed 2 of 4 passes in his career for 14 yards with a touchdown. Hornibrook likely will take a redshirt season as a freshman despite showing great promise during the spring. Gillins, meanwhile, seems to be at least another year away from being able to challenge for the starting role as he learns when to tuck and run and when to throw the ball away under pressure in the pocket.
Follow Jesse Temple on Twitter
---