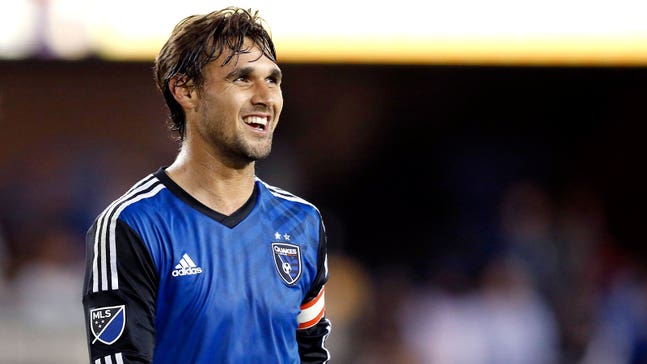 MLS Weekend Preview: Chris Wondolowski chases his 100th goal against Orlando City
Published
May. 22, 2015 3:00 p.m. ET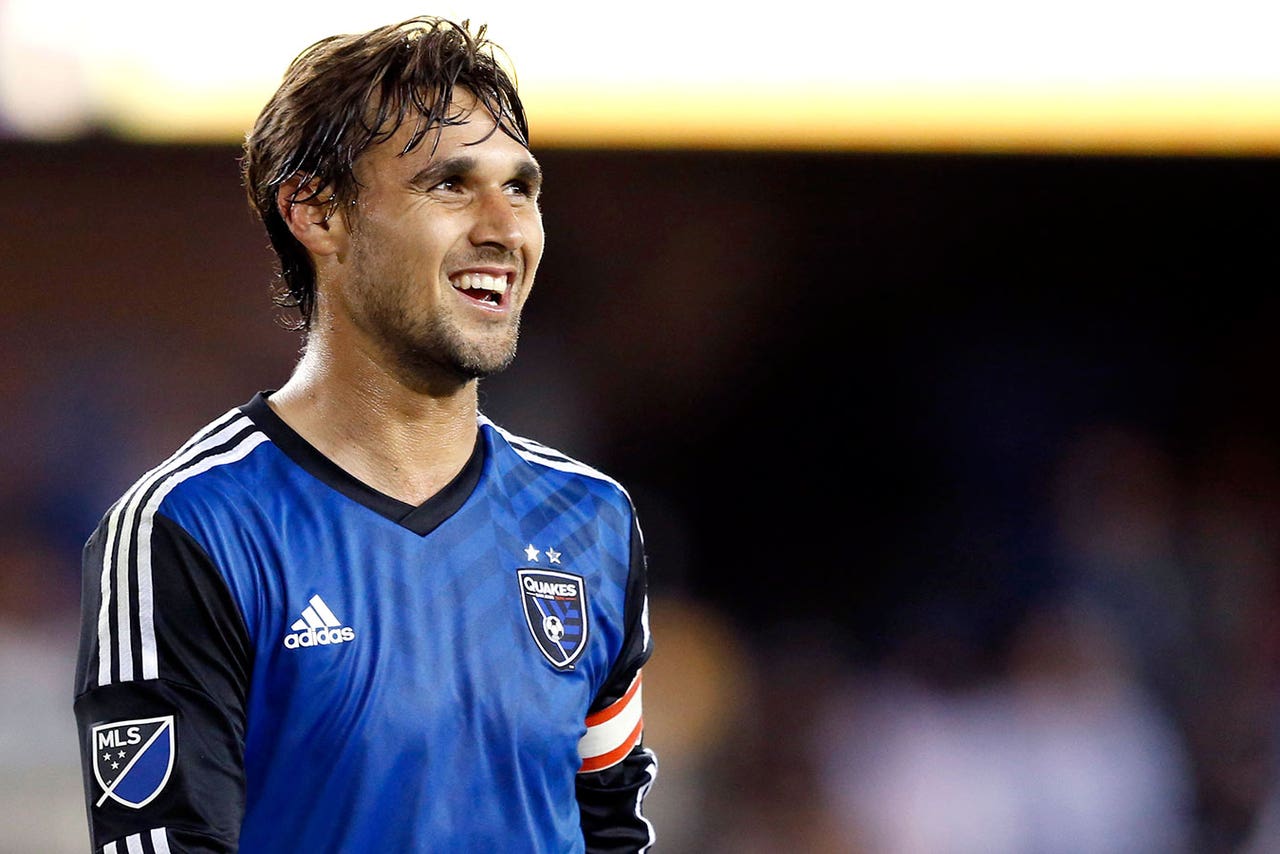 Chris Wondolowski stands perched on the edge of history. He enters this weekend just one goal away from 100. It is a feat barely imaginable given the lengthy odds he faced at the start of his career and the protracted road he took to this point.
Wondolowski relied on commitment and dedication to place himself in a position to reach his century against Orlando City on Sunday (live, 7:00p.m. ET, FOX Sports 1, FOX Sports Go). He persisted even when it looked like his day might never come. He seized the chance with both hands when it finally did and transformed his career upon his return to San Jose.
Instead of succumbing to the doubts, Wondolowski dashed them forever. He relied on his industry, his intelligence and his movement to emerge as the most ruthless goalscorer in the league during this decade (92 goals since the start of the 2010 season, tops in MLS) and force his way into the U.S. national team. He took the field at the World Cup last summer and watched his beloved Earthquakes finally open the gleaming Avaya Stadium earlier this year.
The next milestone looms as a crowning achievement, a piece of inescapable history to etch his name along the other great goalscorers to take the field in this league. It is barely believable based upon his modest beginnings at Chico State and the five years he waited to truly make his impact on the league. Wondolowski's father, John, perhaps captured the sentiment best in a moving blog post earlier this week.
"Following my son for 11 seasons has been a magical experience," Wondolowski wrote. "When I think about the fact that he started by signing a contract that paid him less than $1,000 per month, there is something to be said for following your passion and pursuing your dream."
Wondolowski's relentless drive carried him to a point beyond any reasonable expectation. It is this same motivation that will see him meet this mark at some point and push onwards in search of more as the years continue to unfold.
Columbus Crew SC -- Chicago Fire, Friday, 8:00p.m. ET (Univision Deportes)
Both teams enter this affair in the wake of disappointing results last weekend. Crew SC must cope without the suspended Mohammed Saeid after his first-half dismissal set them on course for defeat in San Jose. Chicago must figure out how to respond after chucking away a two-goal lead against 10-man New York City FC to settle for a point at Yankee Stadium. Expect Crew SC to grab this game by the scruff of the neck and try to prevent the Fire from punishing them in space.
LA Galaxy -- Houston Dynamo, Friday, 10:30p.m. ET (Univision Deportes)
Robbie Keane declared himself fit to feature against the Dynamo during the week. His return supplies a necessary and timely boost for a team that has looked utterly adrift without him. Keane must inspire an uptick across the board to produce the response required to cope with the in-form Dynamo. Owen Coyle's side continues to impress with Giles Barnes proving a consistent threat in the final third. Galaxy boss Bruce Arena must hope Omar Gonzalez (knee) is fit enough to feature in order to give the Galaxy the best possible chance of steering things back on course.
Toronto FC -- Portland Timbers, Saturday, 5:00p.m. ET (TSN)
Life without Jozy Altidore starts at BMO Field on Saturday. TFC boss Greg Vanney must grapple with his selection up front -- Luke Moore holds the inside track with Robbie Findley ruled out -- and weigh how to adjust in the absence of his missing striker. Look for Michael Bradley to join the play more frequently to provide Moore and Sebastian Giovinco with the necessary support in the final third. If Bradley and the Reds can strike the right balance, then they might figure out a way to secure all three points against a Timbers side still searching for its best form.
New England Revolution -- D.C. United, Saturday, 7:30p.m. ET
Revolution coach Jay Heaps rotated his squad in midweek ahead of this affair and suffered the consequences in that 4-2 defeat at Sporting Park. His players must respond in kind against a United side expecting a response in the wake of the 1-0 defeat at Philadelphia on Sunday. If United can stretch the Revolution shape as thoroughly as Sporting did on Wednesday night, then the visitors will create the opportunities necessary to procure a result at Gillette Stadium.
Montréal Impact -- FC Dallas, Saturday, 8:00p.m. ET (TVA Sports)
FCD found little space to operate against New York last weekend, but this match should offer more room to roam. Montréal operates best on the counter, but the Impact's base of operations usually allows the opposition to find moments in the match to push forward. FCD must take full advantage of them in order to subdue a Montréal side with flexibility and mobility in its attacking movements, even with Dominic Oduro (groin) ruled out for the next few weeks.
Colorado Rapids -- Vancouver Whitecaps, Saturday, 9:00p.m. ET (TSN2)
Rapids coach Pablo Mastroeni finally faces a series of choices up front with the arrivals of Kevin Doyle and Luis Solignac. The postponement in Kansas City last weekend allowed Mastroeni and the Rapids ample time to allow their two new strikers to settle into the squad. Colorado's abject home form -- the Rapids haven't won in Commerce City for 10 months or so -- requires drastic measures, though. Expect the Rapids to pursue the game earnestly against a Whitecaps side burdened by that midweek victory at FC Edmonton to reach the Canadian Championship final.
Seattle Sounders -- Sporting Kansas City, Saturday, 10:00p.m. ET
Both teams summoned something like the best versions of themselves over the past few days: Seattle produced a comprehensive victory at Vancouver, while Sporting sliced through New England in the second half in midweek. The keys here are pressure and spacing. Sporting will push high up the field to unsettle Seattle at the back (it certainly worked in midweek, but the probable return of Chad Marshall bolsters the home side), but those efforts might expose a vulnerable Sporting defense if Sounders FC can play out with a couple of tidy passes. Clint Dempsey's irrepressible form -- the U.S. captain has a goal or an assist in each of his last 10 games -- makes the task even more difficult for the tattered visitors.
Real Salt Lake -- New York City FC, Saturday, 10:00p.m. ET
Old home week arrives at a perilous time for the home side and the returning heroes. Both teams desperately need a result. RSL -- particularly with Joao Plata on the cusp of his first appearance this season -- looks the more likely of the two teams to muster it, but NYCFC poses a threat in the wake of the galvanizing 2-2 draw against Chicago on Friday.
New York Red Bulls -- Philadelphia Union, Sunday, 5:00p.m. ET (FOX Sports 1, FOX Deportes)
Red Bulls coach Jesse Marsch set out his stall carefully to claim a point at FC Dallas last weekend, but he must opt for a different tack here. New York boasts an advantage in possession here against a Union side still trying to hit stride. It is down to the Red Bulls to use it effectively to carve open a Philadelphia defense still missing the injured Steven Vitoria in central defense.
San Jose Earthquakes -- Orlando City, Sunday, 7:00p.m. ET (FOX Sports 1, FOX Deportes)
Wondo Watch kicks into high gear at Levi's Stadium. This game offers Wondolowski a decent chance to snag his 100th goal given Orlando City's penchant to commit numbers forward in possession. San Jose grasps the need to move directly and quickly in those circumstances, but the Earthquakes will find few opportunities to do so if Orlando City keeps the ball as tidily as it did during the dismantling of LA Galaxy last weekend. The home side will look to build on that result in a bid to push further up the table.
---