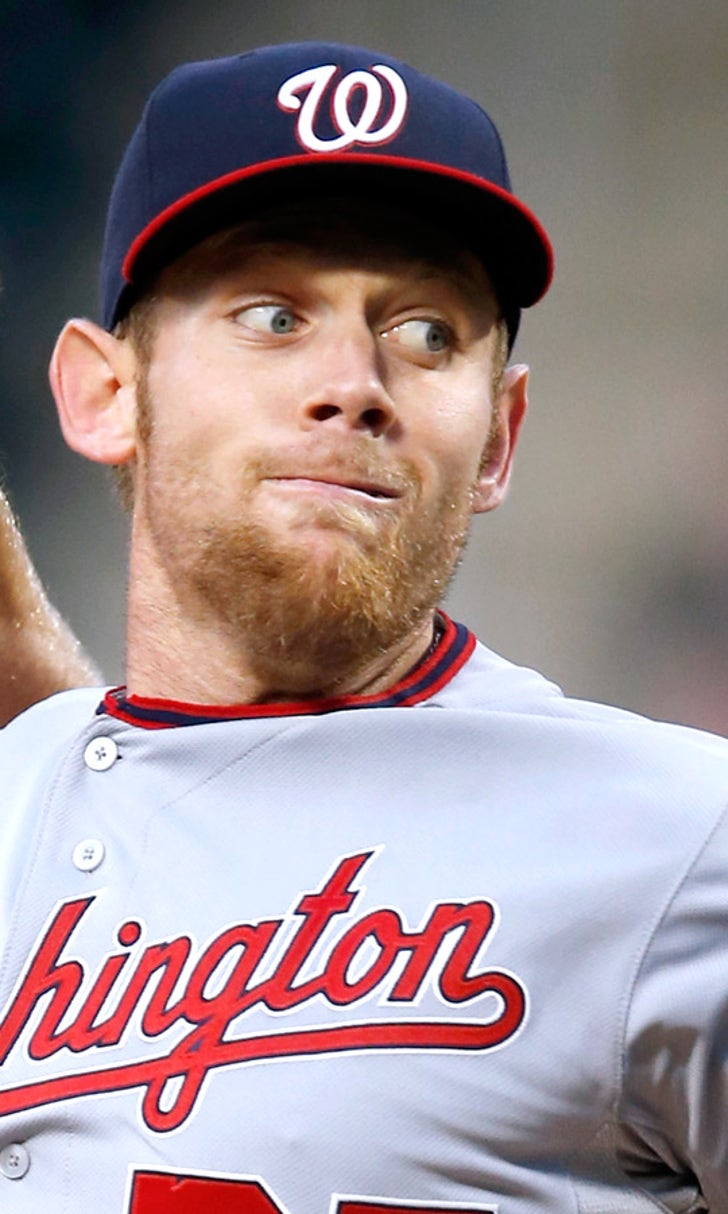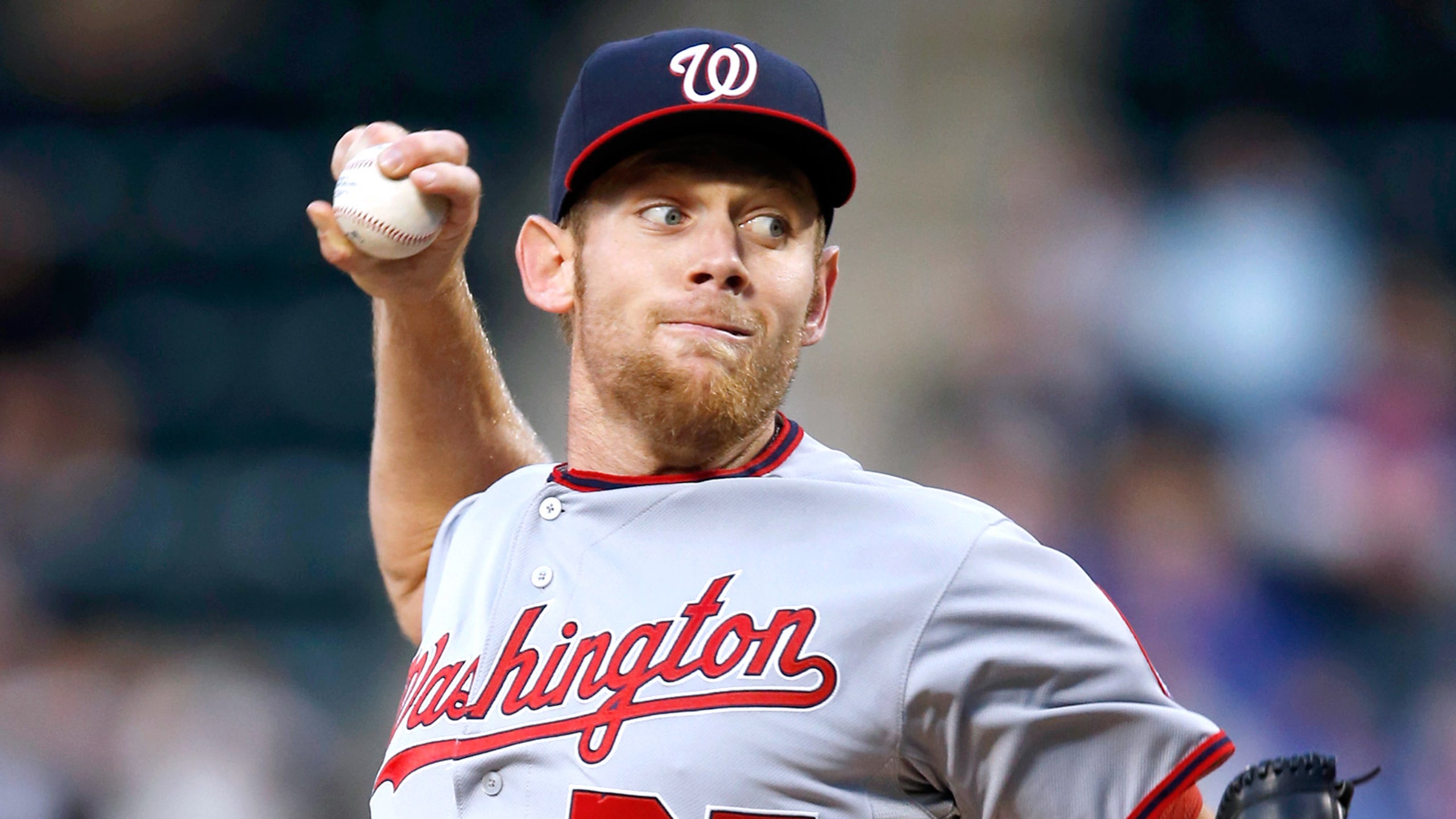 MLB Quick Hits: Strasburg set for Wednesday rehab start
BY John Halpin • June 16, 2015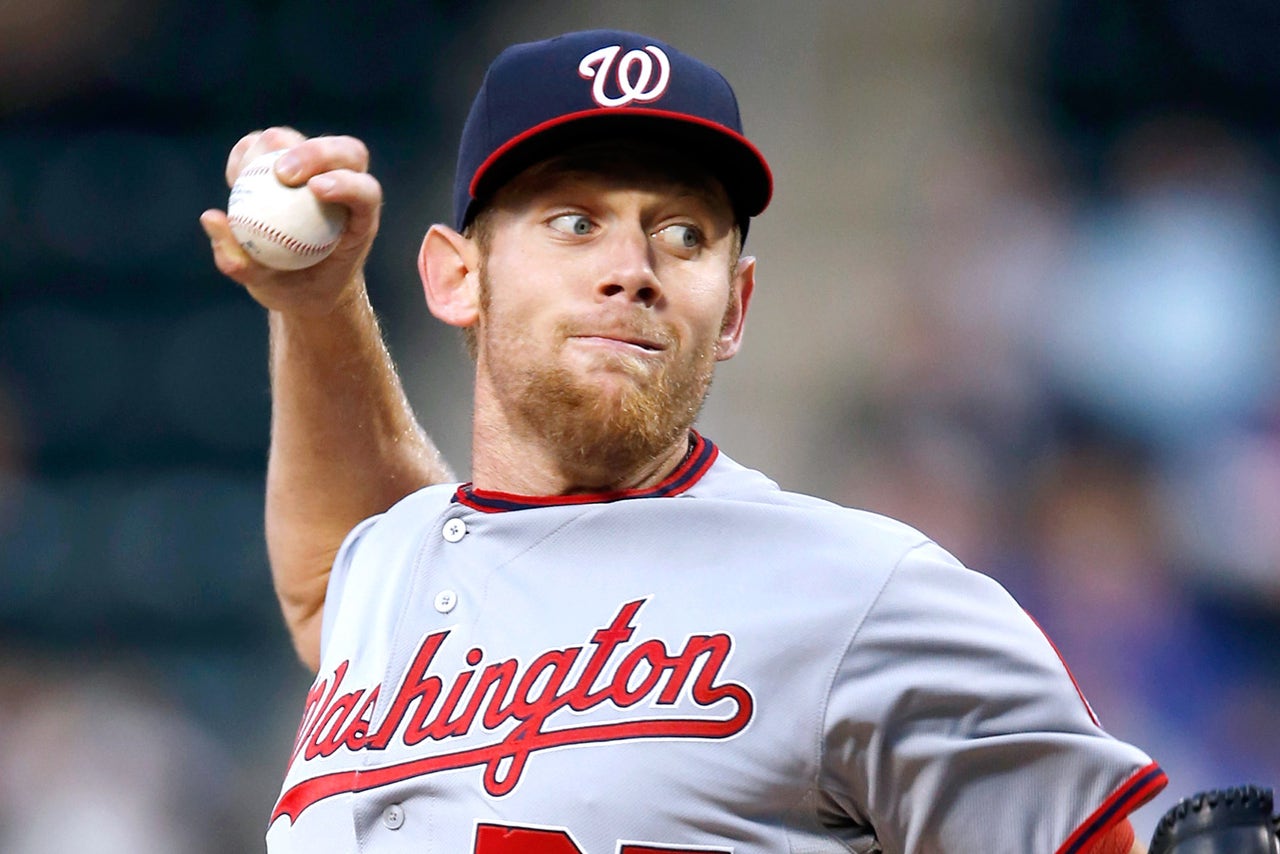 Nationals SP Stephen Strasburg, who has been on the DL since May 30 with either neck tightness or a strained trapezius muscle (reports differ), will make a rehab start on Wednesday. Strasburg will throw 80-85 pitches and could return to the Nats' rotation after tomorrow's start if all goes well, according to the team's website.
Strasburg has struggled to a 6.55 ERA (3.96 FIP) through 10 starts, but he's been working on his mechanics - which many suspect to be the main problem - while on the DL. It's obviously too early to say how much things will improve, but the feeling here is that Strasburg's talent is worth a buy-low inquiry, perhaps by offering a mid-level power hitter (Mike Moustakas, for example). If you have any trade ideas on your own roster, tweet me (@jhalpin37).
In other news ...
Cardinals closer Trevor Rosenthal wasn't available Monday due to arm tightness, but the team doesn't think it's serious.
Marlins ace Jose Fernandez says he'll make three more rehab starts and then come off the DL for a July 2 start if all goes well. Before you start getting any ideas, Fernandez is already owned in 86 percent of FOXSports.com leagues.
Rays 3B Evan Longoria left Monday's game after getting hit in the left wrist by a pitch, and while it sounds like he hopes to play tonight, you shouldn't count on it.
Will the last prospect in the minors please turn out the lights? With games in AL parks Wednesday through Sunday, the Cubs are calling up slugger Kyle Schwarber (13 HR, 1.017 OPS ar Double A). The Cubs' front office says Schwarber will head back to the minors after this week's stretch is over, and unless the kid hits a home run every day, you should believe them.
Rangers 2B Rougned Odor went 3-for-3 with a couple of RBI in his return from the minors. Maybe he'll be the guy we drafted after all? Odor is owned in just 3.1 percent of FOXSports.com leagues. With Delino DeShields (hamstring) now on the DL, Joey Gallo moved to left field on Monday, with Hanser Alberto playing third base.
The Brewers will "take a couple of days" to get OF Carlos Gomez past his right leg soreness. Gomez was scratched Monday, and you should expect him to sit tonight as well.
Astros 2B Jose Altuve (hamstring) hopes to return to the lineup tonight after missing three games. 
Padres OF Wil Myers is back on the DL with wrist tendinitis just a few days after he came back from the same problem. You shouldn't expect to see too much of Myers for the rest of the season.
D-backs OF Ender Inciarte (hamstring) is on the DL, hopefully for the minimum stay.
Reds SP Jon Moscot left Monday's start after just three batters due to a disclocated shoulder. He'll be out for awhile.
There are five afternoon games on today's schedule, starting with Twins-Cardinals at 1:45 p.m. ET.
The rapidly improving Taijuan Walker was very good as our Monday streaming starter. Walker has 27 strikeouts against three walks in his last 29 innings, and is owned in a ridiculously low 24 percent of FOXSports.com leagues. Today's pick is ground-ball machine Charlie Morton (21.7 percent owned) vs. the White Sox. Morton doesn't get enough Ks to be a rosterable fantasy asset, but he looks like the best of today's streaming options.
DFS advice (based on 50/50 games, night games only, salaries from DraftKings): I think Matt Harvey will get over his struggles soon, but still want no part of him against the Blue Jays. Jake Arrieta ($9,000 vs. CLE) looks like a better bet ... Morton ($7,900) isn't a bad SP sidekick, and if you want to target a bad opponent, Chris Tillman ($6,500) comes cheap against the Phillies. Tillman hasn't been good, though ... Rangers rookie Alex Gonzalez has used smoke, mirrors and black magic to post a 0.42 ERA through three starts, and the Dodgers look like the night's best stacking option against him. Get as many of the top-of-the-order hitters as you can afford, even if everyone else will do the same ... Yasmani Grandal and Jonathan Lucroy (both $3,800) are solid backstop options, and lefty masher Francisco Cervelli ($3,100) isn't bad, either ... Adrian Gonzalez, Adam Lind and Lucas Duda all look good for $4,500 at 1B ... Logan Forsythe ($3,000) is your low-priced 2B ... Jung Ho Kang ($3,400) fits at 3B or SS; I'd prefer the latter ... Chris Coghlan ($3,700) can help you save in the OF.
See you back here tomorrow morning.
---
---