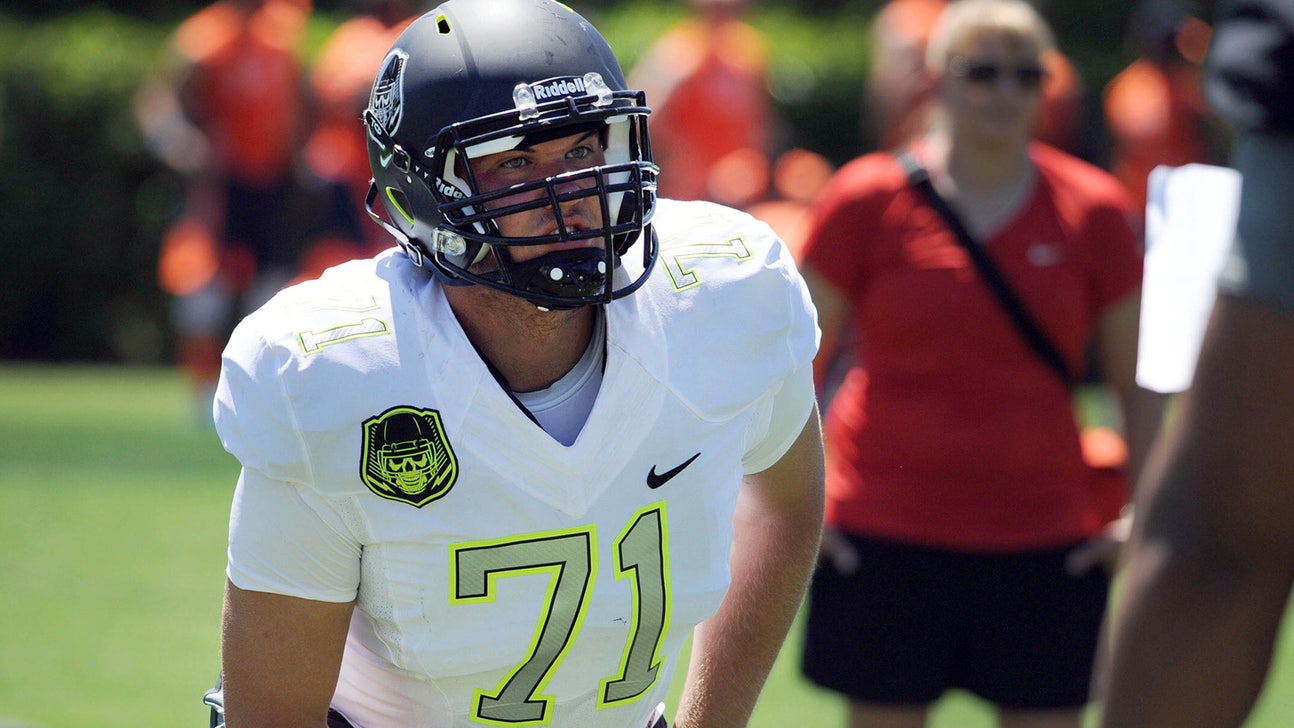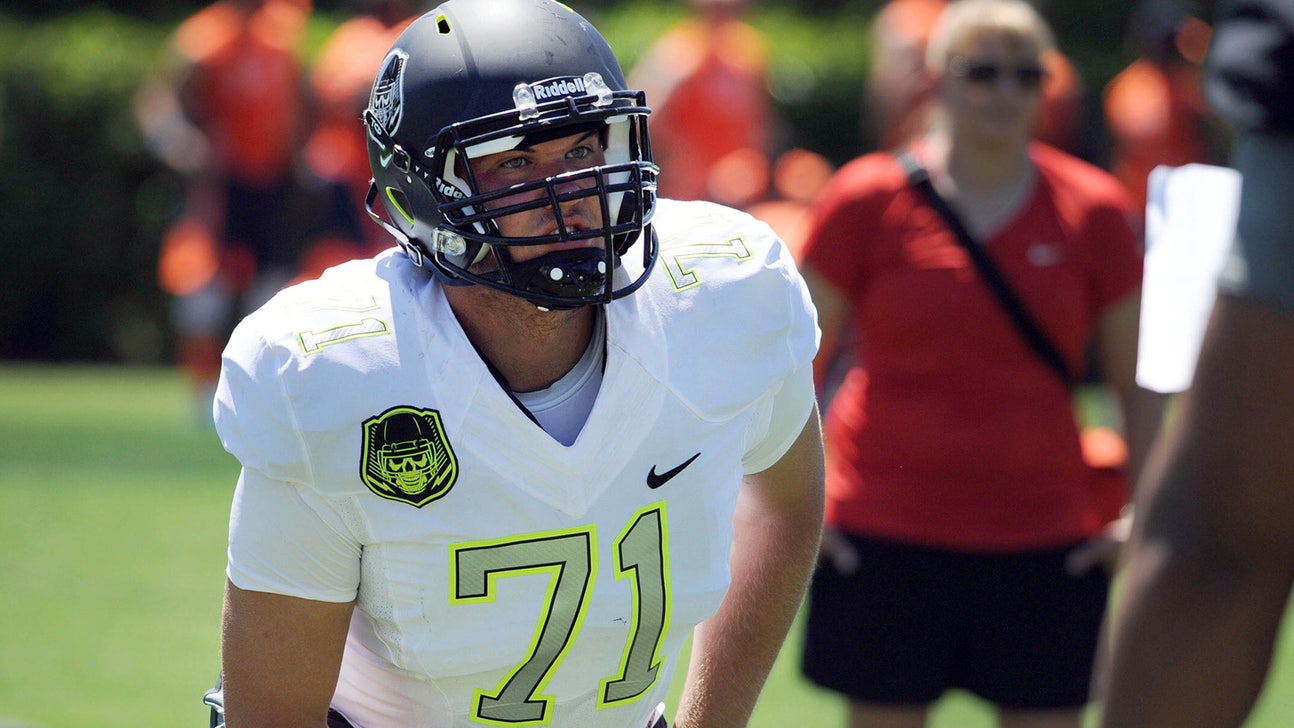 Mitch Hyatt gives Clemson rare five-star OL signee
Published
Feb. 4, 2015 11:51 p.m. ET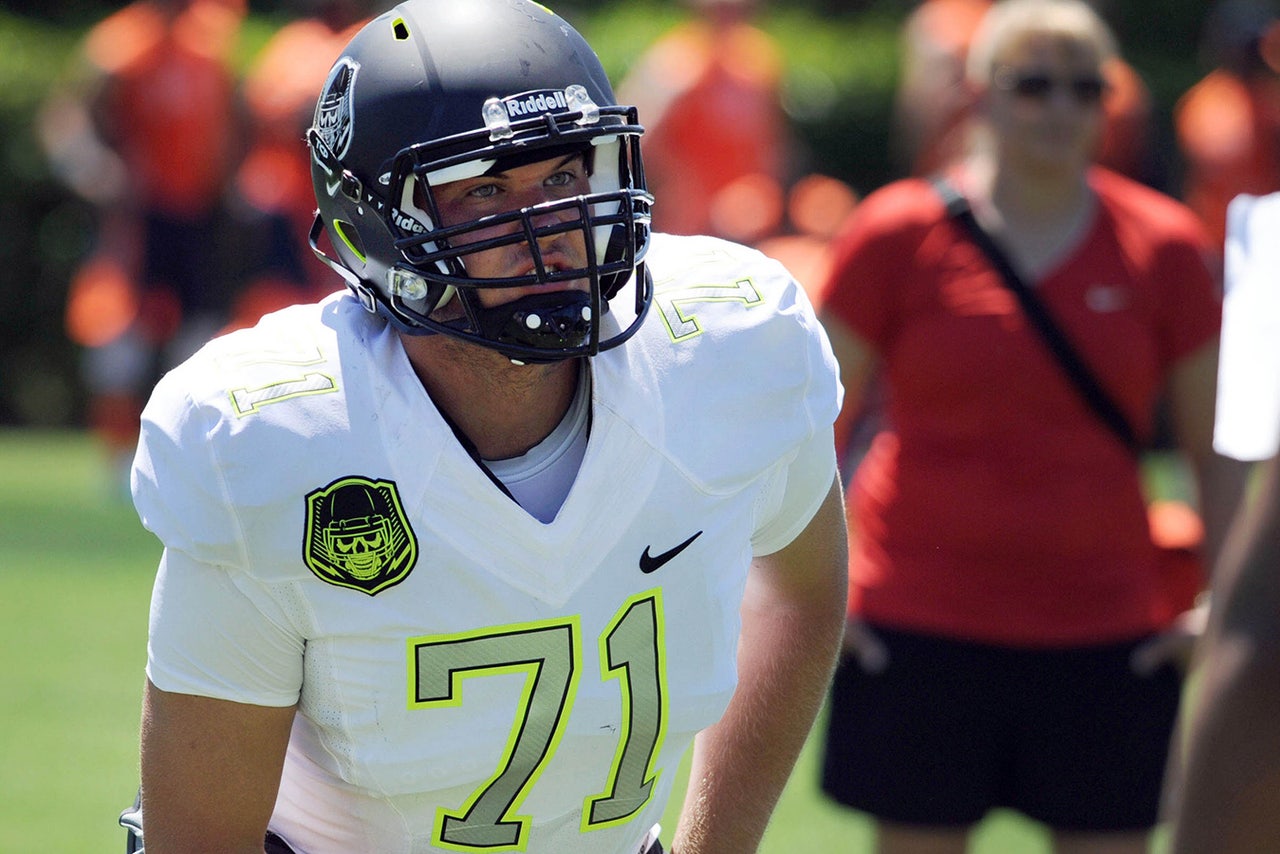 SUWANEE, Ga. -- Wednesday night served as a mere formality for one of the nation's top offensive line prospects. Sitting in a long line of high school teammates in the commons area at North Gwinnett High School, Mitch Hyatt, the No. 2-rated offensive tackle prospect nationally and consensus All-American, wore the expected bright orange gear and handed out gratitude, as well as a little advice.
Hyatt was ahead of the curve when it came to National Signing Day. The Clemson signee is a part of a growing group of players from the Class of 2015 already enrolled in their respective universities, a month of classes and adjustments in the books.
Placed alongside high-school teammates signing with Florida and Georgia Tech and Gardner-Webb, among others, his Signing Day ritual served essentially as a show of uniformity. He was introduced by his position coach, Duvall Braxton, went down his list of Thank Yous and then veered into a territory the rest have not yet experienced: "Go to class, because I have friends that kinda missed class (at Clemson) and they regretted it."
It was also an anniversary of sorts for Hyatt. It was during this very spectacle last year that he all but ended his recruitment, publicly picking coach Dabo Swinney and the Tigers -- in turn, following family footsteps and becoming arguably the most-hyped offensive line prospect to choose Clemson in modern recruiting memory.
While Clemson has attracted plenty of elite recruits and churned out its fair share of NFL talent over the course of the program's illustrious history, its offensive line has never been a bona fide strength. Hyatt is the first five-star offensive lineman to sign with Clemson since Scout began keeping recruiting rankings in 2002.
There has been plenty of talent in between: Tommy Bowden and Swinney landed some top-notch players during that span. In terms of five-star talent, the likes of wide receiver Sammy Watkins, running back C.J. Spiller, quarterback Tajh Boyd and linebacker Stephone Anthony were among the top players nationally in their respective classes. It's not that Clemson has fallen short of building in the trenches, either. The defensive side of the ball has served as a hotbed for line talent: Da'Quan Bowers, Ricky Sapp, Malliciah Goodman and Josh Watson come to mind, each entering college with a four- or five-star label.
Along those same lines, the school, for one reason or another, has never produced much pro talent at center, tackle or guard. Only 14 offensive linemen in school history have been taken in the first seven rounds of the NFL Draft -- additional players were taken outside of those parameters before the draft moved to its seven-round format in 1994 -- and only five players in the top three rounds.
Before Brandon Thomas was taken in the third round last year, a Clemson offensive lineman had not been taken in the top three rounds since 1979.
If Hyatt were to live up to his No. 20 overall ranking throughout college, he'd be in line to be the first Tigers O-linemen taken in the draft's first round since Lou Cordileone in 1960. And judging by his high school coaches' comments about him, the expectations remain high as he enters college with a chance to start as a true freshman.
"(2016 recruit Josh Imatorbhebhe) had his visit this weekend over at Alabama, and they had a mantra about, 'Success isn't owned. Success is rented. And you've got to pay the rent every day.' And Mitch is a guy that never felt his success was owned. He paid the rent every day," North Gwinnett head coach Bob Sphire said. "He felt like he had to live up to that every day, had to compete every day. It was never one of those where he took it for granted."
Added Braxton: "The hard part about coaching a kid with that much talent is that sometimes they rely on that talent. They don't take coaching. And that didn't happen.
This is not just blind praise. North Gwinnett knows its offensive linemen. In Sphire's tenure, the Bulldogs have produced collegiate talent that landed at Alabama, Tennessee and Georgia. Former tackle Ju'Wuan James was taken 19th overall in the 2014 NFL Draft after a successful career with the Volunteers, while Alabama graduate Austin Shepherd is expected to be a mid-round pick this April. Richard Seymour's son, DeVondre Seymour, just signed with Georgia after a year of junior college in Mississippi. And that's just the cream of the crop.
And now of course there's Hyatt, holding offers from all over the country -- USC, UCLA, Texas, Ohio State, Georgia, Louisville -- but electing to stick with Clemson through an up-and-down season and the departure of offensive coordinator Chad Morris. He's made it clear that it felt like home.
"When going through the recruiting process, I found myself getting attached to every school I visited," Hyatt said. "But when I visited Clemson I knew that it was the place for me."
There's probably a reason for that.
Hyatt took his first trip to Death Valley long before the recruiting process kicked into high gear. Hyatt's uncle, Dan Benish, was an All-ACC defensive tackle who would help the Tigers win the 1981 national title before moving on to an NFL career, where he won a Super Bowl with the Redskins. Although the decision was Hyatt's to make, Benish joked with The Post and Courier that the "brainwashing" has been going on since childhood.
This is a natural part of the process -- Clemson just so happened to have the inside track this time around, landing what could be a cornerstone for an offensive line tasked with protecting one of the top young quarterbacks in the country: Deshaun Watson, another Georgia product.
"The offensive line was a work in progress for us last year," Swinney said on Wednesday once he and his staff finalized their class, a group Scout ranked 15th-best overall. "We needed to go out and land a great class, and it all started with Mitch Hyatt. We got everyone we wanted and we're extremely excited about these guys. There's not a better group of offensive linemen out there."
As with any highly ranked recruit at their respective positions, Hyatt will be expected to perform right away. The Clemson line was not a strength last season, and with a healthy Watson this offense is ready to put up points immediately, especially if the line play is up to par. This is likely unfair for an 18-year-old, particularly one asked to toil in the trenches. On the other hand, the 6-foot-5, 274-pound frosh is getting a leg up through his early enrollment and he's honed his craft in high school against the likes of teammates Anree Saint-Armour (Georgia Tech signee) and Dante Sawyer (South Carolina signee) in practice and, for example, former No. 1 recruit Robert Nkemdiche (Ole Miss) and other standouts in the talent-rich metro Atlanta area. He's handled challenges before.
"He's earned it. It wasn't given to him," Braxton said. "He's earned it."
Along with Hyatt, four-star O-lineman Jake Fruhmorgen helps anchor what could be a foundation for the Tigers. That foundation may be asked to set right away.
Either way, whatever happens in spring practice and fall camp, Swinney & Co. finally landed their star recruit on the offensive line. It's been a long time coming, and they might have needed a little good fortune to seal the deal. Now they just need to get Hyatt ready for Saturdays, and whatever else comes next.
---