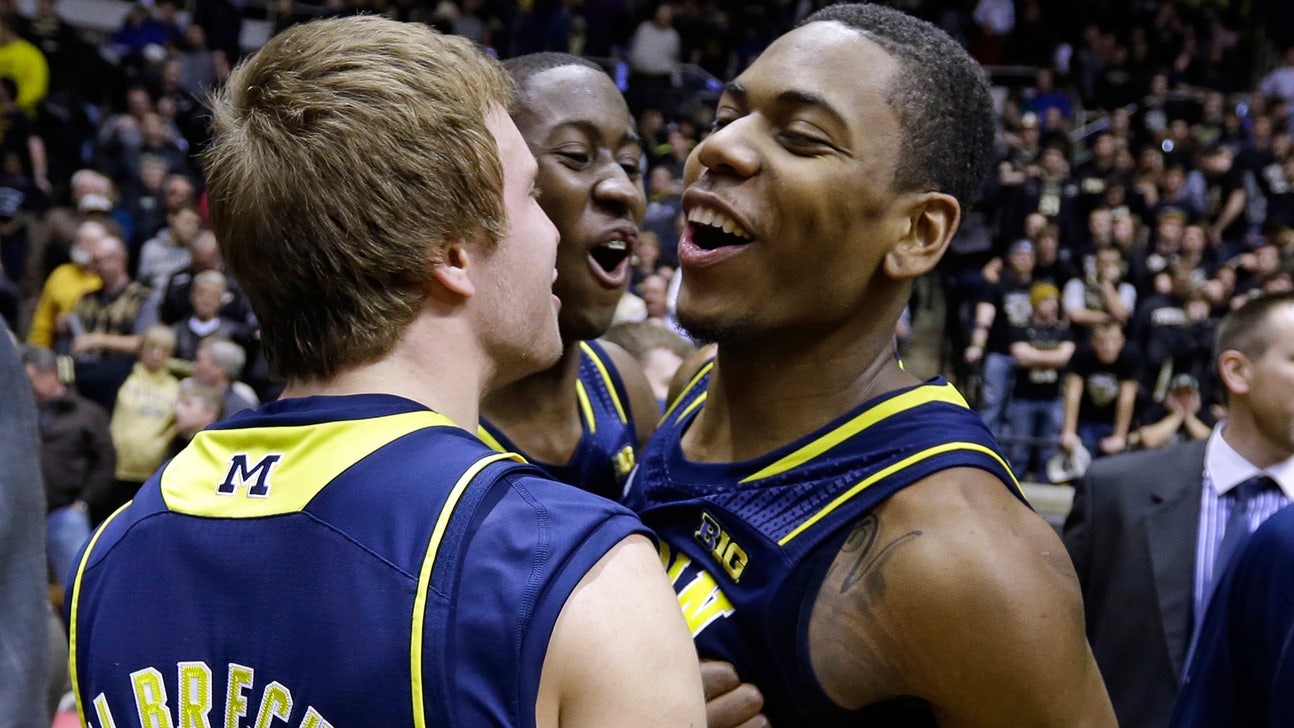 Michigan escapes Purdue with 77-76 OT win
Published
Feb. 26, 2014 9:20 p.m. ET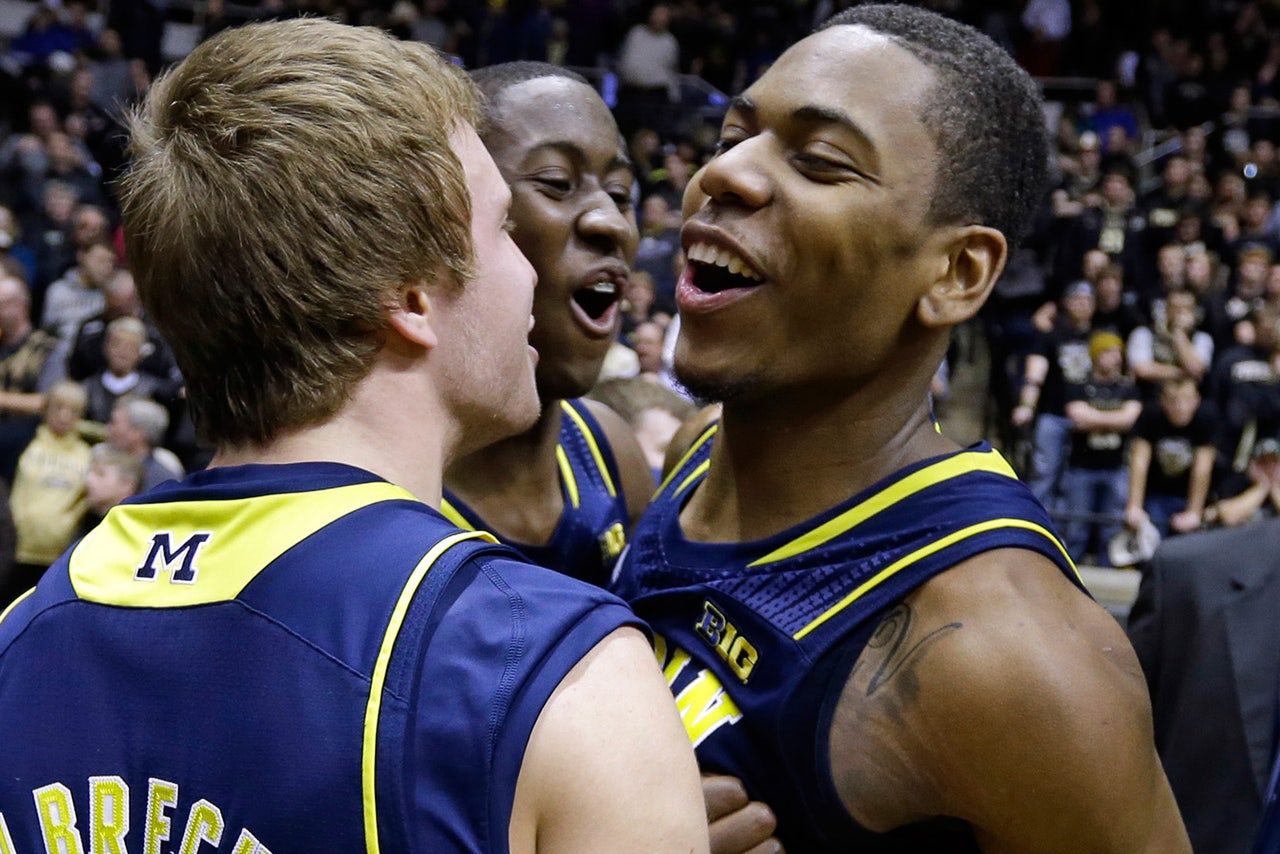 WEST LAFAYETTE, Ind. (AP) -- Glenn Robinson III wanted this win more than any other.
Michigan coach John Beilein put the opportunity squarely in his hands.
After Beilein took his final timeout, the sophomore forward caught an across-the-court lob pass in the right corner, spun away from a defender and rolled in a mid-range bank shot as the buzzer sounded to give No. 16 Michigan a 77-76 overtime victory on his father's former home court.
"My teammates knew how much this game meant to me with my dad playing here and being from Indiana," Robinson said. "It feels great."
For the Robinson family, it was bittersweet.
Gelen Robinson, a soon-to-be Purdue football player, was in the crowd, cheering for his older brother. So was Glenn's father, the former Boilermakers star and No. 1 overall NBA draft pick, who celebrated with his son in the semi-private Mackey Arena tunnel as he watched his favorite fans leave in stunned silence.
But the younger Robinson was every bit as good as his father was over the final 25 minutes.
He made six of his last eight shots and scored 14 of his 17 points -- none more important than the ball that seemingly hung on the rim forever before finally dropping through the net -- in the second half and overtime. Robinson had eight rebounds, three assists and only one turnover in 39 minutes.
Nik Stauskas had 15 points, Caris LeVert added 14 and Jordan Morgan had 13 points and nine rebounds on a night the Big Ten-leading Wolverines needed everything they could muster to escape Purdue. Michigan (20-7, 12-3 Big Ten) extended its lead over cross-state rival Michigan State to one game and over third place Wisconsin to two.
Without Robinson's blue-collar grit, it might not have happened.
"This game always means a lot to him," Beilein said after the Wolverines won their second straight for the first time in nearly a month. "Caris saw the switch, saw the mismatch and got the ball to him, and Glenn just made a play."
For the Boilermakers (15-13, 5-10), it was an excruciating blow. They have lost three straight and remain the only team in the league without a win over a Top 25 team this season, though they seemed to be on the verge of one when Kendall Stephens went to the free throw line for a 1-and-1 with a 76-75 lead and 12.2 seconds left in overtime. But the ball clanked off the front of the rim, the Boilermakers' only missed free throw all night.
That gave Beilein a chance to draw up the winning play for Robinson, whose shot rolled in instead of rolling out.
"It's just heartbreaking," guard Ronnie Johnson said after scoring 21 points and dishing out seven assists. "Everyone came out and fought. We did our job most of the time, so it's heartbreaking."
Purdue played one of its best games of the season.
Johnson's older brother, Terone, finished with a season-high 22 points and all five Boilermakers starters scored in double figures.
Purdue jumped to a 10-point lead in the opening minutes, extended the margin to 19 midway through the first half and still led 37-24 at halftime. Purdue fought off Michigan's continual challenges in the second half, only allowing the Wolverines to tie the score twice -- when Robinson made two free throws with 1:55 to go and when Stauskas made two more free throws with 55.7 seconds left -- and never falling behind in regulation.
Even when Beilein drew up a play for Stauskas, his top scorer, Purdue's usually maligned defense contested the shot and forced overtime.
Things changed after Purdue's best rim protector, A.J. Hammons, fouled out with 1:55 left in regulation.
Michigan wasted no time in exploiting the Boilermakers' suddenly vulnerable middle in overtime, taking its first lead on a dunk by Stauskas on the opening possession. Jordan Morgan followed that with a layup, Robinson knocked down a jumper and when Morgan scored on another dunk with 2:29 left, Michigan led 73-70.
But the Boilermakers rallied, retaking a 76-75 lead when Ronnie Johnson made two free throws with 31.4 seconds to go. After Stauskas missed a layup on the next possession, Stephens wound up with the rebound and drew a foul that had Robinson's father's fans back on their feet.
"We thought we had the game in our hands," Terone Johnson said. "It ended up they made one more play than us at the end."
Robinson made sure of it.
"That's a great play, and when you have that pass, you have to go get it," he said in what could be his final appearance at Purdue. "He (the defender) overran it, I took one dribble and was at the basket."
---