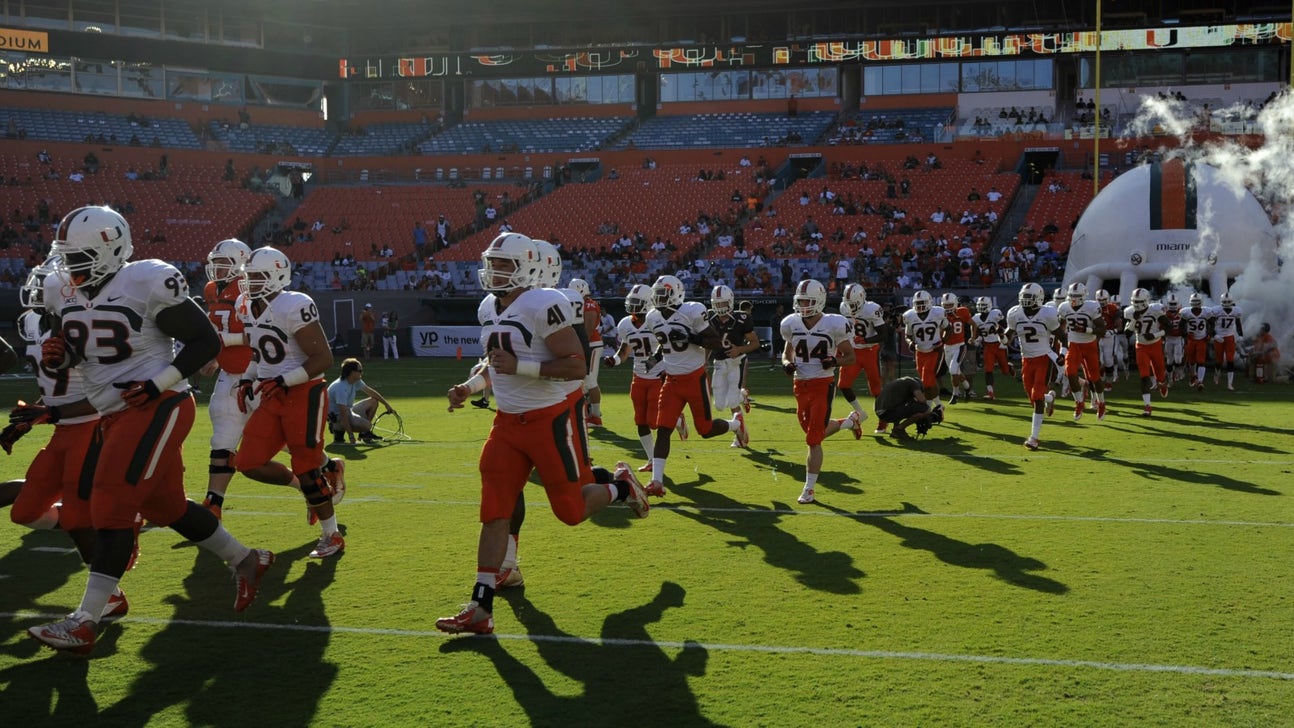 Miami Hurricanes 2014 college football season primer
Published
Aug. 3, 2014 11:00 a.m. ET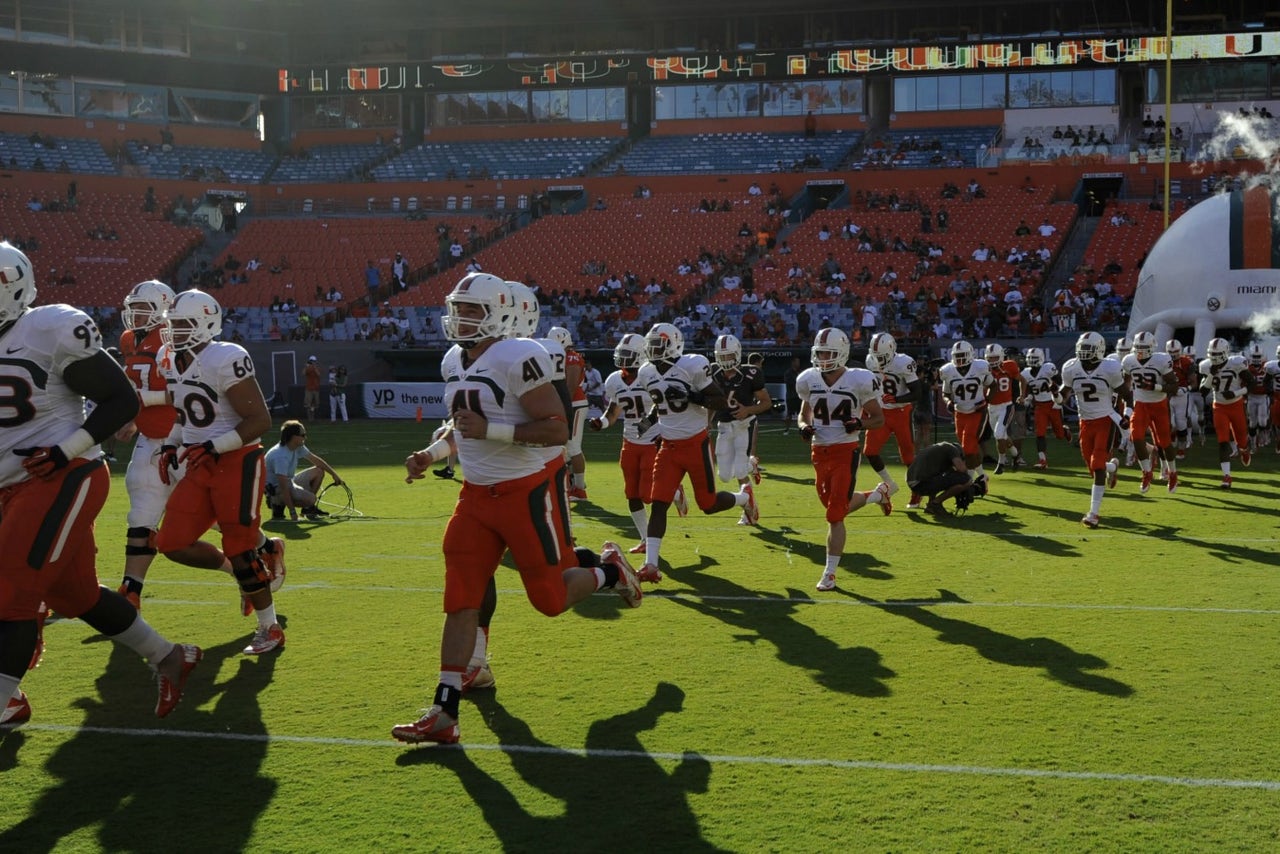 The NCAA investigation is finally behind the University of Miami as the Hurricanes enter the fourth year of the Al Golden Era.
Miami started fast in 2013 by winning its first seven games before finishing 2-4, missing out on the Atlantic Coast Conference Championship game in a three-way tie for second in the Coastal Division.
For the second year in a row, the Hurricanes were chosen as the preseason favorites to visit Charlotte this December for the ACC title game. Rather than the Clemson Tigers, the media selected the rival and defending champion Florida State Seminoles as their adversary.
Fourteen of 24 starters return from last season's team, including seven on offense and six on defense. However, outside help was sought at the quarterback position to complement All-ACC performers Duke Johnson and Stacy Coley. Linebacker Denzel Perryman and defensive end Anthony Chickillo are also back, but other standout defensive players must step up. There will be inexperienced players earning reps for the unit.
The Hurricanes open preseason camp on Tuesday as the team prepares for the primetime Labor Day opener in Louisville. The Cardinals, who will be making their ACC debut, routed Miami 36-9 in the Russell Athletic Bowl.
Here's a look at how the Hurricanes shape up going into camp:
Stephen Morris: The biggest question mark entering this season is how the quarterback replacing Morris will fare. He was the only signal caller in FBS last year with a pass of 50-plus yards in nine different games. Morris finished his career third in program history with 7,896 yards and 49 touchdowns. He was one of only two QBs at UM with multiple 3,000-yard seasons (Gino Torreta).
Allen Hurns: While Coley was the deep threat, Hurns was the reliable possession receiver who broke out his senior year by setting the program's single-season receiving yards record with 1,162 yards. He saw his receptions increase from 28 in 2012 to 62 in 2013. Hurns also caught six touchdowns -- second behind Coley -- and two more than he had in his first three years combined.
Pat O'Donnell: In his only year as a Hurricane, O'Donnell made quite the impact. He set the school single-season record with a 47.1 yards-per-punt average while kicking 23 more than 50 yards and 19 inside the 20-yard line. His athleticism wowed at the NFL Combine as he was eventually drafted in the sixth round.
Brandon Linder: A constant on the offensive line, Linder will be missed at the right guard position. He started 13 games in 2013 and 37 in a row to complete his collegiate career. Linder was named second team All-ACC and co-Offensive MVP by the team. The Jacksonville Jaguars took him in the third round.
Seantrel Henderson: As inconsistent as he was, Henderson's raw talent and size were too much to pass up in the seventh round by the Buffalo Bills. Once the top high school recruit, Henderson faced numerous suspensions during his time at Miami. A third team All-ACC selection his senior year, he played 12 games, starting eight at right tackle.
Jimmy Gaines/Shayon Green: This linebacking pair supported Perryman with 94 combined tackles and 13 starts apiece. Gaines and Green recorded the second and third most tackles, respectively, on the team behind Perryman. Green also picked up 10.5 tackles for a loss and three sacks.
Jake Heaps: Once the top-rated pro-style quarterback recruit in the nation, Heaps now finds himself at his third stop of his collegiate career. The likely successor to Morris has started 25 games, going 491-of-896 (54.8 percent) with 5,182 yards, 32 touchdowns and 27 interceptions.
Joseph Yearby: Despite missing the end of Miami Central High School's state title run with a fractured left fibula, Yearby still managed to rush for 1,700 yards and 19 touchdowns. As a junior he ran for 1,448 yards and 20 scores and another 2,160 yards and 24 touchdowns as a sophomore.
Braxton Berrios: Like Yearby, Berrios has been recovering from an injury -- offseason knee surgery. An Under Armour All-American, he caught 10 touchdowns and accumulated 760 yards as a junior. Berrios rushed for 536 yards and another 11 scores as a senior.
Nick Linder/Kc McDermott: These two are second-generation Hurricanes. Linder's brother, Brandon, just graduated and was drafted by the Jaguars. McDermott's brother, Shane, enters his second season after an All-ACC third team campaign in 2013. With two departures on the offensive line, it doesn't hurt that they have that pedigree.
Justin Vogel: A walk-on transfer from Florida, Vogel will compete with junior placekicker Matt Goudis for punting duties to replace O'Donnell. He did not play for the Gators as a freshman in 2012 and was redshirted. Once again he saw no action in 2013. In high school, Vogel averaged 45 yards per punt. His father, Paul, played for the Tampa Bay Buccaneers and Houston Oilers.
Chad Thomas: Thomas was an Under Armour All-American, first team All-Dade and first team All-State his final two years of high school. A two-time state champion, he recorded 71 tackles and eight sacks as a senior. Thomas was one of the highly coveted recruits entering National Signing Day.  
Quarterback -- Jakes Heaps vs. Kevin Olsen vs. Brad Kaaya vs. Malik Rosier
This wasn't supposed to be a question mark when spring practice rolled around. But then redshirt senior Ryan Williams tore his ACL in early April. It quickly -- and understandably -- became cause for concern since Olsen, Kaaya and Rosier have never taken a collegiate snap.
Heaps didn't transfer to Miami to become a backup. The fifth-year senior said so himself earlier this week in a teleconference. He has 33 games (25 starts) to his name. That's more than can be said for the other signal callers on the roster.
Olsen, a redshirt freshman, is reportedly suspended a game for failing a drug test. Of Kaaya and Rosier, both true freshmen, one is likely to redshirt to preserve eligibility. Gray Crow, who was the third-string quarterback last year, has moved to tight end.
Defensive tackle -- Earl Moore vs. Calvin Heurtelou vs. Corey King vs. Jelani Hamilton vs. Olsen Pierre
Five players enter camp vying for two spots at the tackle positions of a 4-3 defense. Incoming freshmen will also be in the mix.
Moore, a junior, and Heurtelou, a junior transfer, were listed as co-starters for the spring game. The former played in 11 games last season -- mostly on special teams. He did not record any tackles but picked off a pass against Savannah State. Moore did start two games as a freshman, making six tackles. Heurtelou enrolled in January from Scottsdale Community College where he posted 59 tackles, four sacks and two fumble recoveries.
Two juniors -- King and Hamilton -- were reserves last season. In three games, King made a tackle. In 2012, he saw time in nine games (one start), collecting 13 tackles. Hamilton is a junior who was also a reserve last season. In four games, he collected four tackles. As a freshman, he was in five games, recording six tackles (one for a loss).
Pierre, the incumbent and experienced senior, started 12 of the 13 games in 2013, getting 33 tackles -- one for a loss -- with a sack and pass blocked. His previous two seasons, he combined for 18 games (11 starts), 31 tackles, 5.5 for a loss, 1.5 sacks and two forced fumbles.
Defensive end -- Al-Quadin Muhammad vs. Tyriq McCord
Senior Anthony Chickillo may have been a co-starter for the spring game with junior Ufomba Kamalu, but that was because he was limited by an injury.
Who will line up on the other side? It appears to be a two-horse race between Muhammed, a sophomore, and McCord, a junior.
Muhammed went to high school at Don Bosco, notorious for its football program. As a freshman at UM, he made eight tackles in 13 games as a reserve. Muhammed also picked up two tackles for a loss and a pair of sacks. McCord doesn't have a start in two years, but he has appeared in all 25 games. Despite his status as a reserve in 2013, he recorded 13 tackles (four for a loss), four sacks, three forced fumbles, a fumble recovery and two interceptions.
Linebacker -- Thurston Armbrister vs. Raphael Kirby vs. Jermaine Grace
There's no question who will line up at middle linebacker for the Hurricanes with the return of senior Denzel Perryman. But what about those flanking him?
Armbrister, a junior, is likely to get one of those spots after sophomore Alex Figueroa was kicked off the team a month ago after being arrested for rape. He and Armbrister were co-starters in the spring.
Kirby, a junior, appeared in all 13 games last year as a reserve. He recorded 10 tackles with 2.5 for a loss, a sack and a pass breakup. As a freshman, he had 16 tackles in seven games. Grace, a sophomore, played in 11 games primarily on special teams. He had eight tackles.
That means true freshmen Darrion Owens and Juwon Young will also see action with the departures of Figueroa and sophomore JaWand Blue, who was also involved in the incident.
The quarterback situation
Can Williams return at some point this season? During Atlantic Coast Conference media days, Golden said Williams was recovering faster than expected and didn't rule out the possibility.
Olsen, who was expected to compete with Heaps for the starting job, hasn't gotten off to a good start with another suspension. That leaves Kaaya and Rosier -- without a collegiate snap of experience -- as the backups.
Heaps doesn't have to put the offense on his shoulders rather just manage the weapons around him in Coley and Johnson. Perhaps the Hurricanes will try to be a possession team?
Will the defense continue to improve?
Much has been said -- very little good -- about the unit and coordinator Mark D'Onofrio over the past three seasons.
Still, last year's defense improved over the previous one. Miami gave up fewer points (3.7), rushing yards (42) and first downs (four) per game. The Hurricanes had more interceptions (seven), fumbles (two) and takeaways (five). The red-zone scoring defense and touchdown percentage improved by five and six percent, respectively.
Through the first seven games -- all wins -- of the season, the defense had made great strides. But then it struggled over the final six, allowing an average of 37.3 points and 528.2 yards of offense.
Other than Perryman and Chickillo, who will step up on the unit to bring it back to the glory days of UM defense? There is inexperience on the line and at linebacker.
Elusive title game
Voted as the favorite to win the Coastal Division doesn't -- and hasn't -- meant much in the past for the Hurricanes. Miami finished tied for second last season after faltering down the stretch with three consecutive losses to Florida State, Virginia Tech and Duke.
In 2012 when the team surprised many by earning a berth in the championship, it elected to impose a sanction with the NCAA investigation still ongoing.
When the Hurricanes joined the ACC in 2004, they were expected to compete for the title and battle rival Florida State on an annual basis. That has not happened. Will this finally be the year they make it to Charlotte?
You can follow Christina De Nicola on Twitter @CDeNicola13 or email her at cdenicola13@gmail.com.
---