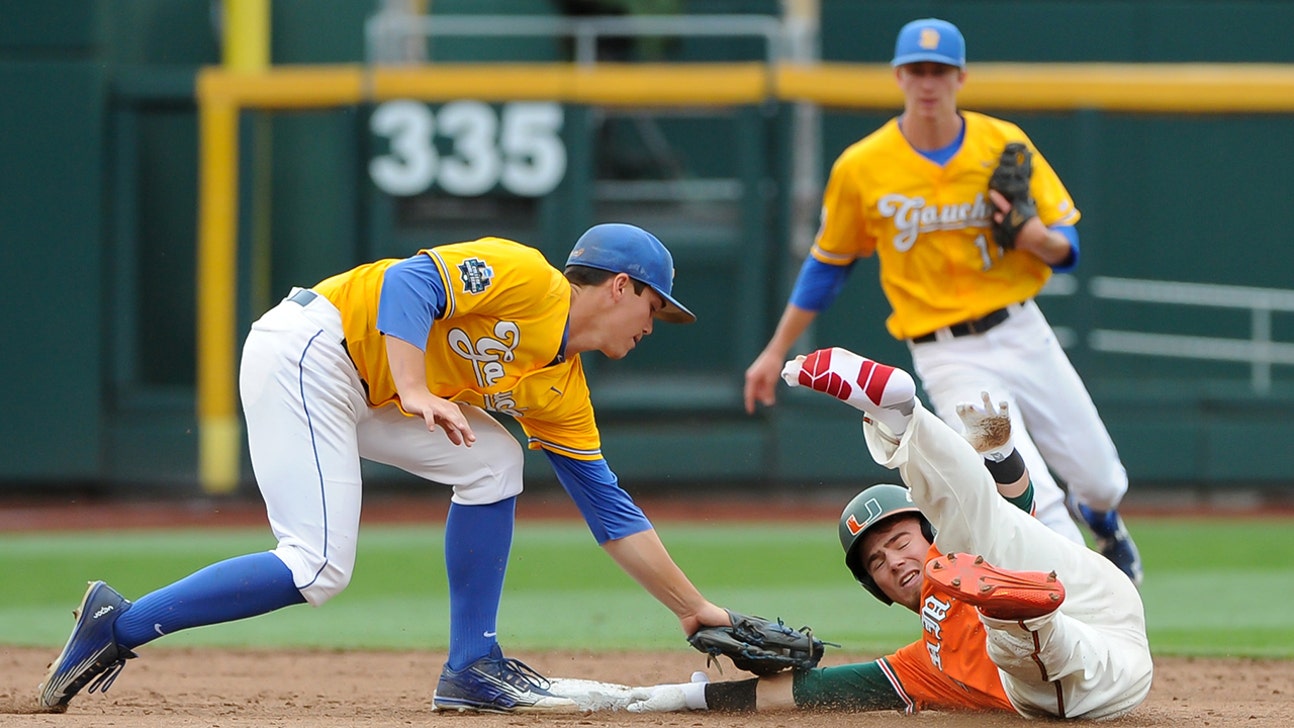 Miami eliminated from College World Series
Published
Jun. 20, 2016 5:45 p.m. ET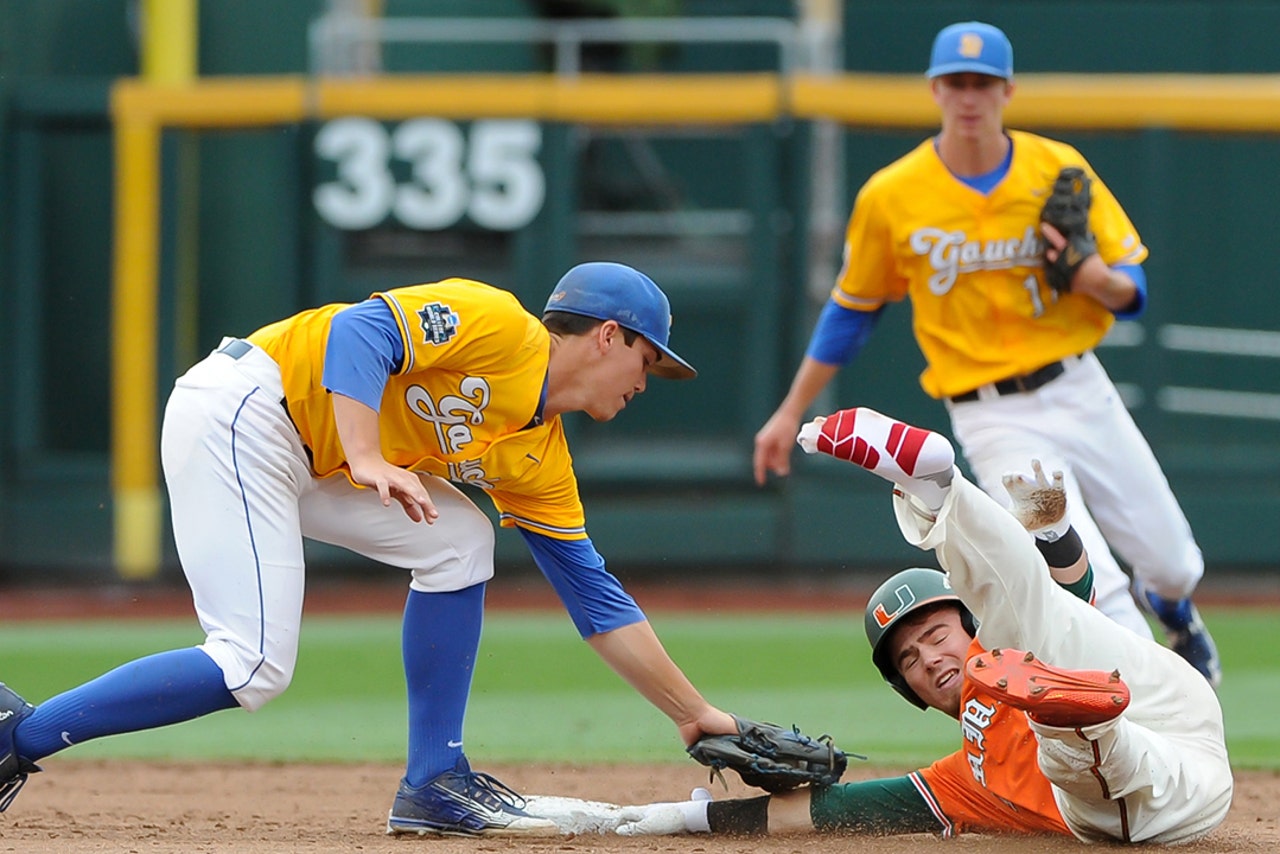 OMAHA, Neb. (AP) -- As players and coaches celebrated their victory over Miami, a fan behind the UC Santa Barbara dugout held up a sign reading "Why Not UCSB."
With national seeds falling the way they have been at the College World Series, why not, indeed?
The Gauchos knocked No. 3 Miami out of the CWS with a 5-3 victory on Monday, getting strong pitching from Noah Davis and Kyle Nelson and the tiebreaking hit from a pinch hitter, Ryan Cumberland, who had just 21 previous at-bats and was sick to his stomach all day.
So, yes, a Gauchos team making its first appearance in Omaha did revel in its win a bit more than usual for a team that had survived an elimination game.
"It's hard to act like you've done it before when you've never done it before," coach Andrew Checketts said. "First program World Series win, and it sure looked like it."
National seeds Florida, Miami and Texas Tech have gone a combined 0-4 so far in Omaha.
The Hurricanes (50-14) went 0-2 for only the second time in their 25 CWS appearances. Their other two-and-out was in 1979.
"We didn't play as well as we could play," Miami coach Jim Morris said. "If we played as well as we could play and lost I would understand more. We didn't swing the bat the way I know we can swing it. We didn't get the big hits we've been getting all year."
Santa Barbara (43-19-1) struck for four runs after a 1-hour, 2-minute rain delay in the sixth inning. Cumberland, who laid down in the clubhouse during the delay, made it 3-1 with his one-out, bases-loaded smash down the first-base line.
"That's something special," Cumberland said. "I obviously don't get an opportunity without the guys getting on in front of me. Right before I went up to hit, Checketts said, `See something up,' and I got something up in the zone that I could hit well and happened to find a hole."
The Gauchos added two more big runs before the inning was over on back-to-back squeeze plays.
Miami opened the scoring on Zack Collins' 16th homer of the season in the first inning off Davis (7-4), and the Gauchos' JJ Muno singled in the tying run in the bottom half off Danny Garcia (9-5).
The offenses went quiet until after the rain in the sixth inning.
Garcia went back to the mound and got a flyout before Muno doubled into the right-field corner. Frankie Bartow relieved and issued a walk, and Cumberland, pinch hitting for Kyle Plantier, followed with the biggest hit of his career.
Billy Fredrick and Ryan Clark, the Nos. 8 and 9 batters, laid down the squeeze bunts.
Miami tried to come back against Nelson, stringing together four straight hits in the eighth, with Randy Batista and Collins singling in runs. Davis got out of it when he froze Ruiz with a slider to strand runners on first and third.
Jacob Heyward's hard liner off third baseman Ryan Clark's glove gave Miami hope with one out in the ninth, but Christopher Barr's comebacker to Nelson started a game-ending double play.
Collins said Miami's season shouldn't be defined by what happened at the CWS.
"We made it to Omaha, so we're one of the top eight teams in college baseball. We had a great season," he said. "Winning 50 games in a season is a huge goal for us. We played hard and just didn't get it done."
WHY CUMBERLAND?
Checketts said he decided to use Cumberland as a pinch hitter for Plantier because he didn't like Plantier's first couple at-bats. Plantier fouled out and grounded out and was batting just .190.
"Kyle has struggled all year, but he's had big hits for us. And we were hoping he would get hot. His at-bats weren't great there, and we felt like maybe a double play -- not that Cumberland runs great... we felt Cumberland was a better match there," Checketts said.
THREW A SHOE
Miami's Carl Chester lost his left shoe, fell and did a somersault trying for second base after shortstop Clay Fisher's got past first baseman Austin Bush in the third inning. Chester got up and started running again, but couldn't beat the throw of catcher Dempsey Grover, who was backing up on the play.
UP NEXT
The Gauchos play Wednesday against the loser of Monday night's game between Oklahoma State and Arizona. Miami's season is over.
---