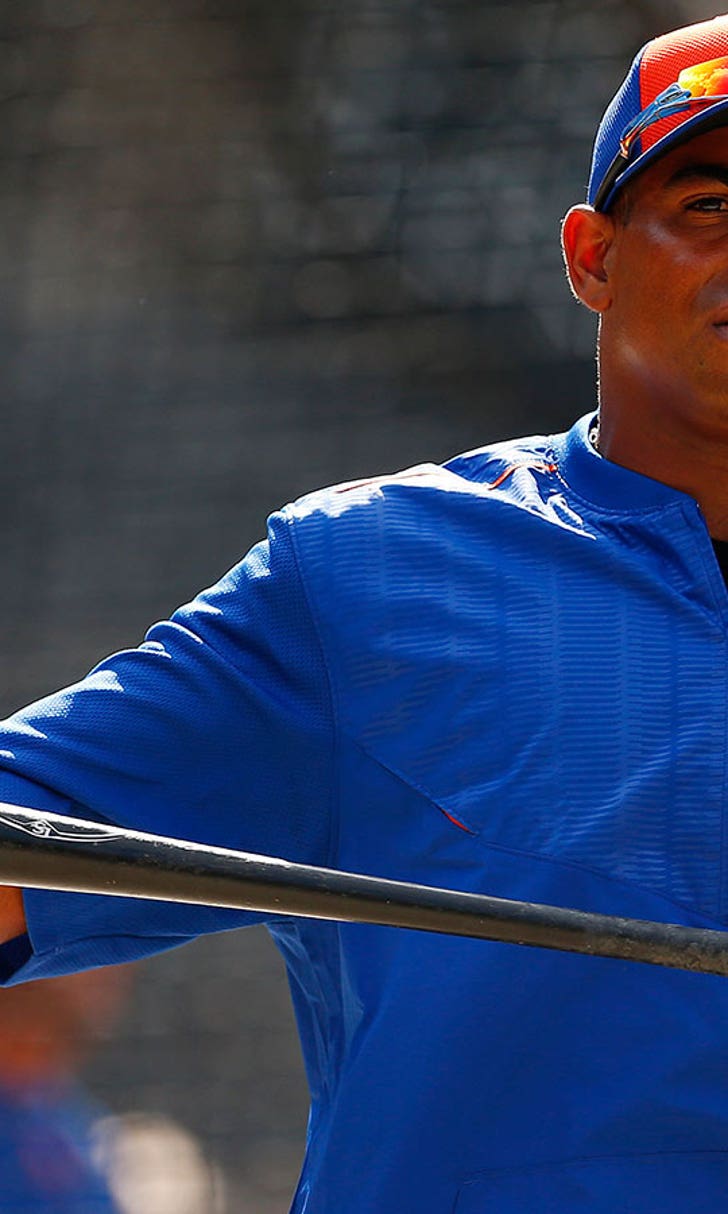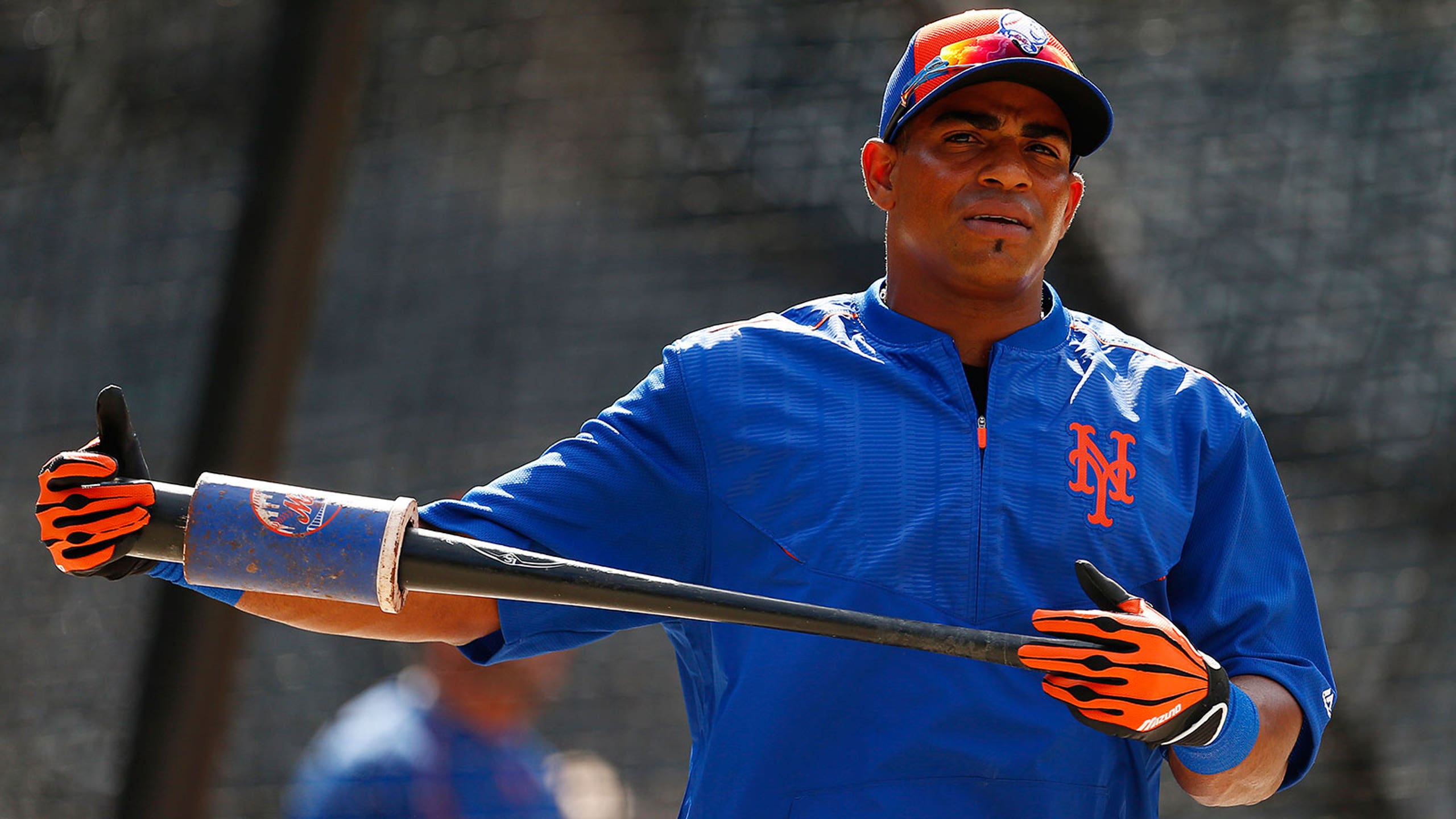 Mets' poor outfield just got richer
BY foxsports • August 3, 2015
It has been argued that being the worst at something is as impressive as being the best. After all, both sides of a bell curve are equally proportional. Nothing like starting an article off with some distribution humor! But more germane to this, a baseball website, is that this is yet another way the Mets outfield is not impressive. They are not good to be sure, but also not the worst. And yet, as far as teams that still aspire to the playoffs go, the Mets outfield might be among the worst outfields. Curtis Granderson is having a nice season at the plate and Michael Conforto is an exciting young player but one good player and a dash of hope does not make a productive outfield. This is why the Mets sprung for Yoenis Cespedes at the trade deadline. Thank God for the Wilpons!
As his famous video shows, Cespedes is a man of many talents, only a few of which translate directly to the baseball diamond. His arm is like one of those plastic whip things that throws tennis balls for dogs at the park. His swing is powerful like one you'd see in a whiffle ball league. His pig barbecuing skills are at least a 75 on the 20-80 scouting scale, but sadly those skills are wasted on a baseball player. Even so, Cespedes has harnessed those other skills and become a productive major league player if not the transcendent star some thought when he came on the scene.
But a cursory glance at his stats shows a difference between his offensive production in his rookie season in 2012 and that in the following two seasons. His home runs were present the whole time, but the other skills had settled into a degrading state. The issue was which was the real Cespedes? The one from his stand-out rookie campaign in 2012 that came with power and above average on-base ability, or the one from the following two seasons who sold out for power at the expense of just about everything else?
That question hasn't been definitively answered, but after a down 2014 season in Oakland and (especially) Boston, Cespedes has posted a bounce-back season of sorts. In 49 fewer games he's been worth almost a win more than he was last season by FanGraphs WAR. In fact, by that same measure, he's already had the most productive season of his career, and again that's with 57 games remaining on the Mets' schedule.
How has he done it? The strikeouts are still in roughly the same spot and his walks have continued their downward trend, but beyond that, Cespedes seems to have abandoned his plan to sell out for home runs at all available opportunities. In doing so he has reversed his three-year trend of reaching double digits in infield fly ball percentages. In fact, this season he's virtually halved his rate of popping up in the infield. This is a good thing maybe not for his home runs but for every other aspect of his offense. Pop-ups can be a by-product of selling out for power, but they're almost always outs. When you pop up 15 percent of the time that's 15 percent of your balls in play that are coming with zero possibility of offensive production. So fewer pop-ups is good.
Further, Cespedes had been hitting more and more fly balls over his three seasons, to the point where last season saw 48 percent of his batted balls hit in the air. Again, good for home runs, not good for on-base, batting average, or BABIP. This season Cespedes has replaced his infield pop-ups and some portion of his fly balls with ground balls and a few more line drives. Ground balls never go over the fence thus they never go for home runs, but they do go for base hits far more often than fly balls and far far more often than pop-ups. Cespedes has increased the number of grounders he hits from 33 percent last season to 44 percent this season. Correspondingly, his fly balls and infield flies have dropped. This has all resulted in a higher batting average and on-base percentage. Whether someone on the Tigers worked with Cespedes to alter his approach or whether this was even a conscious thing, I can't say, but in either case, it has worked. The old Cespedes is back, and he's better.
Ironically, not selling out of power has allowed him to actually hit the ball harder. Last season and indeed over his entire career, Cespedes had posted an 18 percent soft-hit percentage, meaning 18 percent of the time he made contact, the result was categorized as soft. This year that has dropped to 12 percent while his rates of hard and medium contact have gone up. Recall that he's hit more grounders than before, but it's even more than that. The quality of grounders he's hit has been better overall. Almost 25 percent of his grounders have been hit hard, whereas last season the number was at 18.6 percent.
All of these numbers are coming in a smaller sample size of about two thirds of a season so you should take them as indicative of what has happened but not necessarily of what will happen. Cespedes has showed a remarkable ability in this small period of 100 or so games to hit the ball harder and more frequently on the ground. This has been good. It has allowed him to make use of his above average speed and the greater frequency of holes in major league infields to boost his overall offensive production. What this means is he's been better than he was last season and even better than he has ever been before since signing with the A's out of Cuba. What this doesn't mean is that he can keep doing this going forward. But it also doesn't mean he can't. Baseball is weird like this.
The move to New York won't make things easy on Cespedes, as both this season and last season Citi Field has played as an above-average home run park but a below average singles, doubles, and triples park for right handed hitters. Comerica Park in Detroit where Cespedes is coming from has been a below-average home run park but an above-average singles, doubles, and triples park. In other words, the change in teams will move Cespedes from a park that suits his newly exhibited skill set almost perfectly to one that doesn't almost perfectly. That all sounds bad, but when you're talking about an above-average hitter like Cespedes has been throughout his career, this is probably an effect that will happen on the margins. You'd like to see a better fit, but you live with this because it doesn't change the end result which is that Yoenis Cespedes is a big offensive upgrade in the middle of a Mets lineup sorely in need of one.
The last two seasons were relatively stagnant ones for Cespedes offensively, and now he seems to have returned to the form that saw him finish second in the Rookie-of-the-Year voting. Perhaps he can maintain it. The Mets certainly hope so as they gave up a few promising young pitchers in the hopes Cespedes can help lead them to the playoffs. You don't need the best outfield to win in the playoffs, but not being the worst, while not as impressive, is probably as close to required as you can get.
---
---