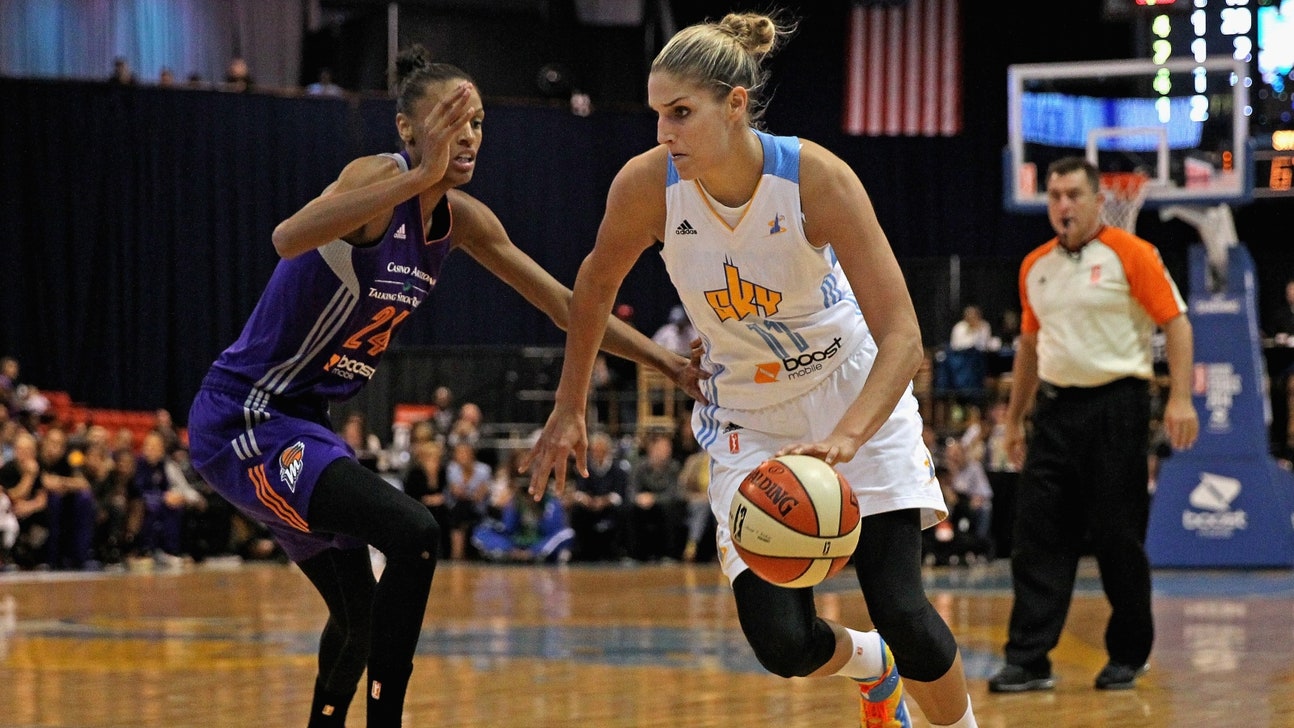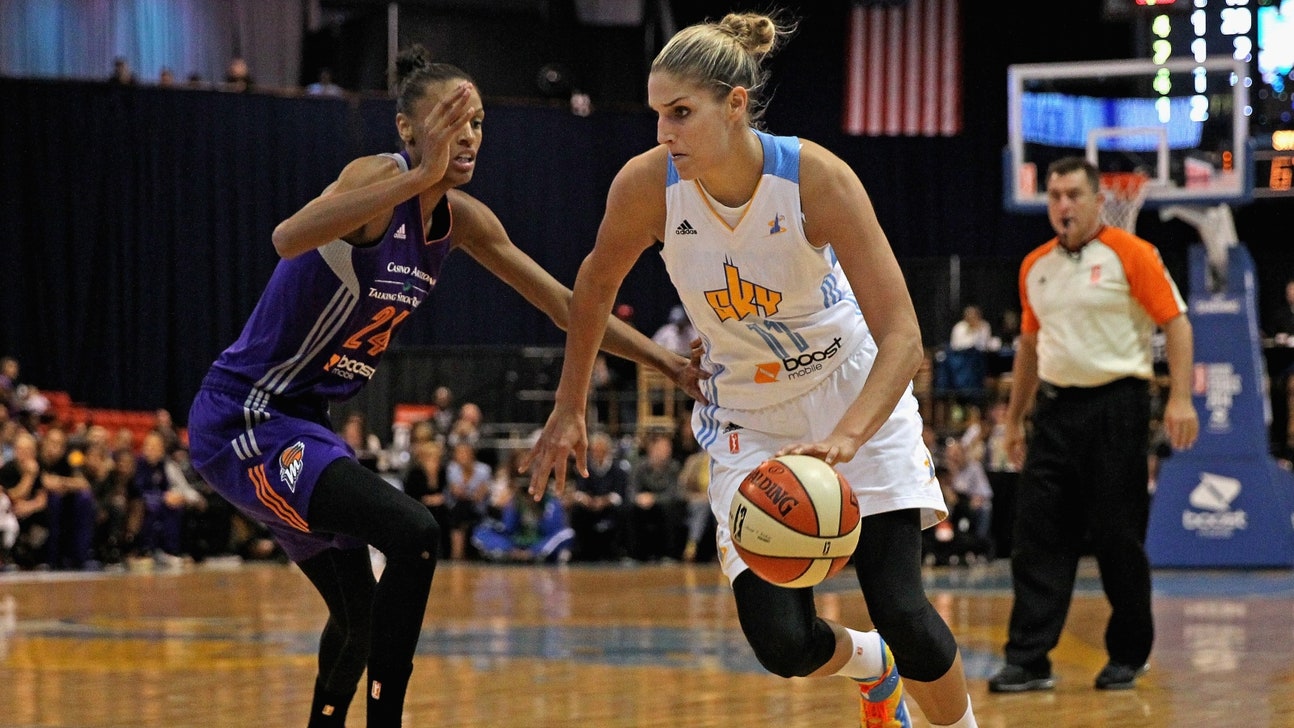 Mercury set to face Sky star Delle Donne for first time since Finals
Published
Jul. 28, 2015 2:46 p.m. ET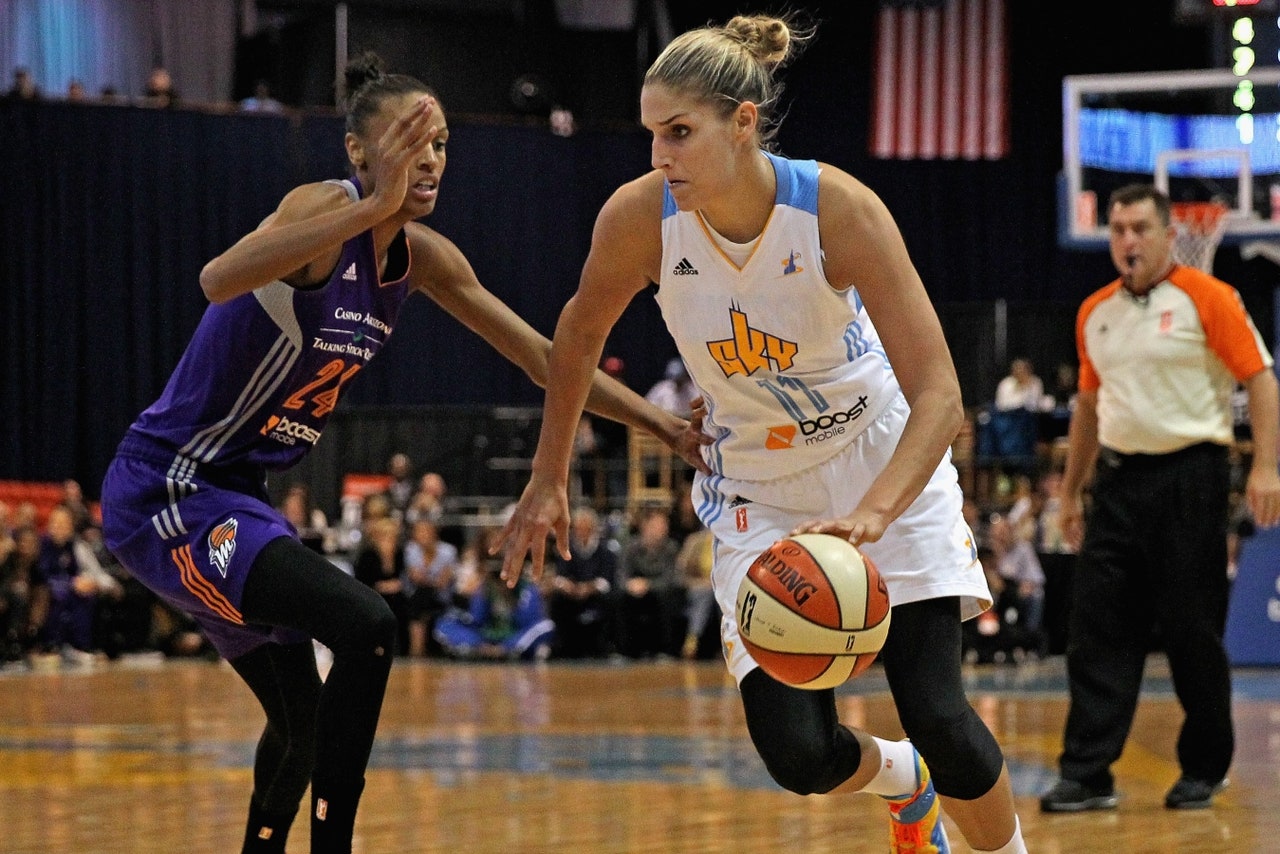 PHOENIX -- Elena Delle Donne might just be the best player in the WNBA.
In 2013, the Chicago Sky guard beat out Phoenix Mercury center Brittney Griner, that season's first overall draft pick, for WNBA Rookie of the Year, and she's only gotten better since then.
The Sky are rising behind the stellar play of Delle Donne, who has taken a huge leap in her play this season following an already impressive first two years in the WNBA. Delle Donne is having a historically great 2015 campaign, leading the WNBA in points per game (24.5) and ranking in the top three in rebounds (9.8) and blocks (2.5).
Delle Donne's points per game would be good for the second-best all-time if the season ended today, only a fraction of a point behind Diana Taurasi's 2006 mark of 25.3. Delle Donne's Player Efficiency Rating, a statistic that measures overall effectiveness, is on pace to be the best in WNBA history.
Delle Donne begins her second-half campaign Tuesday against the Mercury at US Airways Center. Mercury All-Star DeWanna Bonner laughed when asked how to game plan for that kind of a superstar.
"You tell me!" Bonner said. "She's a great player, so we've got to throw a couple different things at her. Sandy (Brondello) put in some defensive schemes for her, but she's a great player and it's going to be tough. But we'll be ready."
Tuesday's game is the first between the Mercury and Sky since Phoenix swept Chicago in three games in the WNBA Finals in September.
"We've had a target on our back the whole season, being the defending champs, so it's just going to be another game," Mercury center Brittney Griner said. "We know we're going to get their best shot, but we like having a target on our backs."
The teams are very different now than they were when they met in the Finals, both in makeup and in record.
While the Mercury's 29-5 record in 2014 was one of the best in WNBA history, Chicago's 15-19 regular-season ledger last year was anything but imposing. Now, at 9-7, the Mercury have clawed their way back into second place in the West, while Chicago, at 11-6 and in the second spot in the East, looks to be taking a step forward behind their budding superstar.
The Mercury are without their longtime superstar, Diana Taurasi, who is sitting out the season at the request of her Russian Premier League team. They also are playing without veteran starter Penny Taylor, who is taking a season off for personal reasons.
Beyond Delle Donne's expanded game, the Mercury will also get first crack at the Sky's new-look roster. On Monday, Chicago sent its leading rebounder from last season, Sylvia Fowles, to Minnesota in a three-team deal which also involved the Atlanta Dream. The Sky received post player Erika De Souza from the Dream in the deal.
Another key difference between the Chicago squad the Mercury will face on Tuesday and the one they matched up against in September will be the health of the Sky's superstar.
"Obviously Delle Donne's healthy," Mercury coach Sandy Brondello said of the third-year guard, who missed time in Game 1 of last year's Finals with a bad back. "And they're without Sylvia Fowles. But you know, they're all different. They play way more up-tempo without Fowles in there. It's more guard play, it's more pick and rolls. They get very good pick and roll players. And now with De Souza coming in it puts some more post-up action in there. But it's much faster tempo and quick scoring."
The Mercury stars are more concerned about facing off against Delle Donne than they are about being on the wrong side of a vengeance narrative. Motivation is not a problem for this team.
"We need a win," Bonner said. "We're on a two-game losing streak. That's our motivation right there. And we're at home, so we don't want to blow another one at home."
Forward Candice Dupree, who scored 24 in the decisive Game 3 of the 2014 Finals, pointed to her team's record as all they needed to think about if looking for motivation.
"The fact that we're only 9-7. How many losses did we finish with last year?" Dupree said of the Mercury's 29-5 season a year ago. "See that's enough motivation right there. We lost five and won a championship with five losses, and we've already lost seven and we've got half the season to go. So that should be enough motivation right there."
---