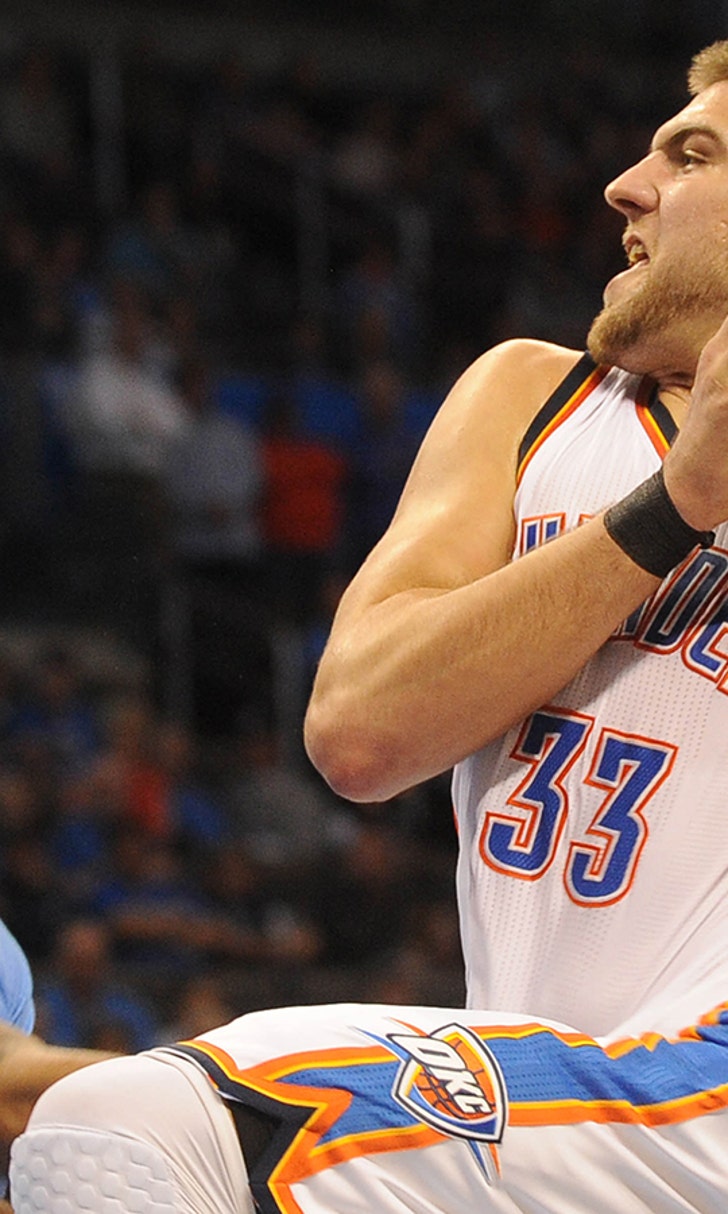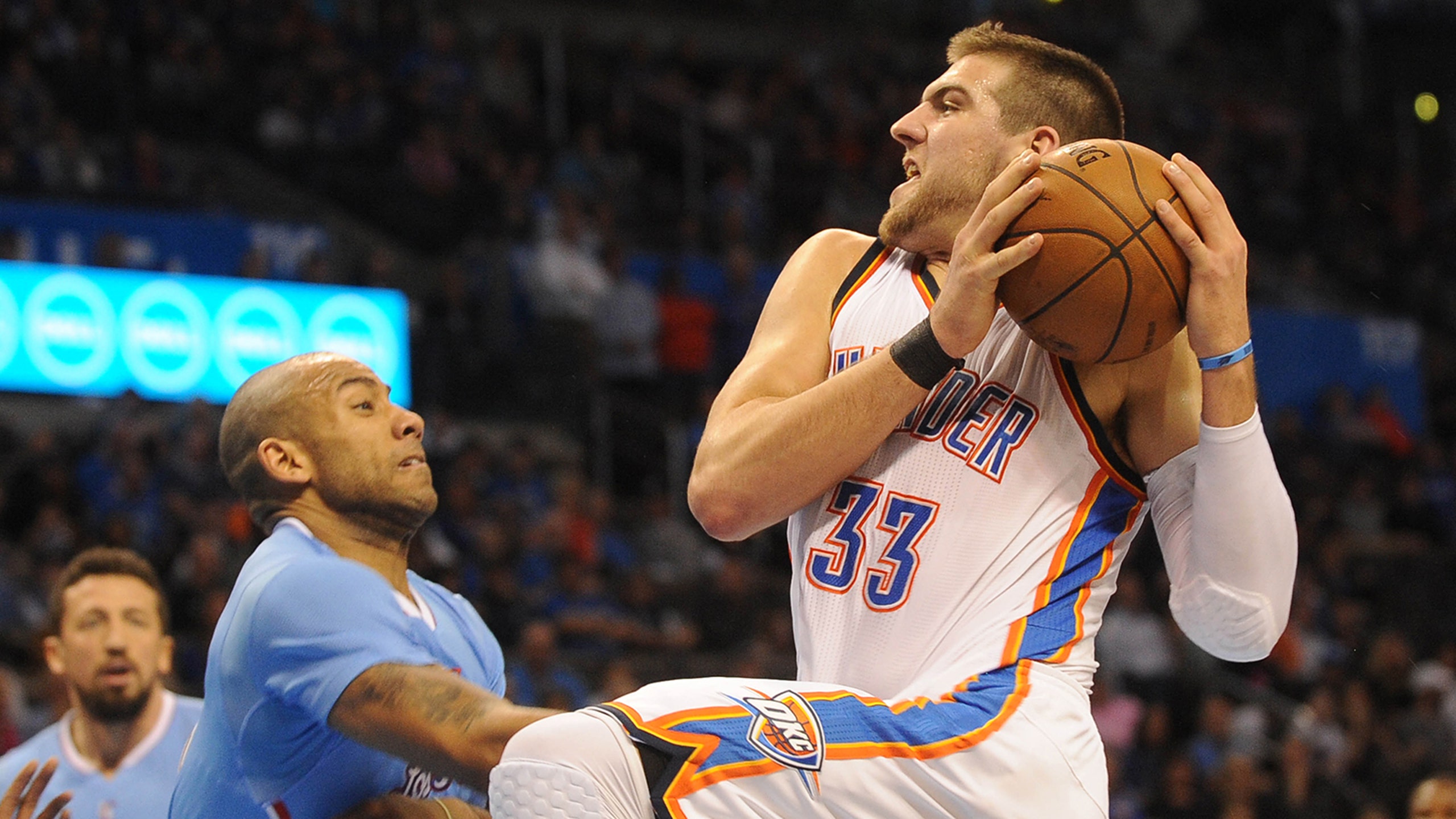 McGary contributes to Thunder blowout win over Clippers
BY foxsports • February 8, 2015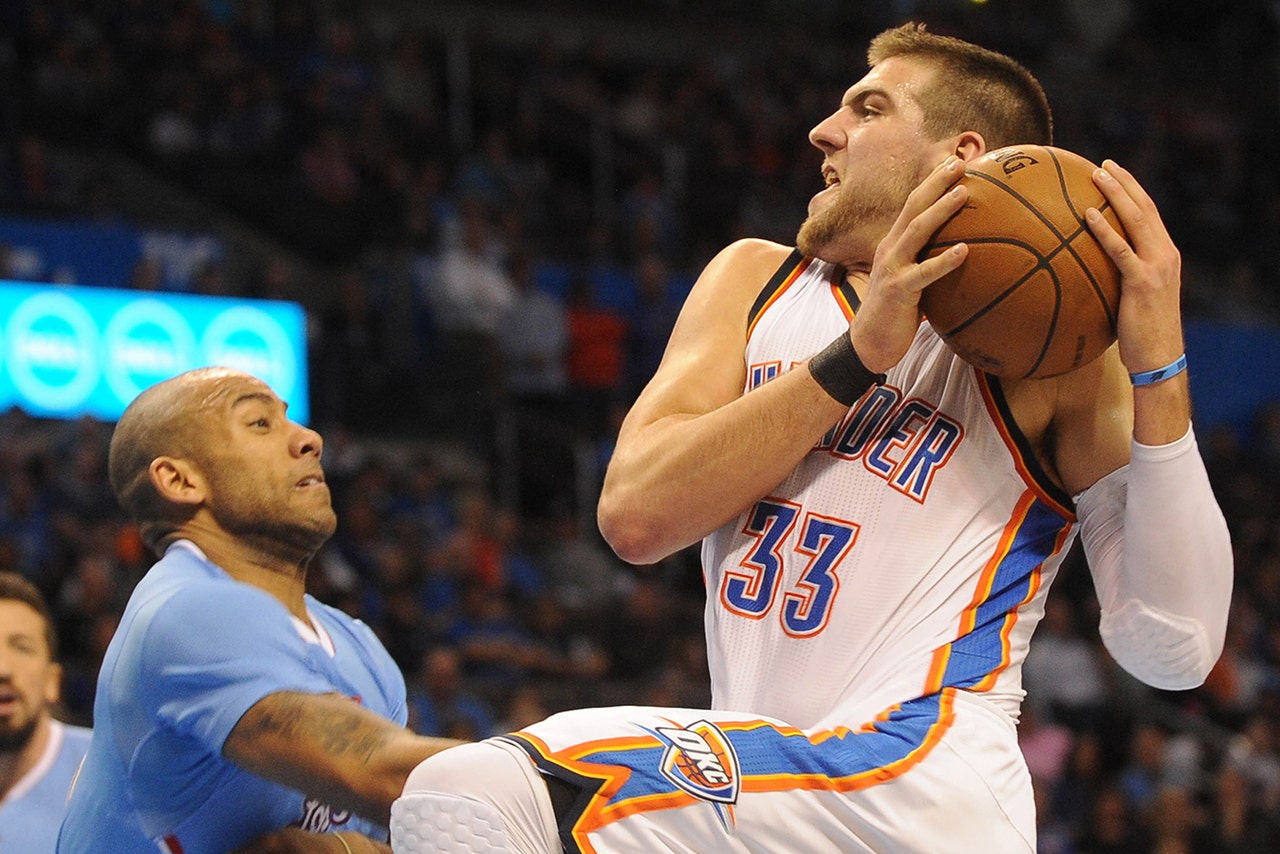 Mitch McGary went to the bench after being taken out of the game midway through the second quarter and received the kind of ovation they give to war heroes.
Seemed like everyone inside Chesapeake Energy Arena stood and cheered, so you know what McGary did, beside take the first step in becoming the ultimate fan favorite?
He turned to the crowd and asked them to get louder. The fans called for an encore. McGary acknowledged it, waved his arms above his head a few times for effect and took his seat.
"Our crowd loves effort," Thunder coach Scott Brooks said. "He's been working for this moment."
But to get to this moment, McGary needed some good timing. After all, he wasn't even supposed to be in Oklahoma City Sunday afternoon. He was in Reno, Nev., after a six-hour overnight bus trip after playing Friday night in Bakersfield, Calif., with the Thunder's D-League franchise the Oklahoma City Blue. McGary got the call to Oklahoma City Saturday afternoon when the Thunder found out Kendrick Perkins would be serving a one-game suspension for head butting Tyreke Evans on Friday night. 
Game Friday, bus trip late Friday night, flight to Oklahoma City Saturday afternoon, on the court against the Clippers Sunday afternoon. 
"Hectic," McGary said.
And in just his third game of the season, McGary scored 19 points and 10 rebounds in 23 minutes in a 131-108 victory over the Clippers. McGary was eight-of-nine from the field.
A sour season so far for McGary who has dealt with injuries that have kept him from real minutes with the Thunder, yet now it appears Oklahoma City needs McGary more than ever. Not just because of Sunday's situation with Perkins, but because center Steven Adams had to leave the game in the first half with an injury to his right hand. There's no word from the Thunder on how hurt Adams is or when he'll be available. The Thunder play Monday night in Denver.
Perhaps this McGary performance is a bit of good timing in a season where there's been very limited amounts of good fortune.
"My name was called, and it was, 'Next man up,' McGary said. "I haven't played a lot with the team but I've been learning a lot from Nick Collison. I'm just trying to fit in the best I can. I got to keep working and stay diligent."
As the Thunder approach the trade deadline and talk has centered around moving guard Reggie Jackson and bulking up the Thunder's inside presence, maybe Oklahoma City has found an addition without having to do any subtraction.
"He's going to get opportunities," Brooks said. "We like what we saw. He was ready."
Everyone liked what they saw from the rookie who sprints down the court on offense and runs back on defense as if he's the anchor leg on a sprint relay.
"He was a little winded," Brooks said.
Yeah, you think? McGary runs like a 7 year-old with new shoes and plays like he just did two shots of 5-hour Energy.
"Im an energetic guy and usually the crowd gets into it," McGary said. "I ended up having a good game and getting the crowd into it even more."
Easy to get behind a guy like McGary. Easy to see why the crowd did, too, especially this season where the Thunder have struggled to stay in the playoff race, are barely above .500 and need a shot of something.
McGary could definitely be that something.
"He got an opportunity to get his feet wet," Westbrook said. "He did a great job of coming out and playing hard."
Expectations are that Kevin Durant plays hard and Russell Westbrook plays with unmatched energy. The two were good on Sunday as Durant went for 29 points and Westbrook had 19 points and 11 rebounds. 
But there are no expectations for a bench player – a player who hasn't gotten minutes this season. He played one minute against Orlando last week and his previous high was seven minutes against Phoenix in December. Other that, no games, no minutes.
Now, depending on Adams' injury,  the playing time will certainly increase for McGary as will the expectations.
"Just having fun man," McGary said. "That's it."
Well, there hasn't been much of that this season. Sunday was fun. For McGary and the crowd.
Follow Andrew Gilman on Twitter: @andrewgilmanOK
---