Robert Covington
Robert Covington
Mavericks send 76ers to 11th loss to start season
Published
Nov. 16, 2015 10:37 p.m. ET

PHILADELPHIA (AP) -- It was no surprise to see Dirk Nowitzki come up big late in the game for the Dallas Mavericks.
Nowitzki scored 21 points, including seven during a pivotal stretch late in the fourth quarter, to lead Dallas to a 92-86 victory over the winless Philadelphia 76ers on Monday night.
Jahlil Okafor had 19 points and 11 rebounds for the 76ers, who have lost all 11 games this season and 21 in a row dating back to last season. Philadelphia's last win was March 25 at Denver, and the 76ers are within five defeats of matching the franchise's all-time record for consecutive losses.
Chandler Parsons added 20 points -- all in the first half -- for the Mavericks, who needed a late push to hold off Philadelphia.
The 76ers trailed by as many as 19 points in the first half but battled back to take an 82-81 lead with 4 minutes, 23 seconds remaining on a free throw by Nerlens Noel before Nowitzki took over.
The 13-time All-Star had seven of nine Dallas points during a 9-2 Mavericks run over the next 2:36, ending with a 3-pointer that made it 90-84 with 1:47 left.
"That was the killer shot for the game," Mavs coach Rick Carlisle said. "It was huge. Hey look, he's been doing that for almost two decades. You're never shocked when it happens."
The six-point margin was too much for Philadelphia to overcome.
Nowitzki returned to the lineup after sitting out, along with fellow starters Wesley Matthews and Parsons, to rest during the Mavericks' 110-98 victory at Houston on Saturday night. Matthews had seven points.
"They kept staying in the game, clawing and scratching and they're obviously desperate to get their first win," Nowitzki said. "We had to dig deep and grind it out."
Noel had 12 points and 12 rebounds for Philadelphia.
Philadelphia's 0-11 start is six losses shy of tying the franchise mark, set last season, for most defeats to start a season.
"We've got to do a better job executing down the stretch to close out a game," Philadelphia coach Brett Brown said. "That's part of growing up."
Philadelphia bumbled its way to 15 points in a forgettable first quarter that ended with the Mavericks up 28-15. The typically small crowd rained down boos on the home team during one sequence midway through the period following consecutive turnovers by Nik Stauskas and Jerami Grant. The 76ers ended the quarter with eight turnovers, which led to 11 Dallas points.
They finished with 27 turnovers for the game.
"You're not going to win any basketball games with 27 turnovers," Brown said.
The 76ers were down by as many as 19 points in the second quarter before reeling off 25 of the final 36 first-half points to enter the locker room down just five, 49-44.
MORE MINUTES PLEASE
Parsons had his best game of the season, Carlisle said, while continuing to face restricted minutes following offseason knee surgery.
"It's frustrating, especially in a close game like that when I have it going," he said of watching from the bench. "You definitely want to play more. At the same time, they know what they're doing and it's a process."
PHYSICAL TEAM
While praising the 76ers for their effort, Carlisle said Philadelphia is a team that gets rough with opponents.
"They're playing on a go-hard basis," he said. "If guys aren't playing hard, they sit down. They have young, motivated guys on small contracts. . They try to rat up the game and try to get you to retaliate. Our guys did a great job with their composure in the second half."
TIP-INS
Mavericks: Dallas has won six straight and nine of 10 against Philadelphia. .. . Nowitzki picked up a technical foul from the bench with four minutes left in the first half.
76ers: G Phil Pressey (stomach virus) didn't play. ... In light of the terrorist attacks in France, the 76ers observed a moment of silence prior to the game before playing the French national anthem. In a statement, the 76ers also said there was increased security at the Wells Fargo Center. . Robert Covington (sprained knee) returned to the rotation after playing just 22 minutes all season. Covington had seven points and five rebounds.
UP NEXT
Philadelphia hosts the Pacers on Wednesday night.
The Mavericks conclude their three-game road trip at Boston on Wednesday night.
MORE FROM FOX SPORTS SOUTHWEST: 
- PHOTOS: Cowboys Cheerleaders Auditions
- Ranking NFL quarterback salaries
- Highest paid player on every NFL team
- Oldest player on every NBA team
---
---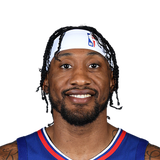 Get more from Robert Covington
Follow your favorites to get information about games, news and more
---