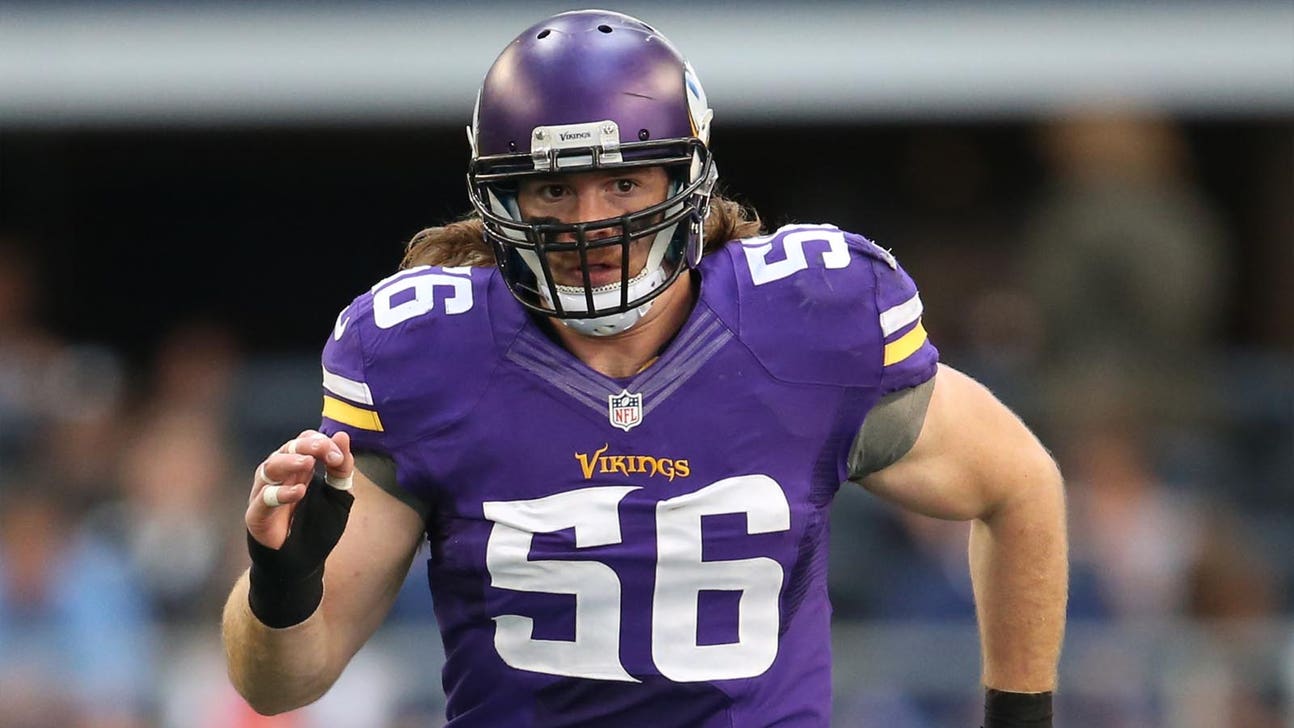 Mauti getting exposure at each linebacker position in Zimmer's defense
Published
Aug. 7, 2014 6:00 a.m. ET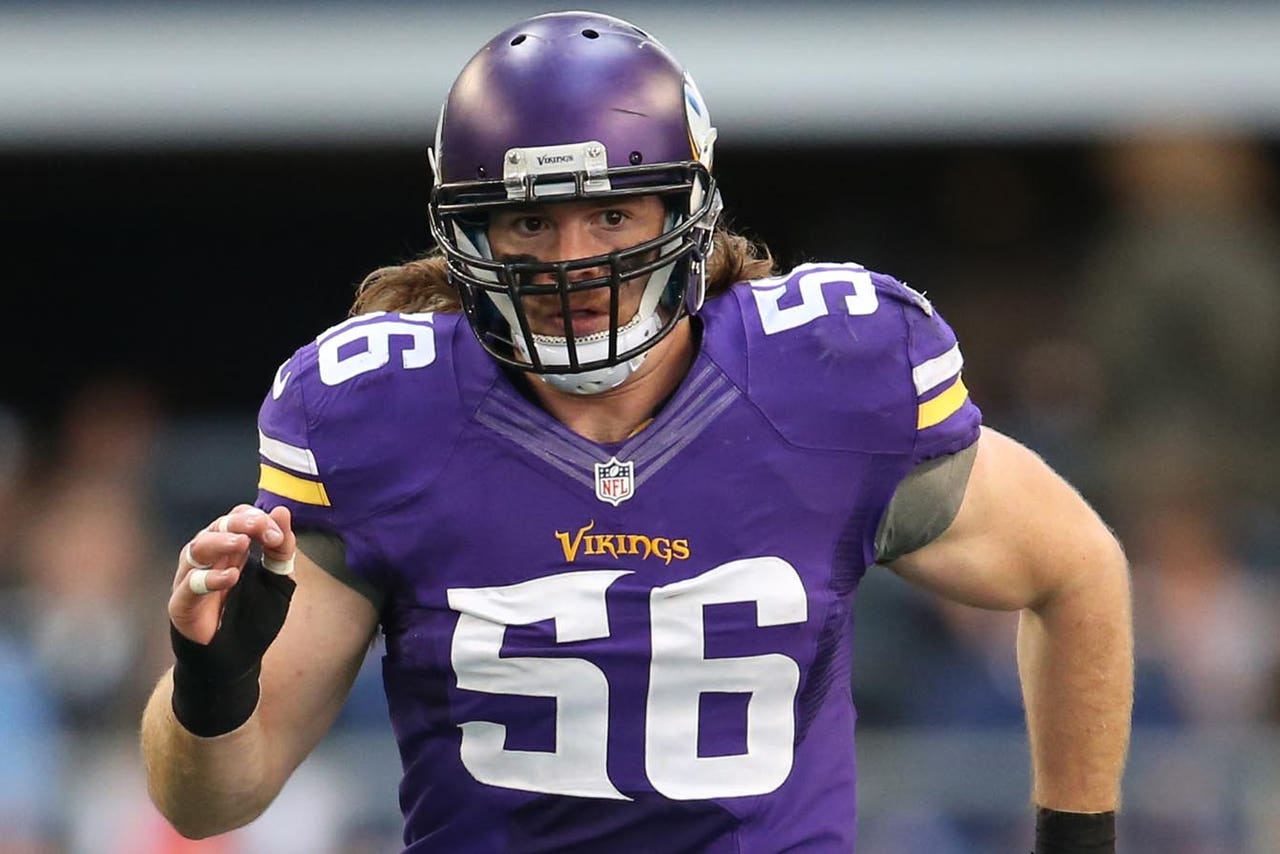 MANKATO, Minn. -- Despite the Minnesota Vikings trying to identify a middle linebacker, Michael Mauti was moved from his familiar spot in the middle to the outside in coach Mike Zimmer's 4-3 defense.
First, Mauti was tried at the strongside spot. Then he was moved to the weakside.
The moves would seem to indicate Mauti, the second-year player out of Penn State, was out of the running in the middle and might be facing a tough situation to make Minnesota's final roster. Instead, coach Mike Zimmer is trying to discover how to use Mauti best.
"Mike, we think, is a good hit-and-run player and the 'Will' linebacker for us usually gets covered up and that's kind of what you get to do; you get to run and hit," Zimmer said. "That one's a little bit more of experimentation because I feel like that might be a good spot for him and I'm just trying to get my eyes to see what I think my mind says."
Mauti had been seen as a prototypical middle linebacker coming out of college, and might have only dropped to the Vikings in the seventh round because of knee trouble. The intense linebacker had torn the anterior cruciate ligaments in his knees three times at Penn State, at least once in each knee.
After coming around slowly in his rookie season, Mauti is healthy with a full offseason of work behind him. He wasn't involved in any more rehabilitation for his knees. The recovery, and Mauti's chances of making Minnesota's roster, might have been more of the reasoning behind the move to the outside.
"We're pleased especially with the coverage aspect and those kinds of things, the inside run, especially running to the perimeter to get to some of the crack tosses and stuff," defensive coordinator George Edwards said of Mauti's play in the middle. "You can really see him flash with his speed, he's an aggressive kid, from that aspect of it. We liked what we saw out of him. He's another one that's in the mix. But right now, we're settling in with what we want to do for this first week. Things happen and we're trying to get guys prepared."
The Vikings have been trying to solve the middle linebacker position. Veteran Chad Greenway was experimented at the spot before Zimmer decided to let Greenway settle in on the weakside. Audie Cole was moved from the outside back to the middle and was listed as second on the team's initial depth chart behind Jasper Brinkley.
Mauti, to the surprise of some, was listed as a weakside linebacker, third on the depth chart behind rookie Brandon Watts.
The change didn't shake Mauti. He said he's played each of the linebacker positions before, dating back to his time at Penn State, and he was open to the move.
"I was never limited to just one spot," Mauti said. "I've always been able to play either one. So I really think it's all about, you get comfortable in a position and then you start having to change your mindset a little bit; where your keys are at and where your drops are at. But once you get into groove of it, it's not all that much different."
No matter where he lines up, Mauti feels he fits Zimmer's defense.
"A lot of people in the past have underestimated my speed," Mauti said. "I think these coaches, they're just trying to find a spot for me and wherever that spot is, that's where I'll play. So I got to trust them and their judgment. They've been doing this a lot longer than I have."
In his final season at Penn State, Mauti was a middle linebacker and was named the winner of the Butkus-Fitzgerald award, given to the top linebacker in the Big Ten. He was a first-team, All-Big Ten honoree. Yet, in the last regular-season game, he tore his ACL for the third time.
Mauti finished his rookie season with Minnesota with 11 tackles in 14 games, relegated mostly to special teams duties. He's looking for any chance to get on the field more.
"I feel like this is the player that I was, not dealing with injuries,"Mauti said. "Nobody really took a look at me just because I was a seventh-round guy and I was injured. So I was kind of under the radar in that respect.  . . . Just now a matter of now I'm healthy and I can do it. Really just getting back to my old self again, that's how I feel."
Maybe as his old self, he can prove his value to Zimmer and the coaches no matter where he lines up.
"He's got good quickness," Zimmer said. "He's got good acceleration. He runs the perimeter really well. We've got to continue working on getting off the blocks and being a little more composed at the beginning of the play. He's hyper and he just needs to relax and play football."
Intensity has always been part of Mauti's game. Knowing he has a spot -- any spot -- on Minnesota's defense could help Mauti relax.
"Sometimes you try to process too much information before the snap, just kind of relax and go out there and just slow things down a little bit," Mauti said. "I think that will come the more experience I get and the more reps I see. It's just getting more comfortable that's all it is."
Follow Brian Hall on Twitter
---