Martin thrives off the bench as Butler defeats Cincinnati 75-65
Published
Dec. 14, 2016 8:32 a.m. ET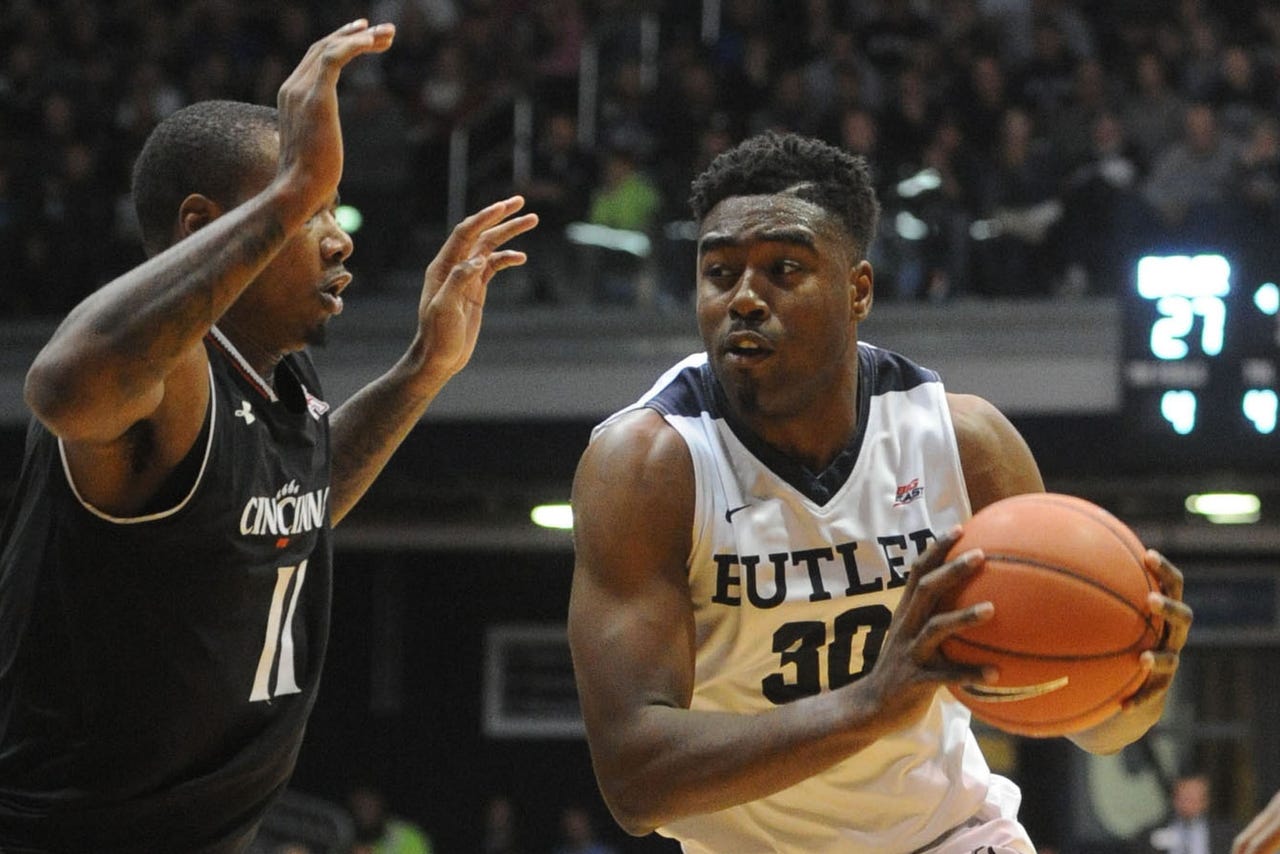 INDIANAPOLIS -- Butler forward Kelan Martin understood exactly why he was pulled out of the starting lineup Saturday.
If he keeps playing this way, it may not happen again.
Martin scored 20 points, grabbed four rebounds and was the catalyst in two key second-half runs to lead the 16th-ranked Bulldogs past No. 22 Cincinnati 75-65.
"I had to come out with a different approach," he said. "The other day (against Indiana State), I came out with no energy. Today, I came off the bench with a lot of energy."
The change was as noticeable on the court as it was in the box score.
In 31 minutes, Martin was 6 of 14 from the field, 3 of 7 on three-pointers and 5 of 6 on free throws. He also had two assists, looked to get the ball quickly and into the right spots instead of settling for jump shots.
And when the Bulldogs needed him most in the second half, Martin delivered with a big game that allowed Butler (9-1) to extend its home-court winning streak over non-conference foes to 34 games.
"We just were looking at a different lineup to start the game," coach Chris Holtmann said. "It probably won't be the last time we mix up our lineup."
Whatever the explanation, the change worked.
Butler was 7 of 10 on three-point attempts in the first half, 8 of 20 for the game and in control most of the way.
Troy Caupain scored a season-high 22 points to lead the Bearcats (7-2) and Gary Clark added 14 points and 12 rebounds.
"We had to get stops and I think we only got one in the first half," Clark said. "We didn't get many in the second half, either."
The Bearcats spent most of the first half playing catch-up before tying the score at 35 on Caupain's three-pointer with about one second to go. They finally took a brief 38-37 lead early in the second half and tied the score again at 39.
But Martin's three-point play broke the tie and spurred a 14-4 run that gave Butler a 51-43 lead with 11:51 to go. Martin followed that with six points in a 12-5 flurry to seal the win.
"We tried not to make too much of the other night (a loss) and I don't want make too much of today either," Holtmann said. "Pleased with it."
Andrew Chrabascz had 12 points and four rebounds for Butler.
BIG PICTURE
Cincinnati: For the second straight season, the Bearcats hit a road block against Butler. The Bearcats certainly need to play better than they did Saturday if they're going to meet expectations as the American Athletic Conference favorite.
Butler: Maybe Holtmann is the streak buster. Since taking over as head coach three years ago, the Bulldogs are 18-3 following a loss. So was anybody really surprised Butler rebounded from its first loss of the season with a solid win over a ranked team? Not a chance.
FOUL TROUBLE
Kyle Washington came into the game ranked 10th in the nation in double-doubles (5) and as the Bearcats' leading scorer. He was nowhere close to those numbers Saturday. Washington was called for two fouls in the first 10 1/2 minutes of the game and two more in the first nine minutes of the second half. It showed. Washington finished with seven points and no rebounds -- both season lows -- and was 2 of 8 from the field.
CRONIN CRANKED UP
Bearcats coach Mick Cronin was particularly upset with the calls in the second half, and it cost him. With the Bearcats trailing 61-51 with 5:02 left, Cronin, angry about a non-call on a turnover, walked toward the midcourt line to argue and drew a technical foul. Martin made both free throws to give the Bulldogs their biggest lead of the game.
UP NEXT
Cincinnati: Will try to rebound with a three-game home stand that begins Tuesday against Texas Southern.
Butler: Will take the week off for finals before returning to action Dec. 17 against an old rival, No. 9 Indiana at Bankers Life Fieldhouse.
---