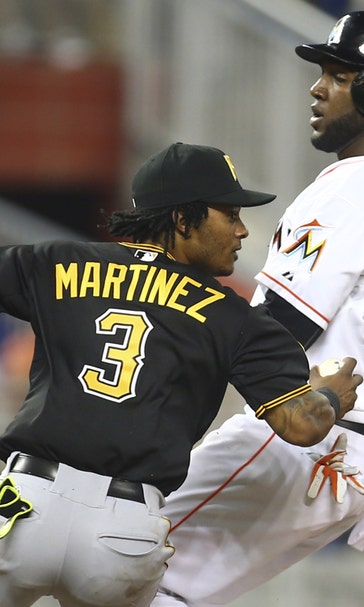 Marlins mount comeback in 9th, fall to Pirates in 13
June 13, 2014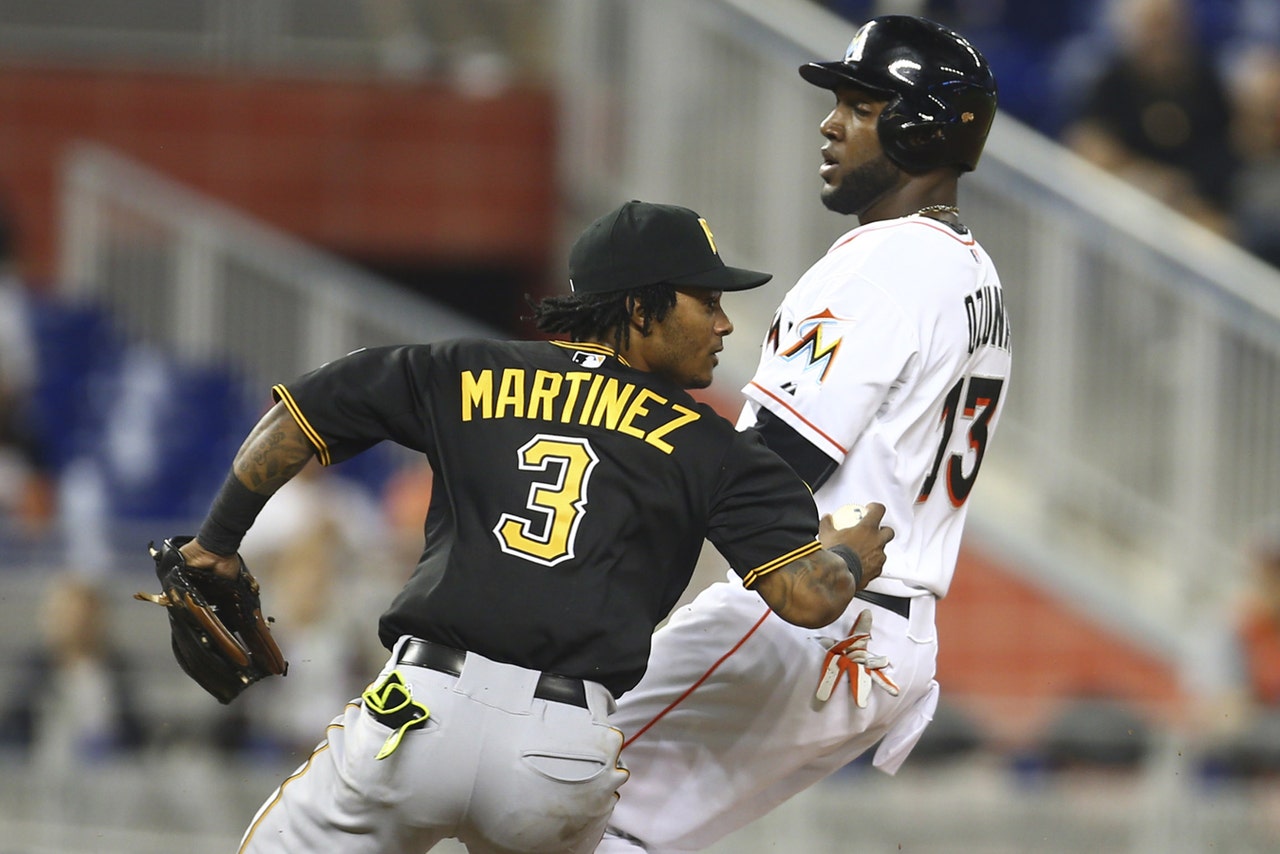 MIAMI (AP) -- The Miami Marlins mounted a ninth-inning rally Friday with the help of six walks. They needed one more.
Miami scored four times in the ninth but left the bases loaded and lost to the Pittsburgh Pirates 8-6 in 13 innings.
"The game was there for the taking at the end," said Casey McGehee, who tied the score in the ninth with a bases-loaded walk. "It was unfortunate we couldn't quite finish it off."
Gregory Polanco broke a tie in the 13th with his first major league homer, and Pittsburgh overcame the ninth-inning meltdown by its bullpen. Polanco, playing in his fourth big league game, went 5 for 7, scored three times and made a run-saving catch in right field.
Clint Barmes singled off Mike Dunn (5-4) to start the 13th and advanced on a sacrifice. Polanco homered on a 2-2 pitch.
"One bad pitch," Dunn said. "I hung a slider. The team busted their butt to get it back to 6-6. They played their butts off, and I blew it."
Jeanmar Gomez (1-2) pitched four scoreless innings after three Pittsburgh relievers blew a 6-2 lead in the ninth. The Pirates' Jeff Locke pitched a career-high eight innings, and the bullpen's wildness cost him his first victory since Sept. 12.
Miami trailed 6-5 and had runners at first and third with two out in the ninth when Pirates manager Clint Hurdle ordered NL home run and RBI leader Giancarlo Stanton intentionally walked. The strategy backfired when McGehee fell behind 0-2, and then walked against Mark Melancon to tie the game.
Marcell Ozuna then struck out to send the game to the 10th. The Marlins stranded two runners in the 12th.
"I know those guys are sitting in there after a long fight like that and are frustrated that we couldn't pick up that win," Miami manager Mike Redmond said. "But really, to climb back into that game was outstanding."
Miami's Nathan Eovaldi pitched as though he was more worried about his wife's delivery than his own, which was understandable. Their first child is due, which left Eovaldi's status in doubt until game time, and he allowed 10 hits and six runs in 4 2/3 innings.
Eovaldi said he didn't pitch well, but he declined to blame his personal situation.
"There's nothing I can control, so why worry about it," he said. "Whenever she goes into labor, she'll go into labor, and even then there's nothing I can do about it except just support her."
Marlins left fielder Christian Yelich left in the second inning with a strained lower back. His status is day to day.
"It's frustrating," he said. "I don't know what it's from or why it happened. It feels tight and I'm not getting around here too fast right now. We'll just see how it feels Saturday."
Stanton hit his 18th home run. Rafael Furcal, making his season debut after being sidelined by injuries since 2012, turned two double plays at second base but went 0 for 6.
Locke, making his second start since right-hander Gerrit Cole went on the disabled list, limited Miami to two runs, seven hits and no walks.
"We didn't look like we had much life for the first six or seven innings," McGehee said.
NOTES: Former Pirate Garrett Jones pinch-hit in the ninth for Miami and struck out. ... The Pirates' Russell Martin was safe at second when the Marlins botched a rundown in the fourth, but the call was reversed following a replay review and he was ruled out. ... Martin made his 1,000th career start at catcher, which ranks fifth among active players. ... RHP Stolmy Pimentel and RHP Vance Worley are candidates to start Sunday for the Pirates in place of LHP Francisco Liriano (left oblique strain). ... LHP Randy Wolf (1-2, 4.15 ERA) is scheduled to start Saturday for Miami against RHP Charlie Morton (3-7, 3.14 ERA).
---