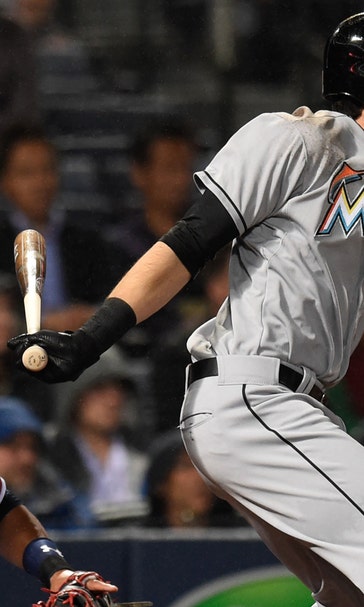 Marlins LF Christian Yelich scratched from Tuesday's lineup, listed as day to day
April 14, 2015

ATLANTA -- Miami Marlins left fielder Christian Yelich was scratched from Tuesday night's lineup with tightness in his back and is listed as day to day.
"It kind of hasn't been feeling good for the last couple of days," Yelich said. "Tried playing through it, was making it worse (in Miami) the last day we were there. It was alright. Tried playing through it, battling through and realized I was just making it worse. Talked to Sean (Cunningham), (Mike) Redmond and all of those guys. Decided to give it a few days and get back out there." 
Yelich is batting .259 (7 for 27) with three runs, a double and four RBI through seven games this season. He made an impressive running catch during the second inning of Monday's loss, reaching his glove out for the ball before tumbling to the ground near the warning track.
"I think it's something that has kind of been lingering for a day or so," manager Mike Redmond said. "That play probably didn't help it."
Ichiro Suzuki got the start in his place batting second. Last June, Yelich landed on the 15-day disabled list with a lower back strain.
"I think the important thing is to get him feeling good," Redmond said. "If it is a day or two or a DL stint, that's the important thing. Right now we're just treating it as a day-to-day thing. We'll evaluate him tomorrow and see how he is. I know he's been getting treatment on it all day, trying to get that thing feeling better."
You can follow Christina De Nicola on Twitter @CDeNicola13 or email her at cdenicola13@gmail.com.
---
---