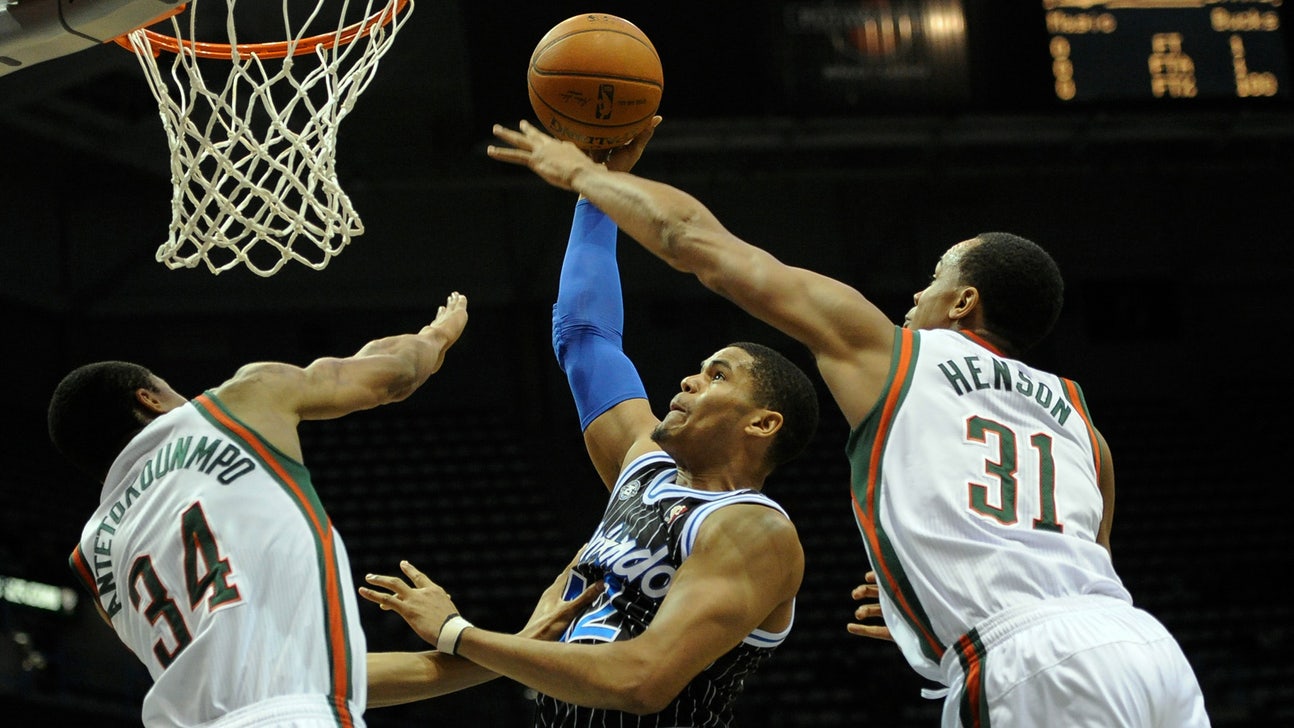 Magic at Warriors game preview
Published
Mar. 17, 2014 5:30 p.m. ET

TV: FOX Sports Florida
Time: Pregame coverage begins at 10 p.m.
When the Golden State Warriors shoot the ball well, there are very few teams that can keep up with them.
Golden State looks to build on one of its best second-half shooting performances and continue its strong play since the All-Star break when it hosts the Orlando Magic on Tuesday night.
Led by the backcourt duo of Stephen Curry and Klay Thompson, the Warriors (42-26) rallied from an 18-point deficit to win 113-112 at Portland on Sunday.
Curry had 37 points and Thompson scored 15 of his 27 in the fourth quarter as Golden State shot 59.0 percent after halftime, tied for its second-best performance of the season.
The Warriors' 69 second-half points were one short of their season high, with Curry and Thompson combining for 51 of the points.
"We found a way to make plays down the stretch, get stops," Curry said. "Klay hit some big-time shots down the stretch. But, for us to get back in the game and have pretty much control of the last three or four minutes -- everybody contributed that stepped on that floor and we just had to fight our way out of whatever was going on in the first half and guys giving maximum effort. It was definitely a big win for us."
The Warriors had a five-game home win streak snapped Friday with a 103-94 loss to Cleveland, and they've dropped six of seven to Orlando (19-48) on their own court.
Golden State won for just the second time in 10 overall meetings Dec. 31 with a 94-81 road victory despite shooting 22.2 percent (6 for 27) from 3-point range. The Warriors, though, shoot 38.4 percent from beyond the arc at home for one of the best marks in the NBA.
Golden State is 11-4 since the All-Star break.
"When we play the way we're capable of playing and the way we practice playing, we can beat anybody," coach Mark Jackson said. "If we don't, we can be beaten by anybody."
Orlando dropped its fifth straight Friday, falling 105-101 in overtime to visiting Washington. Tobias Harris led the way with 21 points off the bench and fellow reserve Victor Oladipo scored 15, but the starting frontcourt of Maurice Harkless, Kyle O'Quinn and Nikola Vucevic combined for 20 points.
"It's painful and it hurts, but you learn from it," coach Jacque Vaughn said. "We played hard enough to win, so that's a good start right there. If you can say that at the end of the game, a lot of times that's a good thing."
The Magic are opening a four-game trip and have yet to beat a Western Conference opponent on the road, going 0-11 and allowing an average of 106.8 points.
Orlando is a league-worst 4-30 away from home.
---