Luis Urías
Luis Urías
MadFriars' Wrap-Up Series: El Paso Chihuahuas
Published
Nov. 9, 2018 12:37 p.m. ET

The El Paso Chihuahuas finished another successful year in 2018, finishing at 82-57. The club has been the most consistent winner in the Padres' farm system since they became a Padres affiliate in 2014.
Triple-A can be a weird environment, full of veteran players who would much rather play in the big leagues, although this year's squad had plenty of prospects. Second baseman Luis Urias finished his development in the Sun City before a late-season promotion to San Diego and catcher Francisco Mejia saw some time for the Chihuahuas before being promoted in September.
Top Players: Top prospect Luis Urias had a bit of an uneven campaign, however, his overall statistics looked quite strong when all was said and done. The 21-year-old second baseman posted a .398 on-base percentage and clubbed a career-high eight homers and 30 doubles. The talented infielder got a brief look in San Diego in September and figures to head into 2019 as the Padres' starter at second.
LINK: El Paso Position Player of the Year - https://madfriars.com/2018/11/02/madfriars-player-of-the-year-series-el-paso-chihuahuas/
Top Pitchers: Brett Kennedy was undefeated for the Chihuahuas in 2018, as the former Fordham Rams went 10-0, with a 2.72 ERA. Kennedy has never been a big-time prospect in the system, but his consistency rivals any pitcher in the organization since he was drafted in 2015. Kennedy struggled in his cameo in San Diego, but he presents another intriguing arm that the Padres can deploy in 2019.
LINK: El Paso Pitcher of the Year - https://madfriars.com/2018/11/05/madfriars-pitcher-of-the-year-series-el-paso-chihuahuas/
Ben Davey interviewed Bill Knight, the long-time sportswriter for the El Paso Times on the top players he saw this summer for the Chihuahuas.
LINK: On the Beat: Interview with Bill Knight of the El Paso Times - https://madfriars.com/2018/11/06/on-the-beat-interview-with-bill-knight-of-the-el-paso-times/
John Conniff caught up with Sam Geaney, the Padres director of player development to get his thoughts on players like Urias, Kennedy and catcher Francisco Mejia.
LINK: MadFriars Q&A with Sam Geaney - https://madfriars.com/2018/11/07/qa-with-sam-geaney-2018-el-paso-chihuahuas/
MadFriars Announcer Series: Tim Hagerty
Tim Hagerty has had one heck of a journey broadcasting professional baseball. The veteran broadcaster has been the voice behind all five seasons of Chihuahuas baseball. Hagerty has also had stops in Tucson, Arizona, Portland, Oregon, Idaho Falls and Mobile, Alabama. All those stops were calling games for a Padres' affiliate. In addition, Hagerty wrote Root for the Home Team: Minor League Baseball's Most Off-the-Wall Team Names and the Stories Behind Them in 2012; which is a fun read for everyone.
LINK: (Amazon) - https://www.amazon.com/Root-Home-Team-Off-Wall/dp/1604332093/ref=sr_1_1?ie=UTF8&qid=1541693218&sr=8-1&keywords=tim+hagerty
Hagerty gave us some insight into the talent that passed through El Paso during the 2018 season.




MadFriars: Luis Urias had a good year overall, but his strikeout rate went up quite a bit. Do you think it was just a byproduct of facing more advanced pitching?
Tim Hagerty: Yes, I think that happens to first-year Triple-A hitters. PCL pitching staffs include guys who have been in professional baseball for a decade, in many cases with major league experience.
It's amazing to think how young Luis is. At the time he was called up by the Padres, he was still the youngest player on the Chihuahuas, even with youthful arrivals like Logan Allen having joined the team. Most 21-year-olds are playing for Fort Wayne or Lake Elsinore.
You only got a brief look at Francisco Mejia but what were your impressions of his talent at the plate and behind the dish?
Tim Hagerty: He's very talented. It's obvious why he stood out to Padres evaluators.
One day in Colorado Springs, he made the best catcher's throw I've ever seen. The throw was so low, I thought it was going to hit the mound. It went over the mound and reached the infielders glove in the air.
Javier Guerra really came on at the end of the season. Did he make any adjustments that helped harness the talent that he has?
Tim Hagerty: There are blocks of time that he looks like the best player on the field. And I don't mean only defensively. For a thin guy, there's some serious strength there. He hit a few home runs to right field in El Paso that traveled [Alex] Dickerson/[Ryan] Schimpf distance.
Maybe with more at-bats and experience his cumulative offensive results will improve. As for his defense, Rod Barajas said in a TV interview that Javy is the best defensive shortstop he's ever been around, and Rod's been in professional baseball for more than 20 years.
Cal Quantrill seemed to pitch well after being promoted to El Paso. What kind of stuff did he show in his six outings with the club.
Tim Hagerty: Scouts covering El Paso brought up his changeup and it seemed he got swings and misses that way. Cal's best start came in a must-win playoff game for the Chihuahuas in Fresno. I've been told the Padres front office makes note of who performs well in minor league playoff games and Cal definitely aced that test.
After a late-season promotion, Logan Allen continued to be lights-out in El Paso. How did his off-speed pitches look?



Tim Hagerty: The coaching staff gave good reviews of all of his pitches. Sometimes pitchers have bumpy starts to their first Triple-A stint but Logan was the opposite, only two earned runs allowed in his first four games here.
I wouldn't be surprised if Allen goes the Eric Lauer route in 2019 – begin the year in Triple-A and become an MLB-promotion candidate shortly thereafter.
Brett Kennedy was one of the best pitchers in the PCL before his promotion. What can you tell us about the pitcher you saw go undefeated in his first run through the PCL?

Tim Hagerty: I heard Brett say in multiple interviews that he doesn't focus on his stats and his sole goal is to leave the game with his team leading or close to leading. He seems to pitch that way, not scared of contact.
I was happy to see him show better in a few of his late-August Padres starts. He had a great season here.
Kevin Charity is a writer for MadFriars.com, and you can follow him @madfriars.com.


---
---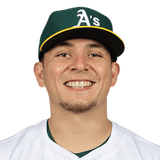 Get more from Luis Urías
Follow your favorites to get information about games, news and more
---