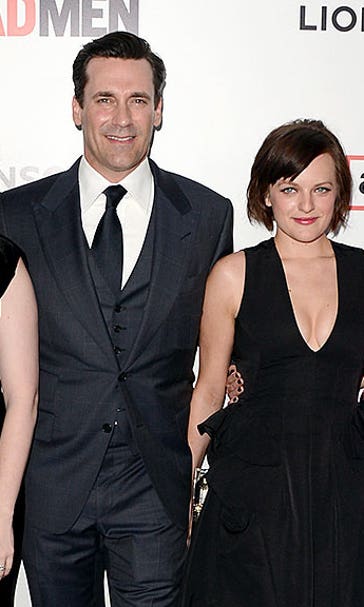 Mad Men Review: The Final Episodes, The Forecast
April 21, 2015

We know where we've been; we know where we are, let's assume that it's good. But it's gonna get better. It's supposed to get better. -- Don Draper
Who are you? Don't answer the question with your name or your race or your sexual orientation or in any demographic sense. Instead, try to think of exactly what makes you the man or woman you are? What are your strengths? How about your weaknesses; what are they? When you wake up in the morning, what immediately excites you about the day ahead and what was it you prayed for the night before that leaves you anxious, confused, or maybe even terrified?
And, after pondering the question, here's a second one for you: How much does it bother you to know the rest of the world sees you so drastically different than you view yourself?
Sunday was a night fans of Mad Men desperately needed after last week's disappointing effort. Going in, it felt as if Weiner and company had to hit a home run, and while it wasn't a grand slam, they definitely reached extra bases. Let's call it an inside the parker. If it didn't clear the wall, it still put a number on the scoreboard. "The Forecast" spent much of its time exploring the fears and realities of its cast; each character had a moment of non-spoken screen time to express imperfection or apprehension. Those facial expressions were as effective as any words. On this night, just a month away from the series finale, Mad Men rediscovered its groove.
The episode opens with the real estate agent waking up Don to shuffle him out of his penthouse apartment. Unsurprisingly after Furnituregate 1970, Mr. Draper is looking to sell and start anew. He thinks it should be an easy sell, but the realtor disagrees, especially with the physical emptiness of the space. Her reaction to what's real and his inability to fully grasp those ideas were powerful pieces of dialogue.
It was the Joan storyline that enabled the theme to rise to the surface. On an office trip to California, she has the job of her dreams. Those are her words. She orders French toast from room service to spoil herself. She looks positively radiant and completely free. She meets Richard (Bruce Greenwood), who has looks, money, and lacks a care in the world. He's earned stacks of cash in his life and now wanders aimlessly. He's divorced, but Joan still leads him 2-1 in that category. But, when she falls for him a bit and he pulls back due to her four-year-old son, she has to answer the question. She sees herself as an ad executive and a buxom catch, but this seemingly perfect man can't get past the blemish on her resume. "This is not how I saw things. I had a plan" are his words in the New York hotel room.
Then, Joan Harris has to address the question a second time and she comes to a conclusion: I still have plenty to offer in many different areas. As a matter of fact, I have too much to offer. My son is part of who I am, even if that makes things difficult. "You're ruining my life," followed by the guilt. Richard apologizes, because he wants Joan along with the mother she lives with and the child in her life. But, that's not the point. The point is Joan comes to understand who others think she is, because it's what actually matters based on her own goals. Men still turn their heads, but they also might turn their tails. Luckily, it's quite possible Richard actually sees all that she is, rather than a set of curves or a divorced single mom.
Peggy Olson sees herself in terms of her performance evaluation. She wants Don to give her an evaluation rather than doing the self-eval Ted pawned off on her. She's proud of her work; she had "quite a year." When Don asks her to talk about the future, she points to becoming the first female creative director of the agency, then to land a major client, come up with a great idea, create a catchphrase, and then to achieve fame. Draper laughs, because he wanted a deeper response, and Peggy storms out as a result of her former mentor "shitting on her dreams."
We don't see it, but Peggy Olson may have to ask the "who am I" question again. She wants to be defined by her work and nothing but her work. In many ways, in addition to being "handsome," that's who Don Draper was six seasons ago. The Mathis "you have no character" line hits him like a bullet wound to the chest. Now, he can't find his identity within the agency. He's still very good at what he does, but he's never felt less vital to the office or to the world. When he looks at Peggy, he can see the signs of a woman who might be lost, or maybe she simply knows who she is. He wanted more from her. Maybe on a stronger level, he wanted more FOR her.
Sally Draper is a young adult set for a 12-state trip with her friends; one of whom falls for Don Draper the minute she sees him at their bon voyage dinner. She's grown up in a broken home, but she makes jokes when she's around her mother. She's a smart ass, she's opinionated, and she's rebellious. In short, she's a typical teenage girl on the path to womanhood. She also sees her parents as flirtatious lovelies, whose behavior often repulses her. She watches her mother stare at her friend and then watches her father not exactly shut off her travel companion at the restaurant.
When Glen Bishop shows up on her doorstep, Betty Draper is actually a bit flummoxed at the small boy who has grown into a man. She once gave this strange individual a lock of her blonde hair. Yep, he's always been creepy. She can't help but semi-flirt with him and doesn't try to hide it. Betty has always been the prettiest girl in the room, and she often sees herself as largely defined by the gazes of those who fixate on her. For Glen, he's on his way to Vietnam, even as someone who believed in Kent State and saw the war as immoral. Sally is both disgusted and aghast. She's vehemently against the conflict. She also knows her friend may not return from the battle.
Glen reappears to see Betty and makes his move, but Mrs. Francis turns him down, although not entirely. She's flattered this time around, but she's a married woman and, well, it's Glen Bishop. He admits to her who he really is, answering a question we all were asking. He flunked out of school and found another way to earn his father's respect and admiration. Thank goodness he didn't do it for Betty Francis. But, he did earn her respect and perhaps caused a shudder within her heart. However, he's still the weird kid and the maladjusted, awkward child he's always been. We know who he is, even if he doesn't. We also hope he returns from Southeast Asia, but we realize it's doubtful.
The question at the center of Mad Men from the beginning has always been succinct and crystal clear: Who is Don Draper? For one, he's dead. The man we've gotten to know for the past several years is Dick Whitman. The key to "The Forecast" is in Roger's assignment, passed off on him so Ted can avoid doing it himself. Don has to come up with 2500 words to sell the firm as part of a statement laying out the future and the accomplishments of the business. He asks each coworker he encounters to help him, but doesn't always explain the assignment. It leads to the misunderstanding with Peggy, who takes offense to his reaction to her professional goals.
If you pay close attention throughout these last three episodes, the most affable character on the show has been Don Draper. He's been pleasant. He's been helpful. He's tried to listen to people. He hasn't wallowed around in a constant drunken stupor. He's been able to effortlessly perform his job. In virtually every situation, Don Draper has been the adult in that scenario. Through all of it, people treat Don Draper as if he's still the prick he was for such a long time in his life. When he gives advice, it ends up getting someone fired. John Mathis, we hardly knew ye. When he tries to offer a shoulder to a crying woman, she rejects it. When he asks legitimate questions, he sees people he respects and loves storm out of his presence. When he tries to say hello to his second ex-wife, she won't even make eye contact with him.
Over the course of the next month, Don Draper has to find the answer to the identity question as well as the future question. It seems increasingly possible that this man won't ever reach the finish line until he accepts Dick Whitman as a public truth. So few people understand who Don Draper sees himself as and what he aspires to be in his world. The real question is whether or not Don comprehends his own desires. He seems to exist in a state that could best be described as a deep fog, even through the low beams. He's not sure, but he feels like he's more, but he has no clue what that means.
He describes his home to the realtor by saying "a lot of wonderful things happened here."
She responds bluntly: "Well, you wouldn't know it."
What we do know is Mad Men needed an episode that left us with a feeling that they have a plan. Don Draper is on an assignment that forces him to confront the future and attempt to spin words to sell that vision. Through that process, he's also dealing with his own future. He wants the fresh start in a new home and the family life he raged against as he sowed wild oats after already closing the passion pantry twice with a diamond ring. How many women has he truly loved? It still feels like the answer is one, and she's the married blonde that might have the same answer.
This was an interesting, focused, driven episode. "The Forecast" zeroed in on characters we do care about and ones we've grown to love or loathe over the years. It had a few moments of levity, but felt much closer to the essence of what Weiner's creative effort has always been at its best. It was introspective to those on screen and it was paced beautifully. In its final scene, after Don tells his daughter she is just like her parents and "it's up to you to be more than that," his apartment sells. As he leaves, he's filled with hesitation. Did wonderful things happen in that place? The realtor utters the money phrase to him before he looks toward his future and stares down the hallway:
"Now we have to find a place for you."
This one needed to be great. It was.
I'm @GuyNamedJason on the tweets. Loretta let me in on her way out.
---