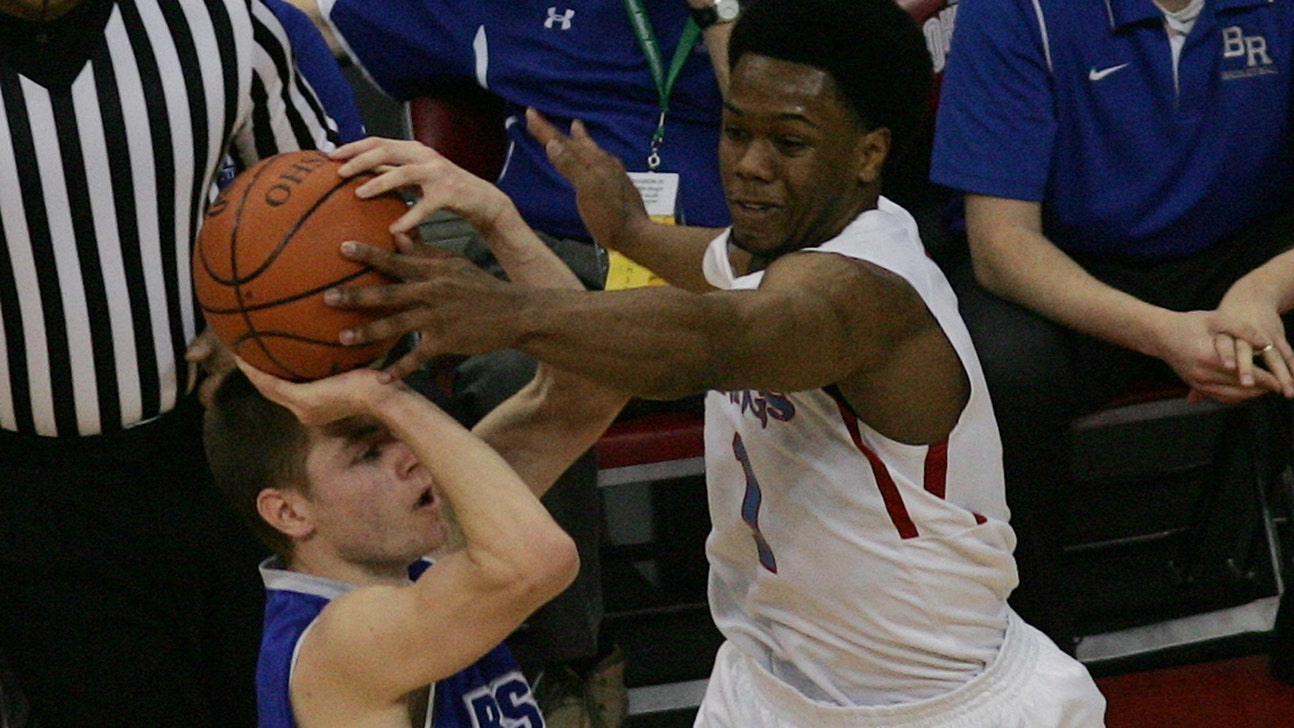 Loaded Vikings share wealth, follow Johnson's lead
Published
Mar. 21, 2014 5:36 p.m. ET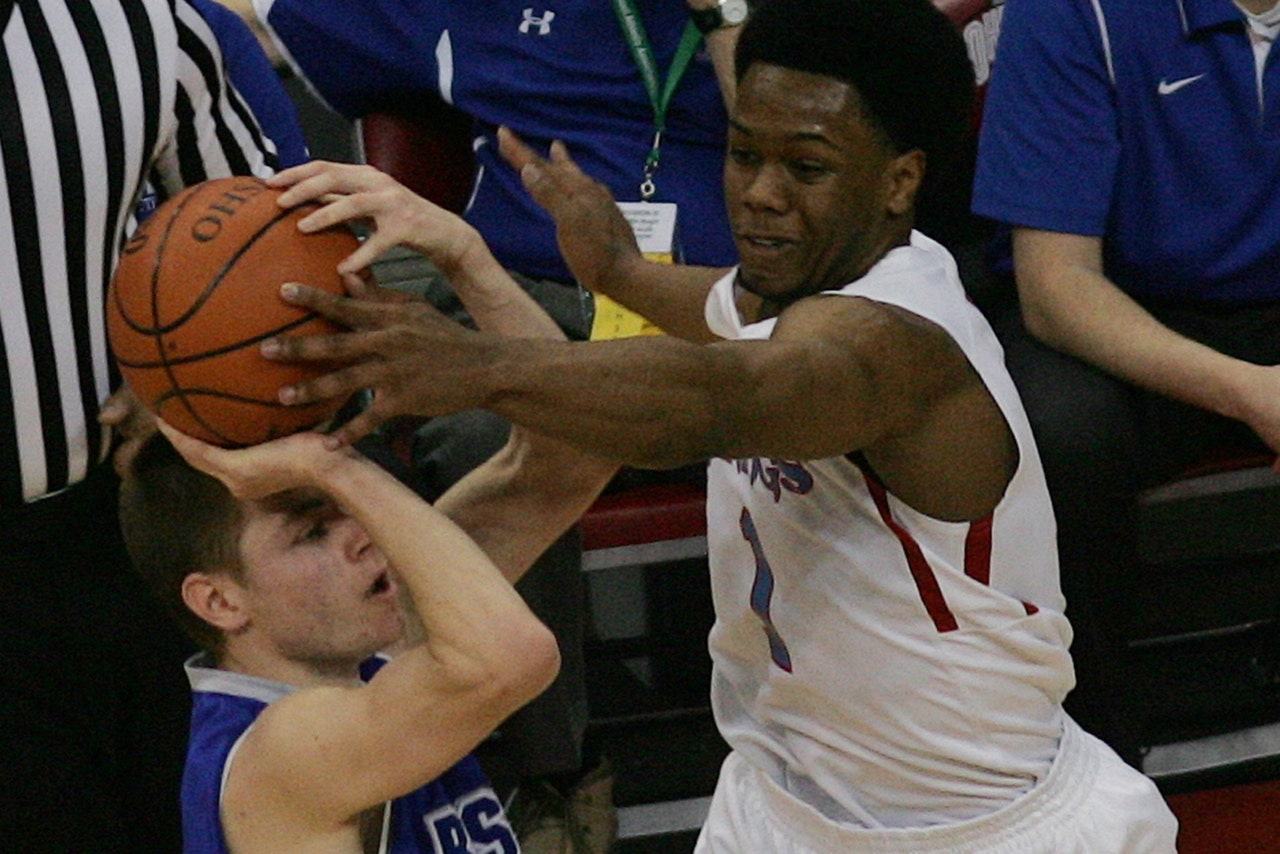 COLUMBUS, Ohio - Mo Johnson doesn't score. He's a 4.3 student, a competitor and a conductor and the pass-first point guard of the loaded Cleveland Villa Angela-St. Joseph Vikings, but he's not a scorer. In two regional wins last week, he totaled 2 points.
In Friday morning's 55-40 win over Columbus Bishop Ready in Ohio High School Athletic Association Div. III semifinal, Johnson had 11 points.
He averages a little under 2 points a game. At 5'10, he's about a foot shorter than classmate Carlton Bragg, one of the nation's most coveted recruits in the class of 2015. Bragg had 11 points and 7 rebounds. Brian Parker, a 6'2 bull under the basket, led VASJ with 17 points and 10 rebounds.
Parker is so strong and so good around the basket that Vikings coach Babe Kwasniak can move Bragg to the perimeter and let Parker work on the block. 6'8 Dererk Pardon plays had 9 points on Friday.
Big and strong and fast and balanced and, well, you get the picture.
You also see why it's so tough to beat VASJ.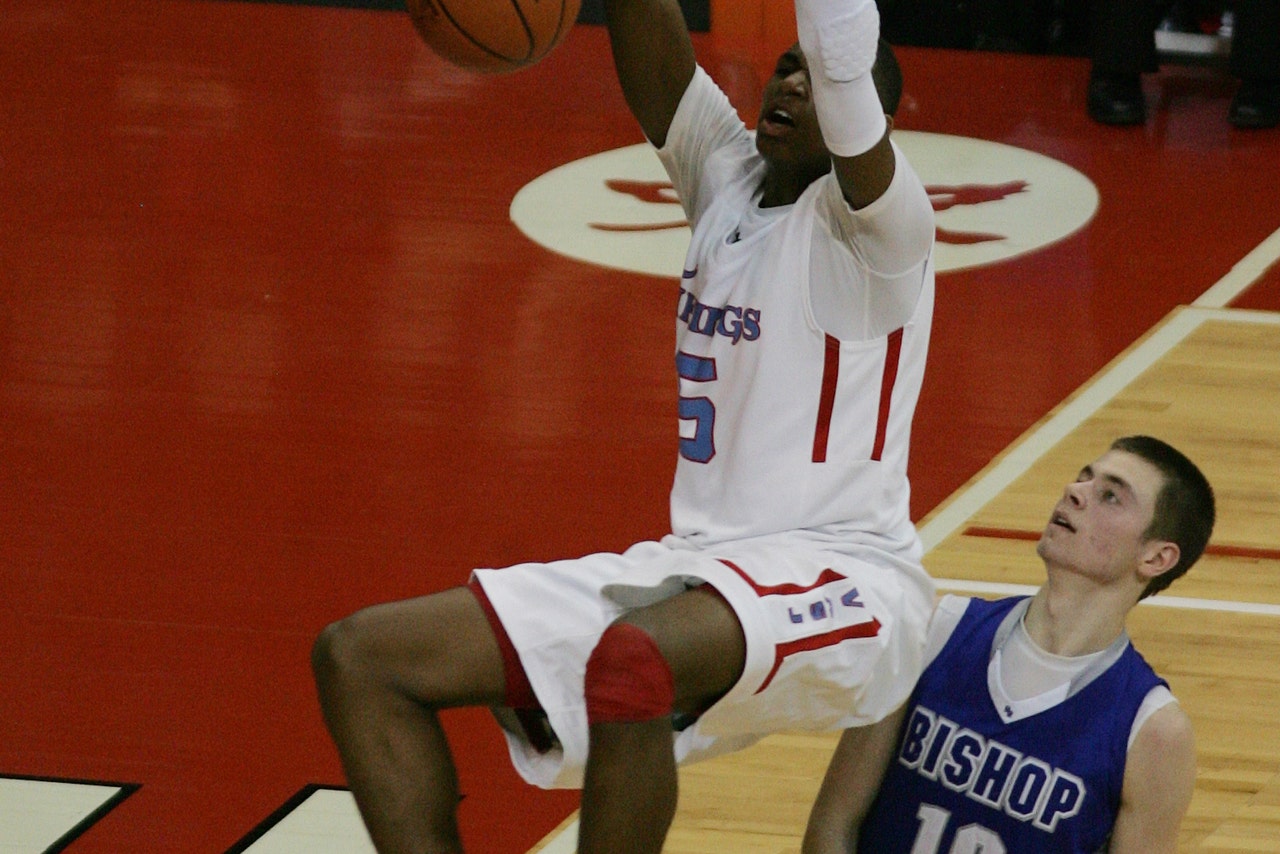 Cleveland Villa Angela St. Joe's Dererk Pardon (5) dunks over Bishop Ready's Jimmy Hanley.
These Vikings -- all five starters are juniors -- are closing in on their second state title in two years after winning the Div. IV crown last year. They'll play Lima Central Catholic on Saturday afternoon for the Div. III crown in the third game of Championship Saturday; all four games will air on Sportstime Ohio.
Lima Central Catholic will have to try to guard all the Vikings. Even Johnson.
"He might not be the best point guard in Cleveland, but he's the best point guard for us," Kwasniak said. "All Mo cares about is winning. He gets the ball to these other guys and he knows where they want it, when they want it."
Bishop Ready brought a bunch of shooters and a very solid gameplan to its attempt to unseat VASJ but found scoring to be very difficult in the fourth quarter, getting outscored 15-5. With Bragg and Pardon defending the basket and going up for every rebound, it's tough for any opponent. It seems to get tougher in the second half.
"We knew once we had the lead it would be tough for them to score on us," Kwasniak said.
The Vikings won the rebounding battle, 37-26. Bishop Ready made five first-half 3-pointers but its patient attack was stymied by going one shot and out too many times and having too many attackers looking (way) up at Bragg and Pardon around the basket.
"Teams want to be physical with us, slow us down," Bragg said. "We just got stops, played basketball."
That defense sets up a faster game, the kind the Vikings like to play. Even if teams can get enough rebounds and have the guards to play a slower game, scoring inside still becomes an issue. Long misses lead to long rebounds and real trouble.
Early in the game, VASJ ended up in a three-on-one situation. The ball was pushed ahead from Johnson to Parker, who could have had two points. Instead, he flicked it back to Bragg, who put the ball in his right hand and went up for a dunk.
He missed it.
"I took off from too far out," Bragg said after the game.
He'll have more chances at more dunks on Saturday because Johnson made a pair of 3-pointers, Parker made one in addition to his post work and another defensive stop set up a Johnson to Parker pass for a layup that beat the halftime buzzer to make it 27-24.
When the Vikings make the extra pass and turn stops into transition chances, they're awfully hard for anyone to beat. They lost four games to Ohio teams all year, three to teams that made the state tournament. The two regional games last week in Canton were VASJ's only postseason games in the last two years decided by a single-digit spread.
It's a dominant team that's comfortable in its spot as the favorite to win the school's sixth state title. It's a team that looks the part, has top-shelf talent and has a chance to be remembered for a long time.
It's a team that follows the lead of an unassuming, 5'10 point guard.
"It was a lot of fun today," Johnson said.
It will be very interesting to see what the Vikings do for their final 2014 encore.
---