Little can compare with Jayhawks' Big 12 title streak
February 21, 2017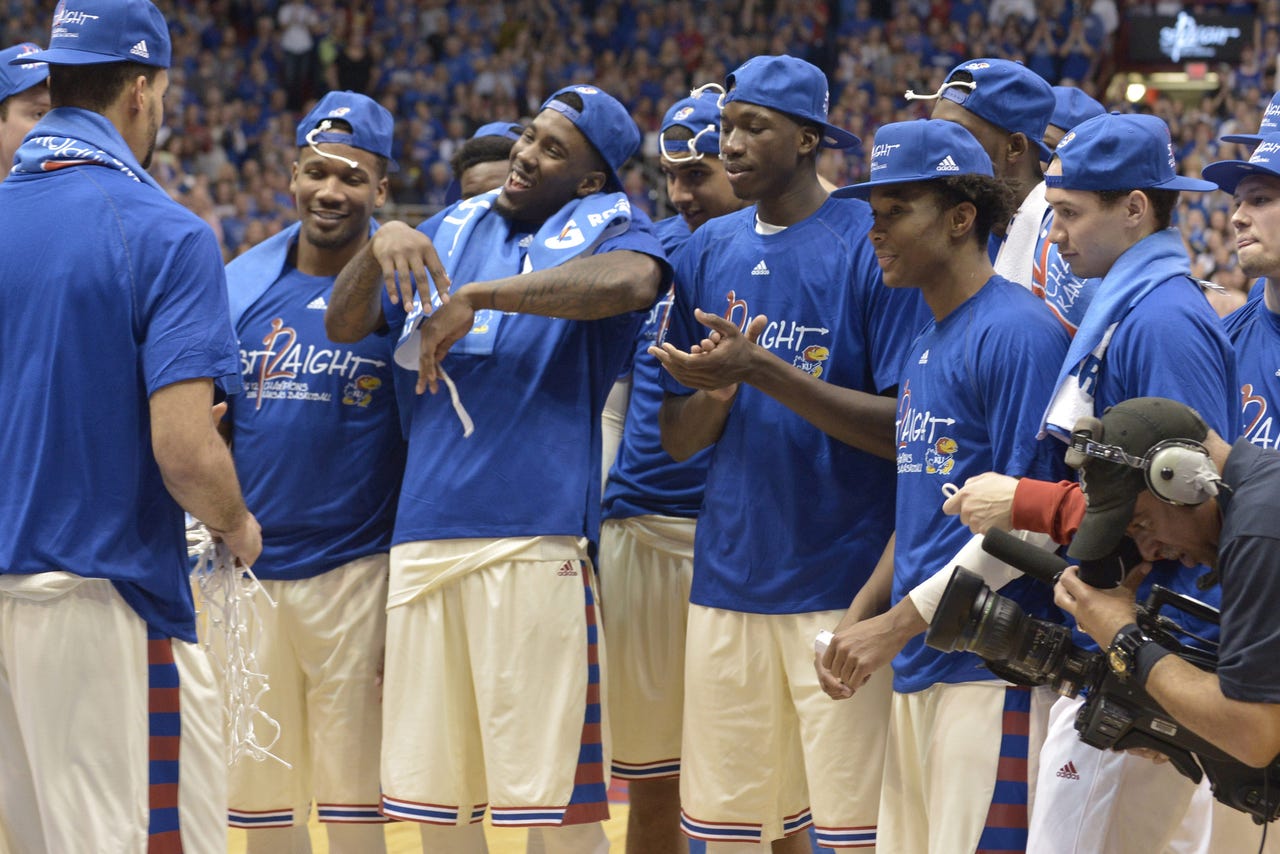 LAWRENCE, Kan. -- There is perhaps nobody better than Hall of Fame coach Larry Brown to put into perspective the remarkable streak of conference championships put together by Kansas, one that could stretch to 13 in a row with a victory over TCU on Wednesday night.

Brown coached the Jayhawks for five years in the mid-1980s, leading them to the national title in 1988. And he gave current Kansas coach Bill Self his big break as an assistant in 1985.

But before his arrival in Lawrence, Brown spent two years coaching UCLA. It was under his watch the Bruins' own record streak of 13 consecutive conference titles ended in 1980.

"What Bill has done is beyond belief to me," Brown told The Associated Press. "And it's just amazing, when you wear that jersey, what it means to these kids."

The Kansas streak is hard to put into perspective because it has few comparisons.

The two most recent schools to come close have been UNLV, which had a 10-year run snapped in 1992, and Gonzaga, which won 11 straight from 2001-11. But the Runnin' Rebels played in the Big West in a far different era, while the Bulldogs have dominated the West Coast Conference.

Neither league would be confused for the Big 12, either in talent or depth.



Maybe a better barometer is the ACC, where North Carolina's best streak has been six straight, and Duke's best run has been five. But the Blue Devils haven't won a regular-season title since 2010, and the Tar Heels have managed only seven since the Jayhawks began their run. The best streak in the Big Ten was Ohio State's five straight in the 1960s.

Part of what makes Kansas' streak so incredible is that sustained excellence is harder today than ever before, and certainly harder than when UCLA was riding its streak.

In those days, schools had more scholarships at their disposal, so they could sock away talented young players to replenish each year. There were also no one-and-dones, so those players typically were part of three or four championship teams before finishing their careers.

These days, someone such as Andrew Wiggins, Joel Embiid or this year's star freshman, Josh Jackson, might be part of one team before chasing NBA riches. Then, Kansas has to reload.

Plus, there's the pressure of not only the streak -- nobody wants to be part of the team that ends it -- but also the nightly grind of playing with "Kansas" on your chest.

"It's like being at North Carolina and UCLA, which I was so fortunate to be at," Brown said, "in that every time they play a game, it's the biggest game of the year. Home or away, it's the biggest game of the year in the conference. You're the rival of every team. So that's what makes what Kansas has accomplished all these years even more mind-boggling."

Some try to minimize the streak by arguing Kansas has managed just one national title, in 2008, and one other Final Four trip during the run. They point out that the Big 12 tends to flame out during the NCAA Tournament, though Oklahoma made a Final Four run just last year.

But the counterpoint to that is that winning in March has become far from predictable.

When the Bruins were winning eight of their 10 national titles under John Wooden during their streak, the tournament consisted of 22 to 40 teams. For much of the Jayhawks' streak, they've had to navigate a field of 64, and that expanded to 68 teams six years ago.

Meanwhile, the Big 12 has been first or second in conference RPI four consecutive years.

All of which leaves some people scratching their heads and asking, "Why hasn't one of the most remarkable streaks in college sports received more recognition?"

"I don't know," Kansas athletic director Sheahon Zenger said. "Maybe we have such information overload in our society today, from politics to world finances and economics to athletics of all kind, so sometimes we in the Midwest keep our candle under a bush a little too much. And maybe the folks on the coasts don't hear about it as much as they should."

The streak certainly has plenty of admiration among rival coaches.

West Virginia's Bob Huggins lamented the fact that Kansas almost never loses at Allen Fieldhouse, and that was before the Jayhawks rallied from 14 down with 2 1/2 minutes left to beat the Mountaineers last week. And Iowa State coach Steve Prohm, whose team beat the Jayhawks in overtime to snap their 54-game home winning streak a couple weeks ago, called their program "the standard."

"It's what you want to be," Prohm said.

Indeed, the Jayhawks are reminded of their streak every time they show up for practice or a home game: The wall leading into their locker room is wrapped in a colorful mural, and stretching across it at head-height are pictures of 12 dazzling, diamond-encrusted championship rings.

There are enormous expectations that come with playing at Kansas.

Winning the Big 12 has become the minimum.

"I do think with the expectations comes pressure, and even though we don't talk about that, I think that's something that naturally comes on the players," Self said. "With that pressure, I think there is a desire to live up to what other people think of you and say of you, even though they know our only goal should be to play as close to our ceiling as they possibly can.

"If we're able to do that," he said, "you can live with whatever happens."
---
---