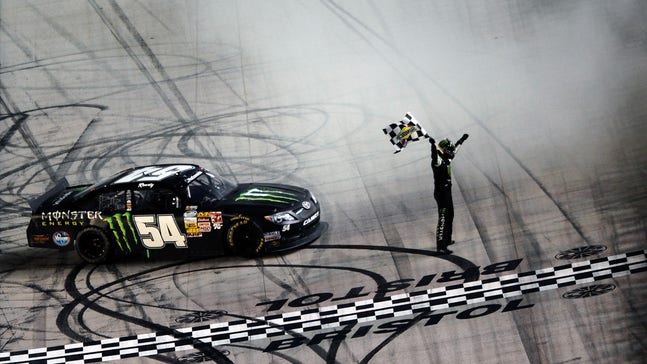 Kyle Busch Inches One Step Closer To Bristol Sweep
Updated
Mar. 4, 2020 4:59 p.m. ET

Kyle Busch completed leg two of the Bristol sweep by winning Friday night's NASCAR Nationwide Series race, backing up his Trucks victory from earlier in the week.
Busch led 228 of the 250 laps, only yielding the lead once to "Yung Money" Kyle Larson. Larson elected to stay out while a four-tire stop dropped Busch back to fourth. Busch made quick work of Brad Keselowski and Trevor Bayne on the restart, and would ultimately pass Larson for the lead on lap 129.
It was game over from then on, with Busch completely dominating the second half of the race.
What was his reward for putting on an epic display of talent? A loud shower of boos from the Bristol crowd, but it didn't bother him.
"Whether you're booing or cheering, glad you're here," Busch said to the fans. "Hope you're booing more tomorrow when we take home another trophy."
Even last year's Nationwide champion Ricky Stenhouse Jr. agreed with Busch.
His win Friday night was his 60th Nationwide series win of his career, and 120th spanning across NASCAR's three national series.
Trailing Busch at the line was Keselowski, Austin Dillon, Justin Allgaier and Larson.
Points leader Sam Hornish Jr. was forced to overcome adversity Friday night when a spark plug wire problem slowed his progress. Despite the issue, Hornish Jr. finished 12th and maintained his points lead. Dillon sits second (-6) in the championship standings followed by Elliott Sadler (-11).
Nationwide drivers head to Atlanta Motor Speedway next week for round 24 of the championship.
As for Busch, he will look to complete the Bristol sweep in Saturday night's Sprint Cup race, but it won't be a walk in the park. Busch will start 43rd after spinning in qualifying and damaging his primary car.
"It's a whole different ball game tomorrow, for sure," he said. "In qualifying, I just overstepped it, got too high, I was a little loose and I just screwed up. It's not like I haven't come from deep in the field before, but it's going to be a tall order."
A tall order indeed. No driver has started dead last in a 43-car field and went on to win the race.
---