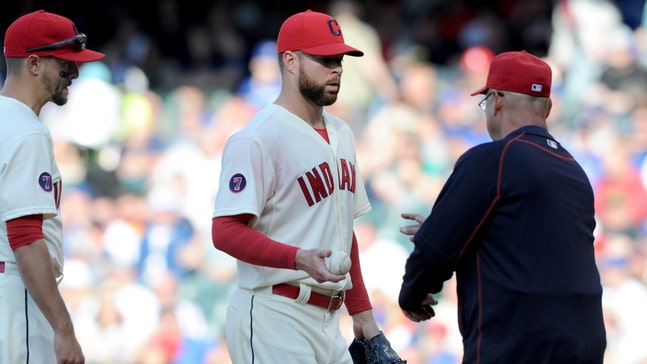 Kluber identifies area for improvement
Published
May. 7, 2015 10:26 a.m. ET

It's been 26 years since a team has gone winless with a reigning Cy Young Award winner on the mound as many times as the Cleveland Indians have with Corey Kluber.
The visiting Indians seek to avoid falling to 0-7 in Kluber's starts in Thursday's three-game series finale against the Kansas City Royals.
Cleveland has lost all six starts by Kluber (0-4, 4.62 ERA), becoming the first team to lose that many since the 1989 Minnesota Twins lost Frank Viola's first seven outings. The right-hander lasted five-plus innings Saturday, yielding five runs and eight hits in an 11-4 defeat to Toronto.
Opponents have fared well when swinging early against him, batting .448 on the first pitch, .545 on a 0-1 count and .444 on a 1-0 delivery. Hitters are at .172 on 2-2 pitches and 1 for 10 on a full count.
Kluber believes his problem is related to pitch sequence.
"I'm not doing that good a job of keeping guys honest," he said. "For the most part guys are hanging out over the plate and when they do that, they eliminate one half of the plate. When you do make a mistake it's kind of magnified."
The Indians (10-16) insist Kluber is fine physically. His run support average of 2.08 is one of the league's lowest.
Kluber went 2-1 with a 1.15 ERA in four starts against Kansas City last year before allowing six runs over 6 1-3 innings in a 6-2 loss to the Royals on April 27. Alex Gordon and Eric Hosmer are each 5 for 27 against him, Lorenzo Cain is 3 for 19 and Salvador Perez is 3 for 18.
Mike Moustakas is 11 for 25 against Kluber.
Cleveland finished with 13 hits for the second time in three games in Wednesday's 10-3 rout. Brandon Moss homered and added a two-run double to lead the charge and Mike Aviles went 3 for 4.
The Indians have averaged 5.9 runs in their last 12 games after scoring 3.1 in their first 14.
"You're not going to score five or six runs every night," Moss said. "But the last two weeks we've been a good bit better."
They will look to get the better of Edinson Volquez (2-3, 2.10), who will start for the Royals after yielding two runs in six innings in Saturday's 2-1 defeat to Detroit.
The right-hander owns a 12.19 ERA against the Indians for his worst mark against an opponent he has faced more than once. He is 1-2 in three starts versus Cleveland, which he hasn't faced since 2011.
Michael Bourn has the most experience against Volquez among Cleveland hitters, going 5 for 17. Bourn did not start the first two games since the Royals (17-10) started left-handers and figures to return to the lineup Thursday.
Cain went 1 for 4 and scored twice Wednesday in his return from a two-game suspension for his role in a brawl with the Chicago White Sox. Cain is batting a team-best .330.
It's possible that Royals shortstop Alcides Escobar will be activated from the 7-day concussion disabled list. Escobar is 5 for 29 with 12 strikeouts versus Kluber.
---