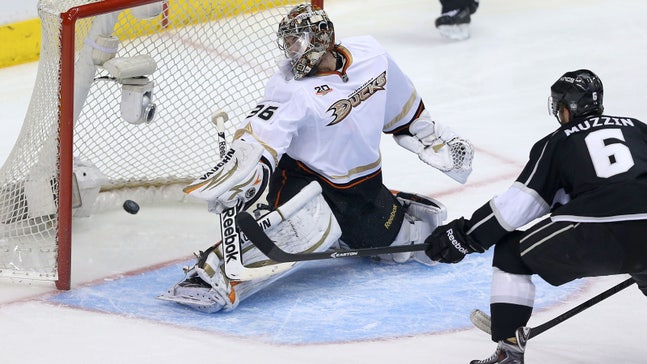 Kings force Game 7, beating Ducks 2-1
Published
May. 15, 2014 12:24 a.m. ET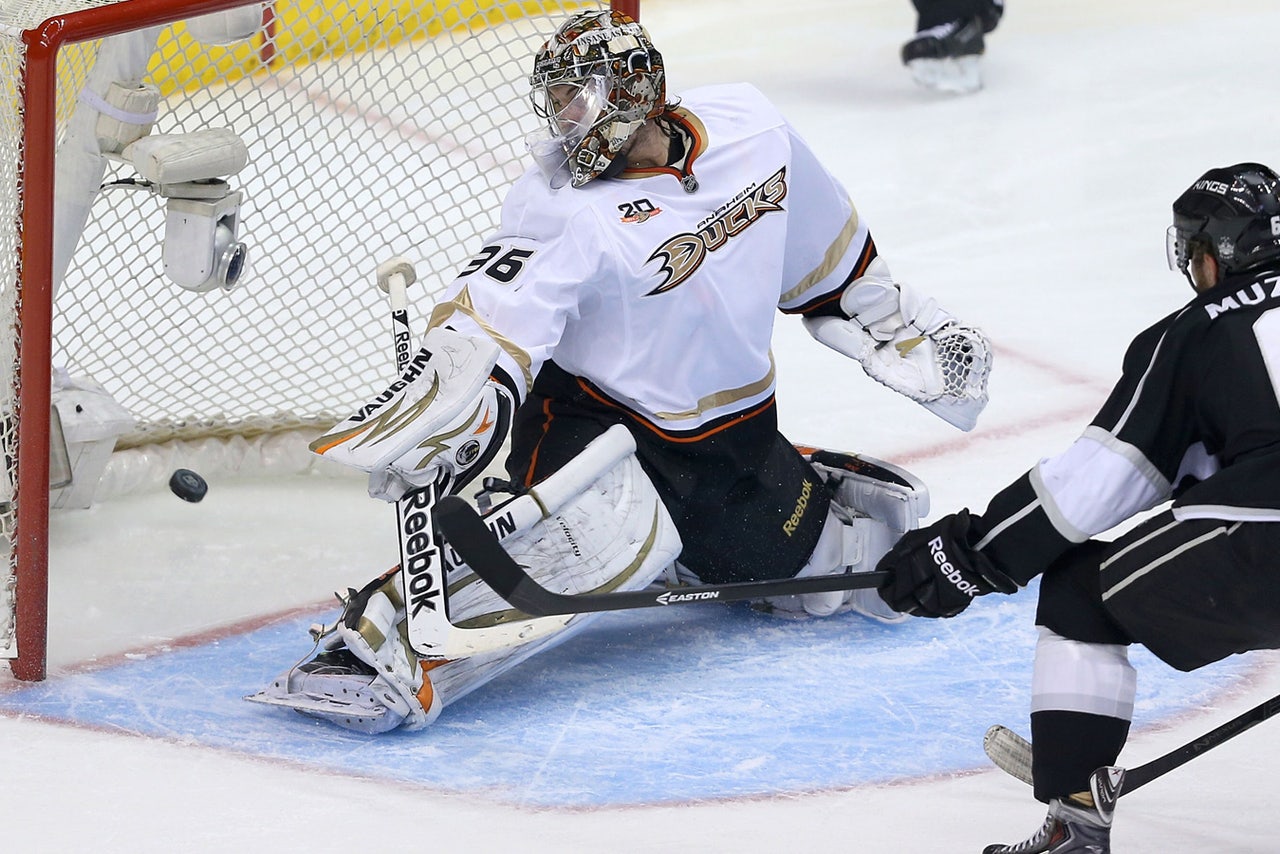 LOS ANGELES (AP) -- After conquering almost every conceivable obstacle in the Stanley Cup playoffs over the last few years, the pressure of an elimination game doesn't bother the Los Angeles Kings.
With goals from two unlikely sources and a vintage game from their star goalie, the Kings methodically made sure the first postseason Freeway Faceoff will go the limit.
Trevor Lewis scored his fourth goal of the postseason, Jonathan Quick made 21 saves, and the Kings forced a seventh game with a 2-1 victory over the Anaheim Ducks in Game 6 on Wednesday night.
Jake Muzzin scored an early goal for the Kings, who ended their three-game skid with another sturdy defensive effort at home. Los Angeles improved to 6-1 in postseason elimination games over the last two seasons while beating Ducks goalie John Gibson for the first time in his six-game NHL career.
The Kings clearly have a hunger for high stakes. The top-seeded Ducks will find out how they taste in Game 7 on Friday night.
"Our team is built to play in these kinds of games," Kings defenseman Drew Doughty said. "Our leaders show the way, and everyone follows. We look forward to playing in these games. We're not nervous."
The Kings again proved their postseason credentials are unassailable after winning a Stanley Cup title in 2012 and returning to the conference finals last year. Responding to Anaheim's three straight wins with calm, intelligent defense, Los Angeles forced its second seven-game series of this postseason after rallying from an 0-3 deficit in the first round to stun San Jose.
Los Angeles largely controlled Game 6, shutting down the Ducks' power play and their top scorers. The Kings killed two penalties in the third period and survived the frantic final seconds with barely a hiccup.
"It's a result (of the fact that) this group has been through a lot of things, being in these very uncomfortable situations," Los Angeles captain Dustin Brown said. "When you have that trust and experience with each other, it puts it in perspective. We've been through a lot worse."
Kyle Palmieri scored and Gibson stopped 21 shots for the Ducks, who could have clinched their first trip to the Western Conference finals since 2007.
The Southern California rivals' scintillating first postseason meeting is the NHL's only second-round series still going. The winner of Game 7 at Honda Center faces the defending Stanley Cup champion Blackhawks, who will have four days before the conference finals open Sunday in Anaheim or Chicago.
"They were up 2-nothing on us, (and) we beat them three times in a row," Ducks forward Andrew Cogliano said. "It's pretty tough to beat them four times, but I thought we were right there. We were one shot away and I thought we let a couple parts of our game slip a tiny bit, so we'll have to regain those and bring it back to our building where our fans are."
Four days after Gibson made his NHL playoff debut at Staples Center by shutting out the Kings to even the series, the 20-year-old goalie had a rougher time in his third postseason game. Lewis scored on an eminently stoppable shot, the puck trickling between Gibson's pads in the second period.
"I should have had it," Gibson said. "I missed it, and that's the game. ... Missed it. It happens."
Quick finally outplayed his young rival, and the Kings forced Game 7 despite getting just one goal from Jeff Carter and none from Anze Kopitar, Doughty, Brown, Justin Williams, Slava Voynov or Jarret Stoll in the series.
"Quickie made big saves when he had to, but I didn't think he had a lot of work," Doughty said. "Most of their chances were from the outside. That's how we want to play."
Los Angeles took the lead midway through the first period when Kopitar slid a pass through the slot to Muzzin, who hit a mostly open net for the defenseman's third goal of the postseason, his first in 11 games.
Kopitar got his seventh assist of the postseason and extended his overall NHL playoff scoring lead, while Marian Gaborik scored his 13th point in 11 games with the other assist.
Gaborik nearly scored his sixth goal of the series later in the period, but the puck hopped over his stick after Gibson ventured far from his net and banked a clearing attempt off teammate Ryan Getzlaf's leg.
Lewis doubled the Kings' lead with an innocent-looking wrist shot that sneaked between Gibson's legs for his first bad goal of the postseason. Lewis, a grinding forward, scored just six times in the entire regular season.
The Ducks scored 1:38 later when Nick Bonino jumped on Tanner Pearson's turnover and got it to Palmieri, who wrapped it around Quick's net for his first playoff goal since Anaheim's first-round opener.
Anaheim had two power plays in the third period, but the unit that scored five goals in the previous four games couldn't connect.
NOTES: F Kyle Clifford returned to the Kings' lineup after a one-game benching, replacing Jordan Nolan. ... Kopitar has points in 12 of the Kings' 13 playoff games, but hasn't scored a goal in this series.
---