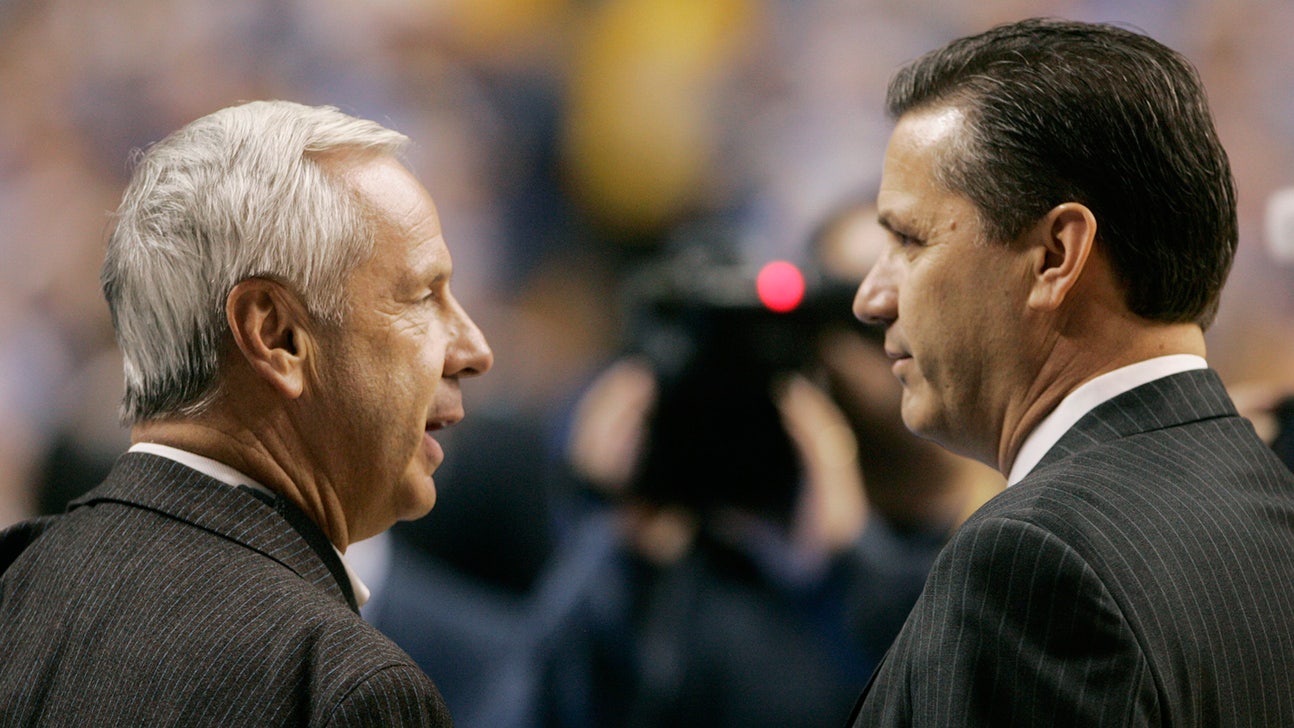 Kentucky, UNC bring young talent to anticipated meeting
Published
Dec. 13, 2013 1:36 p.m. ET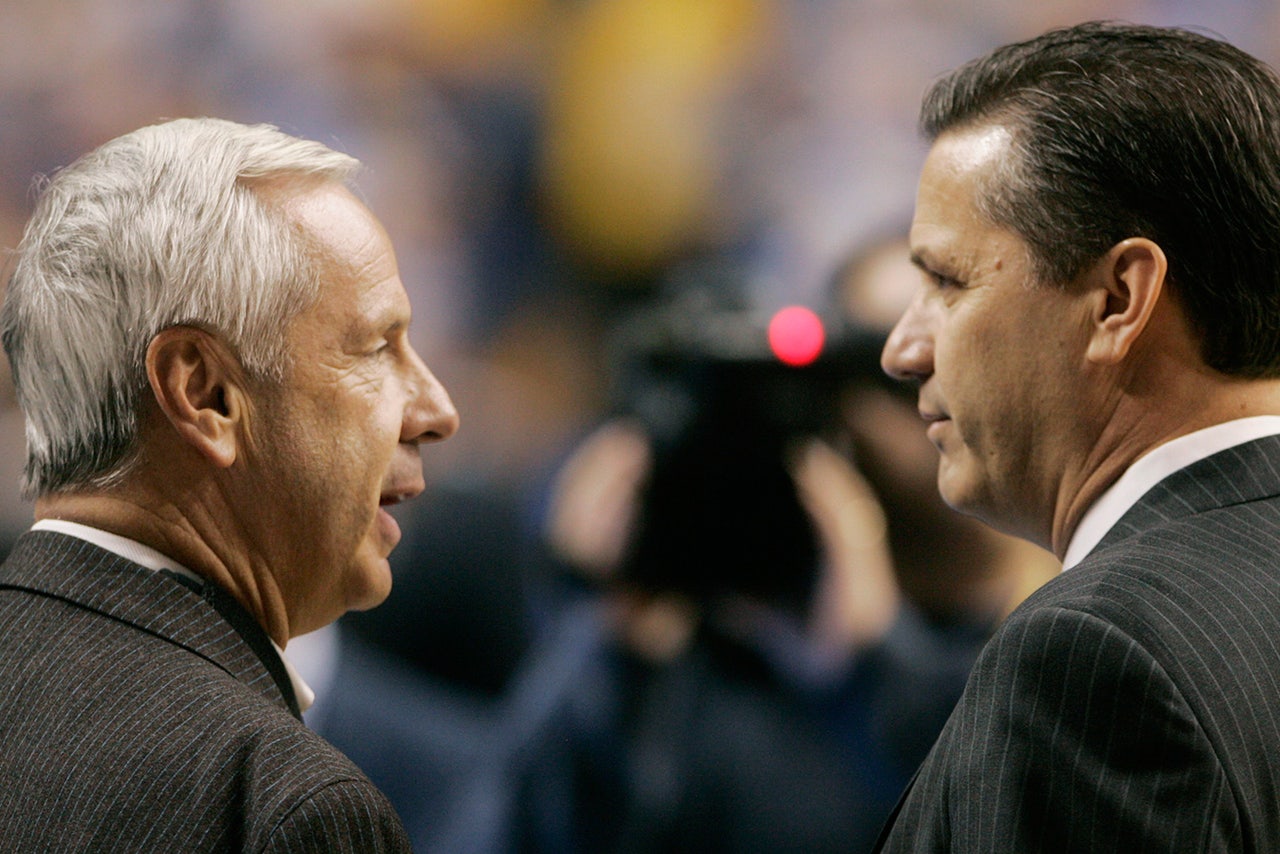 CHAPEL HILL, N.C. -- The first memory UNC sophomore guard Marcus Paige has of the Kentucky and North Carolina series was when he was 16, watching John Wall, DeMarcus Cousins and company take on a North Carolina team that was hardly full of big names (young versions of John Henson and Tyler Zeller being the exceptions). 
"I'm pretty aware of the history of the individual programs. I don't know how far back in terms of a rivalry it goes," Paige said. "I've only been watching them play each other since 2009 when Kentucky had John Wall."
Paige is 20 now, a seasoned veteran in today's world of college basketball. But even the last meeting between the two schools -- just barely two years ago now, in December 2011 -- seems like a distant memory, as almost every player who saw the floor on either team is gone. Five of UNC's nine players who saw time were picked in the NBA Draft, and two more graduated. There are two left -- juniors James Michael McAdoo and P.J. Hairston (who is also being held out as he waits for an NCAA ruling). 
As for Kentucky, there are none. Kentucky won the national title that season, and six of its eight players that saw playing time against UNC were drafted. Kyle Wiltjer, a freshman forward at the time, transferred to Gonzaga.
This is the college basketball world that we live in today, where players are in and out, particularly at the highest levels. That, in combination with how many more high-profile non-conference games are played nowadays in the early season, means that annual matchups like this one aren't quite as powerful as they once were. 
This one just feels different, though. These are two of the three winningest programs in college basketball history, and in terms of history, only Kansas can boast of having one as rich or as storied as these two. There's a certain feel of significance to it because of what both schools mean to the sport. 
Oh, and the games have been pretty fun too. 
Before Calipari, Kentucky lost by nine points or more to UNC in four out of five meetings from 2004-2008. Kentucky is 3-1 in the Calipari era against UNC, but all four games have been decided by a total of 12 points. Three were decided by two points or less, including the 2011 meeting, sealed by an Anthony Davis block of a Henson jumper. 
The interesting wrinkle Calipari has added to this rivalry is having a team of very talented freshmen that are trying to find their way at this point in the year. The lone exception was the 2011-12 team that won it all and just dominated most opponents from the jump. It wasn't like that in the 2009-10 season, when Paige first started observing the series, and it hasn't been like that since. This year's Kentucky team is already 7-2 -- hardly a bad record, but it's going through growing pains. 
"Freshmen coming in with all the hoopla that they had tend to a lot of times try to live up to that. I think (Calipari) has proven for many years that he can get highly-skilled players and get them to focus on the team aspect of it," Williams said. "(Kentucky has) 129 assists and 132 turnovers. You watch them during the course of the season, that stat is going to get a heck of a lot better because a lot of those turnovers are attributed to being freshmen. But they are an unselfish bunch, and that part is going to get better and better."
This year, Williams can understand quite a bit of what Calipari is going through. Two of his three freshmen -- Nate Britt and Kennedy Meeks -- have played huge roles in UNC's victories over top-10 opponents and struggled at times in the Tar Heels' two losses to mid-major programs.
For Williams, it's out of necessity. Without Hairston and McDonald, Britt, a freshman point guard out of Oak Hill Academy, has had to start and play significant minutes. That pushes Paige to the two-guard spot, and has forced McAdoo to play out of position at the three more than he'd like. And all of UNC's main post players are freshmen and sophomores.
Williams and Calipari have one thing in common: they're not patient. They want to push their young players to get better in a hurry, because they like winning. 
But as with most young teams, there isn't much consistency. 
Really, the Tar Heels' record (6-2) stands where most thought it would with or without Hairston and McDonald. But the way it has gotten there -- losing to Belmont at home before beating then-No. 3 Louisville; losing at UAB only to beat then-No. 1 Michigan State on the road -- is not how most thought it would play out. And so when longtime Kentucky beat writer Jerry Tipton submitted a question for Williams at Thursday's press conference about how the head coach could reconcile his team's wild swings, Williams could only smile. 
"Tell Jerry to think, because if I knew how to reconcile it, we wouldn't have had it in the first place," Williams said with a laugh. "It's young teams. It's college basketball. It's parity. It's all those kinds of things. ... The young teams don't ever understand how high you need to play and have that intensity level, how high, and how consistent you need to be with it."
Even the players don't really know how to explain it.
Paige said that while he wasn't surprised by UNC's wins over ranked opponents, he would wake up the morning after the Belmont or UAB games and wonder how that had happened. 
"The next day after a loss, I find myself thinking that, like, 'Man, what happened last night?' But after wins, I pretty much go into every game expecting that we're going to play fantastic and win, just because as a competitor, that's what you have to do, especially at this level," Paige said. "The losses are a lot tougher than the wins."
The inclination would be to pick UNC over Kentucky, since the Wildcats have yet to beat a ranked team (0-2 against Michigan State and Baylor) while the Tar Heels seemingly only play well against ranked teams. 
But it's hard to know what to expect out of either team. 
Williams is still feeling out the best lineups to use on a game-to-game (sometimes minute-to-minute) basis, because every lineup he puts out there gives the Tar Heels an advantage in one area while sacrificing something else in another. The starting five -- Britt, Paige, J.P. Tokoto (the only natural wing available), McAdoo and sophomore center Joel James -- hasn't changed much. But he's experimented with plenty of other lineups, bringing freshman Kennedy Meeks and sophomore Brice Johnson off the bench to play the four and five. 
James, a big body without much basketball experience, is still a work in progress, but Williams likes what he can do defensively. Meeks and Johnson aren't as strong in that area, but they can score and score in bunches. In UNC's wins over top-five teams, the two forwards put up a combined 55 points and 30 rebounds in a total of 86 minutes, making 23-of-32 shots. 
That's pretty efficient production. 
"It's strange because Kennedy (Meeks) and Brice (Johnson) give us a lot more offensively and a lot less defensively," Williams said. "When we go big sometimes with Marcus (Paige) and J.P (Tokoto) at the two and James Michael (McAdoo) at the three, it gives us more size but not nearly as much ball-handling as we have with Nate (Britt) and Marcus both in the game.
"So there's no lineup that I'm married to every game. I was really frustrated with some of our inside play defensively in a couple games, but again, Kennedy and Brice have an ability to score. So you've got to balance out, are they making you end up on the positive side?"
The Tar Heels are going to need plenty of that inside scoring against Kentucky, a team that (per Ken Pomeroy's statistics) is seventh nationally in block percentage and second nationally in two-point defense (allowing opponents to shoot just 38.4 inside the arc). UNC scores over 66 percent of its points from inside the 3-point line. (In fact, UNC has made the fewest 3-pointers of any team in the country this year). 
Williams would love to have a bit more balance, but teams are keying on slowing down Paige, who has made all but three of UNC's made 3-pointers this season. He's shooting 39.2 percent from beyond the arc while the rest of the team combined is shooting 11.5 percent.
"We still have to have more distribution of guys making 3-point shots. You've heard me talk so many times about balance. You need to score inside and outside," Williams said. "It's strange because last year, the second half of the season we were out of balance completely in favor of 3-point shots. And now we're out of balance completely in favor of the inside play."
They'll need to find that balance against Kentucky's front line.
Kentucky's standout freshman Julius Randle has been absolutely beastly for the Wildcats, averaging nearly 18 points and exactly 12 rebounds a game. Sophomore 7-footer Willie Cauley-Stein has more blocks on his own (43) than UNC has as a team (36). 
"They do a great job of protecting the rim," Williams said. "So you've got to understand that they are going to try to block your shot. You've got to go strong. ... If you go in there soft, it's going to come back hard."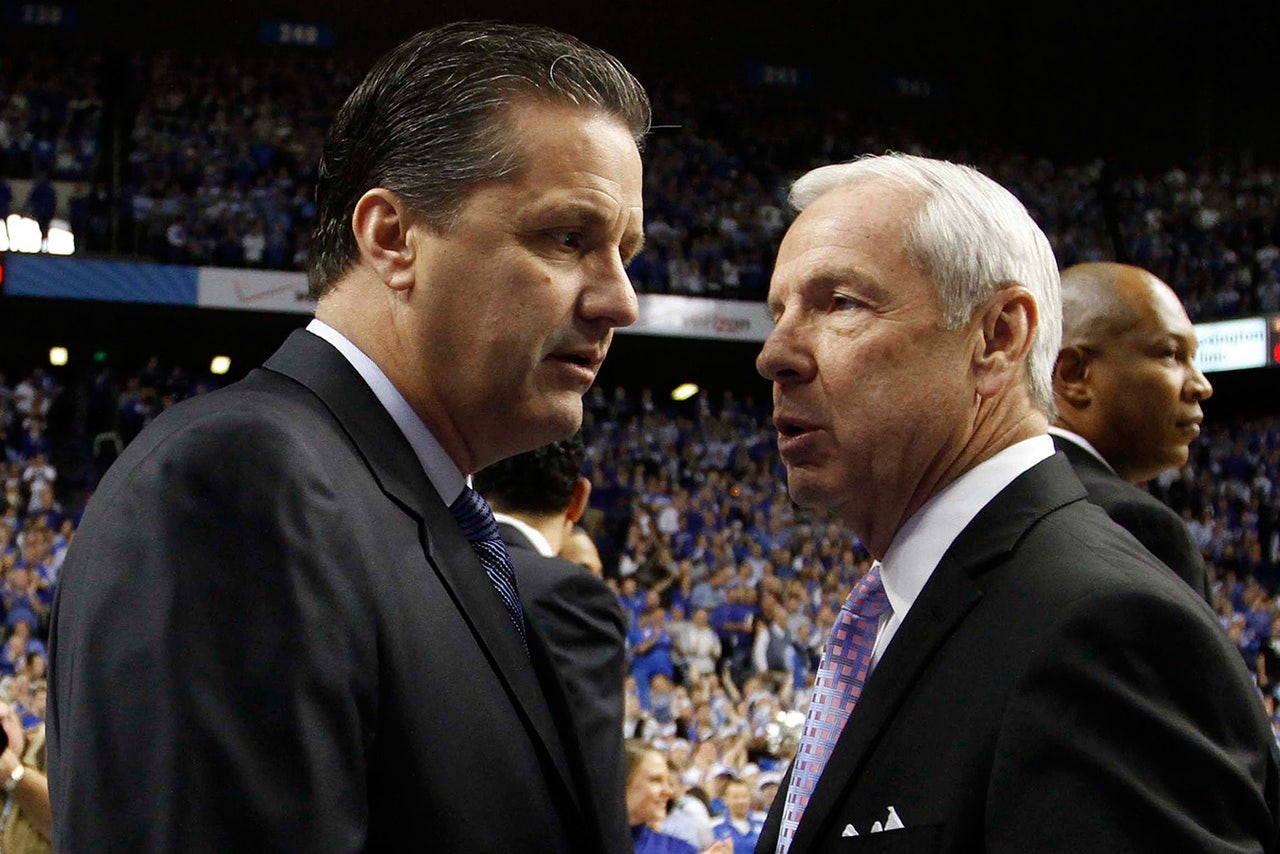 Roy Williams and John Calipari have combined for three NCAA titles over the past nine seasons.
---