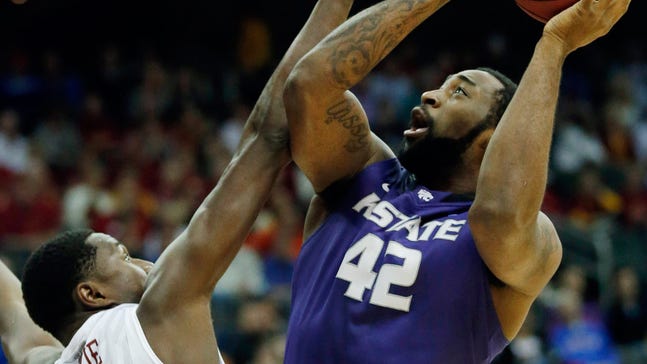 K-State's Gipson giving up the NFL dream -- for now, at least
Published
May. 6, 2015 12:53 p.m. ET

LEAVENWORTH, Kan. -- A month ago, Thomas Gipson was being talked about in the same breath as Tony Gonzalez and Antonio Gates.
But the former Kansas State basketball standout has kind of let the air out of the pro football dream. For now, anyway.
"We decided not to do it," Gipson told FOXSportsKansasCity.com when asked about his pursuit of an NFL contract.
"It was an uphill battle just to figure out the Xs and Os of everything, just the offenses -- it would take me two years, or maybe even more. So we just decided not to do it."
The 6-foot-7, 265-pound Gipson, who averaged 11.3 points and 5.3 boards for the Wildcats as a senior, raised some eyebrows in April when he conducted a workout in which the power forward ran a variety of pass routes for the Green Bay Packers. And he certainly showed the hands for it:
The Packers -- who already have one hell of a K-State receiver on their roster in Jordy Nelson -- have gone the college hoops route before, reportedly looking at then-Wisconsin-Milwaukee forward Demetrius Harris in 2013 as a potential pro tight end. The 6-7 Harris proved to be just that, only with the Kansas City Chiefs.
"I mean, it was cool," Gipson said of his NFL toe-dip. "But I guess it's just not my thing.
"The Green Bay Packers (called), but that was it. But it was a good experience. It can't say that I didn't do it, so it was fun."
You can follow Sean Keeler on Twitter at @SeanKeeler or email him at seanmkeeler@gmail.com.
---