UCF Knights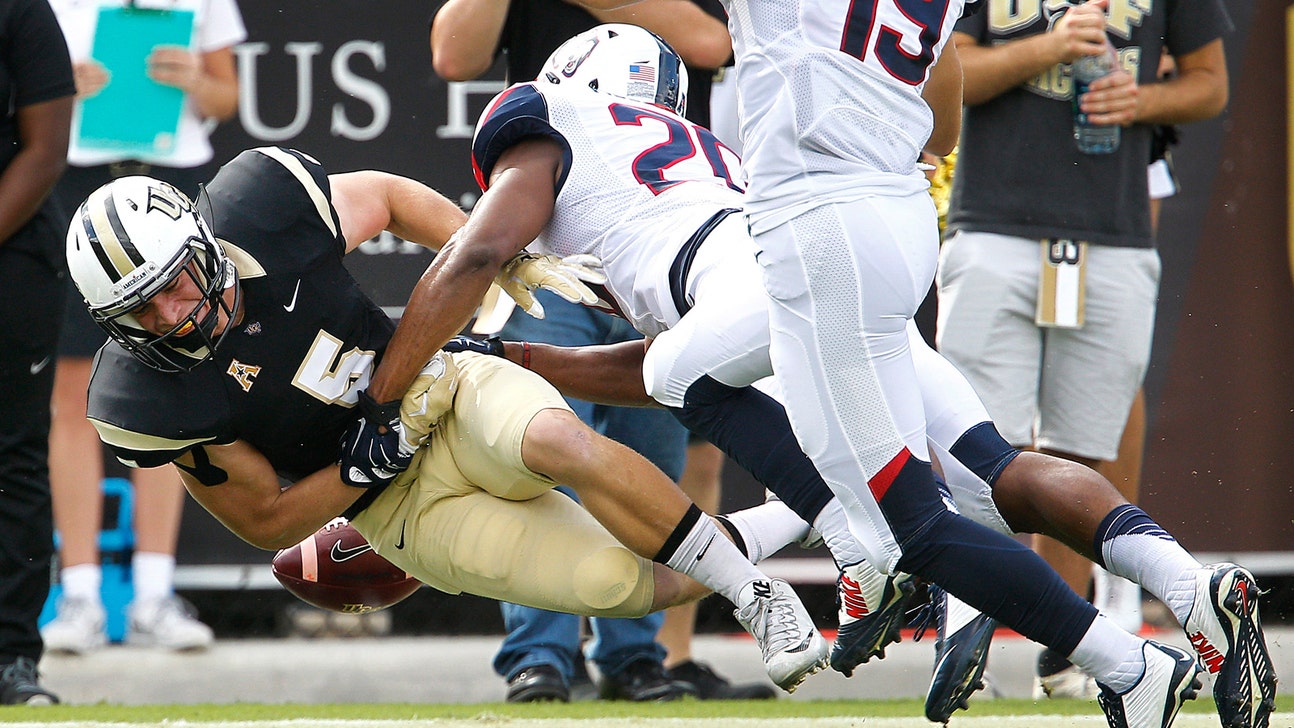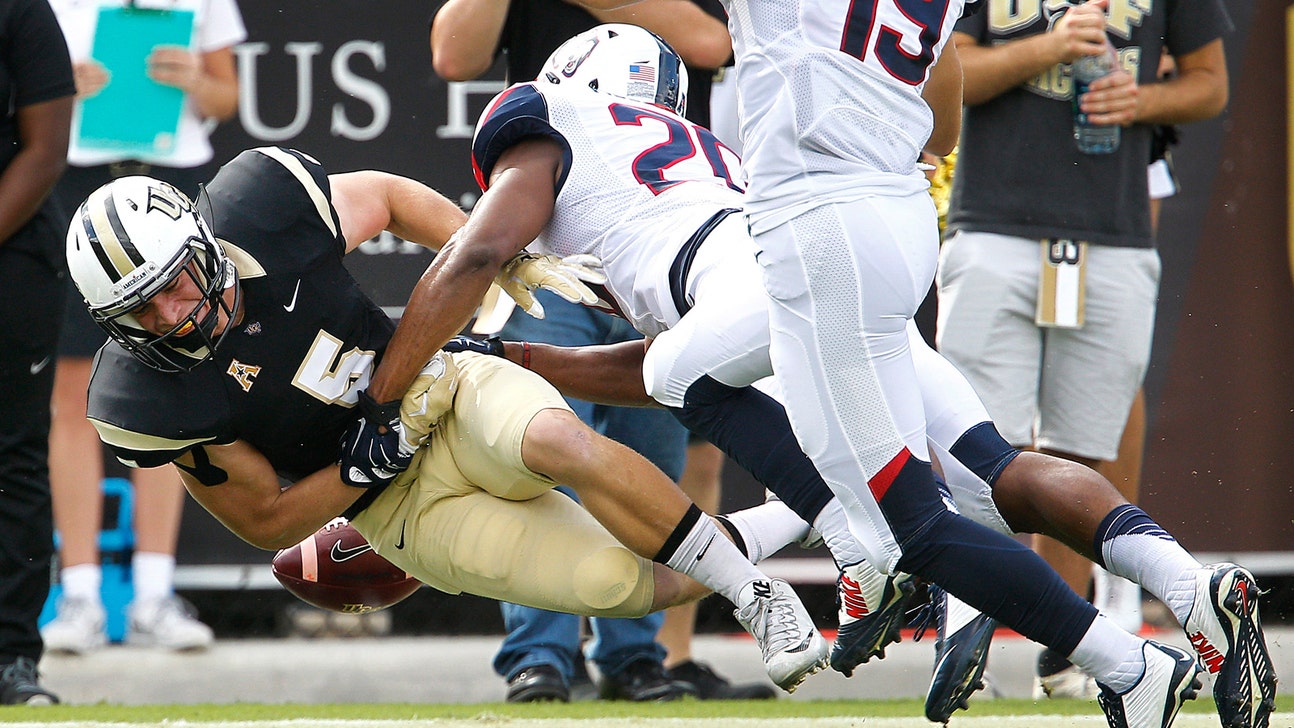 UCF Knights
Justin Holman's return not enough for UCF in shellacking at hands of UConn
Published
Oct. 10, 2015 7:33 p.m. ET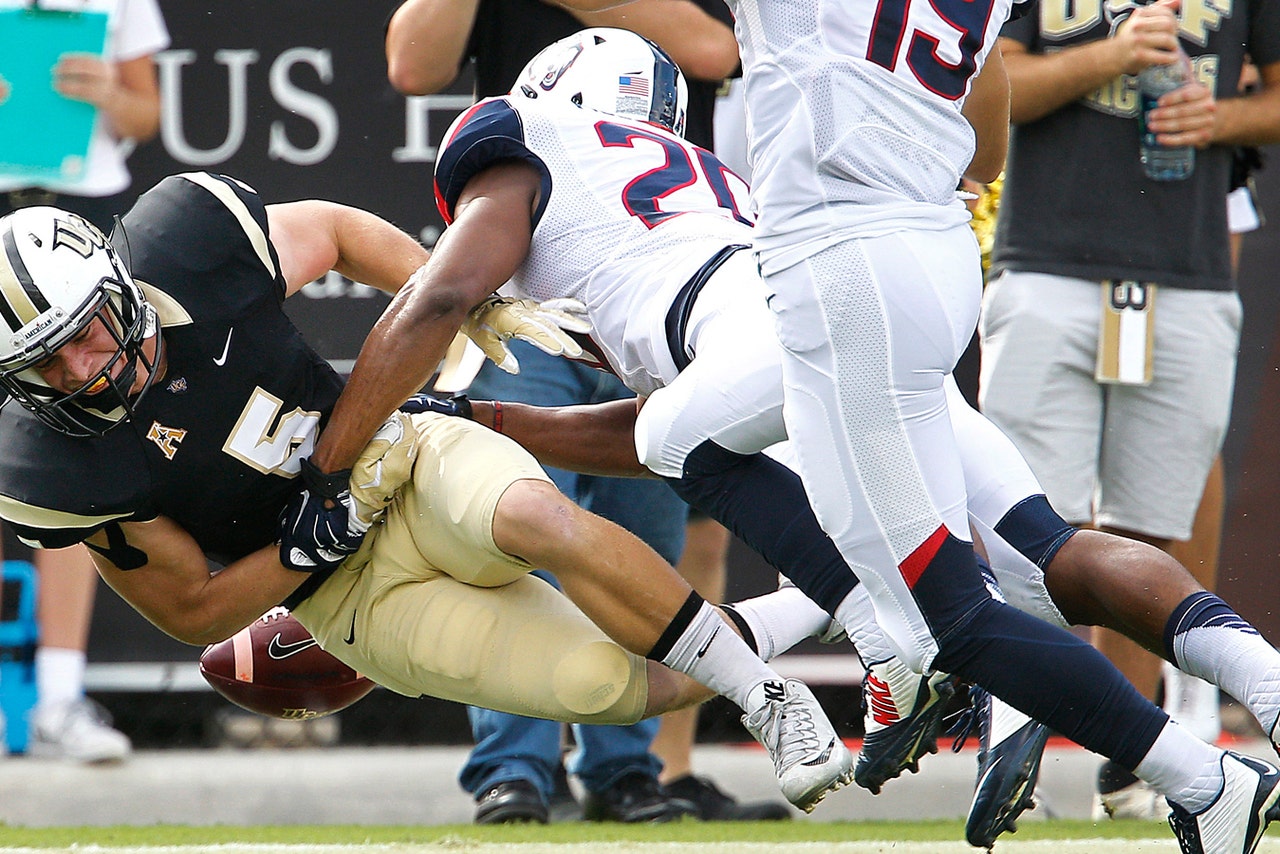 ORLANDO, Fla. (AP) -- Rivalry or not, UConn's game with Central Florida on Saturday was more about snapping streaks and securing a road win instead of a trophy as the Huskies smashed the Knights 40-13 in an American Athletic Conference contest.
Bryant Shirreffs threw for 256 yards and a touchdown and rushed for another score while Arkeel Newsome scored twice and the Huskies (3-3, 1-1) snapped a three-game losing streak with their highest offensive output of the season. UCF (0-6, 0-2) remained winless.
Shirreffs posted his fourth 200-yard passing game in his first six career starts despite being sacked five times. He also took advantage of the short field set up by UCF turnovers -- three Huskies scoring drives started within the UCF 35.
Shirreffs generated two scores in the final 57 seconds of the first half, helping the Huskies turn a 9-3 lead into a 23-3 advantage. Shirreffs made it 16-3 when he plowed in on a 1-yard keeper two plays after Jhavon Williams' 19-yard interception put the ball on the UCF 9, then, after an Obi Melifonwu interception, Shirreffs connected with Noel Thomas for a 16-yard touchdown with 49 seconds remaining.
During the offseason, UConn coach Bob Diaco attempted to upgrade this series where the teams have only met twice, into a full-fledged rivalry, even creating a trophy that sat on the Huskies' sidelines. UCF wanted no part of the rivalry, saying its official rivalry is with nearby South Florida.
Afterward, Diaco was just pleased to get his first road win of the season. It was UConn's first win since 2013.
"We kept tapping at the rock and eventually, it's going to crack," Diaco said. "I feel like we were able to get all three phases of our game playing together for four quarters. It's great to get back to a winning way."
While UConn had everything going, the struggles of the injury-riddled UCF offense kept any sort of rivalry from developing.
After a 73-yard opening drive that produced Matthew Knight's 19-yard field goal, the Knights, who entered the game ranked 127th in the nation in total offense, managed just 53 total yards in the final 20 minutes of the first half.
Justin Holman, who was released by doctors last week after breaking a finger on his throwing hand against Stanford, was picked off three times and had numerous passes dropped, while the UCF running game managed just 60 yards.
"We just have a lot of kids out there who aren't ready yet," said UCF coach George O'Leary. "Too many easy scores, too many dumb mistakes. Not a good game."
Meanwhile, a Huskie offense that was averaging just under 16 points a game was rolling.
Ron Johnson and Newsome (84 yards on 13 carries) scored in the third quarter to extend the Huskies lead to 40-3. Newsome's touchdown was set up when Ellis Marder recovered a fumbled punt return on the UCF 16.
UCF's struggles were best showcased after Newsome's 5-yard touchdown gave UConn a 7-3 lead with 6:02 remaining. On the ensuing kickoff, UCF returner Hayden Jones ran one yard out of the end zone, then stepped back into the end zone and took a knee, resulting in a safety.
Holman finished 27 of 50 for 255 yards with an 11-yard touchdown pass to Nick Patti with 1:38 remaining.
"I don't know how many balls he (Holman) had dropped on him, but at least five or six were big potential plays," O'Leary said. "Those are what stall drives. He would have a really nice day otherwise."
Patti had a game-high six receptions for 58 yards for the Knights.
---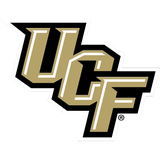 Get more from UCF Knights
Follow your favorites to get information about games, news and more
---