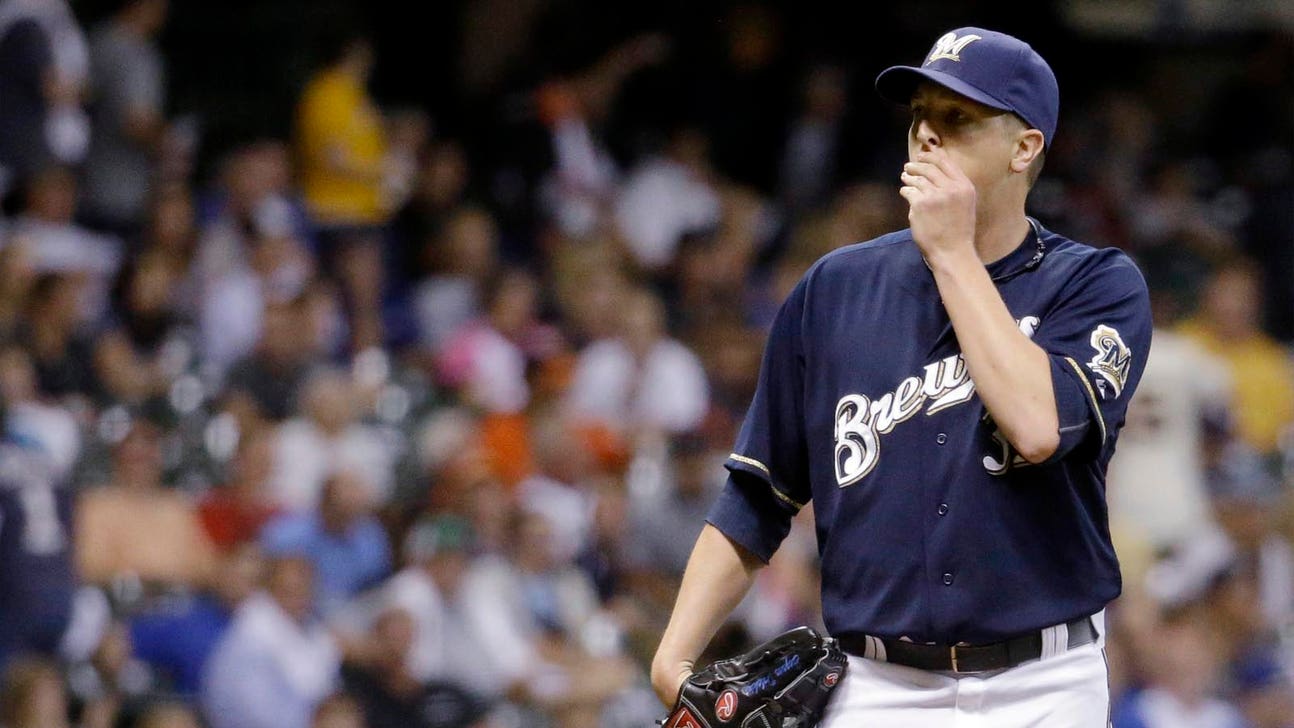 'Just one of those days' for Brewers pitching
Published
Aug. 7, 2014 1:23 a.m. ET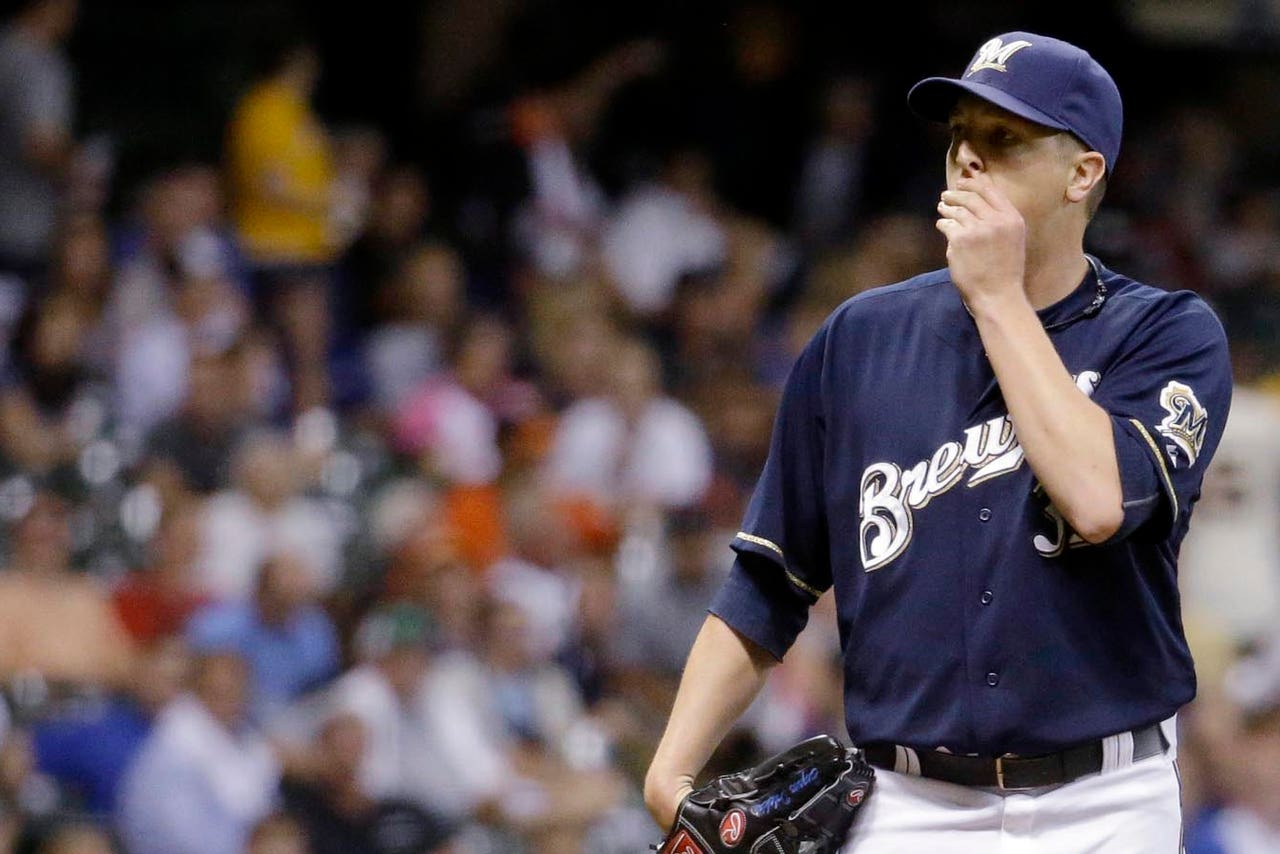 MILWAUKEE -- Inning by inning on Wednesday, the Milwaukee Brewers made loud outs, spraying line drives and deep fly balls all over the place with only one run to show for it through six innings.
The offense eventually got to Ryan Vogelsong and the San Francisco bullpen for four runs, but a big inning early and another one late helped the Giants to a 7-4 victory over the Brewers at Miller Park.
Entering with a 16 2/3 scoreless inning streak, Yovani Gallardo was off from the start, allowing three runs in a 30-pitch first inning. The right-hander lasted just four innings and allowed four earned runs on nine hits and four walks.
"It sucks. It definitely sucks," Gallardo said. "The past few starts I think everything was right in place. But you know what? That's how this game is. Sometimes there are certain things you can't explain."
Gallardo's command was all over the place, as he fell behind almost every hitter he faced. San Francisco quickly jumped out to a 1-0 lead on a Pablo Sandoval RBI single, while a two-out hit by Mike Morse made it 3-0.
Morse, who entered with a .103 batting average with runners in scoring position, collected a pair of two-out RBI hits against Gallardo.
"It was just one of those days," Gallardo said. "I can't pinpoint one thing. Obviously command was a big issue today. Especially against a team like that, you have to be able to command the ball.
"Early in the game I just left pitches up in the zone. I'd fall behind guys and have to throw the ball over the plate They took advantage of it."
Milwaukee's offense answered right back in the bottom of the first inning on a solo home run from Carlos Gomez, but the Brewers couldn't deliver the big blow to Vogelsong. Despite having five hits in the next three innings with numerous other balls hit hard, Vogelsong allowed just the one run in his six innings.
It wasn't until the seventh, but Milwaukee eventually got back in the game and trailed just 4-3 after a two-out, two-run single by Aramis Ramirez.
Instead of getting the Brewers back into the dugout and carrying on the momentum Marco Estrada created with three scoreless innings, Milwaukee's bullpen continued to scuffle. Brandon Kintzler entered to start the eighth and allowed back-to-back singles to Juan Perez and Hunter Pence to put runners at the corners.
After Brewers catcher Martin Maldonado threw Pence out stealing, Joe Panik lined a single to center to score Perez. Kintzler got Buster Posey to fly out to center for the second out, but left-hander Tom Gorzelanny coughed up a two-run home run to Pablo Sandoval to make it 7-3 Giants.
Kintzler has been trying to work his way back into a high-leverage role like the one he held last season, but he's battled inconsistency all year long.
"When we are losing ballgames in the late innings, it's hard to keep going to who we've thrown a lot this year," Brewers manager Ron Roenicke said. "I know it is a close ballgame, but we need Kintzler to get going and Gorzelanny has done a nice job for us.
"I think Kintzler is going to need to get it going for us to use him late in games. Hopefully it clicks with some of them and we get it going again."
The Brewers lost by allowing a big inning early and another one late. Although Thursday was Gallardo's shortest outing of the season in which he didn't get hurt, he's less of a concern than the bullpen because of how dominant he was in his last two starts.
Right now, Roenicke is struggling to find any consistent options in a bullpen that was so good earlier in the season.
"We were lights out," Roenicke said of the early-season success of his bullpen, prior to Thursday's game. "When Tyler (Thornburg) was pitching great and (Jim) Henderson was in there, it was a lot easier. Everybody I was putting in there at the time was not just getting through the inning, but 1-2-3. Now it has changed.
"Hopefully we get those guys back pitching where they were and then I don't have so many guys warming up and thinking about bringing guys in (during the middle of an inning)."
Follow Andrew Gruman on Twitter
---