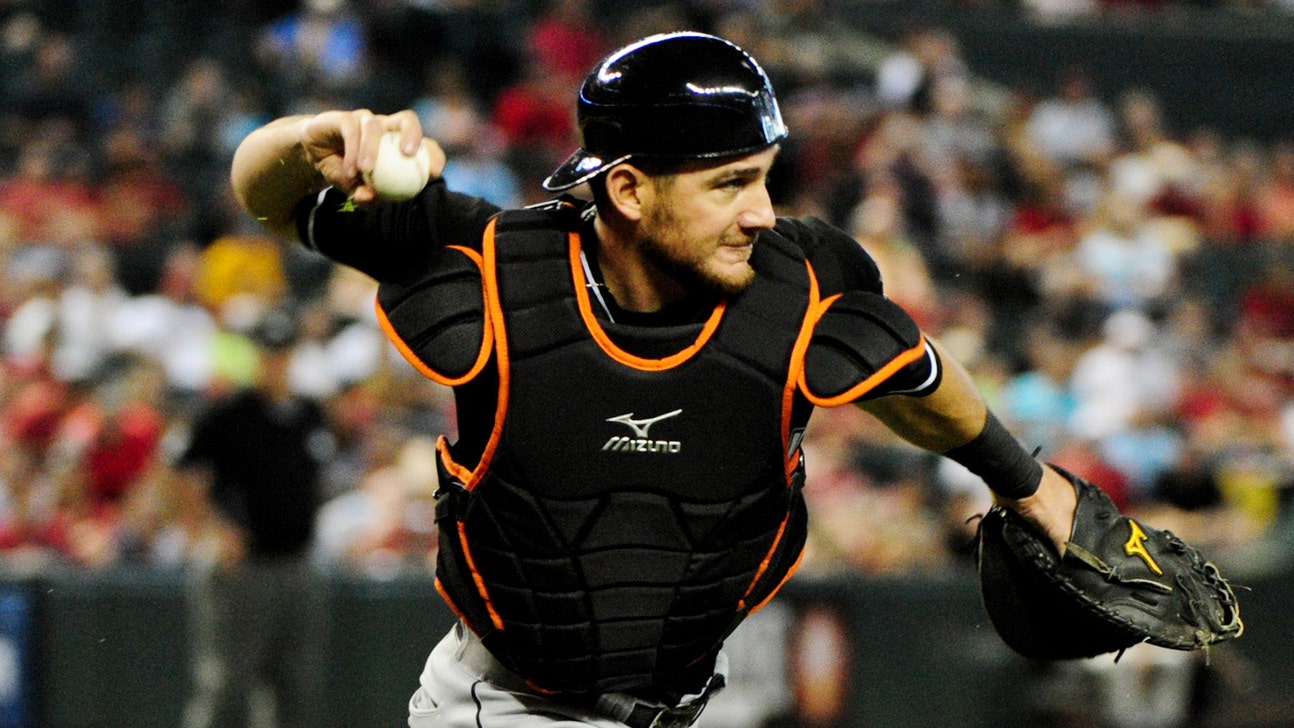 Jeff Mathis embraces role as Miami Marlins backup catcher, team leader
Published
Aug. 7, 2014 2:15 p.m. ET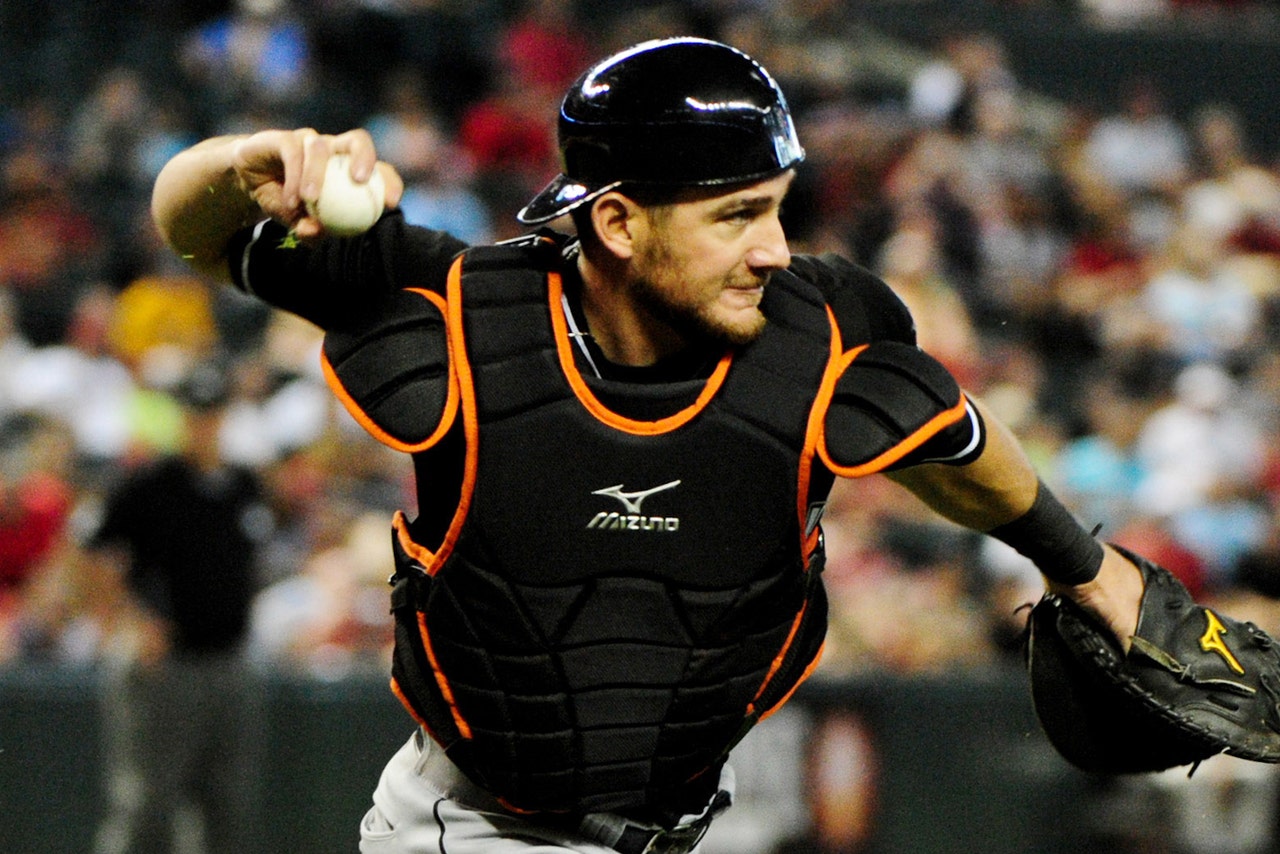 MIAMI -- When the Los Angeles Angels traded Jeff Mathis to the Toronto Blue Jays in December 2011, the former first-round selection would soon learn he wasn't just moving to another country.
The Blue Jays approached him, the Angels' primary catcher over the previous three seasons, about serving as the backup to J.P. Arencibia. Mathis, who hit .194 with 26 homers and 139 RBI in parts of seven seasons with the Angels, didn't produce enough at the plate to warrant full-time status.
Such a decision wasn't going to be taken lightly. Mathis, then 28 years old, mulled the offer for a week with his agent and family.
"I was still holding on to the belief," Mathis said of being a starter. "I wanted to be an everyday catcher. I still feel good enough. Everything still feels good but the way I'd played up until then -- the five years before that -- I really hadn't established myself as an everyday catcher.
"Once I signed that it was pretty much I was labeling myself as a backup catcher. When I did that I had to come to grips that I wasn't going to play every day. I had to accept the fact that I was going to play once or twice a week and do everything I could to help the ballclub out those days I wasn't in there."
It took both mental and physical adjustments to get used to the switch. Mathis learned how to prepare more and make the most of every opportunity.
While sitting on the bench, he and the pitchers could slow down the game more. In between starts, he watched every pitch thrown by both clubs' personnel. Mathis quickly discovered how tough it was to get in a rhythm with limited at-bats. The cages, batting practice and bullpen couldn't fully simulate a live game.
"I knew I wasn't going to be in there so I was sitting on the bench watching, picking up things," Mathis said. "Looking in their dugout, guys on the field, first-base, third-base coaches. Just really observing more than I would if I was in there every other day or possibly going in there. Just sitting there and really observing the game is probably the reason I've been able to learn a lot more over the last couple of years."
Mathis batted .218 with eight homers and 27 RBI in 71 games -- his fewest appearances since 2007 -- in his lone season with Toronto. Then the Blue Jays shipped him to Miami as part of the 2012 blockbuster trade.
Fittingly enough his new manager, Mike Redmond, spent 13 big-league seasons as a backup catcher with the Florida Marlins, Minnesota Twins and Cleveland Indians. He was a .287 hitter with 13 homers and 243 RBI in 764 games.
If anybody could appreciate the importance of Mathis' role on the club, it would be Redmond.
Last season, Mathis took over for a struggling Rob Brantly and played in 73 games. Though he hit just .181 with five home runs and 29 RBI, his impact was -- and has always been -- defensively. His 33.3 percent caught stealing rate ranked fifth in the majors and his .990 fielding percentage is 88th all-time.
It's no coincidence the staff set a franchise record for lowest ERA. His catcher's ERA was an impressive 3.17 -- the exact same as St. Louis Cardinals Gold Glove winner Yadier Molina.
This past offseason, the Marlins signed World Series champion Jarrod Saltalamacchia to a three-year deal. Though Mathis would resume backup duties, the club now had two experienced backstops.
"A lot of people know how good this guy is and he's very well-respected in this league," Redmond said. "Like most backup catchers, they don't get the notoriety for what they do. I would say it's like being a lineman in football. You have such a huge role in the team but you don't get a whole lot of credit for it other than the quarterback.
"That's the backup catcher. He's a guy who understands his role, knows his role, helps not only the young pitchers but young players. Guys like (Christian) Yelich and (Marcell) Ozuna and all those guys. Not just as a player but as a mentor. That's huge."
Southpaw Brad Hand has impressed since his return to the rotation, posting a 2-2 record and 2.72 ERA in seven starts.
Over Hand's past four outings, Mathis has caught three of them. In those games, Hand went at least seven innings in each and gave up five total runs on 14 hits.
"He calls a great game back there," Hand said. "I always feel comfortable with what he's putting down. He's a great teammate. Even when he's not in the lineup he's on the top stairs rooting us on. He means a lot to this ballclub."
That's why when the Marlins dropped a 3-1 game to the Cincinnati Reds last Thursday after a controversial call reversal at home plate, no one blamed Mathis. Rule 7.13 be damned.
After all, his catching guru and former coach was none other than Mike Scioscia.
The Angels manager, once a 13-year big leaguer, invented a technique for blocking the plate and making a tag that went against the grain. He preferred to hold the ball in his mitt rather than his bare hand. Scioscia also positioned his body by kneeling on both knees and turned to the side to avoid home-plate collisions.
"What he does behind the plate -- he's as good as any catcher I've seen," Redmond said of Mathis. "He understands situations, pitching, pitcher's strengths, how to prepare, how to break down a lineup. He blocks the ball. He does all the things that you ask a catcher to do. I have so much confidence in him when I put him back there in a game."
Now 31 years old, Mathis doesn't look back on how his career took a turn following that trade from the Angels to the Blue Jays. In 47 games this season, he is hitting .198 with five doubles, two homers and nine RBI. Since July 31, he has started four contests to give Saltalamacchia breathers.
Two days after the controversial call, Mathis was once again in the lineup. He would score the game-winning run on Yelich's walk-off single in the 10th inning. Teammates greeted him at home just as enthusiastically as they did Yelich.
"I'm just happy I'm here and I'm able to contribute the days I do get to play," Mathis said. "You've got to take it for what it's worth and when your number's called be ready to go."
---