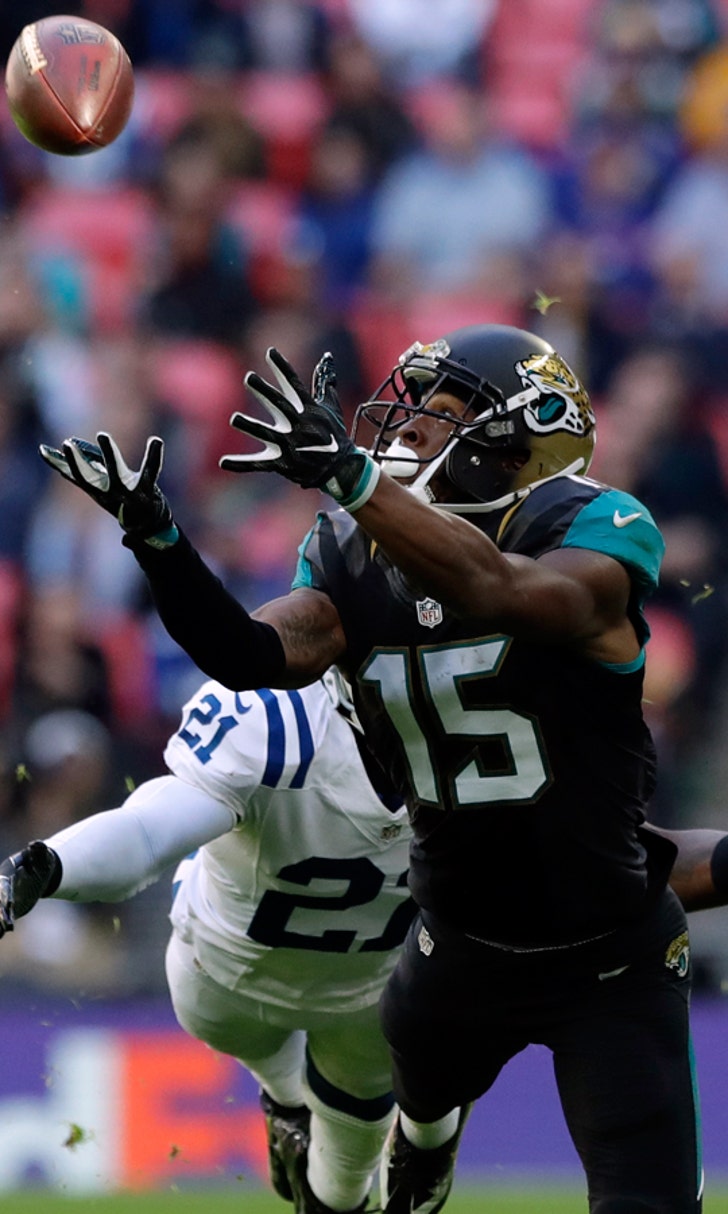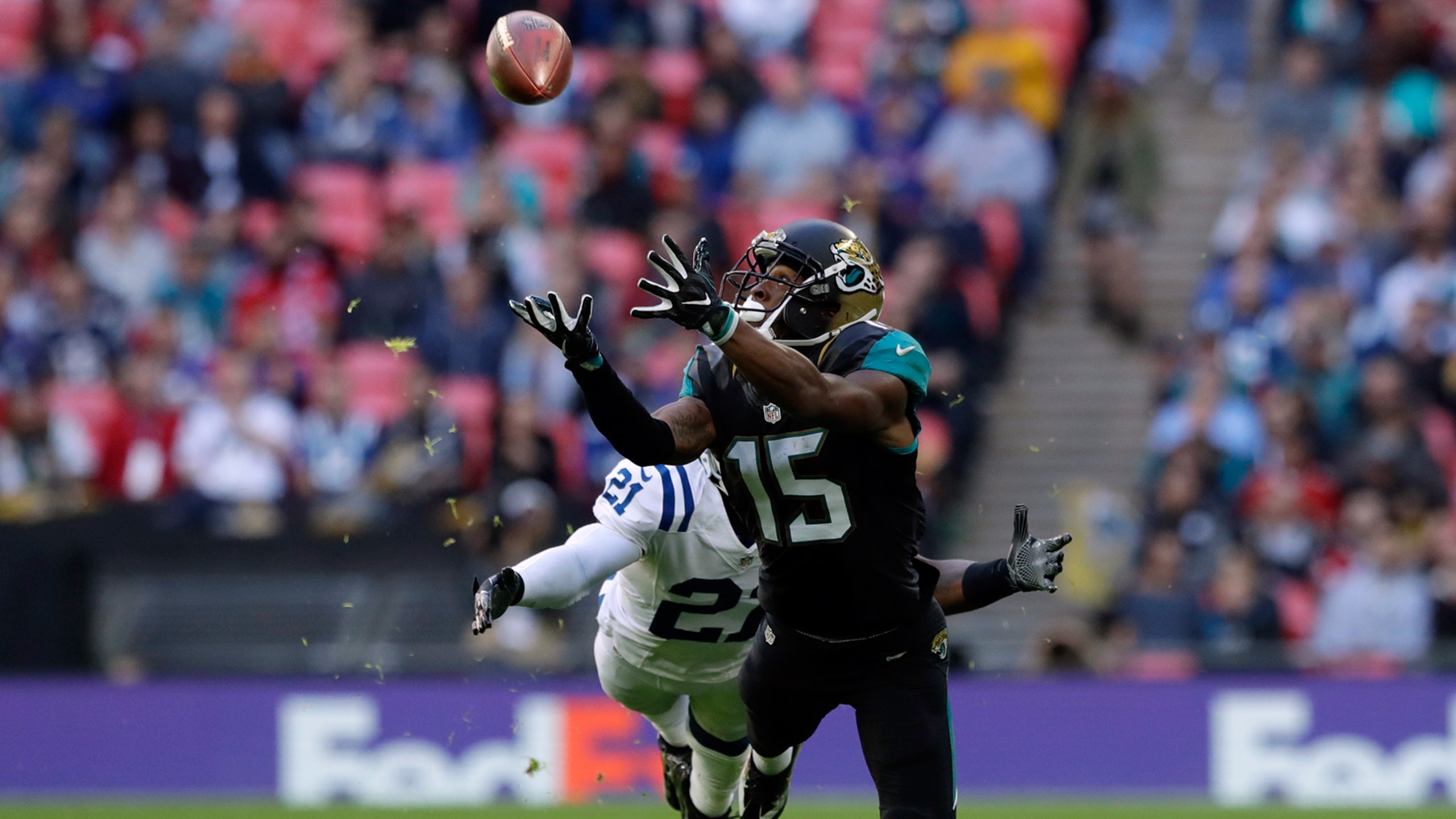 Jaguars withstand late rally, beat Colts in London for first victory
BY foxsports • October 2, 2016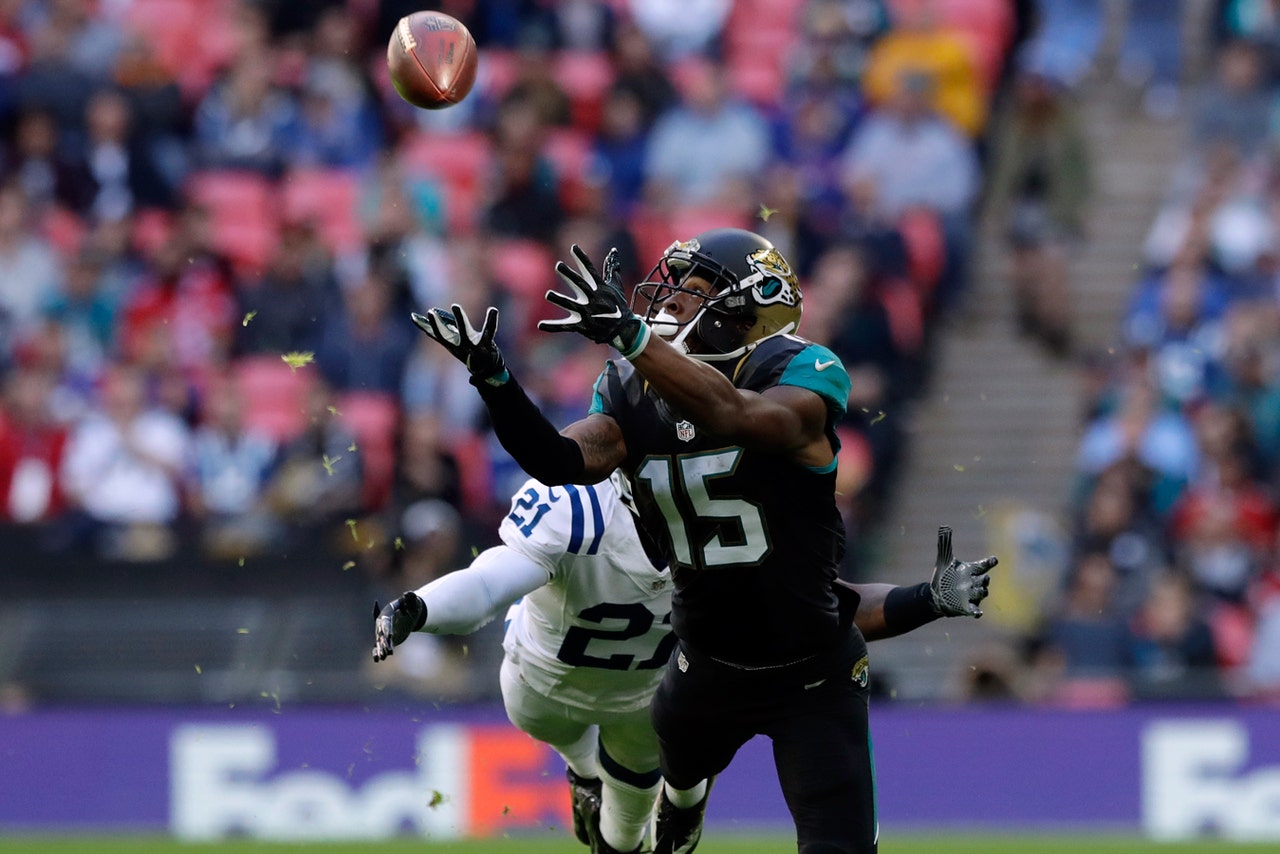 LONDON (AP) -- The Jacksonville Jaguars survived another crazy fourth-quarter shootout in London.
For the second consecutive year, wide receiver Allen Hurns had the clinching touchdown for the Jaguars, who often rely on big plays from Hurns and fellow wideout Allen Robinson.
Hurns sometimes gets less attention than Robinson, but he has been the Jags' game-breaker in their British second home at Wembley Stadium.
Last year, Hurns' diving 31-yard reception to the left pylon with barely a minute left lifted his team to a comeback victory over the Buffalo Bills.
On Sunday, he did it again, taking a short reception and using his elusiveness to beat the Colts' defense for a 42-yard touchdown with 5 minutes left in the fourth quarter of the Jaguars' 30-27 win over the Colts (1-3).
Hurns' score -- his first touchdown of the season as well as his longest reception -- put the game beyond the reach of Andrew Luck despite the Colts' three fourth-quarter TDs.
Hurns and Robinson say there's something special about playing in London, where Wembley's 84,000 seats are sold out for every "match" and the Jaguars are being marketed with increasing effectiveness as the home team.
On Sunday, thousands waved Jaguars' yellow banners and turned up the volume whenever the Colts had the ball.
"We had a lot of fans out there," said Robinson, who caught the game's first touchdown on an inside slant from the 3-yard line to give the Jags (1-3) a 7-0 lead.
He said the Jaguar tunnel, the roaring crowd and the sea of yellow flags of support made it feel "like a real home game."
Hurns downplayed his role in his score, crediting teammates with key blocks.
But he said Jacksonville really needed this win after two narrow defeats at home to the Ravens and Packers left teammates questioning whether they could hold on for a win.
"Knowing how close we were these last couple weeks, to be able to close out a game, that meant a lot to the team," Hurns said.
Here's other take-aways from the Colts-Jags matchup.
COLTS NEED MORE THAN LUCK
They need a commitment to a running game.
The Colts have failed to get a 100-yard running performance since 2012, longest stretch in the league. The Colts signed Frank Gore, but do not get him the ball enough to wear down other teams' defenses and take pressure off Luck.
On Sunday, behind a patchwork offensive line starting two rookies on the right side, Luck was sacked six times.
Once again an early turnover -- this time on a pass tipped by Dante Fowler, in Luck's face within a second of the snap, to teammate Yannick Ngakoue for an interception -- led to the Jaguars' first touchdown.
"We had some success on the ground, but we couldn't get anything going in the pass game, obviously," Colts coach Chuck Pagano said. "And they did a nice job mixing things up, pressuring our quarterbacks."
Gore's 16 carries gained 68 yards and he added 27 yards on receptions.
Gore said he understood why he wasn't running more in the second half: The Colts were too far behind.
"We've got to come from behind (and) score quick. We've got one of the top quarterbacks at his position and great receivers, and if we've got to score quick, how can you try to run the ball when you're down 23-6? It's tough," he said.
TIGHT END WOES
The Colts' tight ends, usually among Luck's favorite options, had a Sunday to forget.
Jack Doyle made what looked like the game's biggest play for the Colts, a 53-yard scamper from Luck's rollout, but the Jaguars successfully challenged the call that Luck had avoided a sack before his throw. Replays showed Luck's left knee on the turf before his pass to Doyle.
Dwayne Allen struggled. He dropped a sure first-down pass that preceded Luck's interception. Allen did catch his next two passes for 20 yards -- but killed the Colts' final drive by dropping another ball hitting him in his hands on fourth-and-1.
BAD NEWS, BEARS
Both the Jags and Colts have a chance to improve their records in successive weeks versus the NFC North's Bears.
The Colts will host Chicago (1-3) next Sunday, going without a bye week -- unusual for teams following their sleep-depriving 8-hour commutes to London. The Jaguars are taking a bye week, then play Chicago on the road the following weekend.
After the Bears, the Colts face a pivotal duo of games versus AFC South rivals Texans (3-1) and Titans (1-3), both on the road. The Jaguars host the Oakland Raiders before traveling to Tennessee.
---
---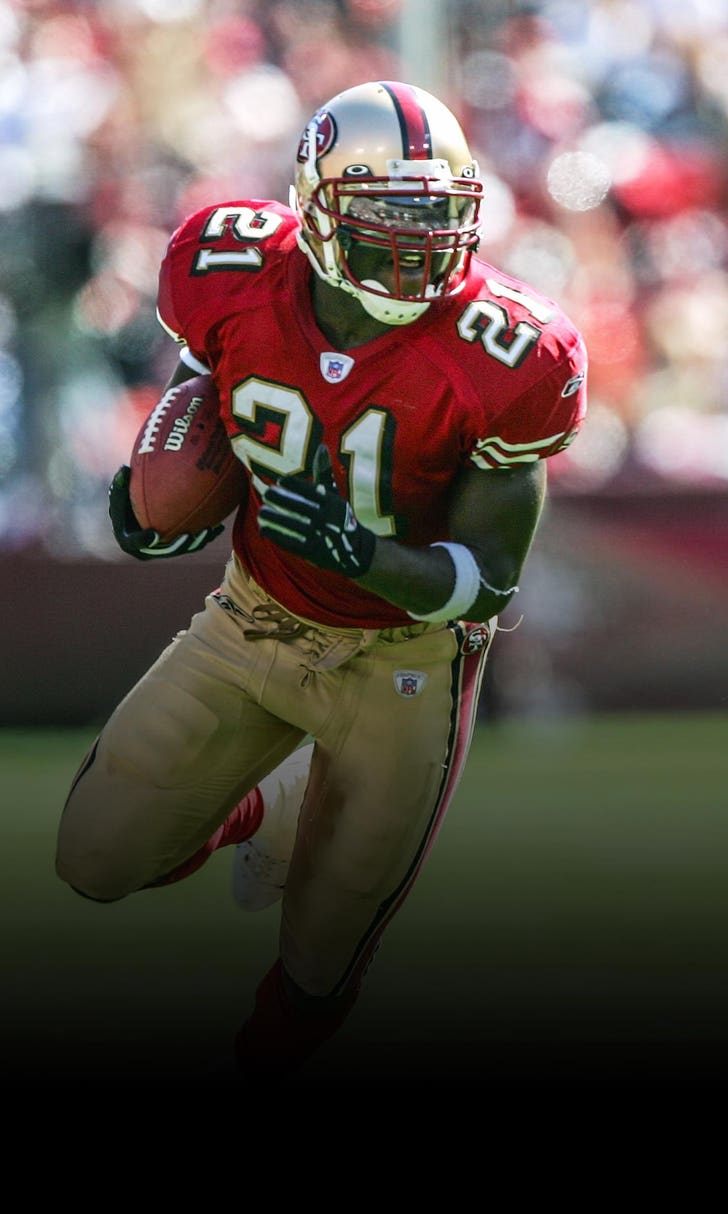 Frank Gore to retire as member of San Francisco 49ers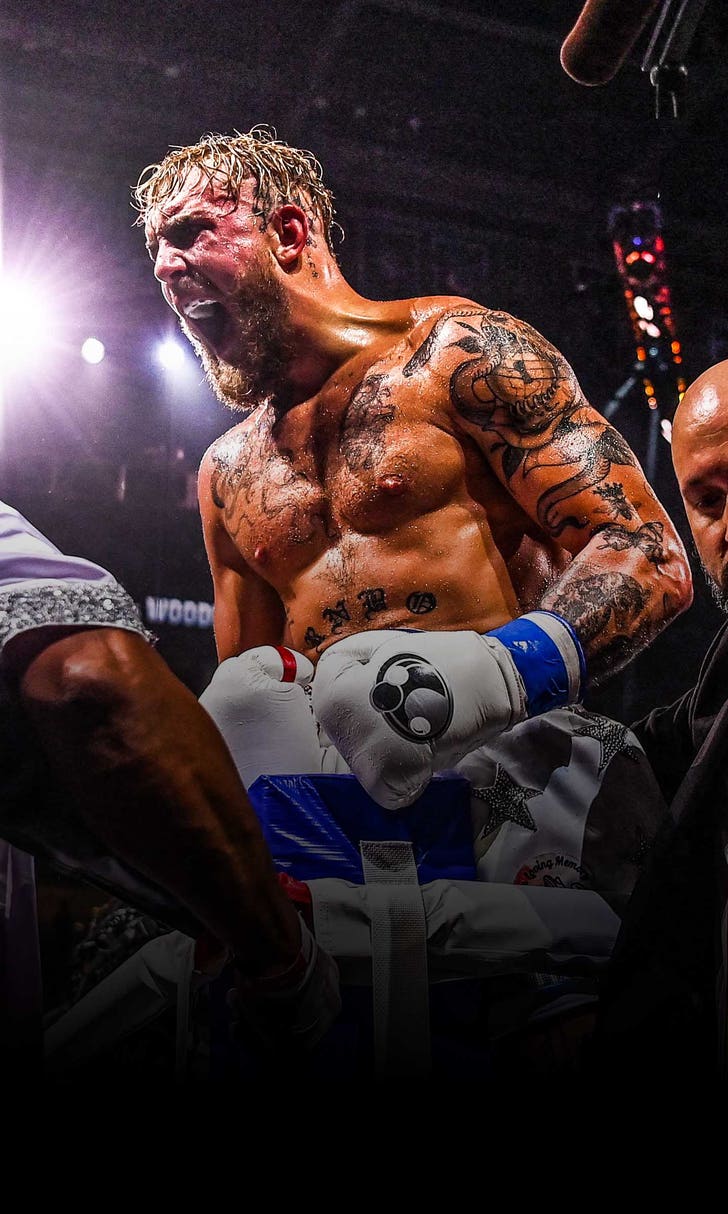 Top Moments: Jake Paul knocks out Tyron Woodley in sixth round