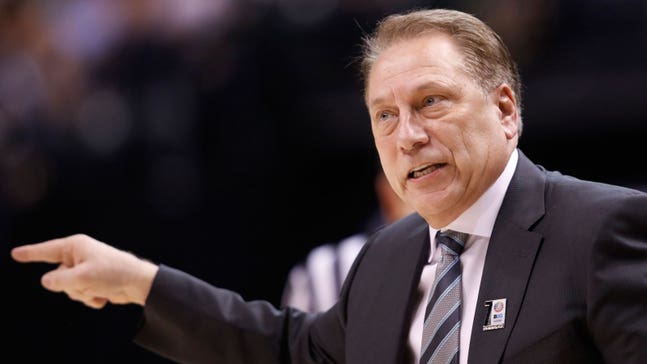 Izzo, Spartans positioned for greatness
Published
Mar. 14, 2016 7:07 p.m. ET

EAST LANSING, Mich. (AP) -- Tom Izzo paced back and forth, balling his hands into fists, and nodding his head with approval at a defensive stop.
"Way to work!" Izzo shouted.
With hip hop music blaring and bouncing off walls at a recent practice, Michigan State players spread out over two courts to take shots at the line.
"Make some free throws!" Izzo screamed before making many of his own free throws as part of his regular routine. "These are important!"
When the Spartans came up short on several shots in a short span, he stopped the workout to let them know it looked like they were simply going through the motions. Izzo, though, didn't let his disappointment linger and after a spirted practice, he went home to spend time with his family instead of watching even more film of upcoming opponents.
"I don't do that enough," Izzo said Monday. "What slapped me in the face was losing my father."
Carl Izzo died in December at the age of 90, and a framed picture of him sits on the right side of his son's desk and serves as a reminder for Izzo to put family first more often than he has in the past.
"I think I try to do those things," Izzo said.
What else Izzo tries to do is win -- every day and in every way -- and not many coaches do it better in college basketball.
Izzo is leading Michigan State in a Big Ten-record 19th straight NCAA Tournament, where he has won 73 percent of his games. He ranks fifth among active coaches, trailing just Basketball Hall of Famers Mike Krzyzewski, Rick Pitino, John Calipari and Roy Williams.
He has a shot to lead the second-seeded Spartans to an eighth Final Four in his 21 seasons and to win a second national title under him. They will face 15th-seeded Middle Tennessee on Friday afternoon in St. Louis.
If Izzo can help Michigan State win five more games, he will coach in the NCAA final on the same day the Basketball Hall of Fame announces its next class of inductees.
"It would be frosting on a cake," he said. "It's not an obsession right now."
The Basketball Hall of Fame sent ballots last week that are due next week to 24 people on its honors committee, which will decide if Izzo and 13 other finalists will be inducted this year.
Cleveland Cavaliers owner Dan Gilbert tried to add more credentials to Izzo's resume in 2010, attempting to woo him to lead his NBA team and leave the program he has been a part of since 1983.
Even though Gilbert was turned down, he still raves about Izzo as a coach and person.
"He's not only one of the best coaches in the country, but one of the best human beings," Gilbert told The Associated Press on Sunday night between his son's fourth-grade basketball games in suburban Detroit. "He motivates people from the inside out. And, there isn't a better guy."
No one at Michigan State has known Izzo longer than one of his assistants, Mike Garland, whose relationship with him dates to their years as teammates on Northern Michigan's basketball team in the mid-1970s.
"He's grown a lot more patient over the years," Garland said. "He let things go that used to really linger with him. For instance, if we were practicing poorly, we would practice for three hours. He doesn't do that anymore."
Izzo also tries to get away from the office during the season more than he used to, and encourages his assistants to do the same.
"There are times he'll hand us $100 each to go take our wives out to dinner," assistant coach Dane Fife said. "He understands that our families are important."
And when Spartans move onto the NBA, or a job in the real world, many of them keep in touch with an incredibly accessible coach.
"He calls or texts me all the time to see how things are going," Golden State Warriors All-Star forward Draymond Green said recently in a telephone interview. "He cares about us as people, trying to help us grow into being men. I'm not sure you get that kind of relationship with a coach at other schools."
Izzo's ability to prove to his players -- past and present -- that he cares allows them to accept it when he's in their face with a clenched jaw or not-fit-to-print words.
"Coach pushes us throughout the year, constantly making sure things are difficult for us," senior forward Matt Costello said. "By doing that, when we have short prep time between games, it helps us adapt quickly."
It took Izzo some time, but he has adapted and altered the atmosphere during parts of practice. Instead of the only sounds being basketballs bouncing, sneakers squeaking and Spartans shouting, a lot of bass and a little treble can be heard at times.
"That's been a two or three-year deal for us when we warm up," Izzo said. "I stole a little bit from my man, Mark Dantonio. Players have really enjoyed it, and it's been fun."
---
---