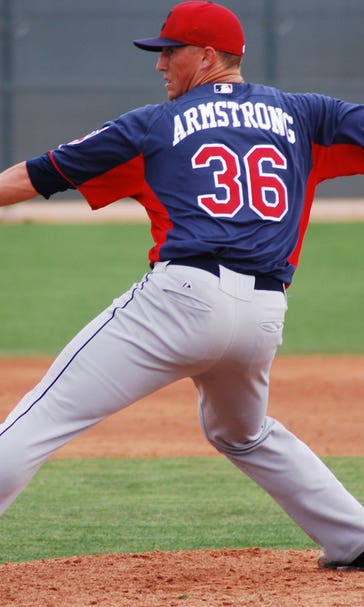 Indians pitching prospect overcoming injury
January 24, 2014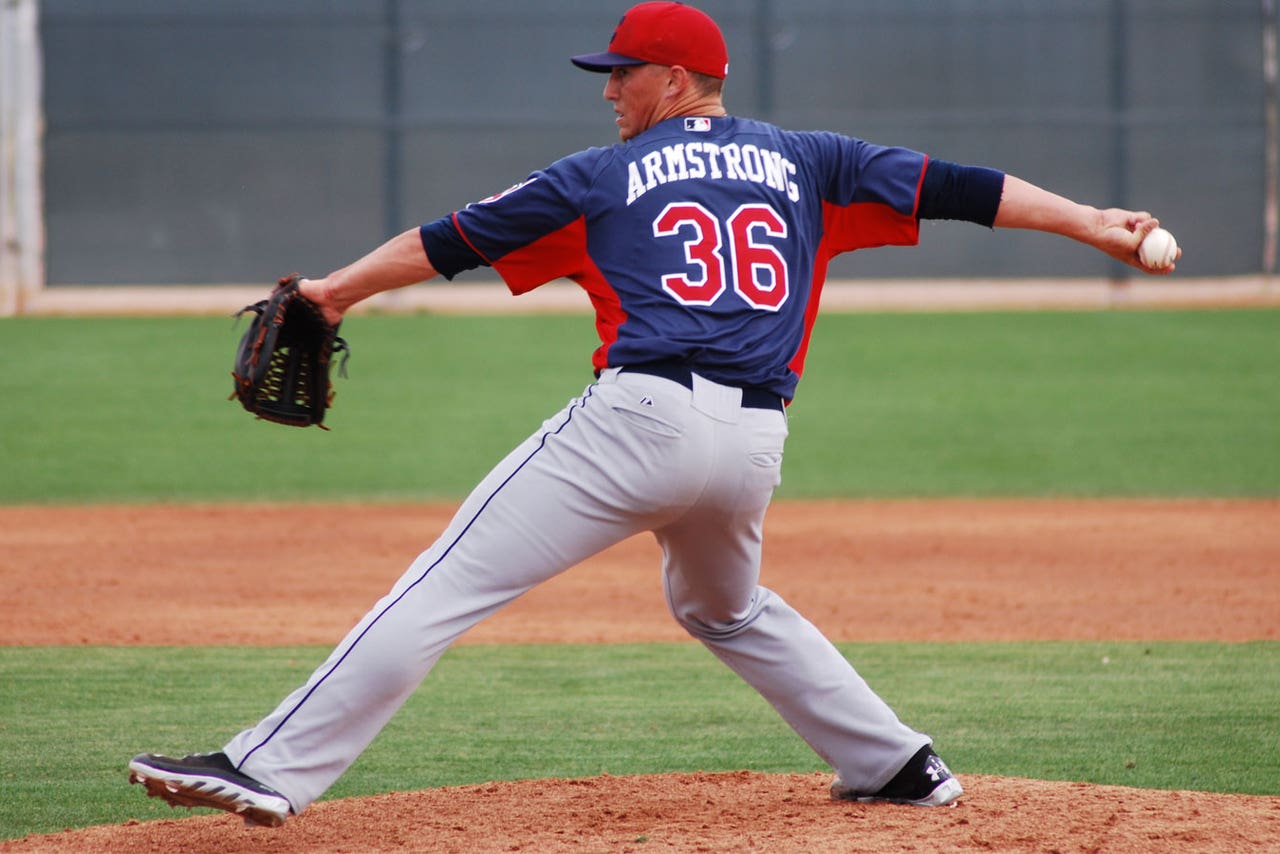 A new year brings new opportunity, and one player in the Indians system excited to see 2013 in the rearview mirror and 2014 in front of him is right-handed relief prospect Shawn Armstrong.
Armstrong, 23, had a sensational first full season in 2012 splitting time at three different levels and reaching Double-A Akron. In total, he made 45 appearances and went 2-3 with a 1.60 ERA and racked up 78 strikeouts in 67.2 innings. He even made his way to the prestigious Arizona Fall League that offseason and had his prospect value bubbling over as a possible major league option for the Indians in 2013.
After a strong showing in spring training, once the season started, things quickly began to unravel in a return trip to Double-A Akron. He actually pitched well in his first five outings, but a poor outing on April 19, in which he allowed five runs on four hits and two walks in two-thirds of an inning left him disgusted with his performance. So much so that upon exiting the game he slammed his right hand against the wall injuring it.
Four days later, Armstrong found himself in a doctor's office getting a diagnosis on his hand with no idea how badly he had injured it. As it turned out, he suffered a dislocated fourth metacarpal in his right hand. It did not require surgery, but it still forced him to miss 10 weeks of the season and spend a considerable amount of time rehabbing in Arizona.
Armstrong returned to Akron at the tail end of June but was never really the same dominating pitcher he was in 2012. He made 30 appearances at Akron and went 2-3 with a 4.09 ERA and had 43 strikeouts in 33.0 innings. His numbers were similar in the walk and strikeout department from his successful 2012 campaign, but his fastball command and velocity were noticeably down.
"For me personally, it was a big learning experience," Armstrong said. "[The season] had its peaks and it had its valleys -- some valleys that were way down there -- but from a pitching and mental standpoint I learned a lot from not having such a good year but finishing strong. Injuries happen and in situations when you don't want them to happen, but I think I learned a lot and I think it is going to help me next spring training and season."
The self-inflicted hand injury was a tough lesson to learn. Having to miss two months of his five month season and ruining any momentum he may have had coming out of spring training was a big price to pay.
"It is kind of a sore subject when it comes to that," Armstrong recalled. "It happened so early [in the year]. We are not kids anymore. I consider myself a man and an athlete with the Cleveland Indians, and you can't do that kind of stuff. Frustrations are going to happen and you have to learn how to deal with them. That was the biggest learning experience for me as I am a very high intense pitcher when I pitch. I do tend to show a little emotion when I pitch, but that is the kind of pitcher I am. I want to go out and strike everybody out. But what happens between the lines has to stay between the lines, and that was the lesson I learned. It happened, but I learned from it and it will never happen again."
It took some time for Armstrong to recover not just physically from the hand injury, but emotionally and mentally as well. After sitting in the low to mid 90s for most of 2012 and touching 98 MPH at the end of the year, he had some struggles with regaining the power with his fastball until late last season.
This was evident by his strong finish the last five weeks of the season as Armstrong made 12 appearances and allowed three earned runs in 14.2 innings (1.84 ERA) and racked up 20 strikeouts.
"For the most of the year [my velocity] was in the low 90s," Armstrong explained. "Going from different things from windups, stretches, and throwing motions, I was thinking about things a little too much than I should have. I finished the season with confidence, and that is one of the things that might have been lacking a little bit when I was going through those situations is I lacked confidence. That was one of the things I learned is you just have to roll with it. You have to be day to day and can't worry about what is happening tomorrow or the next day or two days before that. The velocity is going to come when it is going to come. I feel really good and feel like everything is coming back. My cutter is back where it was [in 2012]. I think velocity-wise it will be there."
Another reason for Armstrong's late-season success was a result of a minor tweak to his delivery.
"I am not pitching from the windup anymore," Armstrong said. "I am going straight from the stretch and I really like it. Our pitching coordinator Ruben Niebla changed it and thought it would work best for me and I agree. I tried it and I am running with it."
The change helped Armstrong keep more balance in his windup.
"It was more of a balance thing with getting over the rubber," Armstrong explained. "I have always been a pretty mechanically sound pitcher, and the windup has always been my go to and my favorite thing to pitch out of. Staying balanced over the rubber is more important and I feel like I am better pitching out of the stretch and being balanced before I go to the plate than out of the windup."
Armstrong is still working on gaining confidence in his fastball and developing his curveball. His cutter continues to be the best pitch in his arsenal and a pitch he feels he can throw at any time and in any count. He picked it up while he was waiting to sign with the Indians in 2011 when he saw a special on TV where Cliff Lee showed how he gripped it and used it.
"My cutter is my bread and butter," Armstrong said. "I think everybody that is facing me knows that. My confidence in that pitch is through the roof. My fastball confidence is getting back to where it was the previous year. I am still working on my third pitch my curveball. It is a good pitch whenever I do the right things and don't try to overdo it and try to make the pitch. That is the pitch I just need to learn to throw and not try to do too much with it."
He has also been staying at home with his family and been involved with the community giving pitching lessons to kids.
"I think helping those kids with pitching lessons, I am [learning] something too," Armstrong said. "Yeah, they are younger, but teaching them and watching them with their throwing is helping me stay in the game as well. That is why I like doing it."
Armstrong has been working on a plan this offseason to be more efficient with his pitches. His goal for next season is to work on getting ahead of batters and to bury them when he is ahead.
"I also want to get stronger," Armstrong added. "I like to consider myself a big strong guy right now, but I want to get stronger and flexible and come into spring training hungry. That's the goal for me. I had personal goals last season and obviously they didn't happen. Those personal goals are going to continue into the 2014 season. Hopefully I can come to spring training strong, finish strong and see what happens next year."
---