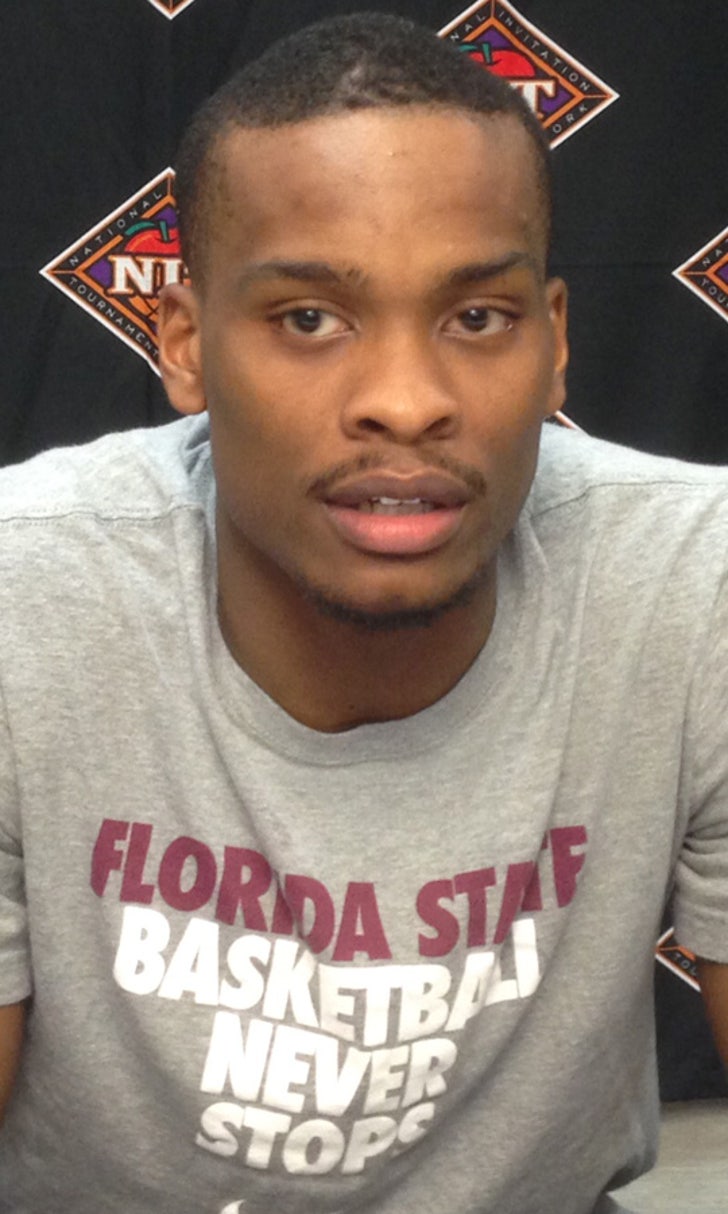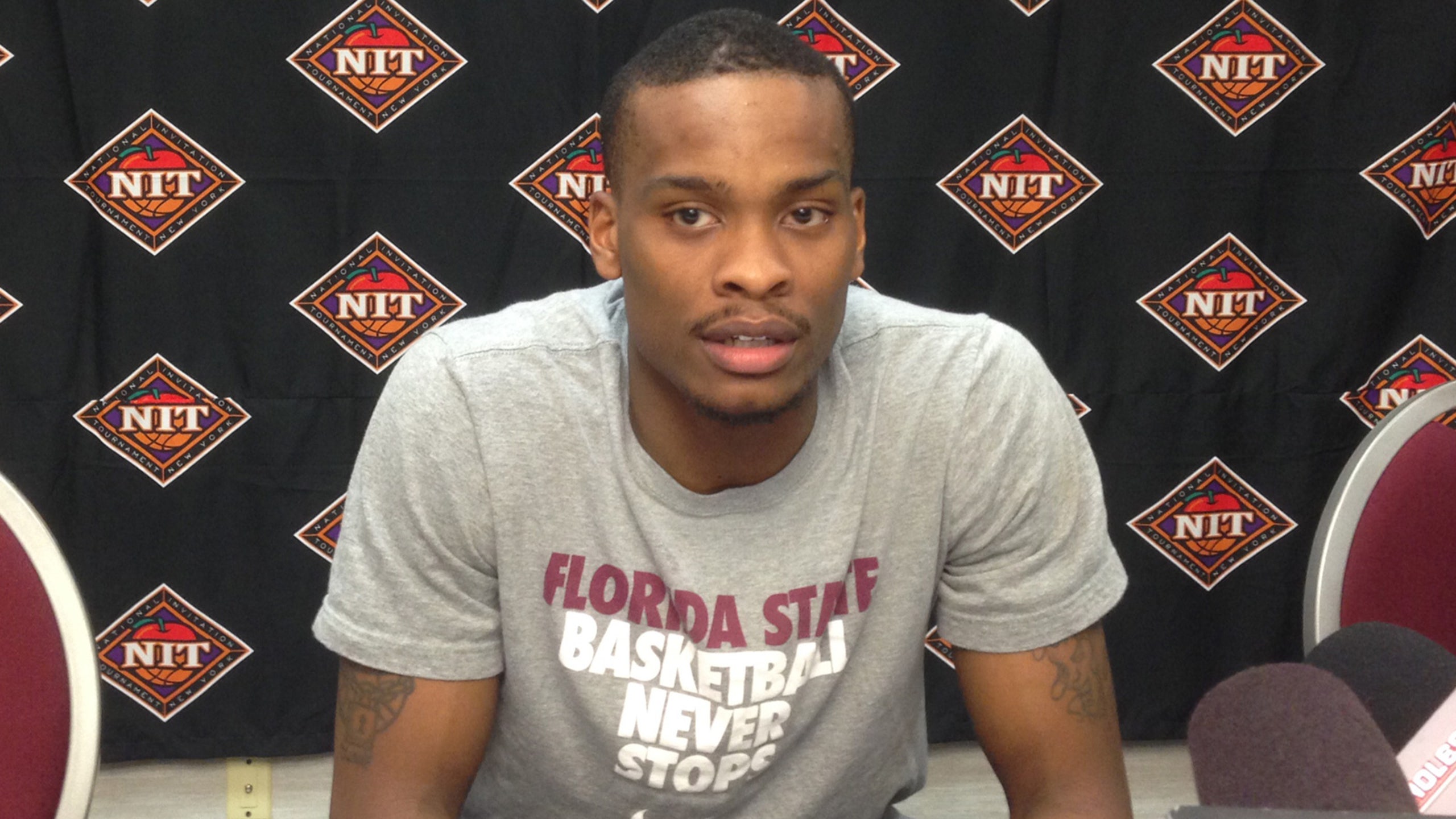 In time of trouble, Aaron Thomas steps up to lead way for FSU
BY foxsports • March 18, 2014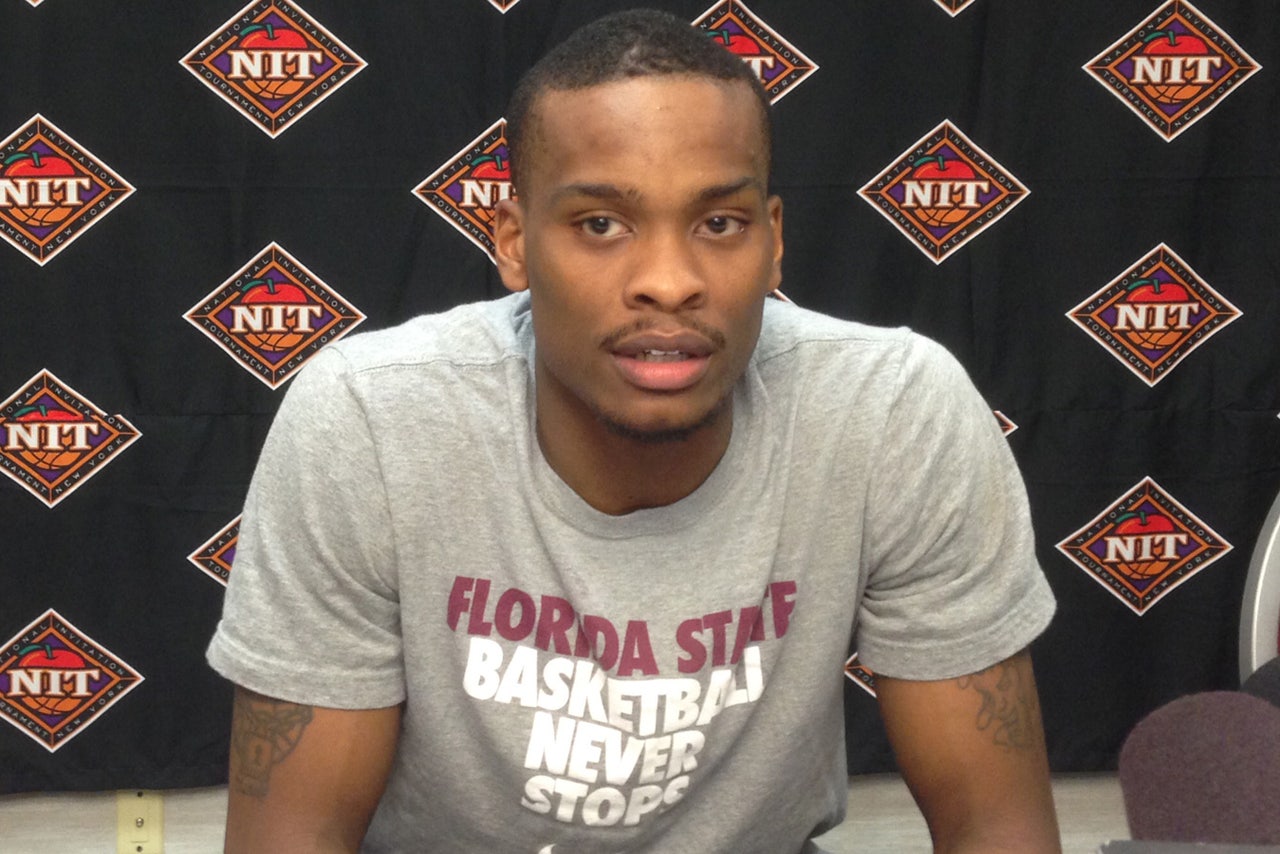 TALLAHASSEE, Fla. -- With Ian Miller on the bench with a foot injury and the turnovers piling up, Florida State turned to Aaron Thomas.
Not just for help. But to put the team on his shoulders.
With his team trailing and just under 13 minutes to go, Thomas scored just about every way possible. He began with a dunk, then a layup, a 3-pointer, a pair of free throws, another 3-pointer and two more free throws.
Thomas scored 14 straight points for Florida State, helping the Seminoles defeat Florida Gulf Coast 58-53 in a first-round National Invitation Tournament game Tuesday night.
"He gave us a tremendous lift tonight," Florida State coach Leonard Hamilton said. "Aaron's best basketball is still ahead of him."
Thomas shot 7 of 15 from the floor, but he did a little bit of everything in attacking the rim, taking good, open shots and defending FGCU star Bernard Thompson (who was held to 16 points).
A sophomore guard, Thomas has averaged 16.7 points in his past 14 games. And while that stretch included a 26-point night in a win at Boston College, Thomas' 22 points on Tuesday was perhaps just as crucial.
"I had no idea I scored that many in a row," Thomas said. "My teammates did a good job of finding me. Guys had the confidence in me and I did a good job of being patient in the second half and letting the game come to me."
FGCU, the Cinderella of 2013 when it reached the Sweet 16 of the NCAA Tournament, had 19 turnovers and fell short in an attempt to make a similar run through the NIT.
Florida State (20-13) will now host Georgetown on Monday night in a second-round game. The Hoyas (18-14) defeated the Mountaineers 77-65 on Monday.
Early on, Florida State and FGCU looked like two NCAA Tournament "bubble" teams that were clearly disappointed they were in the NIT. The Eagles had 13 turnovers and Florida State had 11 in the first half.
Thomas said Florida State players were disappointed to watch the NCAA selection show on Sunday and not hear that the Seminoles were in the Big Dance.
"We were upset we didn't make the tournament," Thomas said. "We had a No. 1 seed in the NIT and we felt like we still are able to play for something and get better and play hard. We are just trying to get better and move on. You can't really do anything about not making the tournament. It's over."
Both teams soon settled in, and a turnover-plagued first half turned into an entertaining, see-saw second half. FGCU opened the second half with a 15-4 run, helped by three 3-pointers (two by Chase Fieler and another by Thompson). FGCU led 34-28 with 14:13 left in the game, but Florida State responded -- mostly from that Thomas-powered run.
Thomas' last point of that run put Florida State ahead 46-45 with 7:37 to go. The Seminoles had the lead for all but 30 seconds the rest of the way, aided by senior forward Okaro White, who had seven of his 17 points down the stretch.
Hamilton hopes he won't have to lean on Thomas and White this much again. And he thinks the five-day gap until the Georgetown game could give Miller enough time to heal.
The Eagles saw their season unravel quickly, and much earlier than they had imagined. FGCU (22-13) improved dramatically in the second half, but the Eagles will lament a first half that saw them shoot just 7 of 22 from the floor.
"We missed some shots," Fieler said. "It just didn't go our way tonight."
FGCU had made a stunning run through the NCAAA Tournament in March 2013, knocking off No. 2 seed Georgetown and then San Diego State. The Eagles became the first No. 15 seed to reach the Sweet 16 before falling to Florida.
FGCU then lost coach Andy Enfield to Southern Cal. First-year coach Joe Dooley guided the Eagles to the Atlantic Sun championship game on March 9 only to fall to Mercer.
The Eagles had hoped to build another deep run into March, but in the end FGCU couldn't overcome the 19 turnovers or Thomas.
"The effort tonight, we can live with every day of the week," Dooley said. "We tried as hard as we could. I hate to see the season end. But they all have to come to an end unless you win it all."
You can follow Bob Ferrante on Twitter @bobferrante or email him at bobferrante17@gmail.com.
---