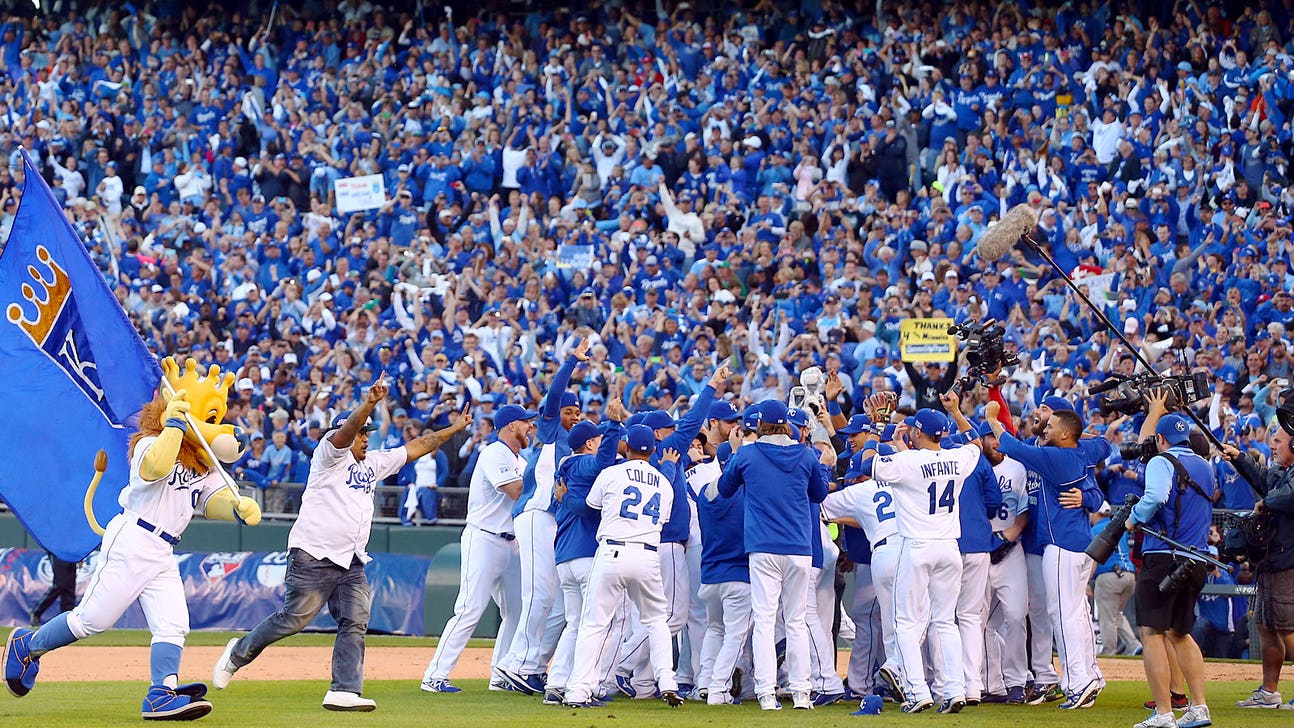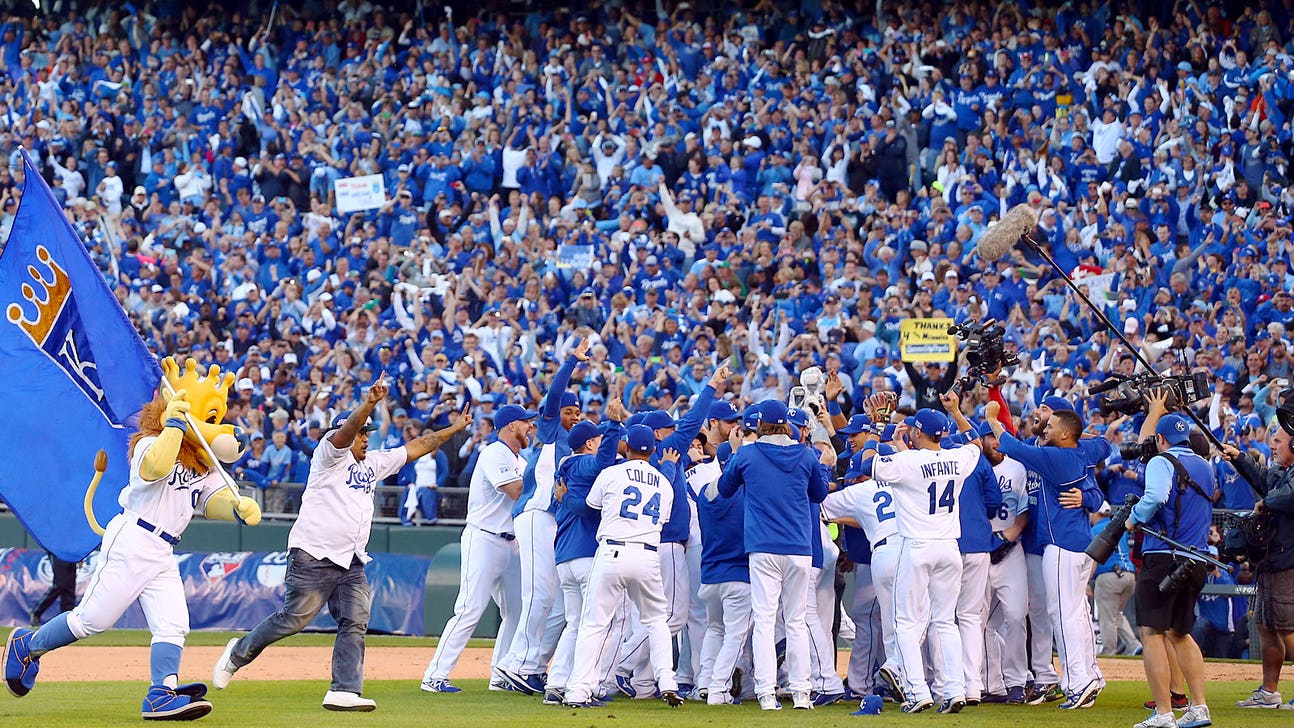 Ignore the data dump: Five reasons the Royals could pick up where they left off
Published
Jan. 30, 2015 11:12 a.m. ET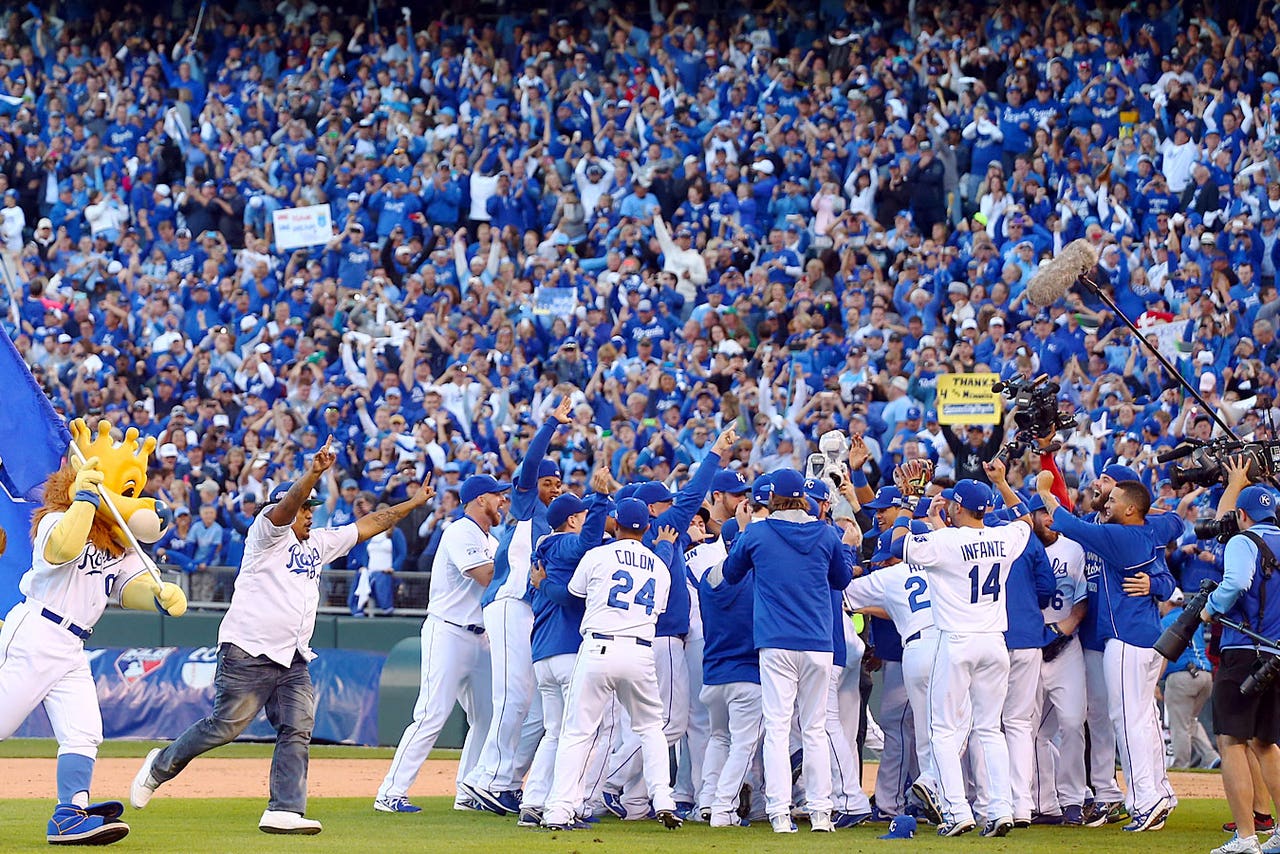 KANSAS CITY, Mo. -- You can't blame Royals fans for having a big ol' data chip on their shoulders.
PECOTA, a stat-based computer projection system trumpeted by the folks at BaseballProspectus.com, dropped the big one earlier in the week. Deep Blue crunched the numbers, laid out its forecast for the 2015 major league season and pegged the Kansas City Royals, your defending American League champs, with 100 percent of its postseason bullpen and 80 percent of its rotation back in the fold, to win ...
BLEEP! BLOOP! GLOP! WRRRR!
(Punched card falls out of machine)
... um, 72 games.
(Kicks machine)
Really? Ninety losses? This roster? This staff? This outfield?
Even the coldest cynics snickered at that one. Besides, we know better than to let HAL-9000 rain on our parade just because somebody dropped a modem on its head. The 2015 Royals FanFest begins later this afternoon in downtown Kansas City's Bartle Hall, the unofficial kickoff to the kickoff, the flare going up into a gray winter sky that tells us pitchers and catchers are soon to report. Everybody's in first place on Jan. 30.
But not everybody gets to hoist a pennant on Opening Day.
To catch lightning in a bottle twice, you've got to catch the baseball first. And nobody does that like these guys. Still. And if you want five more reasons why 2014's 89-73 and fall magic weren't the end, but the beginning, here you go, Max Headroom. Byte this.
5 REASONS TO BELIEVE
1. Each free-agent acquisition general manager Dayton Moore made in December and January got more intriguing than the one that preceded it.
Over the past two seasons, new designated hitter Kendrys Morales played in 59 fewer games than Billy Butler, the man he's replacing -- yet nearly matched the former Royal in doubles over that span (Morales, 54; Butler, 59) while outpacing him in home runs (Morales, 31; Butler, 24). Even at 33 (and he'll be 34 next month), new outfielder Alex Rios still has the kind of wheels to take advantage of the spacious gaps at The K on the basepaths, racking up 12 doubles in 53 career games in Kansas City.
Right-hander Edinson Volquez isn't James Shields -- that's OK, no one expects him to be -- but, when healthy, the former Reds All-Star has just the kind of live arm that, in the hands of pitching coach Dave Eiland, could turn into an absolute steal. (See: Guthrie, Jeremy. See also: Vargas, Jason.) Righty Kris Medlen, coming off a second Tommy John surgery, was one of the buy-low gems swimming around the free-agent pool, with a top-of-the-rotation ceiling and enough depth in front of him that he doesn't necessarily need to be rushed back into the fold.
Flashy? No. But savvy. Damn savvy.
And at any rate ...
2. It's not about the additions on the open market. It's still, bottom line, about the core.
Hoz. Sal. Moose. Esky. Lo. Gordo. The heart, the soul, the spine. All are under contract; all are under 31.
Manager Ned Yost has the top catcher in the American League at his fingertips in Sal Perez, an anchor and a bedrock. First baseman Eric Hosmer slugged .544 and posted an OPS of .983 during October's wild run, turning the corner from "good" to "scary good" on the national stage. Ditto third baseman Mike Moustakas, who slugged .558 and posted an OPS of .817 in the playoffs. What was true the previous two summers is probably true of the upcoming one, too: The Royals will likely go as far as their young bucks at the corners will take them.
And October 2014 showed the world just how freaking glorious that "far" could be.
3. More young bucks are coming.
Like what you saw in Brandon Finnegan in the fall? Great. Because there's more where that came from. The former first-rounder out of TCU has the goods to stretch into a long-term rotation piece or could open with the club exactly where he left off in October: As a front-line left-handed option out of the bullpen for high-leverage, late-inning cameos, a situational bridge to HHDH.
LET'S GO, ROYALS: Check out these photos of fans and the excitement around Royals baseball.
Tall lefty Sean Manaea impressed at high-A Wilmington (146 strikeouts in 121 2/3 innings), and 21-year-old righty Miguel Almonte is throwing a change that, according to some scouts, might be major league-ready right now.
4. They still own the seventh inning on. And maybe the sixth, too.
Relievers' statistics, we know, are historically volatile -- Wade Davis figures to roll right back into sawing-bats mode, but the exact dominance (1.00 ERA, 0.847 WHIP, zero homers allowed) could prove tricky to repeat to the letter. But there's cover there, too, with the return of Luke Hochevar, the Davis of 2013 (1.92 ERA, 0.825 WHIP, eight homers allowed), the aforementioned Finnegan, plus a full season (presumably) from veteran righty Jason Frasor, who posted a 3.17-to-1 strikeout-to-walk ratio over 23 innings in a Royals uniform.
Maybe that acronym needs to get amended to FFHHDH. Although that does start to sound a bit like a line at the bottom of an eye chart, doesn't it?
5. Did we mention 100 percent of the postseason bullpen and 80 percent of the starting rotation is back?
Yes, James Shields doesn't appear to be part of this particular picture. Yes, the Tigers have to be knocked off the catbird seat. Yes, the Indians can't be counted out. Yes, the White Sox splashed cash toward the American League's biggest roster renovation over the winter.
Yes, the AL Central has rarely, if ever, looked this strong, collectively. At least, on paper.
Only pennants aren't won on paper. They're built on pitching, defense, fundamentals and run prevention, October's eternal verities.
They're built on the Royals Way.
So tell the neighbors: This party is legit. It's not Cinderella in spikes. It didn't drive a pumpkin into the Fall Classic. It has a foundation and a mantra and a philosophy and a face.
And if they look at you funny, just remember: PECOTA had the Royals pegged to win 78 tilts at this time last year. How'd that one work out?
You can follow Sean Keeler on Twitter at @SeanKeeler or email him at seanmkeeler@gmail.com.
---